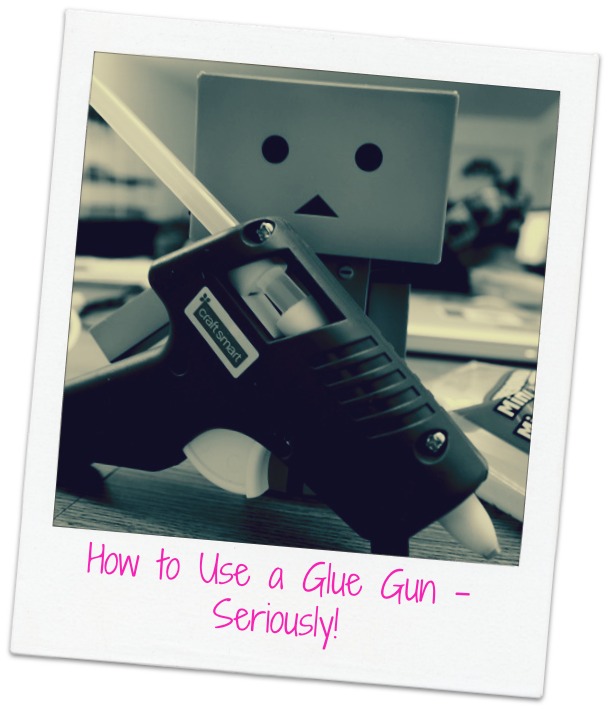 photo credit: meaganmakes via photopin cc
Don't laugh. Learning how to use a glue gun was on my bucket list for last year. – seriously! If you follow our blog, you'll find my crafty maven blogging sister Pauline creating awesome projects with a glue gun and random materials. By contrast, I am the crafter-in-training and learning how to use a glue gun seemed like a prerequisite skill to stay blogging on our site. Even though I am not a veteran crafter, I love to research and wanted to share everything I learned about glue gun magic.
When to use a glue gun
Glue guns work well when dealing with porous substances like fabric, wood, shells and silk flower arrangements. The melted glue does not have long-lasting results with slick surfaces, like smooth stones.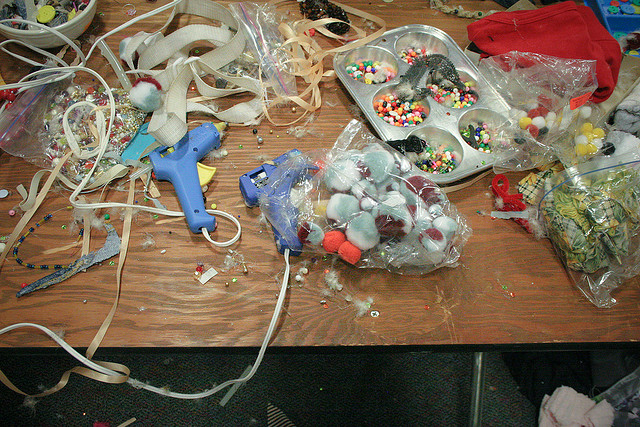 photo credit: Orin Zebest via photopin cc
How to select a glue gun
My first glue gun purchase was an impulse craft store purchase after realizing I could get a glue gun and glue sticks for under $5. I had visions of replicating my sister's upcycled paper bag flowers (which my tween and I did individually but not to full bouquet scale). After scouring the Internet, I now realize there are many more factors to consider when choosing a glue gun.
High temperature vs. low temperature glue guns

– Low temperature glue guns operate at 250 °F (121 °C) which is better for items sensitive to heat, such as ribbon, cloth and lace. High temperature glue guns provide a stronger bond and typically operate at 380 °F (193 °C). The high temperature adhesive can work well with projects involving paper, wood, shells, magnets, jewelry and leather. Dual temperature guns allow you flexibility for low or high temperature projects. Keep in mind that glue sticks shouldn't be switched mid-use – so you may want separate low temp and high temp glue guns if working across different mediums.
Cordless vs. corded glue guns

– Cordless models sound great in theory, but reviewers caution that cordless guns using battery power drain the batteries really quickly. A hybrid cordless-corded model offers a little more flexibility where you can use it corded, but also detach the cord once the glue is heated to continue use with a little more freedom. For corded models, consider the length of the cord. Many models have short cords for safety reasons but do restrict movement depending on the accessibility of your power outlet.
Glue gun stand vs. no stand

– If possible, choose a glue gun with a kickstand or a cradle. Don't worry if you don't have a kickstand, as long as you use a protective surface while gluing and are careful with the hot glue. I have been mesmerized by several Pinterest pins that keeps popping up for sturdy glue gun holders. Several Etsy shops have sturdy holders for the serious glue gunners. If you are really ambitious, Shanty2Chic has a step by step DIY guide for making your own holder.
Interchangeable tips

– If you really want control over the flow of the melted glue, select a glue gun that allows you to swap out tips (similar to different frosting tips).
Types of glue sticks
Glue sticks come in different diameters and lengths, but most commonly in a 7/16″ (11mm) width and either 4″ (10cm) to 10″ (25cm) lengths. Most importantly, check your glue gun recommendations for the appropriate size. Several reviewers prefer the longer length sticks for longer use when both sizes are an option. Many of the glue stick options available work for high or low temperature glue guns, but double check. I'm also intrigued by glitter glue sticks.
How to Use the Glue Gun
WikiHow has a clear pictorial on how to use the glue gun. The steps are basic – but with over 25,000 views to the instruction page – I'm encouraged that I am not the only glue gun novice looking for advice.
Check for cracks or damage to the glue gun
Plug in the glue gun (if corded)
Place the glue gun on a flat protected surface (protective foil or other surface that can catch hot glue drips)
Insert glue stick (if not already loaded)
Wait for the glue to warm up (depending on the glue gun – approximately 5 minutes)
Test the glue for readiness by squeezing the trigger and looking for melted glue to squeeze out
Start your project! (the melted glue should dry within a few seconds to one minute)
How to Prevent Glue Gun Burns
Somehow, I always seem to burn my fingers when working with hot glue, even if I avoid touching the hot metal tip. Thankfully, my calloused fingers are *almost* oblivious to the heat – but I want to keep my tween's fingers safe, too. First, keep a cool moist towel handy to instantly cool the fingers, if needed. I will caution my daughter against using a corded glue gun around water. Water and electricity definitely do not mix.
For future glue gunning marathons, I've added some glue gun helper tools to the crafty kit wish list. Lemoncholy's Flight of Fancy shows the tools in action. My girl and I would benefit most from the finger caps. Plaid has a kit available on Amazon with 5-star ratings across the board – and includes a non-stick mat with high marks.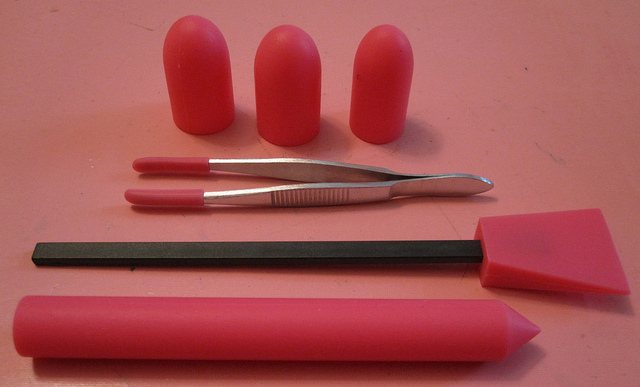 photo credit: Shopping Diva via photopin cc
Glue Gun Tips (no pun intended)
Do NOT touch the metal tip (ouch)

The harder you squeeze the trigger, the more glue that is released
To avoid spider-web glue strings, avoid pulling the gun too far away from the surface (which stretches the glue). You can blow slightly to cool the string which will help detachment. Also, keep the tip clean.
Check out this funny Instructables guide for easily removing unwanted dried melted glue (hint: isopropyl rubbing alcohol).
I hope this inspires you to break out your glue guns and create! Have I missed any tips? Please share in the comments below.
If you liked this post, and want more, you can subscribe to be on our mailing list here.
Follow Lynnee's boards on Pinterest and Pauline's Club ChicaCircle boards here. You can also find Lynnee Jimenez on Google+.