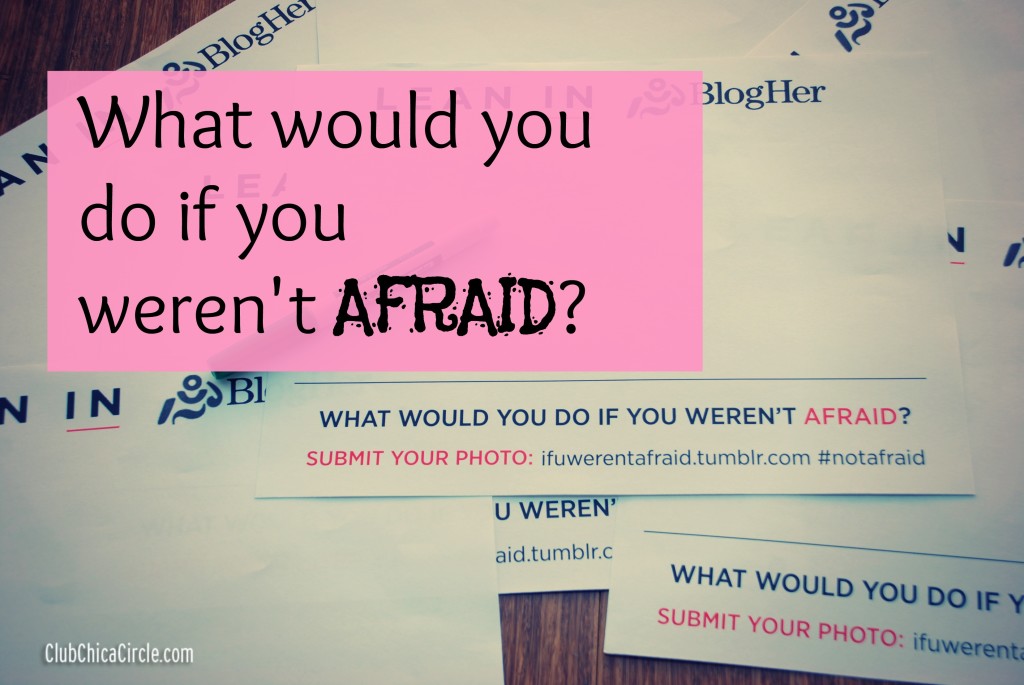 What would you do if your weren't afraid?
It has been over three weeks since Sheryl Sandberg, COO of Facebook, posed that question to a several thousand of us attending BlogHer'13 in Chicago- and I still don't have the answer. Sheryl's keynote speech at the McCormick Center was followed up by breakout tables to discuss the question – but, for me, this question was too big of a life-changer to jump right in and answer without more introspection. So what did I do? I brought home a stack of the Lean In blank templates with BIG intentions of filling them out and wallpapering my bathroom wall with the answers. But, 3 weeks later and the bathroom wall is still blank.
I have had my periods in my life of total focus and abandoning all fear. Moments like that have opened up new worlds, like moving away from friends and family in Chicago to live in California or Long Island, NY or spending a summer alone in Costa Rica despite knowing only basic Spanish. Moments like that have allowed me to push through physical challenges that would normally hold me back, like rock climbing a particularly hard route above my skill level or staying awake at work during the day even if the twins kept me up all night. All of those moments of focus, drive and abandoning all fear seem an eternity ago.
The one thing that I am doing now that I would normally fear is working on this blog. I am a little out of my element with all of the crafty projects that my crafty maven co-blogging sister Pauline creates, but I still can't wait every day to read her posts and be amazed. I am the only family member among both my sisters, our mom, my daughter and tween niece that fears a glue gun. My daughter finally taught me how to us one this past year (and that has opened new worlds of crafting for me). Through our blog, I will continue to push through my fear of inadequacy among the crafty geniuses writing and following us, by giving you a perspective from a crafter-in-training or by featuring my daughter's creations. I am a researcher and an organizer, so I'll continue to leverage those perspectives in future posts. Overall, I'll push through my fear because I recognize how much reward I get from connecting with my daughter through crafting and cooking and how much I enjoy the community we are building here at Club ChicaCircle.
So what else? I still feel a little bit of an empty spot where I need to "lean in" and do something that I would normally fear. I want to feel that passion, drive and excitement to climb the next Mount Everest (figuratively, not literally).
What would you do if you weren't afraid? I looked for inspiration by scrolling through the other responses to this question at ifuwerentafraid.tumblr.com – but my pages are still blank.
The good news is that it's never too late to tackle the next Mount Everest and anything is possible. I truly believe that.
I do have a short list of items to wallpaper my bathroom wall:
Give up my to do lists and hug my kids more 

Be comfortable speaking on stage to inspire others to dream BIG
Stop using food as a comfort crutch
Help my crafty-maven sister Pauline publish her first book with worldwide publicity and success
Help my shabby-chic genius sister Erica sell her upcycle furniture creations
Learn a new language (French, Russian)
Visit Ireland
Learn to paddleboard without extreme fear of the deep water below
Become a ninja warrior
I am posting this as a step in the right direction to finally filling out the templates and wallpapering my bathroom. I hope this also gets you thinking about what you would do if you weren't afraid.
What would you do if you weren't afraid? Share below and start shouting it out loud!
If you liked this post, and want more, you can subscribe to be on our mailing list here.
Follow Lynnee's boards on Pinterest and Pauline's Club ChicaCircle boards here. You can also find  Lynnee Jimenez on Google+.