I cookied up some really crafty, delicious-looking cupcakes. You CAN'T eat these!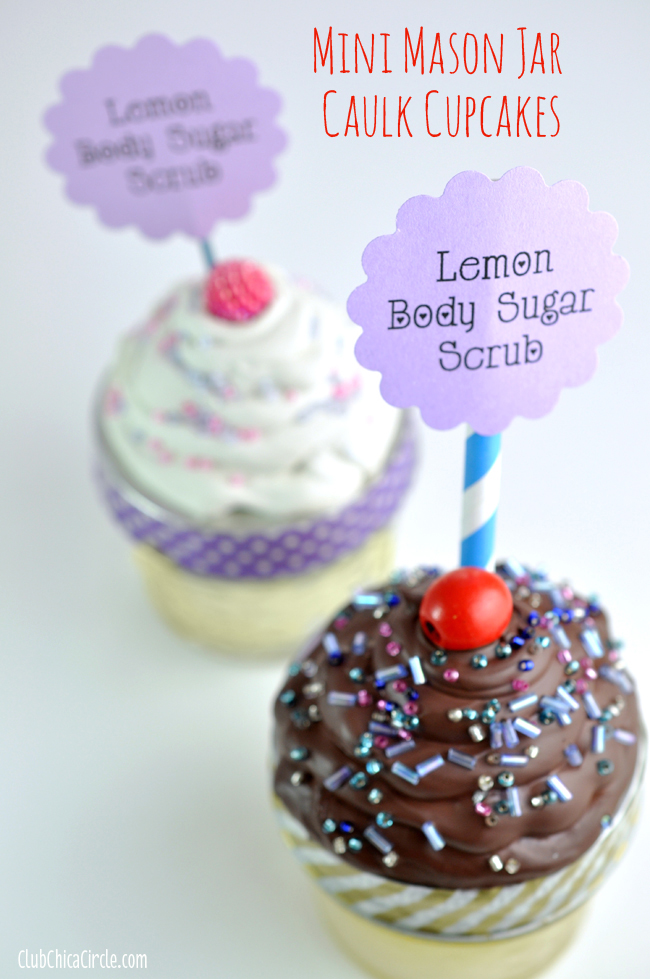 But you can certainly give these as gifts! They make great party treats, or with Mother's Day around the corner, the perfect homemade gift idea for MOM.
I filled mine with homemade lemon lavender body sugar scrub, but you can get creative and fill with what you like. I experimented with using caulk as decorations on jars a couple years ago as fun candy dish ideas, and I think the cupcake option has been my favorite. I have perfected it since my first caulk cupcake, and wanted to show you how to make your own.
To make Mini Mason Jar Cupcakes you will need:
mini mason jars
2″ round foam ball
caulk (I used brown colored caulk for dark chocolate, cedar tan for milk chocolate, and white for white frosting) and caulk gun
glue gun
small seed beads
one large bead (for the cherry on top)
washi tape
If you want to add cupcake gift tags (optional) on top you will also need:
paper straws or toothpicks
chopsticks
cupcake tags (I printed out custom ones and punched out with my 2″ scallop circle punch)
washi tape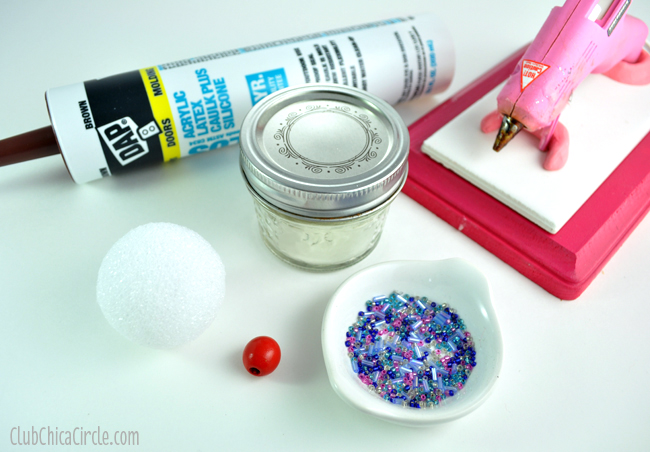 For my daughter's spa tween birthday party last year, I made a whole gaggle of them as party treats for all of the girls who attended.
We made "chocolate" and "white" frosted mason jar cupcakes and filled them with homemade sugar scrub.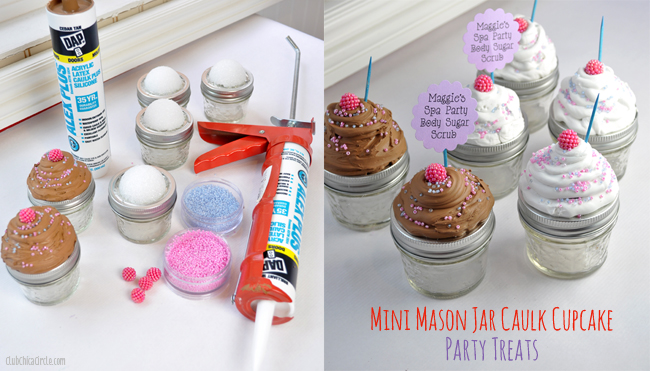 Here is how to make your own mini mason jar caulk cupcakes:
First, you need to prepare the lid.
I wanted to make sure my "cupcake" had enough fluff and volume on the top of the lid, so I started by attaching half of a foam ball. I used a table knife to cut it in half.
Then I applied glue from my glue gun generously around the edge and in the middle. This is where you have to work fast before the glue dries and hardens.
Immediately attach the half foam ball in the center and then secure the lid to the outer ring. Let it dry and harden completely.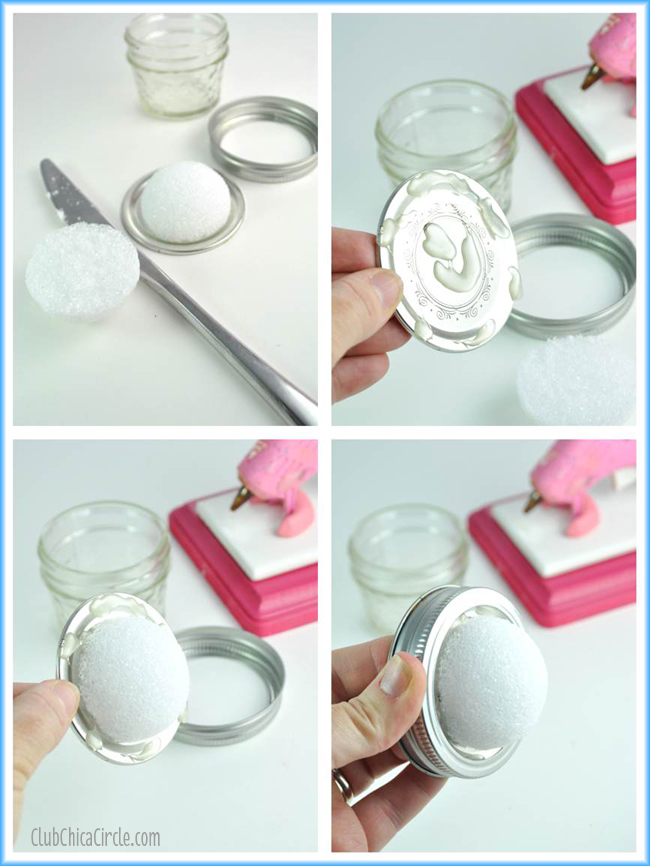 Next it's time to apply the caulk for the frosting.
Starting at the outer edge of your lid, just outside the edges of the foam ball, squirt out a steady stream of caulk working in a circular motion and moving into the center.
Make sure that the white foam ball is not visible and that you have overlapped the caulked all the way around. You should end up in the center, creating a fun cupcake swirl design.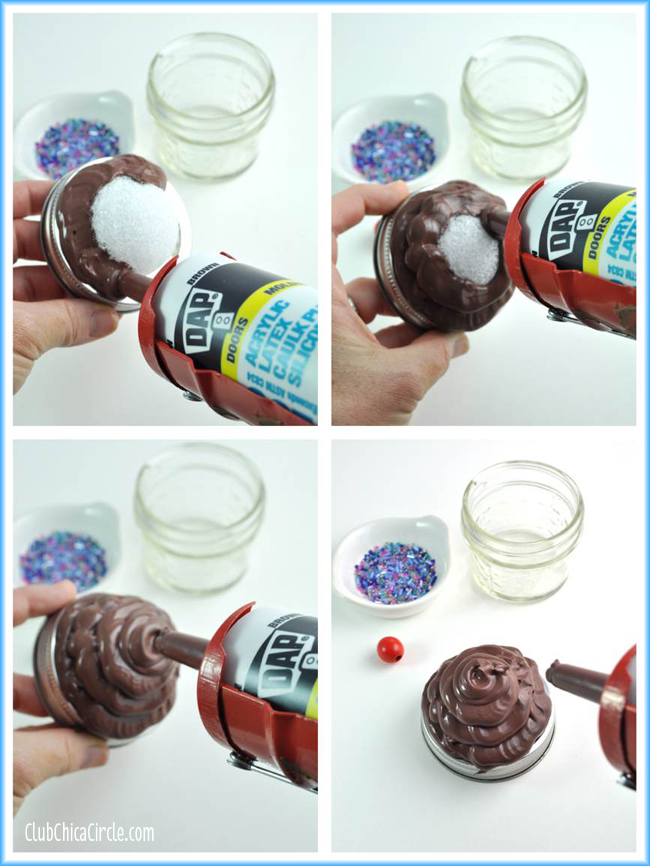 Now it is time to add the cupcake details.
You will need to do this step while the caulk is still wet and tacky. Place your large bead in the center on the top. I used a large red wooden bead for this example.
Then sprinkle on small colored beads to emulate cupcake sprinkles.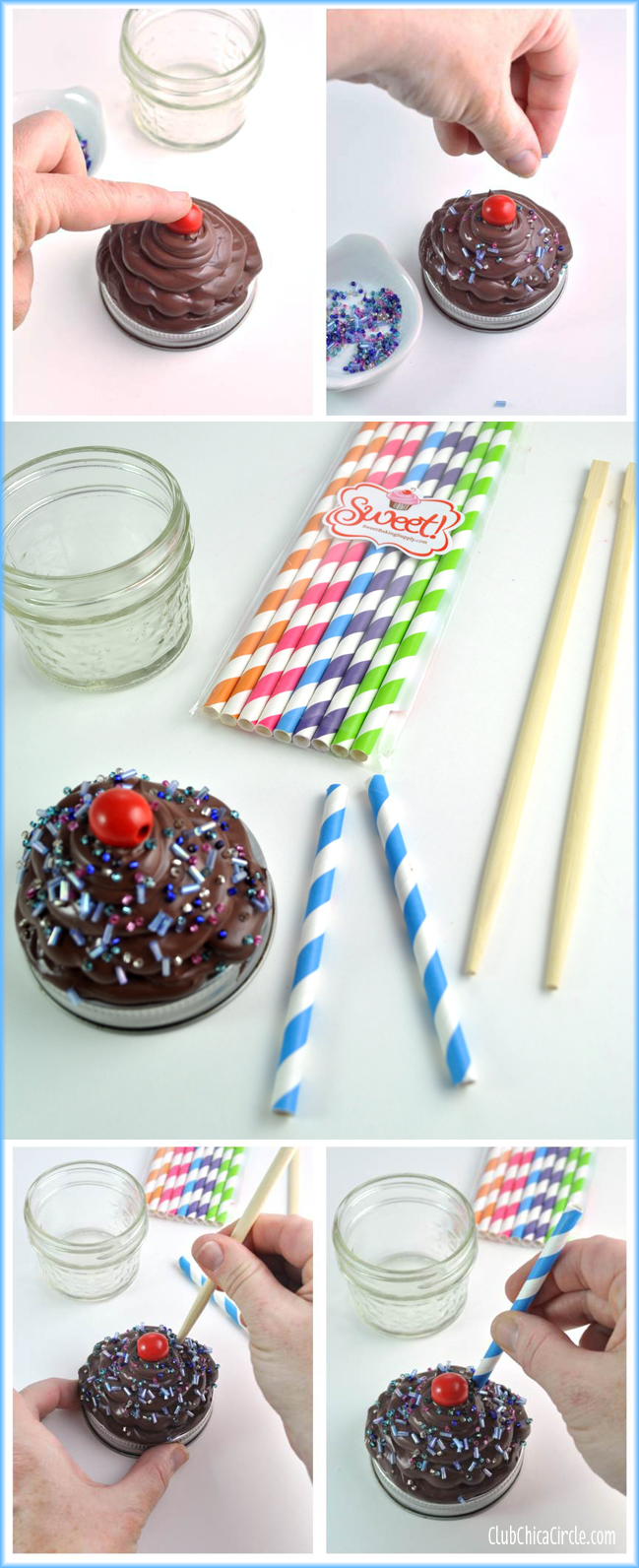 I wanted to add a cupcake tag to mine, so I needed to add a cupcake tag stick on the top before the caulk hardens too.
I used fun decorative paper straws that I cut in two. I then used a wooden disposable chopstick to poke a hole in the top through the caulk and into the foam ball underneath. Then I place my cut straw in to place.
Now, let the whole thing dry completely.
I would suggest overnight. Avoid the urge to touch the caulk and mess up your cupcake swirl.
When it was all dry, I added the final touches with my custom cupcake tags that I punched out with a 2″ scallop paper punch.
I used pretty gold striped washi tape to attach my tag to the paper straw, and then lined the outer edge of the jar with it.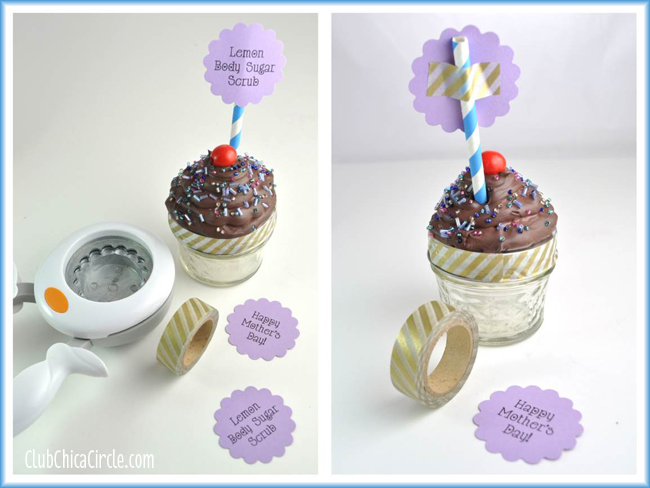 Lovely!
Now, it is time to fill your jar.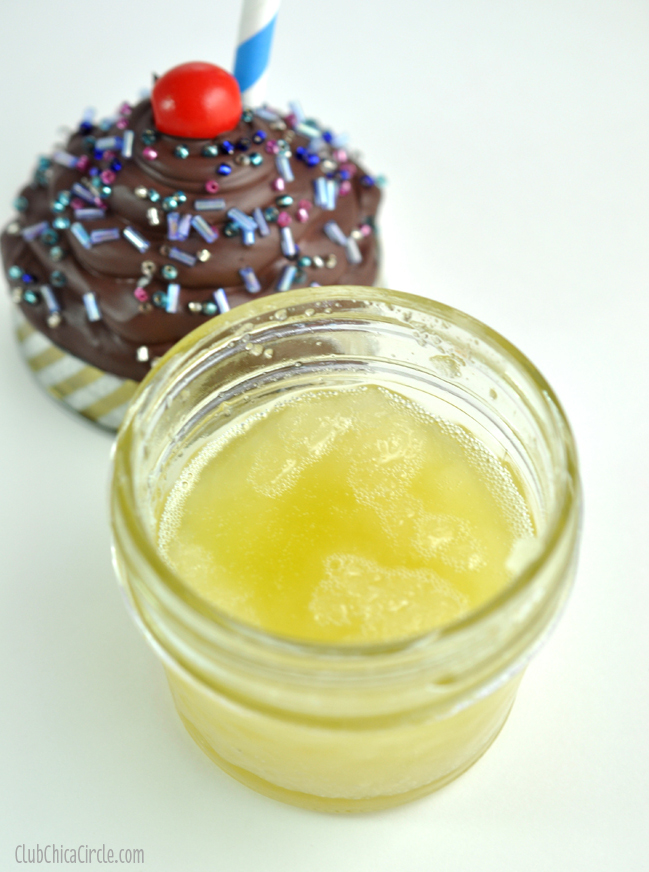 I made a batch of homemade lemon sugar scrub. I modified it from this great recipe from Stephanie Lynn.
Here is what I used to make homemade sugar scrub (this is enough to fill 1 mini mason jar):
3/4 cup sugar
1/4 cup lavender essential oil (or you can use olive oil)
1 tablespoons of fresh squeezed lemon juice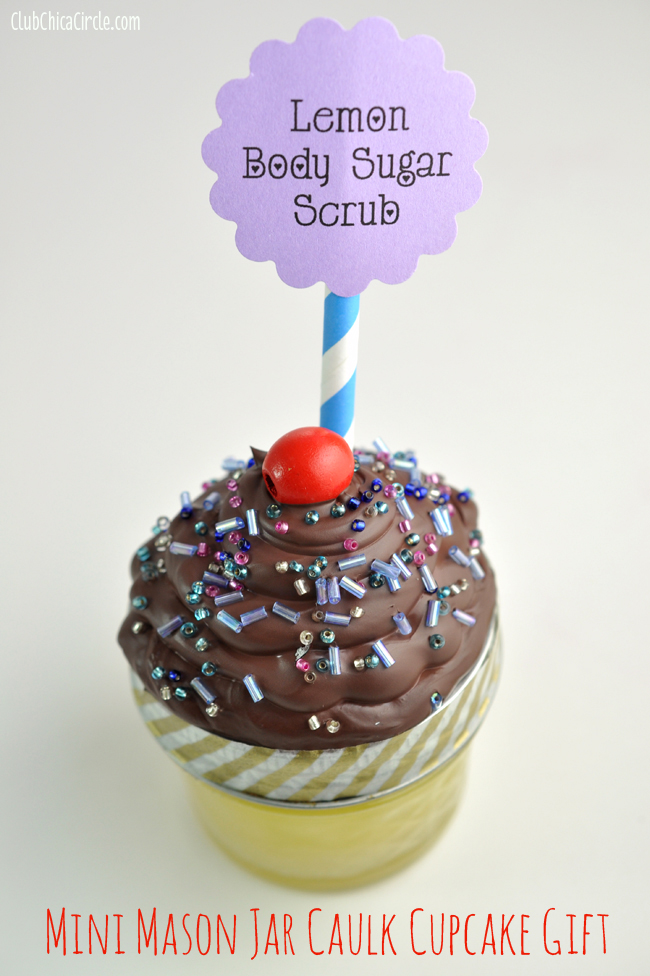 Simply scrumptious looking, right?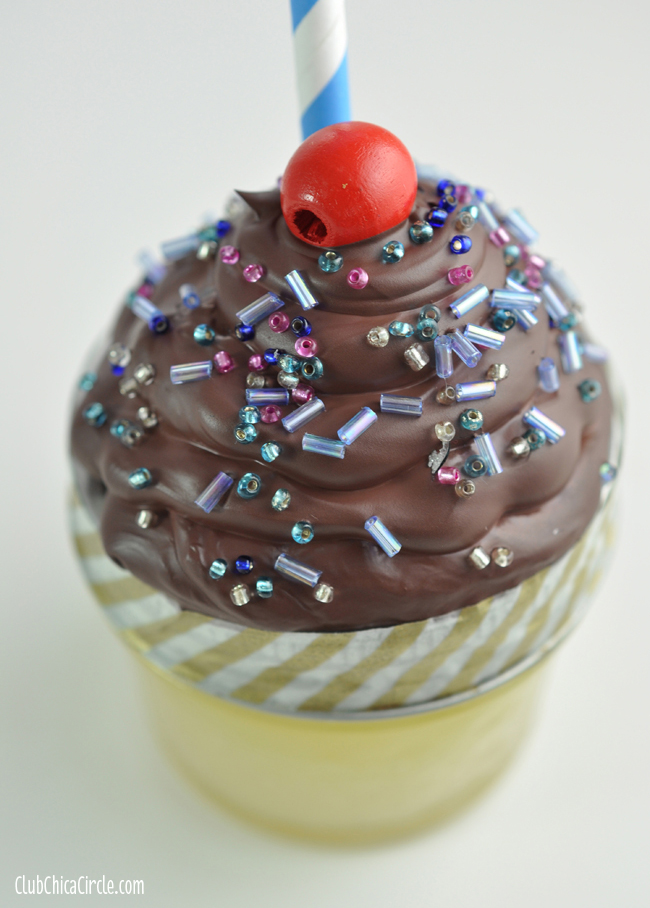 And you can use white caulk as well, to emulate white cupcake frosting.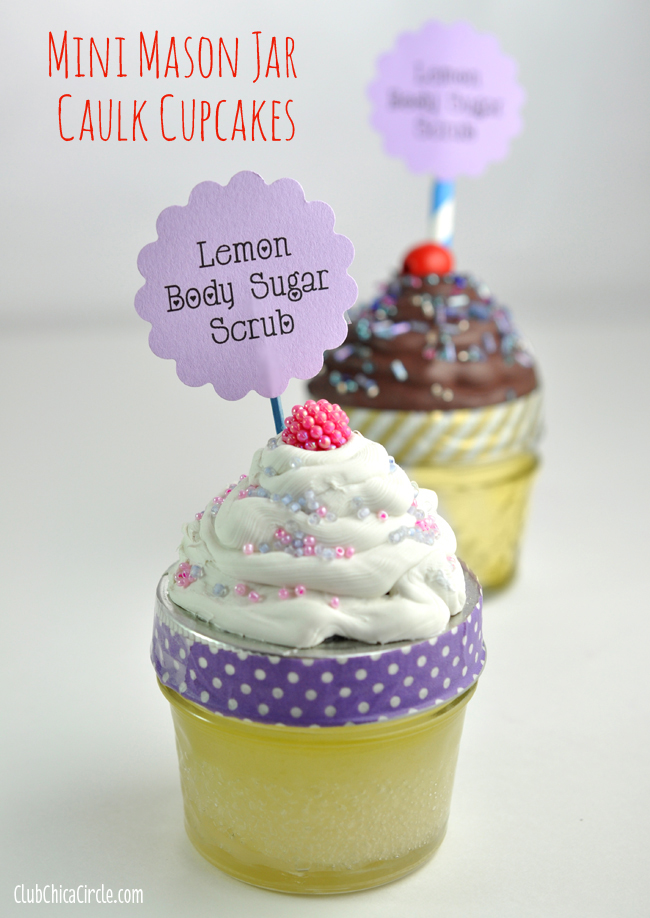 This is one of my favorite crafty ideas for sure!
Looking for more great mini mason jar ideas?
Try HOMEMADE BATH BOMBS dressed up in a mason jar with free printable tags.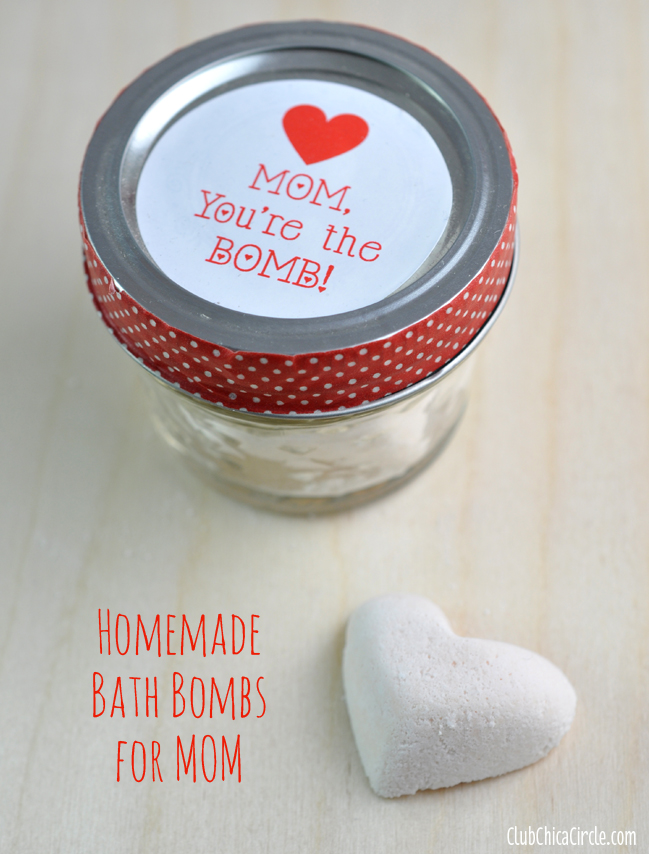 Or, this super simple SMART COOKIE MASON JAR is perfect for a quick, homemade teacher gift idea.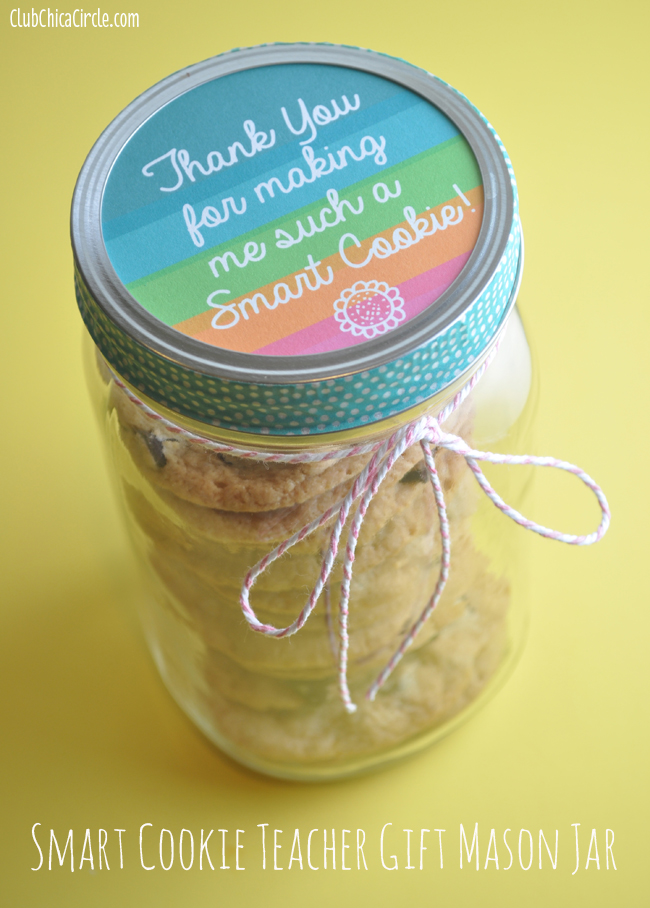 Or for a special grad, try this MESSAGE IN A BOTTLE GRADUATION GIFT JAR where they can decode your secret message.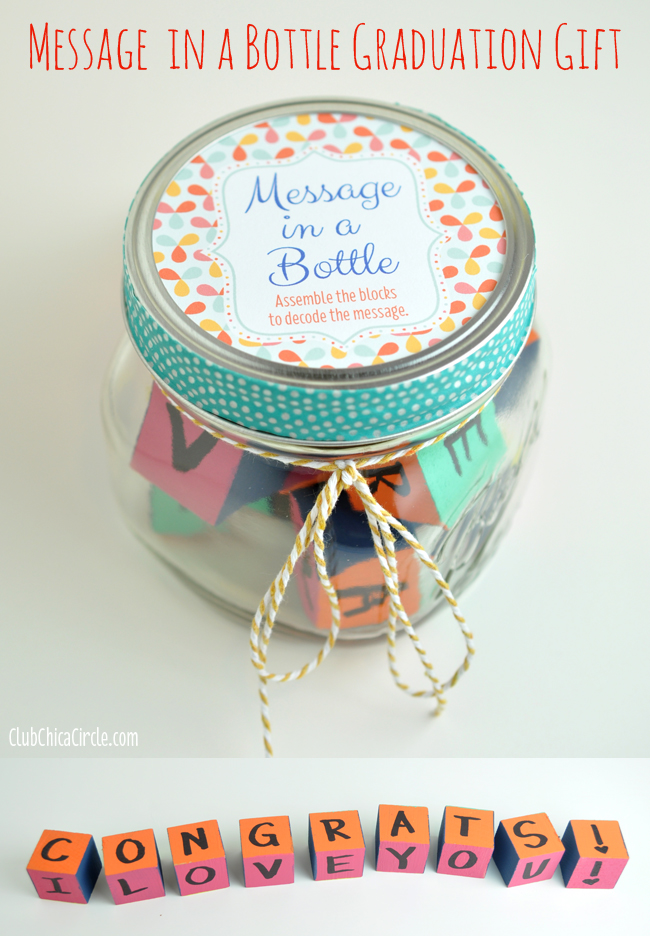 Happy Crafting!
If you liked this post, and want more, you can subscribe to be on our mailing list here, and make sure to get your free Cupcake Toppers Printables for Every Occasion.

Feeling social? Follow ChicaCircle on Facebook or Twitter, and follow me on Pinterest or Instagram.