Marshmallow Peeps – You either love them or hate them.  I LOVE them and wanted to share tons of ideas to inspire you to cook, decorate or craft with these lovely sugary and colorful creatures. You will even find some non-sugary crafts below that will fill a crafty day with fun.
To see pictures of ALL of the ideas listed below – check out my Perfectly Peeps Crafts and Recipes Pinterest Board.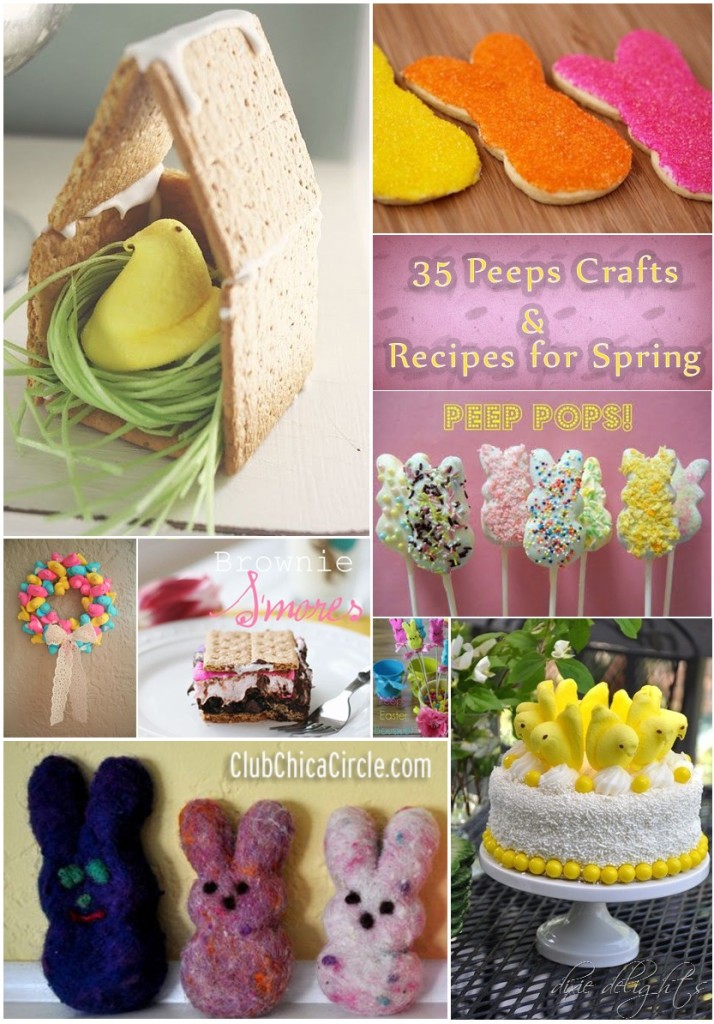 Photo Credits: Starting top left: Kasey Buick – One Girl Talks; Love From the Oven; Sugar Swings!; Tried & True; Busy Mommy; The Impatient Crafter; Club Chica Circle; Dixie Delights;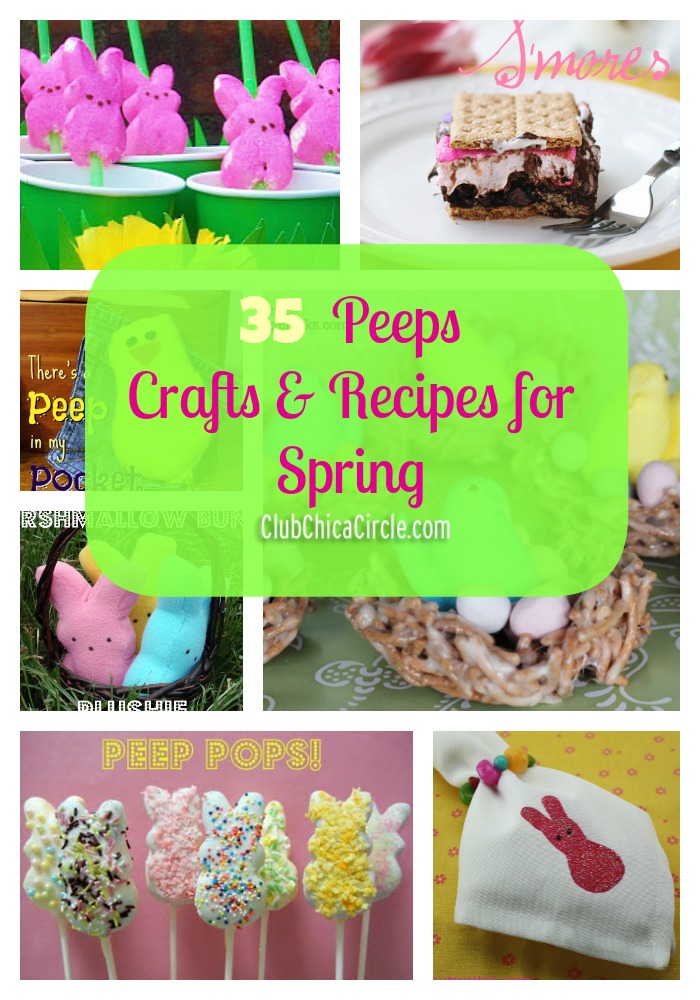 Peeps Recipes
1.  Peeps Bird Nest (The Crafting Chicks)
2.  DIY Bunny Peep Straws (Uncommon Designs)
3.  Peep Bunny Cake (The Frugal Girl)
4.  Peepshi – Peeps Sushi (Serious Eats)
5.  Peeps on a Stick (Your Homebased Mom)
6.  Peeps Cookies (Love From the Oven)
7.  Peeps Muffin Tin Meal (Cookie Cutter Lunch)
8.  Peeps Centerpiece Cookies (The Baked Equation)
9.  Peep Brownie S'mores (Busy Mommy)
11.  Easter Peeps Casserole (The Party Animal)
12.  Easter Peep Kebabs (Warning Sugary Goodness)
Peeps Decorations
13.  Easter Peeps Flower Arrangement (The Autocrat)
14.  Little Grow Peep Flower Topiary (How Does She)
15.  Peeps Easter Wreath (Tried and True)
16.  Peeps Topiary Tree (Crafts 'n Coffee)
17.  DIY Peeps Easter Bouquet (The Impatient Crafter)
18.  Quick and Easy Easter Wreath (Our Best Bites)
19.  No Sew Easter Peep Table Runner (Chica and Jo)
20.  Peeps Bunny Wreath (Stampin' Momma)
Peeps Homes
21.  Peep Houses (Kasey Buick – One Girl Talks)
22.  Make Your Own Peeps Candy Diorama Houses (Club Chica Circle)
23.  Peeps Diorama based on the movie Gravity (DIY Del Ray)
Peeps Themed Crafts
24.  Peeps Felt Bunny Bunting and Door Hangers (Dana Made It)
25.  Peep Stenciled Napkin with Jelly Bean Ring (The Impatient Crafter)
26.  Pretty in Peeps Pendant (The Impatient Crafter)
27.  Paint Chip Bunny Garland (The Vintage Umbrella)
28.  There's a Peep in my pocket (Two Kids Cooking)
29.  Bunny Peep Puffy Paint (Sassy Dealz)
30.  Peep Specimen Art (Choose to Thrive)
31.  Needle-Felted Peeps (Club Chica Circle)
32.  Marshmallow Bunny Plushie (Dandelions and Lace)
33.  Marshmallow Peeps Necklaces (Multiples and More)

Peeps Gifts
34.  "You Are One of My Favorite Peeps" treat bag printable (Club Chica Circle)
35.  Easy Make Your Own Peeps with "Hoppy Easter" treat bag printable (Club Chica Circle)
What will you being doing with Peeps this year? Share in the comments below.
If you liked this post, and want more, you can subscribe to be on our mailing list here.
Feeling social? Follow Lynnee's boards on Pinterest and Pauline's Club Chica Circle boards here. You can also find  Lynnee Jimenez on Google+.