Another week, another pumpkin decorating idea for you. = )
If you missed the last two weeks, check out the zentangle pumpkin or the decoupaged Fall leaves pumpkin.
Today is about polka-dots, not just plain old polka-dots, puffy ones and glow-in-the dark ones!
I've used these puffy paints on many projects, including decorating shirts, but never on a pumpkin before.
I used Glow in the Dark paints and as well as Tulip Beads in a Bottle fabric paints.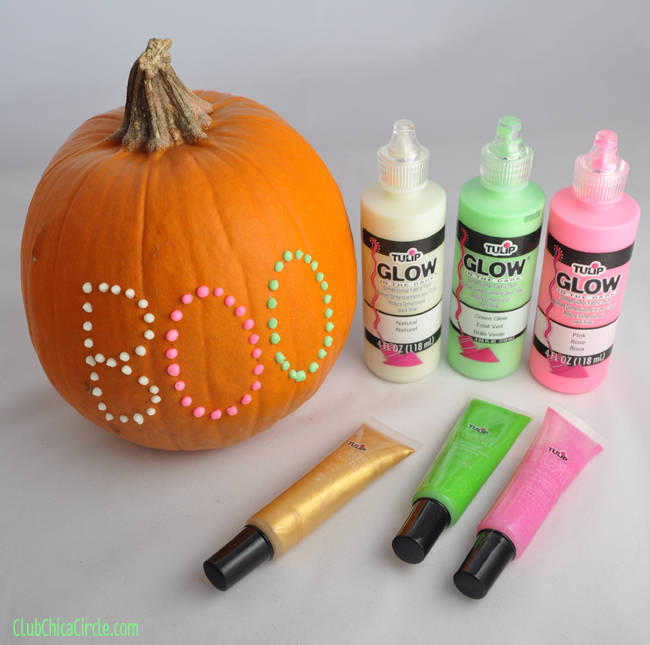 I wanted to make a surprise glow in the dark 'BOO" in the middle of my pumpkin, so first I drew the letters lightly on the front of my pumpkin with a pencil.
Then outlined each letter with dots.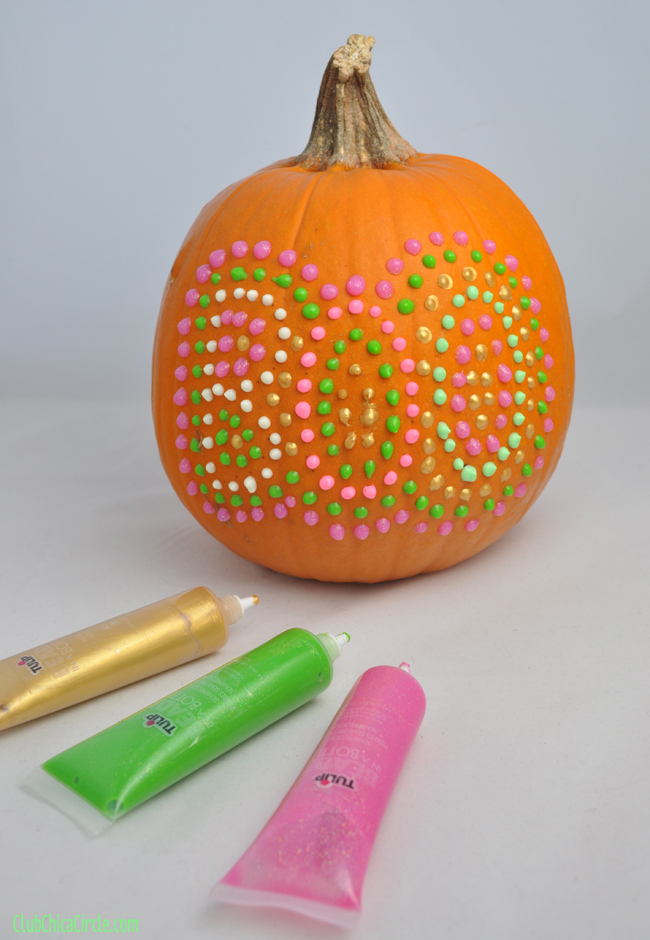 I filled the rest of the pumpkin in with polka-dots until it was completely covered. Careful, and let dry completely before trying to move or touch.
I think the design turned out really cool, and I love how tactile it feels once it dried.

You can't really see the BOO design unless you are looking for it, but you can for sure see it at night when it glows in the dark!
Happy Pumpkin Decorating and Happy Friday!
If you liked this post, and want more, you can subscribe to be on our mailing list here.
Feeling social? Follow ChicaCircle on Facebook or Twitter, and follow me on Pinterest or Instagram.
The following two tabs change content below.
I'm a crafty mompreneur with an affinity for pink. With a fine arts degree, over 15 years experience in children's publishing, and a savvy, stylish, sassy tween daughter, I come armed with perspective and passion to inspire tween girls and their mothers through creativity.
Latest posts by Pauline Molinari (see all)
This entry was posted on October 11, 2013 at 3:00 am and is filed under Be a part of our village, Blogroll, Craft ideas, DIY, Fall craft idea, Get Crafty, Halloween craft ideas. You can follow any responses to this entry through the RSS 2.0 feed.