I think I heard a shift in the sound barrier last night. Justin Bieber performed at the Staples Center last night and will perform again tonight. My tween is over the moon that we snatched tickets for the tonight's show. The topic of "Bieber-fever" is a very polarizing one, I know. Girls either love him or hate him, and she has been teased for being part of the camp that adores him. Thankfully she knows enough good friends who share the love, and she has become confident enough to display her "Bieber-love" in her own way. All I know is that when she went to school today wearing her custom tee, all the girls in her class crowded around to admire it, and were jealous that we were going to the concert tonight.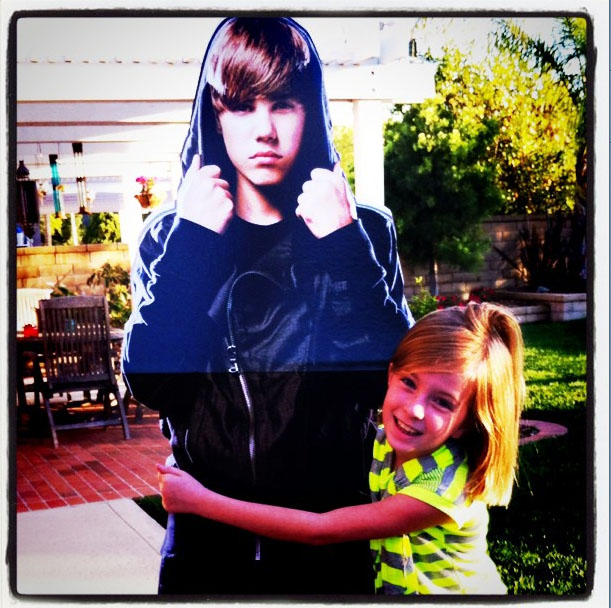 At home, a full-size cutout resides in her room, she is always wearing her "I heart JB" trucker hat, and now that we are going to see him in concert, her and her friend (who shares the obsession) wanted to fashion their own "I heart JB" tees to wear to the concert. Here is how the little fashionistas styled their shirts and personalized them to make them their own.
We started with purple, of course, adult size small shirts that we found at our local Michaels. These of course were too big for the girls without making them look like dresses, so we made some our own adjustments. The best part is all they used were scissors and a cutting, pulling and tying technique which created a perfect fitting tee and a stylish one to boot.
Here is a diagram of how we cut up the shirts.
We cut off the length on the bottom and the arms.
We then made about 3″ long slits about 1/2″ apart all along the bottom of the shirt. You can do this same technique on the arm sleeves too.
Then along the side we cut slits again about 3″ long (length depends on how tight you want around your waist) and about 1″ thick. The last cut is to divide the slits along the side by cutting them in half. These will then be tied together to create the form fitting shape.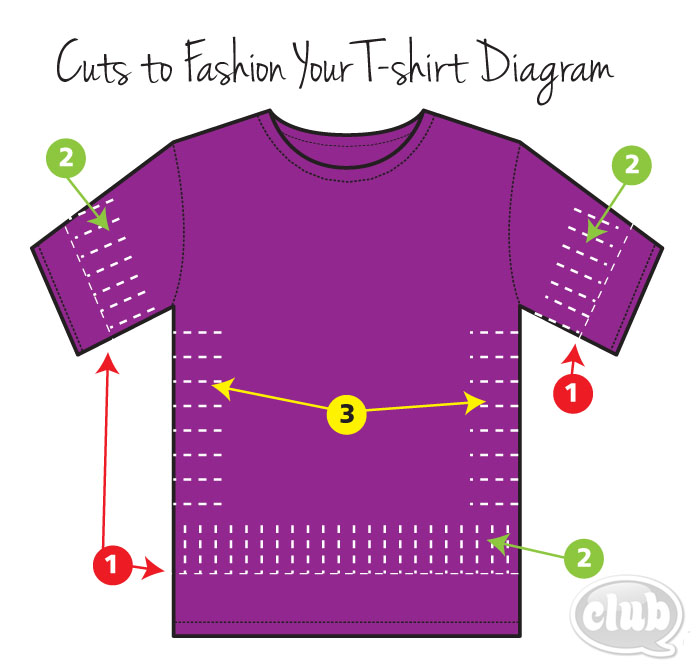 Here is our step by step in pictures:
First we ironed on our "I [heart] JB" letters on the shirt. I used my handy Cricut machine and t-shirt vinyl from here, but you can use iron-on letters from your local craft store, or even draw them in with fabric markers or puffy paint.
Then did our cuts to style them.
Next, the girls used Glow-in-the-Dark fabric paints. We love the Tulip brand that comes in all kinds of cool colors.
After the shirt was completely dry (let dry overnight), you can choose to add some more flair to your fringe by pulling on the ends of the strands and attaching beads if you like.

And since I am the lucky parent that gets to take her to the concert, I could not resist making a custom tee for myself, with a little adjustment in the saying, "I heart my daughter who heart's JB".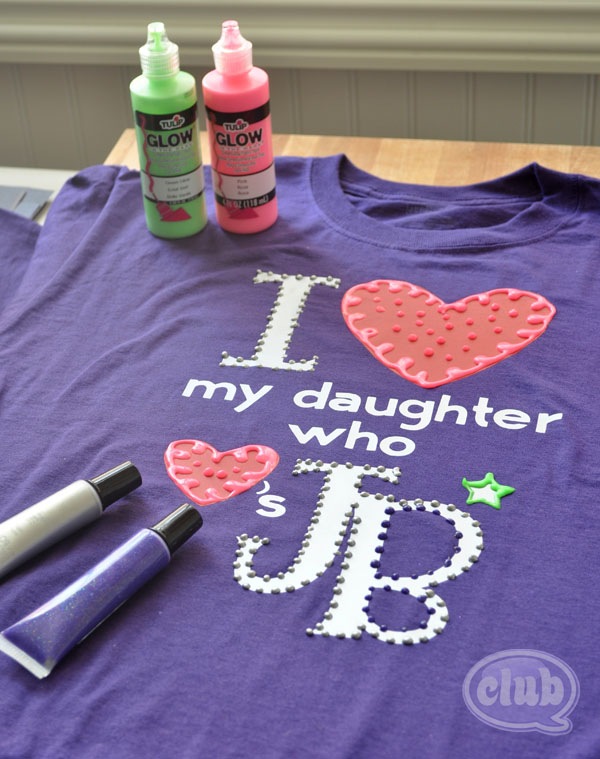 I used the Tulip Glow-in-the-Dark paints as well, but I also used one of my favorite craft products called Beads in a Bottle also from Tulip brand.
Wish me luck as I ascend into a sea of purple clad screaming teens and tweens tonight. I have my earplugs ready. = )
Happy crafting!
If you liked this post, and want more, you can subscribe to be on our mailing list here.