Remember zentangles? The really easy drawing technique that really takes doodling and patterning to a new level. I can't stop "zentangling" since I tried on these coasters.
Fall is here, and October is right around the corner. Time to start decorating pumpkins. I love to decorate them early, but I don't like to carve them this early. Every week until Halloween I'm going to show you a new fun way to decorate your pumpkins – without carving. Today is zentangle pumpkin decorating.
For a refresher course on what a zentangle is – it is simply dividing your drawing surface into random sections, and then doodling simple patterns in each section.
To do this on a pumpkin, I used a large tipped black Sharpie marker and a medium tipped one. I divided my pumpkin into random section with the thick permanent marker first. Then in each section I doodled in different patterns ranging from stripes to polka-dots to squiggles and anything in between. There is no wrong way to do this. That's what makes this a perfect pumpkin decorating idea for any age.

After I filled my pumpkin with zentangle patterns, I finished by painting the pumpkin stalk black for extra detail. I used Americana Multi-surface Satin paint in the black tie.
Lovely!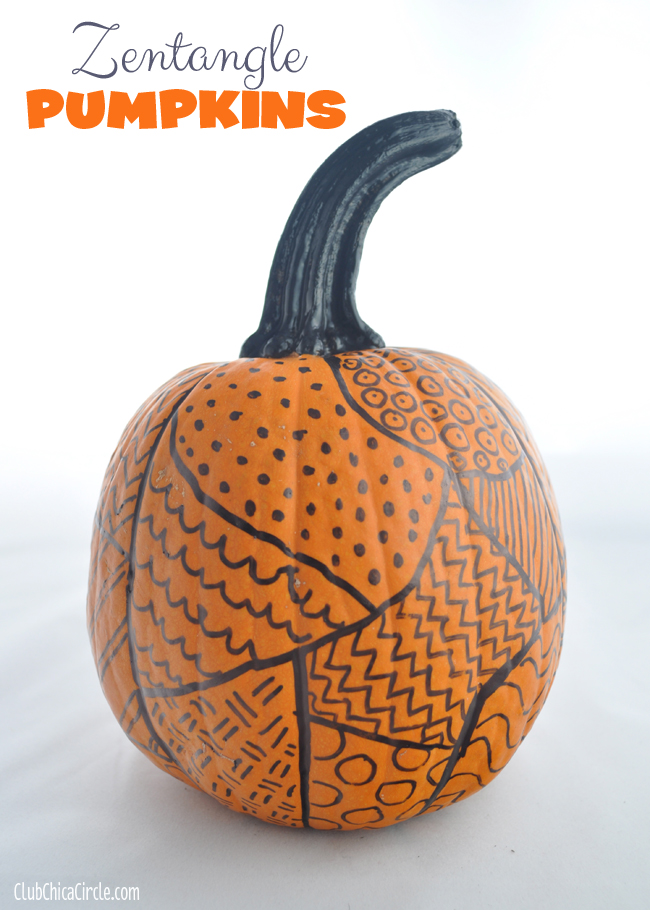 Here a couple other non-carving pumpkin decorating suggestions to inspire:
Enjoy!
Happy Friday!
If you liked this post, and want more, you can subscribe to be on our mailing list here.
Feeling social? Follow ChicaCircle on Facebook or Twitter, and follow me on Pinterest or Instagram.