Has your tween figured out their Halloween costume yet? Mine just announced to me yesterday that she would like to be the "polka-polka-afro" character from Madagascar 3. And that is exactly how she said it.
If you have seen the movie, or just the ads, you know what I'm talking about – the zebra character who dresses up like a circus clown. Ok, looks like the purchase of a rainbow afro wig is in my near future…hmmmm… my brain is now spinning with how to pull together this costume in a homemade way. Homemade rainbow afro maybe? Never thought I would put those three words together. My daughter's suggestion is to wear a rainbow afro wig while she decorates a close-fitting white shirt and pants with polka dots. I will have to post a follow up photo of her final costume. = )
I thought this would be the perfect time to share some easy homemade costume ideas in case you and your family are still deciding what fun, ghoulish, or cute characters to be this Halloween.
Last year my tween was a green alien in her spaceship.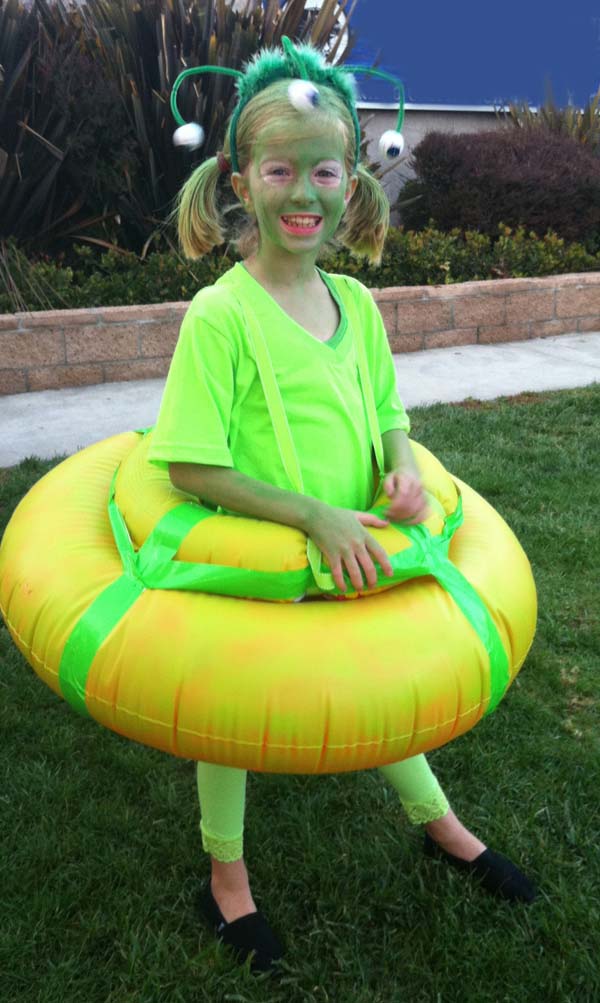 We spray painted an intertube green and attached it to her body with green ribbon just like suspenders so that she could pull it off and on easily. She wore neon green tights and shirt. We crafted an eyeball headband by wrapping it in green boa and attaching eyeball ping pong balls using green pipe cleaners and some hot glue.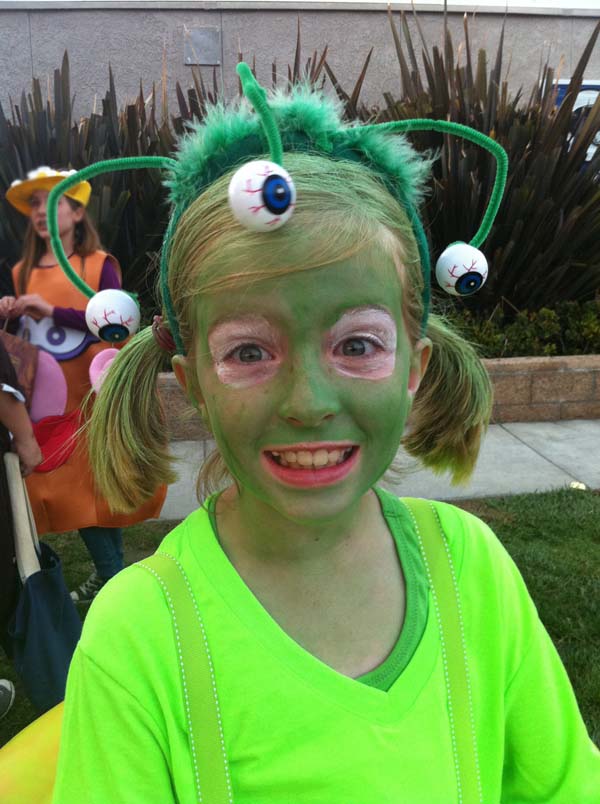 I painted her arms and face with green face makeup all over except for big white circles around her eyes. We finished it off by spraying her hair with a little green hair color.
One of her friends dressed up as Papa Smurf, and I thought she looked spot on!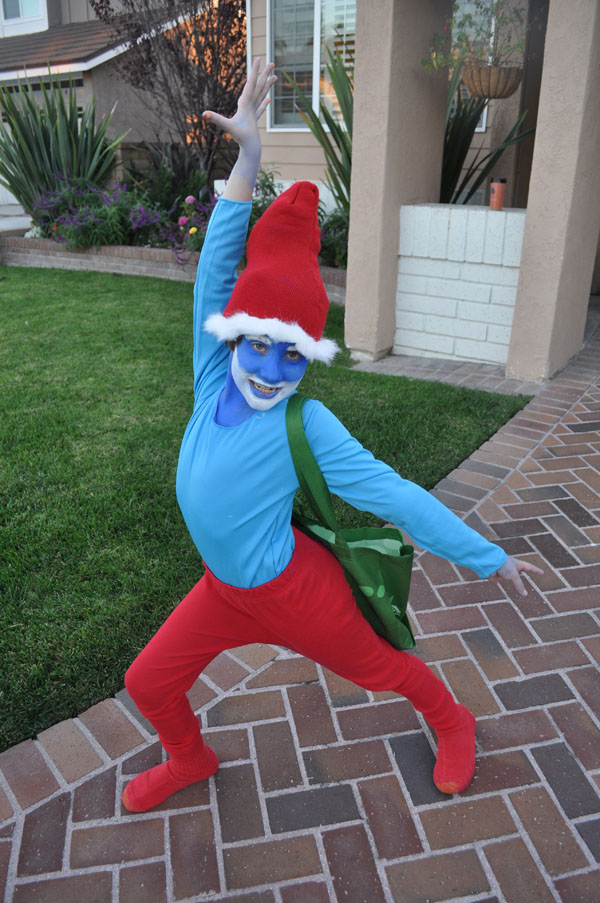 She wore a long sleeve blue shirt, red leggings with red socks over her shoes, painted her face blue and white in the appropriate places and finished it off with a Santa hat filled with stuffing. Brilliant!
My tween had a costume party later in the year in which she dressed up as a marionette. This one was also relatively easy to pull together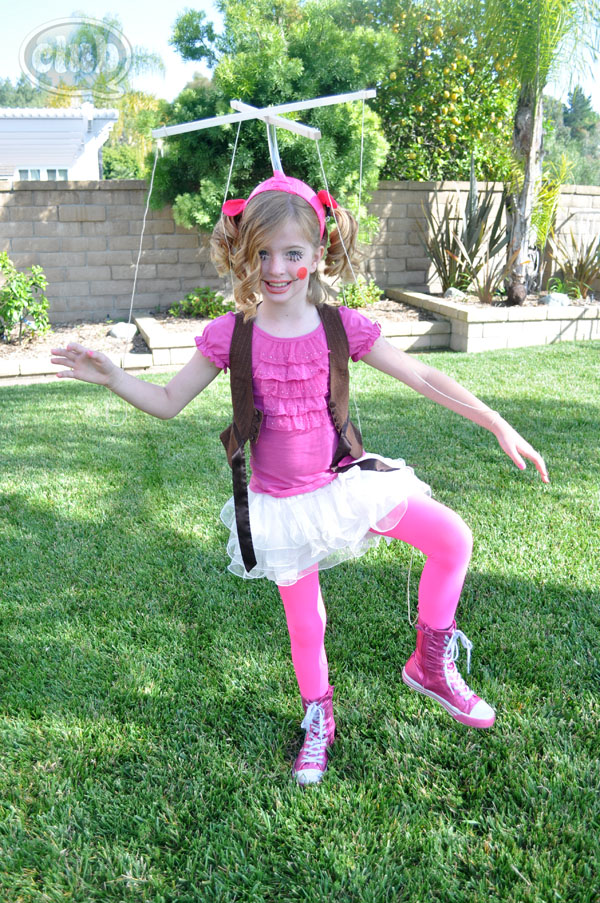 I crafted a headband using duck tape, plastic tubing attached to two intersecting pieces of balsa wood for the puppet part. We then tied string from each wood end and to each of her hands and feet to give the full puppet effect. She styled her clothes accordingly wearing a frilly hot pink top with hot pink tights and a white tutu skirt paired with a vest. And we thought the pink glittery high tops were a perfect complement.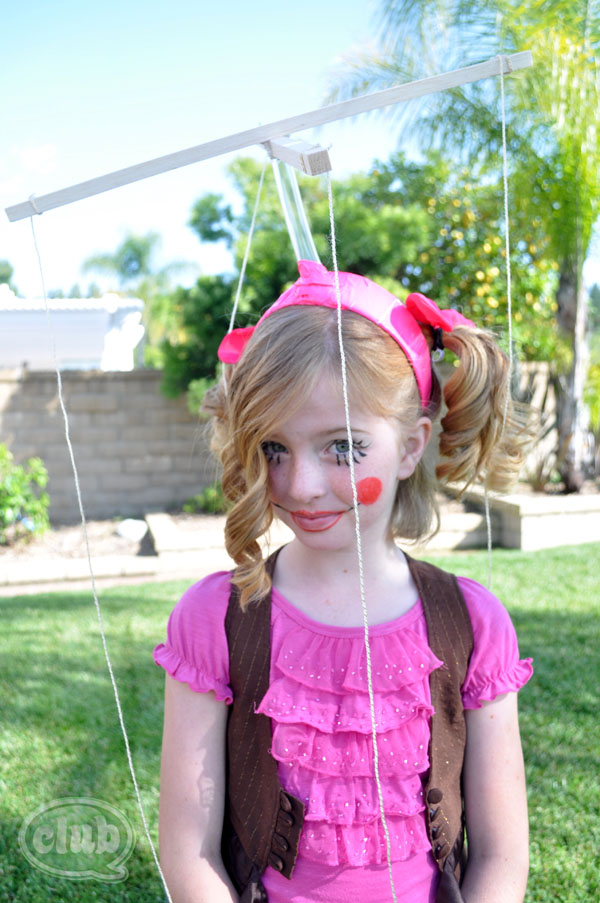 And I painted her face with a little makeup to give the full effect – black eyeliner to give her big eyelashes, lip liner around the lips and red rosy cheeks.
I just heard that my niece is going to be Flo from the Prudential commercials this year. I think that is hilarious! She actually found a listing on Ebay for a "Flo" apron and pin. She will pair it with a white shirt and pants, and of course the signature headband. She is even taking tips on how to tease her hair perfectly here on Youtube. I had no idea there was so much information out there on how to dress like this quirky commercial character! Progressive has even dedicated a page on their website on how to "dress like Flo". You can download their logo to make your own apron or pin. So funny!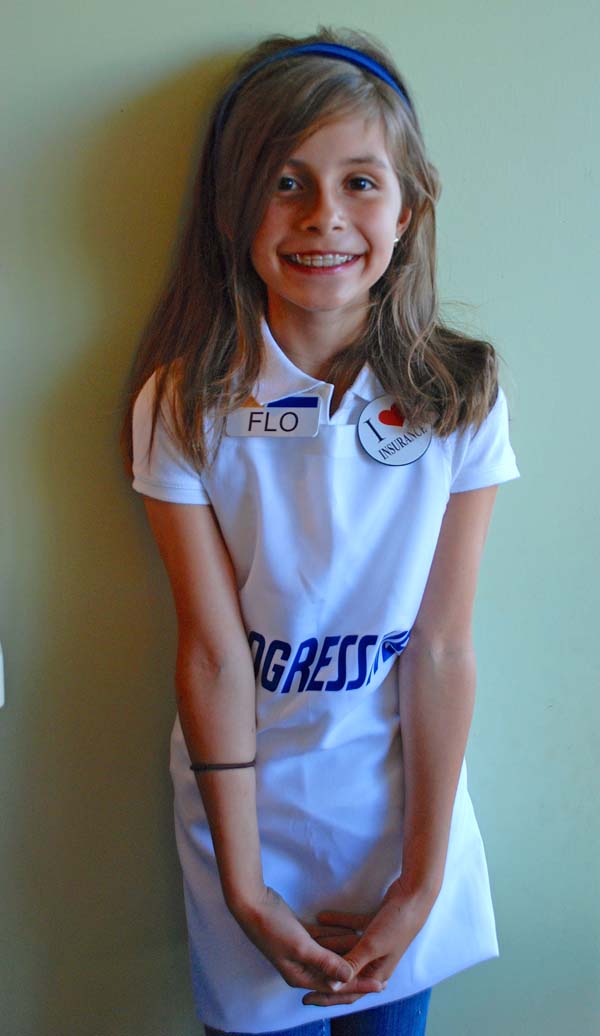 I would love to hear any of your homemade costume ideas. And if you have any thoughts or suggestions on how to pull off the "polka-dot, polka-dot, afro" costume, comment below. On that note, I will leave you with a little fun inspiration. = )
Happy crafting!
If you liked this post, and want more, you can subscribe to be on our mailing list here.