With just a little over a week left – my tween is still pressing on to try as many foods as possible from our 100 Food List Challenge- The Tween Version before 2013 arrives. It has been a tasty culinary adventure for our entire family which has brought us to new neighborhoods, new markets, new cultures, new vocabulary and closer to our food list challengers (my daughter's 24-year old cousin in Chicago and 10-year old friend in North Carolina). Our 100 Food List Challenge started at the beginning of this year as an adaptation from a list posted  at the Very Good Taste Blog. Along this journey, my girl has also turned into a mini food critic.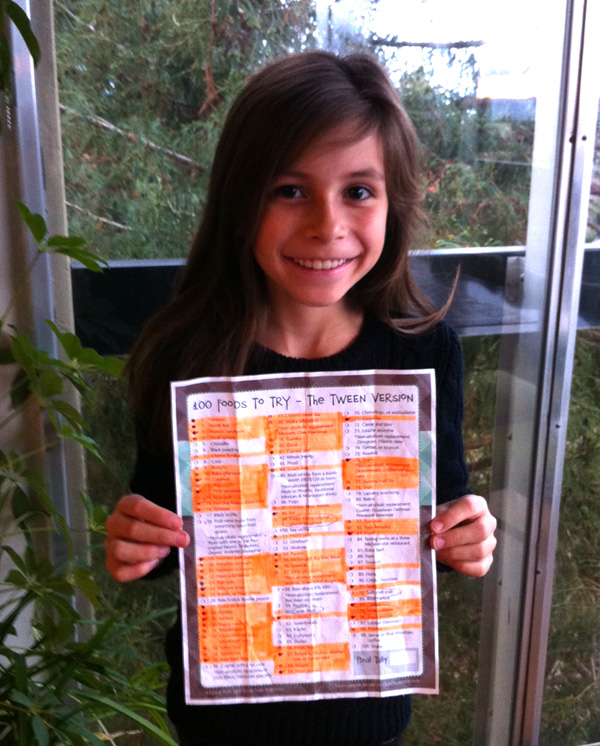 How close is my girl to completing the list? Drum roll, please……61 items.  The year is not over yet. I have item #60 on my shopping list for today (carob chips).
As 2013 approaches and you prepare your New Year's Resolutions – consider the Food Challenge for your own family. A culinary adventure awaits!
Bonus (no excuses to wait) – You can get download your own copy of the 100 Food List – Tween Version here. Take a look at the list and let us know in the comments below how many of the foods you have tried. You might be surprised how hard it is to get beyond 50 items.
If you liked this post, and want more, you can subscribe to be on our mailing list here.
The following two tabs change content below.
Lynnee Jimenez
-> I am a wanna-be crafter who is inspired by my crafty sister Pauline, my tween daughter and niece. By day, I work in high-tech. By night, I dream of learning how to best use gloss, glitter & my daughter's glue gun. I really want to create memories with my daughter to last a lifetime.
Latest posts by Lynnee Jimenez (see all)