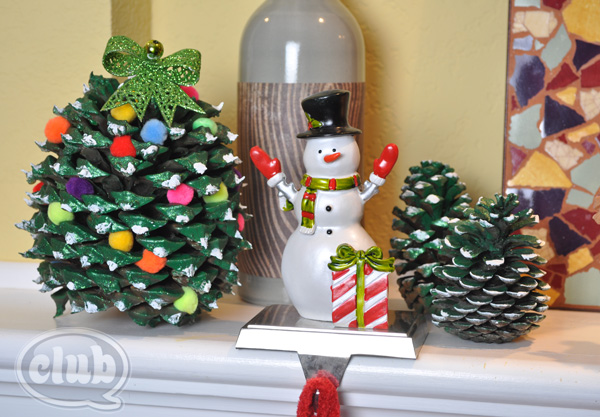 At Thanksgiving our family spent a couple days in a cabin at Lake Nacimiento. The scenery was gorgeous, and we were really lucky with the weather. One thing I couldn't resist taking back with us were ginormous pine cones we found on the trails. I have been collecting pine cones locally on my morning walks and using them for various crafts, like the Pine Cone Topiaries I made, or the Pine Cone Turkey Candy Jars. But I had honestly never seen pine cones this big before. I knew I had to create a cool holiday craft with them.
I thought they would make perfect Christmas trees. I started with various sizes of pine cones, and first spray painted them a solid color green. After that coat was dry, I sprayed a coat of the coolest spray paint ever –Krylon Glitter Blast. It comes in a variety of different colors but I used the glittery green that is the perfect shade of Christmas tree—"Lucky Green" to be exact.

Then after that was dry, I used a small brush and a little bit of white acrylic paint to just paint the tips of the pine cone leaves to give the illusion of snow. The rest was just inserting small colored pom poms and adding a decorative small ornament as a "tree topper".
Depending on how many you make, they would make a great holiday centerpiece or table decoration. Or I thought they looked perfect interspersed in between our snowman stocking hooks on the fireplace mantel.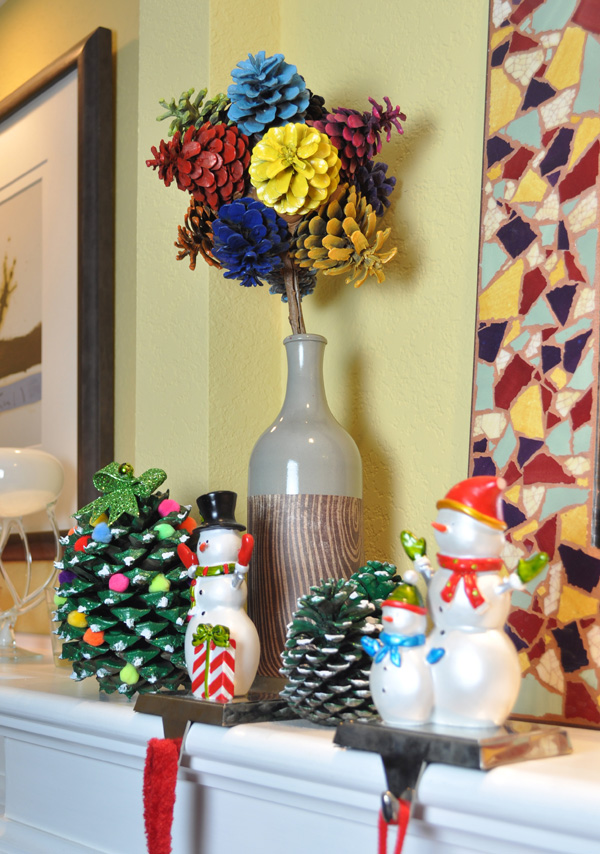 This great family craft has just a few steps, but take a peek and I'm sure you will be inspired to turn pine cones you have collected into festive holiday trees.
Happy Holidays and Happy Crafting!
If you liked this post, and want more, you can subscribe to be on our mailing list here, and make sure to get your free Cupcake Toppers Printables for Every Occasion.

Feeling social? Follow ChicaCircle on Facebook or Twitter, and follow me on Pinterest or Instagram.