This week is my last push of finishing up my homemade gifts for all of the lovely people in our lives. And I certainly can't forget about my daughter's teachers. Last year we had a blast putting together The Ultimate Hot Cocoa Kit. This year, one of our favorite motto's is "Keep Calm and Carry On". I took a little editorial liberty and created labels that read "Keep Calm and Teach On". I know our teachers work so hard to teach our kids, I wanted our homemade gift to be about luxury and relaxation. I know I enjoy a really good bath with yummy smelling salts. To me it is quiet time tuning out the world and just pure relaxation.
I created this homemade gift pretty inexpensively, and I wanted to share with all of you. I picked up a large bag of lavender epson bath salts at my local Target for under $5. And I picked up a pretty glass container at my local IKEA for under $2. I also found a single bottle of stress relieving bath salts for $5.
Then I designed and printed our pretty labels to decorate the bottles with. I found inkjet compatible Avery Embossed Matte Silver Foil 2″ labels at my local Staples that I thought would be perfect to complete the gift. This is the most expensive item, but with 96 labels in the package, I know I can use these for many different purposes and gift ideas.
I created a printable template that you can download if you want to create your own "Keep Calm and Teach On" gift. I made half of the labels "Keep Calm and Carry On" thinking this would make a great homemade gift idea for family and friends too. Download  your copy here:
keep calm and carry on label template
The rest was just decorating the jars. I also paired a candle with the bath salts, to make a complete relaxation homemade gift idea.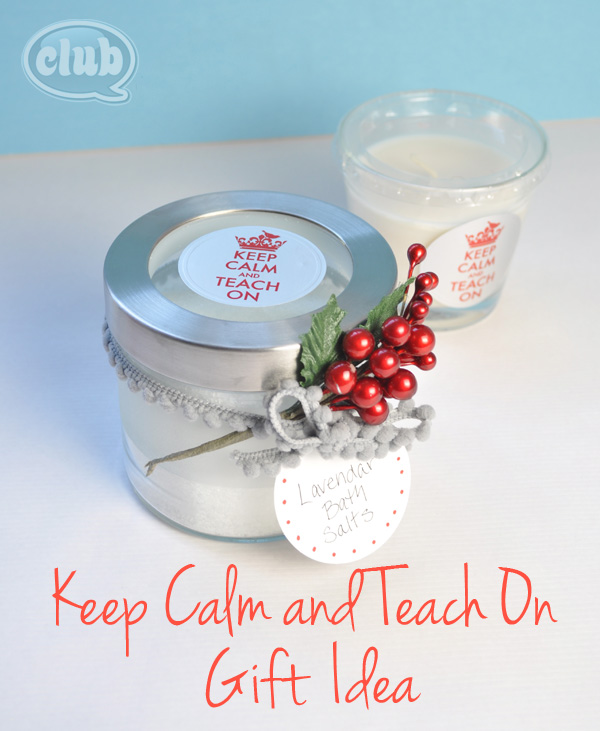 I dressed the container up with pretty coordinating trim, and used a festive pick on the filled jar. I attached a tag on the glass jar to label what was in it.
For the already packaged bath salt bottle, I dressed it up with a little washi tape and sparkly ribbon.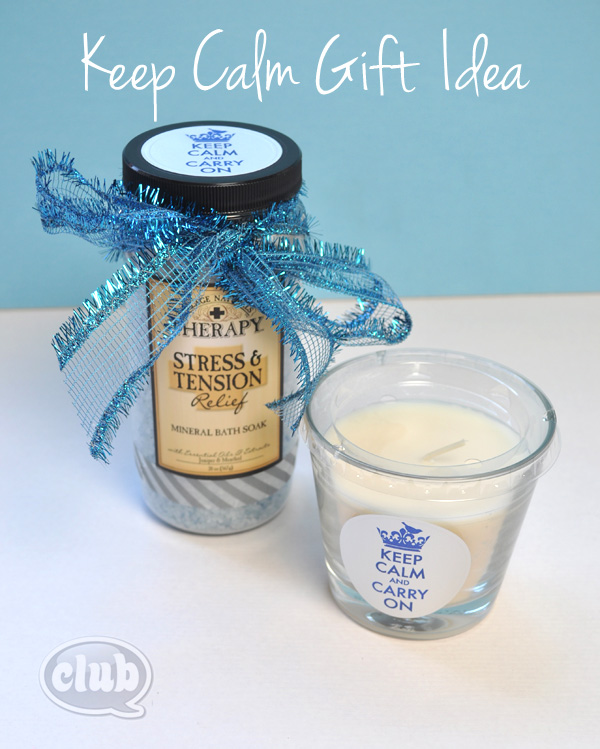 You can pair the two together and put in a pretty basket or bag and give to your favorite person that you think deserves a little relaxation this holiday.
Sorry if you are looking for a quick and inexpensive gift idea that is sure to bring a smile to your favorite teacher's face, just keep calm, look no further, and make your own gift set today.
Happy holidays and happy crafting!
If you liked this post, and want more, you can subscribe to be on our mailing list here.