Disclaimer: this post is sponsored by DecoArt. All opinions, ideas, and images are completely my own.

Who is that masked orange character?
Is it a bird? or plane?
No, it's just the cutest pumpkin all dressed up for a masquerade ball!
And check out this glittery masquerade mask: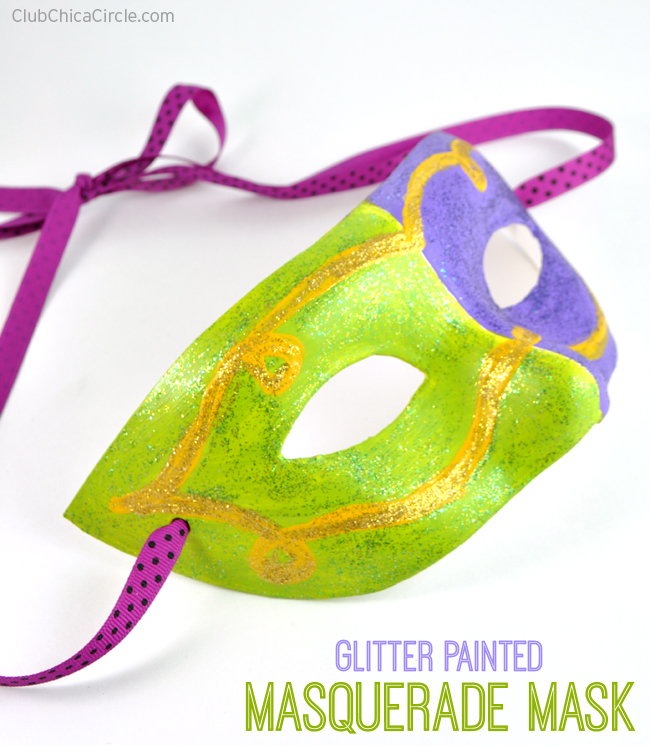 Right now it is easy to find plain white unpainted and undecorated masquerade masks at your local craft store. And after I painted this one, my daughter can't help herself but to keep trying it on. It make a super easy Halloween costume accessory, or just a fun craft idea for kids… or to decorate pumpkins with! = )
The thing about masquerade masks, is that I have always seen them so glittery and elaborately designed. I wanted to create a simple, but pretty design with mine, that of course had all kinds of sparkle and glittery goodness!
Here are the supplies I used:
Americana® acrylic paint in mustard seed, yellow green, and lavendar
DecoArt® Craft Twinkles in gold, lime green, and purple
Paintbrushes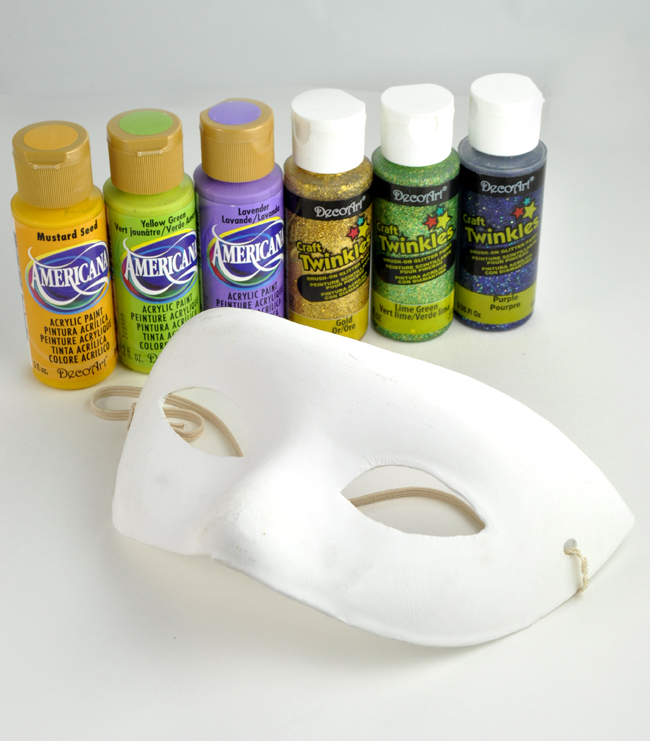 The trick is that I picked out coordinating paint colors to the Craft Twinkles glitter paint that I was using. If you apply the glitter paint right on any surface, the background color shows through. So glitter paint on white just wasn't the effect I was going for. I wanted bright vibrant and sparkly at the same time.
So first I applied the acrylic paint on the front of my unfinished mask.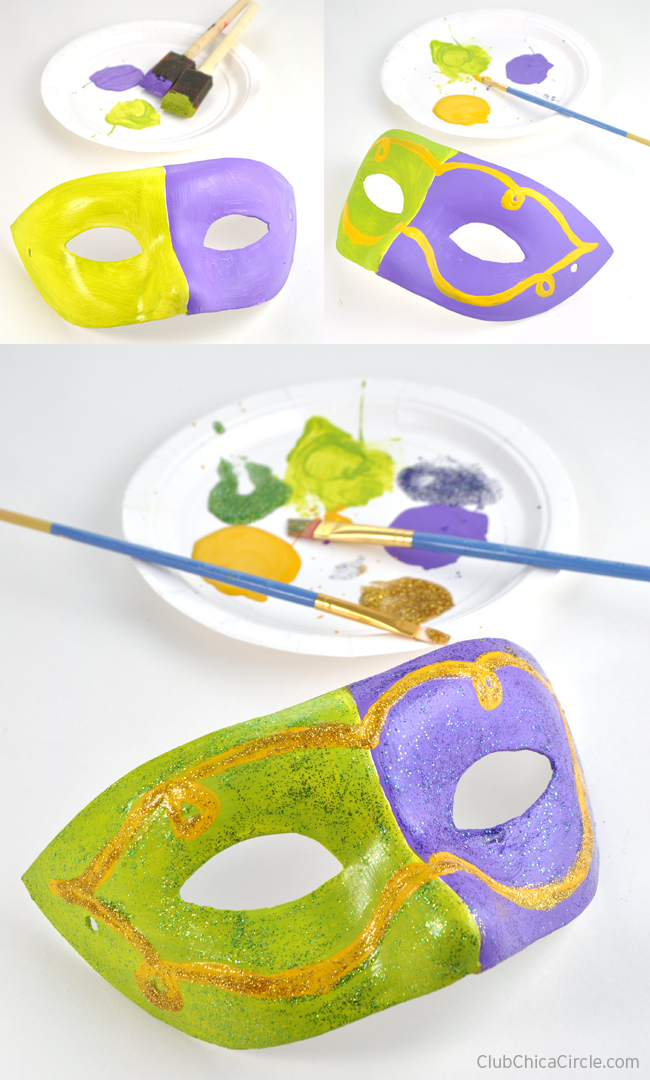 Then when that was dry, I added the coordinating glitter paint color right on top and let it dry again.
Perfect!
Now, I just needed to give my pumpkin a little character. I used white acrylic paint to paint oval eyeballs on my pumpkin.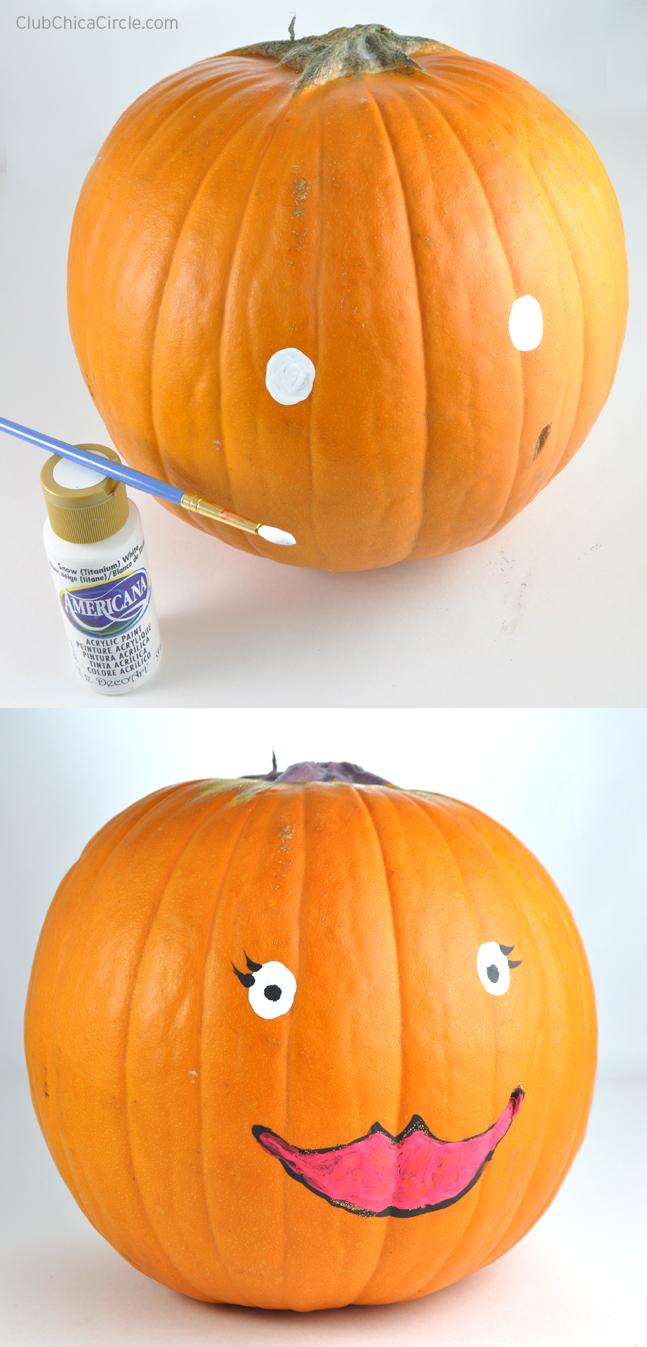 Then I used a thin paintbrush and added details with black acrylic paint and neon pink of the lips.
Once I got started adding "character" to my pumpkin, I couldn't stop and proceeded to add cute faces and expressions to various size and shaped gourds.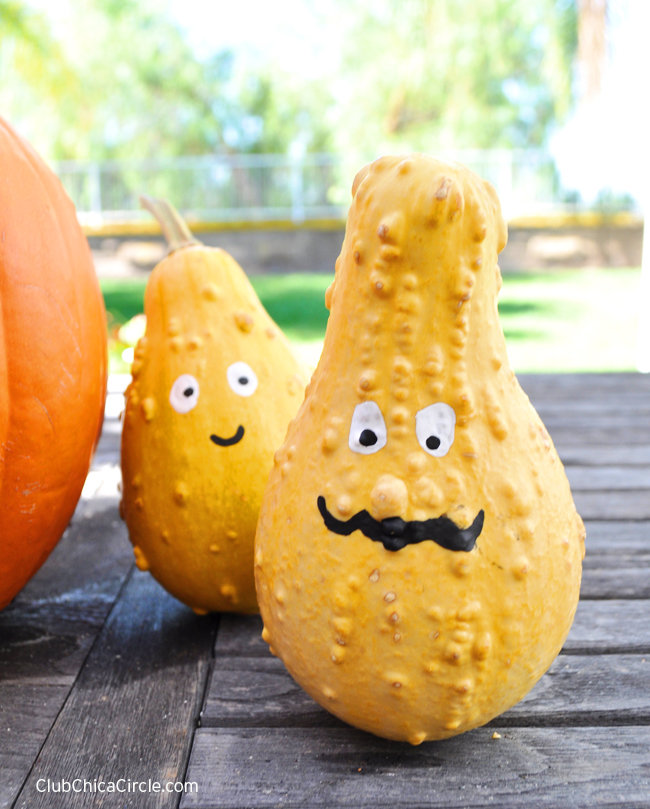 From a mini moustache and shy smiles…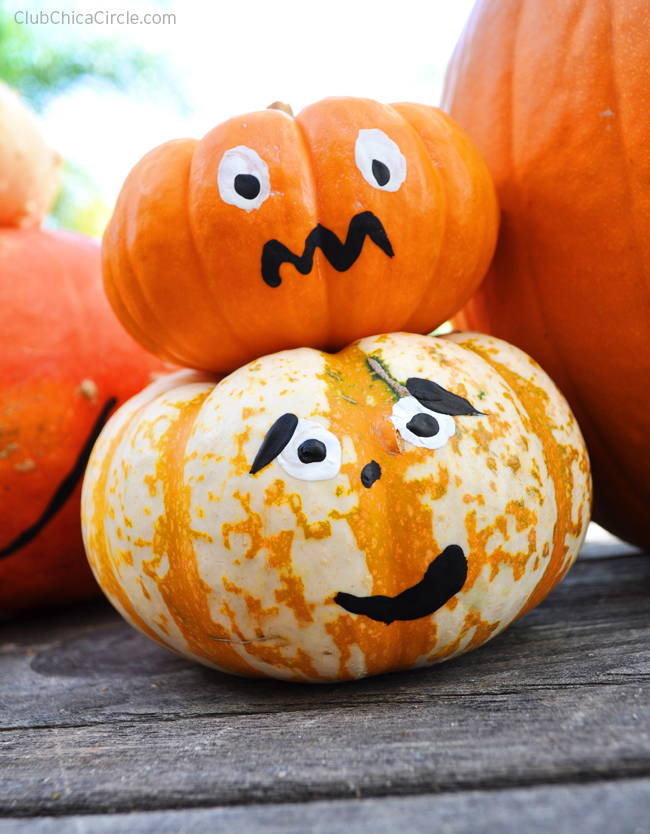 … to various funny and scary expressions.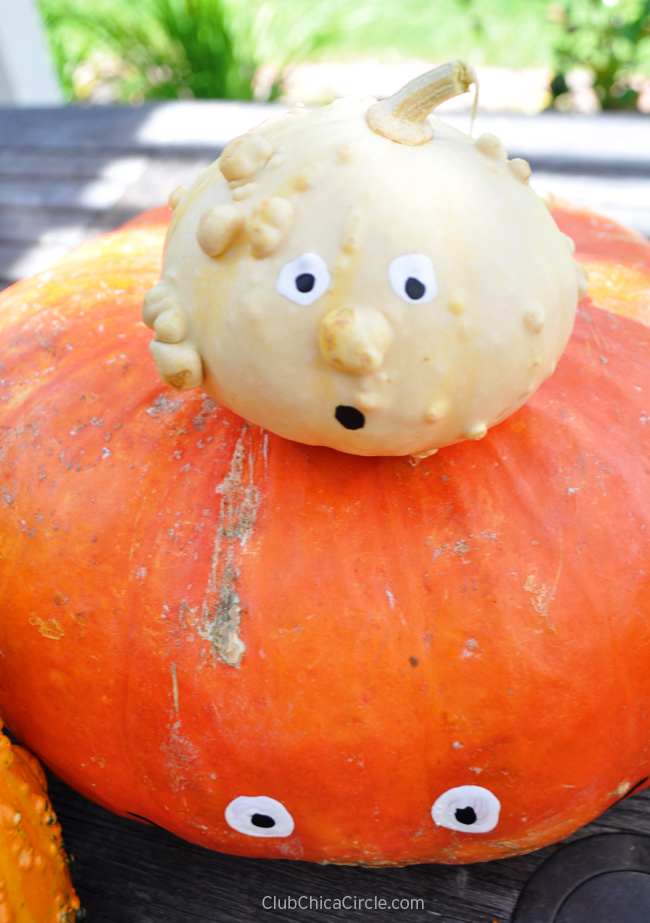 Oh my, these are so cute!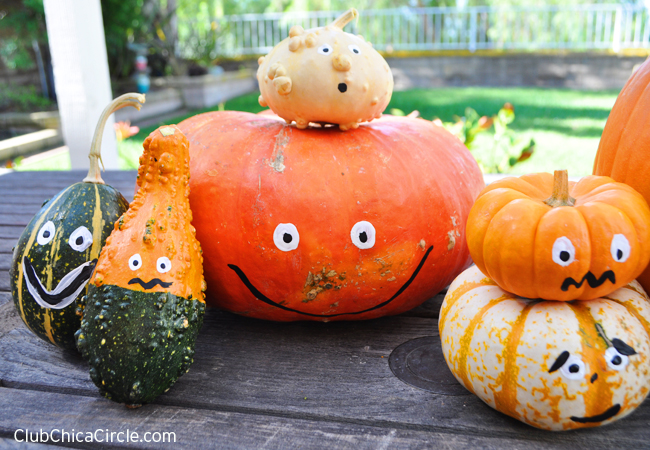 I ended up painted a whole collection of pumpkin and gourd characters!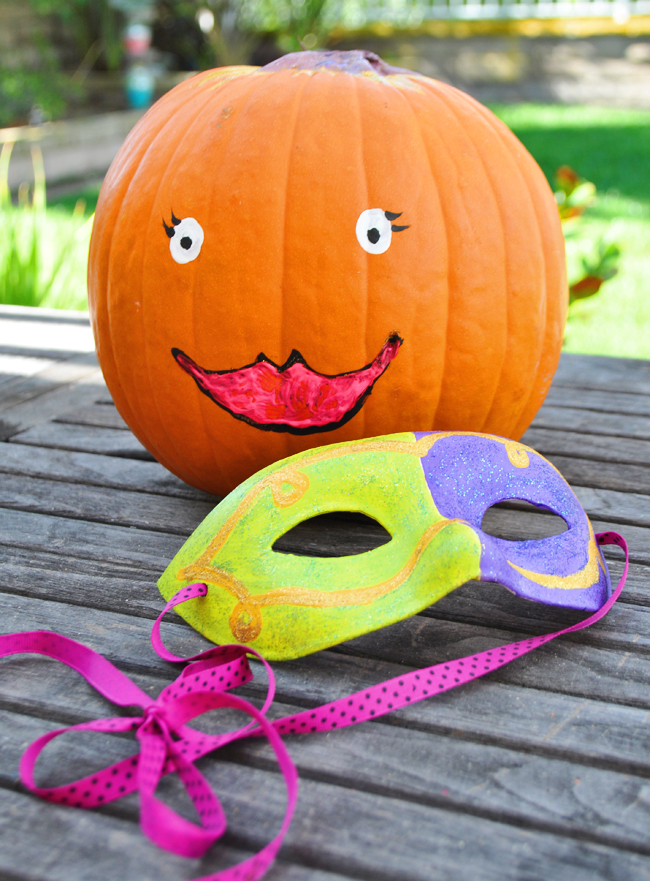 And yes, even one masked pumpkin character!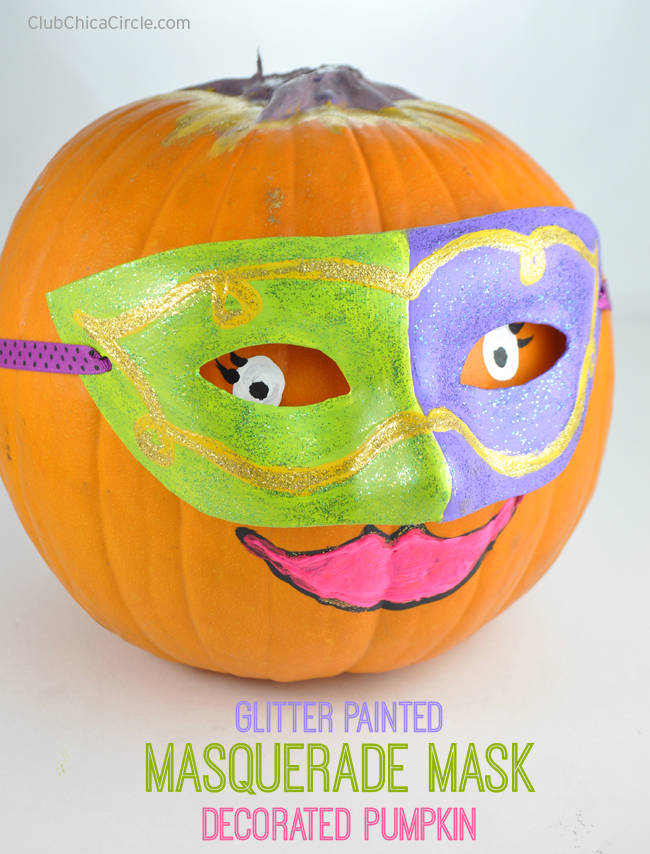 So fun and easy. This would make a great kids craft Halloween project!
If you are looking for more fun no carve pumpkin ideas, check out my round-up of 25 No Carve Pumpkin Ideas.
Enjoy!