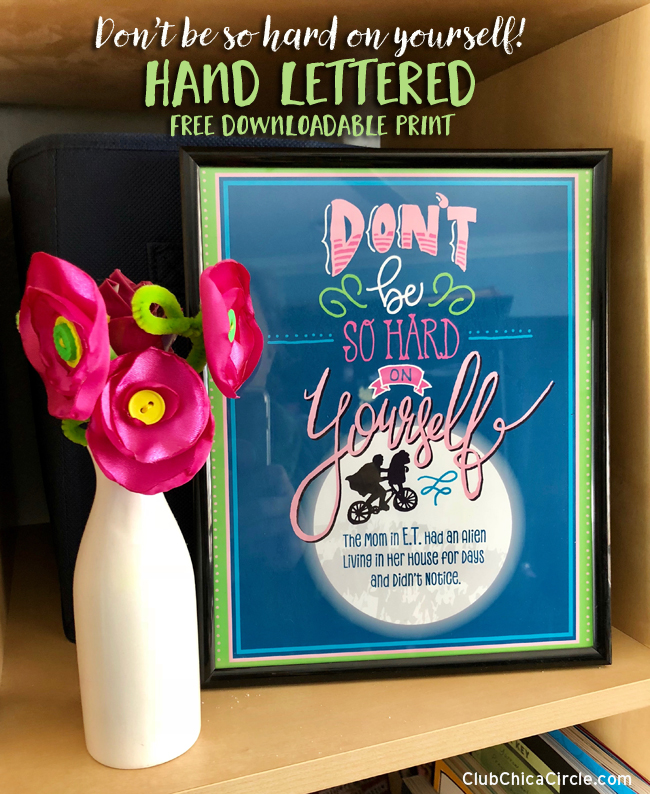 Ok—be truthful—can you relate? I know I definitely can!
Sometimes our worst critic is ourselves! I have to believe that we are all doing the best we can, especially when it comes to raising kids. When we know better, we do better, but until then keep going. It takes a tribe to raise a child, and sometimes it takes a little encouragement. Parenting is a thankless job sometimes, but, in my opinion, one of the most important too!
This hilarious quote that I hand lettered came from here.
One of my favorite social media platforms is Instagram. It's super visual and so fun to scroll through and get inspiration, see what your friends are up to, or get a peek in world of the people you admire. I follow a variety of people, including family and friends of course, fellow crafters, artists, illustrators and a people that just inspire me. I stumbled upon the LactationLink feed recently when a friend re-posted one of their letter board quotes. Below is just a sampling of some of my favorites from their feed.
Now, I'm not a new mother. My girl is 16 already, but I still remember how challenging breast feeding was when I had her. To this day, I don't know if I was doing it quite right. I mean, I know my girl was getting nutrition, but I always felt like I couldn't produce enough milk for her. I always felt like I had to supplement. And breastfeeding was never something I felt like I could ask advice for. I love that there is a safe forum for young mothers to get inspired, laugh, and connect.
Seriously, some of the most real and beautiful pictures of mothers or mothers-to-be I have ever seen!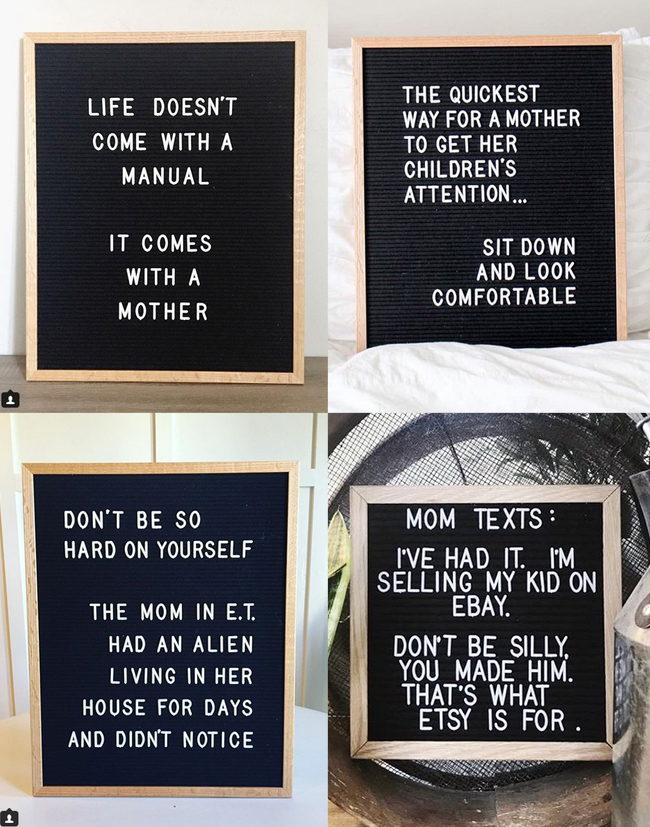 Ok, so I saw this quote: "Don't be so hard on yourself—the mom in E.T. had an alien living in her house for days and didn't notice".
First of all, the 80's girl in me loves this reference and I literally laughed out loud. I can totally relate! Can't you?
Recently, I've been toying with and learning some new hand lettering skills. It has been such a stress reliever and a fun creative activity that I can do almost anywhere. With just a fancy pen or marker and some paper, I have been having so much fun learning brush lettering and hand lettering in general. As a designer and artist, I digitally work with so many fun fonts and letter styles and there are plenty of hand drawn looking fonts or typestyles out there. But there is just something to hand lettering and drawing them by hand. Going back to basics with a pencil and a black marker to create something beautiful has honestly been really fulfilling.and fun.
So when I saw this fun quote, it inspired me to try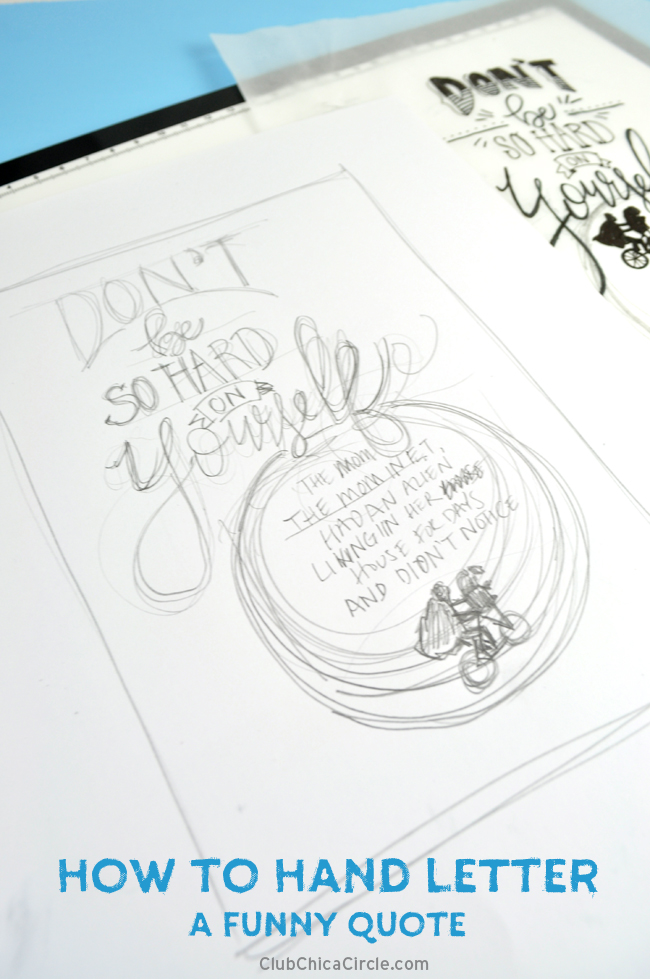 First I sketched out my concept using a just a pencil and paper. When I create a hand lettered design from a quote, first I decide which words in the quote I want to give the most emphasis on—giving them different levels of importance. In this case, I wanted to give the most emphasis on "yourself". Let's call that level A. Then, "don't" and "so hard" are my level B's, and "be" and "on" are my level C's. I wanted to give "yourself" a cursive, brush lettered effect. Then I played around with shape or "Don't" and how to tuck in the level C words creatively.
I ended up curving the bottom of "Don't" and drawing a cute ribbon around "on". I also added an actual E.T. reference with a black line silhouette of the iconic image from the movie poster of them flying through the air. When I saw that scene in theater as a kid, I think I gasped it was so suspenseful.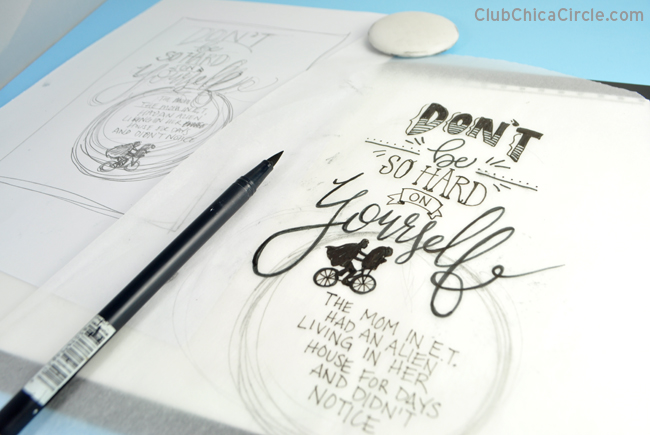 I traced over my initial design over and over again with my black markers until I was happy with the final result. You can use tracing paper, or a light box for drawing your work multiple times. Each time I re-drew my quote, I added more and more details or little nuances or flourishes.
Here are the actual materials I used:

When I was happy with my hand lettered design, i scanned it into my computer. I also drew a couple extra flourishes and details to add to the my design and scanned those in as well. I cleaned up my scan a little bit in Photoshop, and then placed it into Adobe Illustrator. I used the Live Trace option in Illustrator to turn my scan into a vector image so that I could manipulate and colorize it.
What do you think? I love how it turned out. I've done many free printables like this graduation quote on the site before, but this is the first one that I personally hand lettered vs using fonts and my design software. It feels a bit more personal and definitely handmade. I hope you all get a kick out of the quote as much as I did.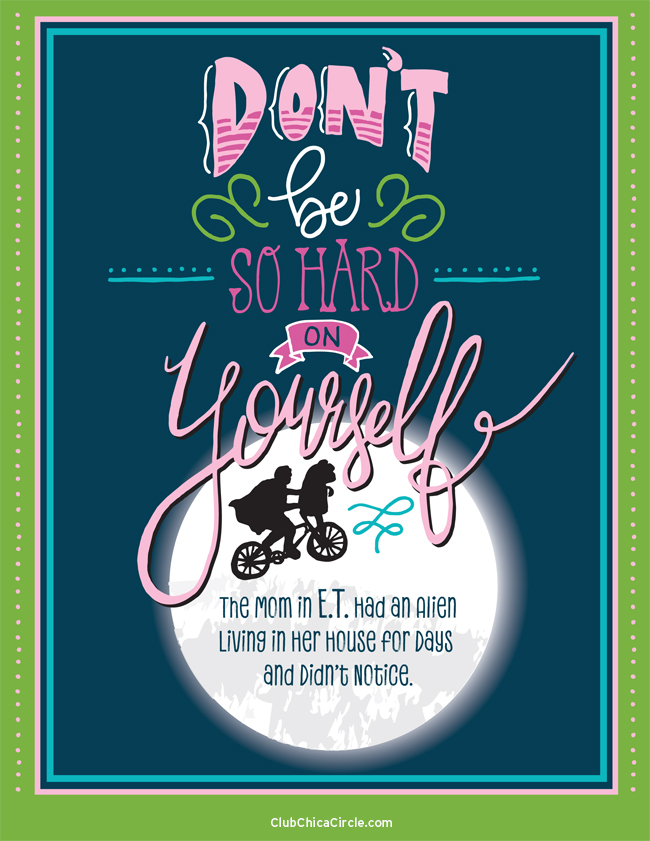 You can download your Don't Be Hard On Yourself Hand Lettered Quote Free printable here. It is sized to fit an 8″ x 10″ frame. Cut along the edges of the color to fit into a frame. I printed my on high quality photo paper.
I'm also giving you 5×7 free printable hand lettered encouragement card. I formatted in a way that you can print it out on 8.5″ x 11″ colored cardstock, cut out, fold and gift as a homemade encouragement card.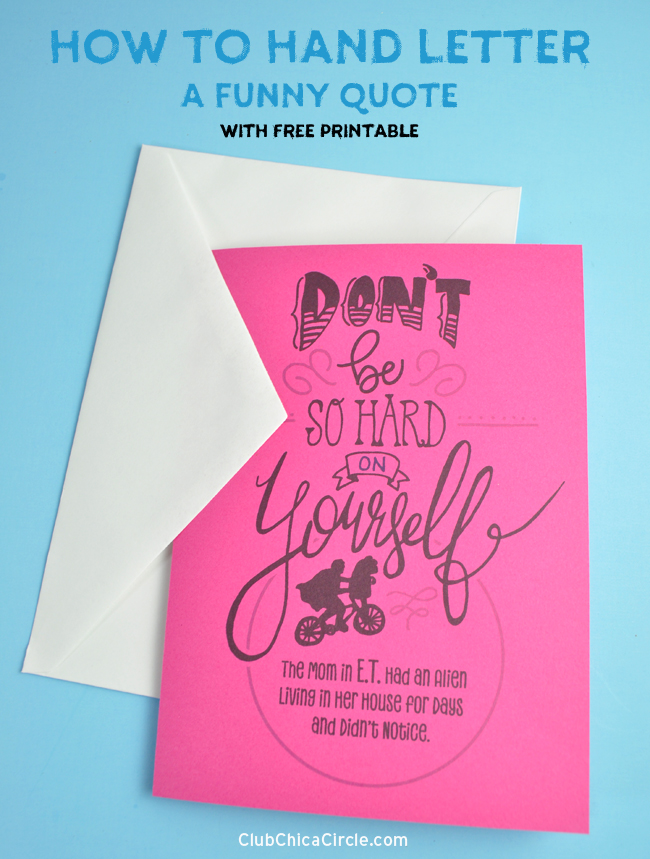 The trick to cutting out your card and getting a straight clean fold line, is to score the center of the card first using the back of an Xacto knife and lightly draggin it along the edge of a ruler. I have provided center crop marks on the printable template to use as a guide.
And the trick to cutting out the card using the crop mark cut guides is to cut along the edge using an Xacto and a straight edge again, but NOT going all the way to the edge of your paper. You want to be able to see the crop marks on each side as you rotate and cut out each edge of the card.

When you are through cutting out your card, it will fit a standard size envelope for a 5″ x 7″ greeting card.
Here is another quick example of how I have been having fun with hand lettering quotes or sayings. We recently had a baby shower in our office, and one of the baby shower activities was to decorate a onesie for the expectant mother. With fabric markers, I hand lettered this cute saying onto one of the onesies. If you knew the mother-to-be, it is a perfect quote for her.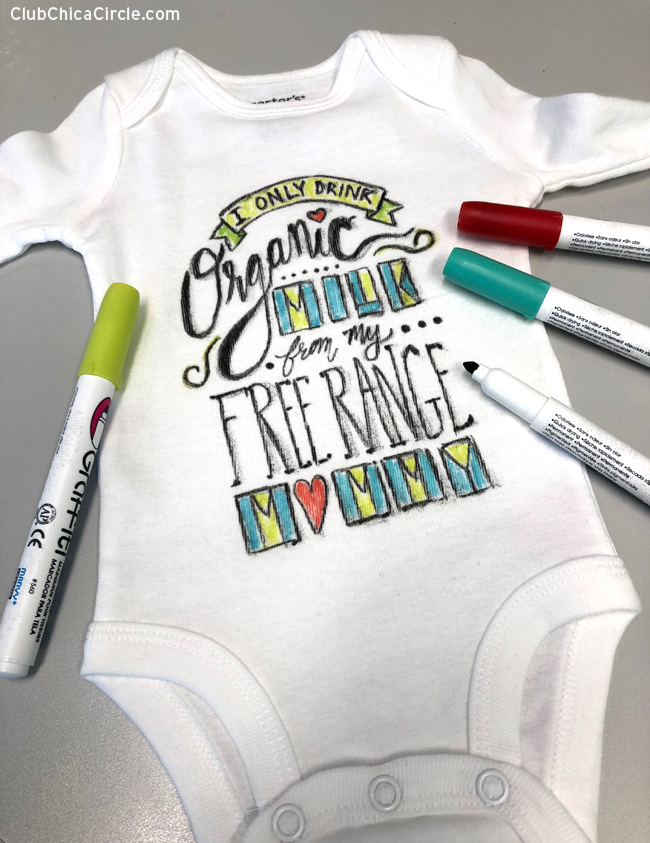 Again, I planned out my design first. This time I used what office pens I had handy. I sketched in my rough design with a ball point pen onto paper, and them went over the basic details with a black Sharpie marker. Then I used this paper as a template that I put in between the layers of the onesie. It both protected the backside of the onesie from getting ink on it and bleeding through from the front, but the Sharpie lines were dark enough to see through the fabric to use as a guide.
So cute! What a fun and creative baby shower idea!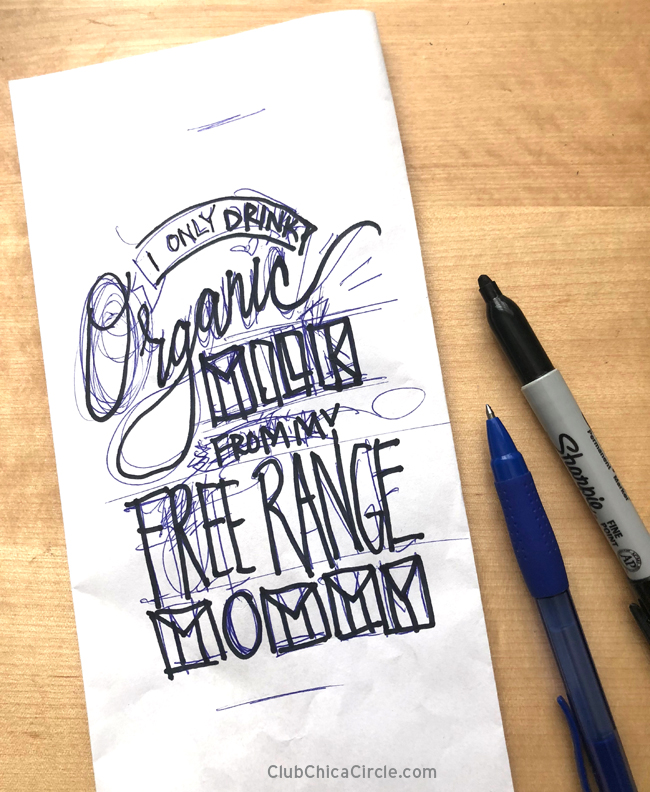 So if you know a mother who could use a little encouragement, and has a sense of humor, grab your Don't Be Hard On Yourself Hand Lettered Quote Free printable. Print it out and frame it for someone special—even if that someone special is YOU!
And please, please, please, all you wonderful mothers out there—don't be so hard on yourself. = )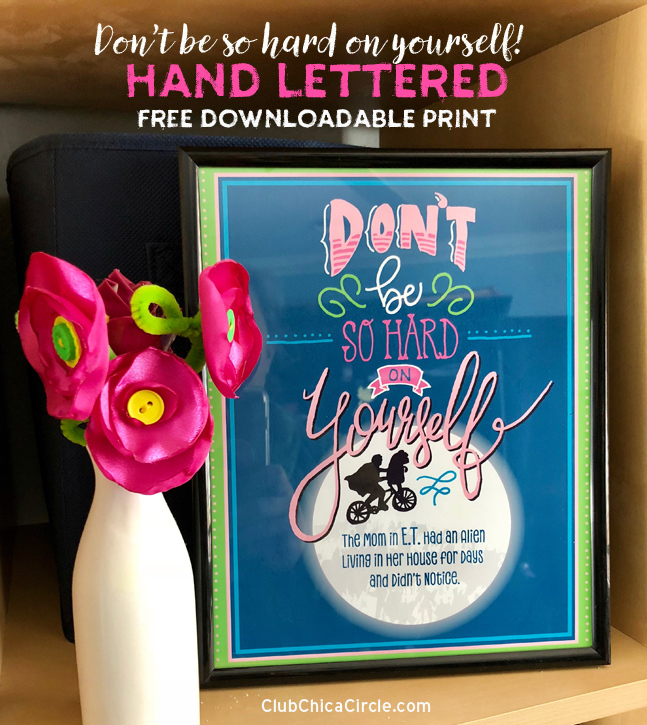 I printed one out for myself. It looks great framed on my bookshelf next to my homemade satin flower bouquet. You can see the full DIY for the satin bouquet here.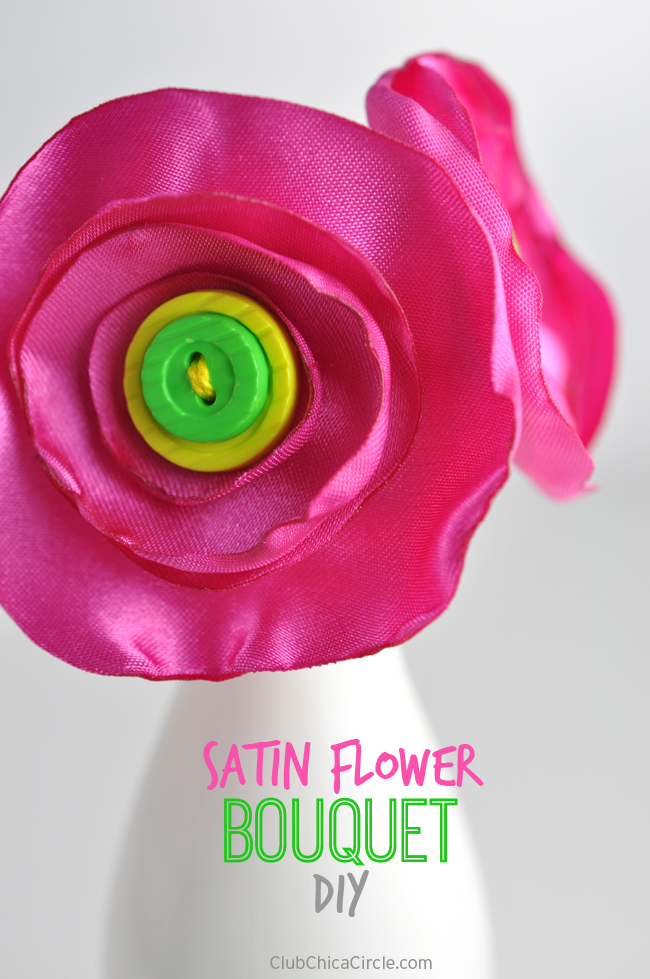 Both would make fantastic homemade Mother's Day presents!
For more homemade Mother's Day gifts, check our roundup of 20 ideas here: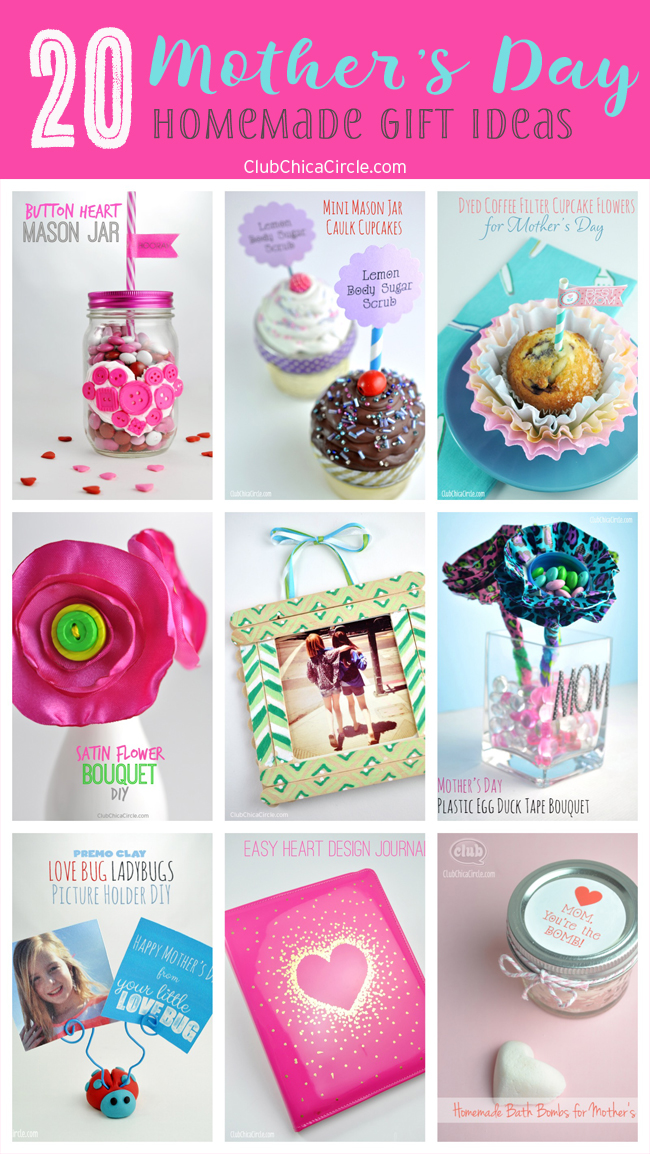 Enjoy!