I miss my Grandma. She passed away this past year and it was the first Christmas without receiving a Christmas card or call from her from across the miles. During my childhood, she introduced me to the best Maid-Rite sandwiches and A&W root beers in a real frosty mug. She also had a tradition of sending Christmas tin of homemade cookies every year up until just a couple years ago. Truthfully, some cookies were not my favorite (date cookies) – but others were amazing (Yummmm- toffee bars).
The holidays were a bit crazy for us and this was also the first year I also did not make any of our own cookies (so a double cookie deficit in our household). I'm catching up now and took the time to share one of my all-time favorite recipes from my Grandmother with my daughter. She doesn't like sweets – but we had fun creating the treats together and making a few tweaks to the recipe. One major tweak is adjusting the ingredients to make the bars gluten free. We don't normally have a gluten-free kitchen – but I have seen some family members and friends noticeably improve their health from eliminating gluten and wanted to see if the adjustments would still turn out an amazing cookie treat (they did).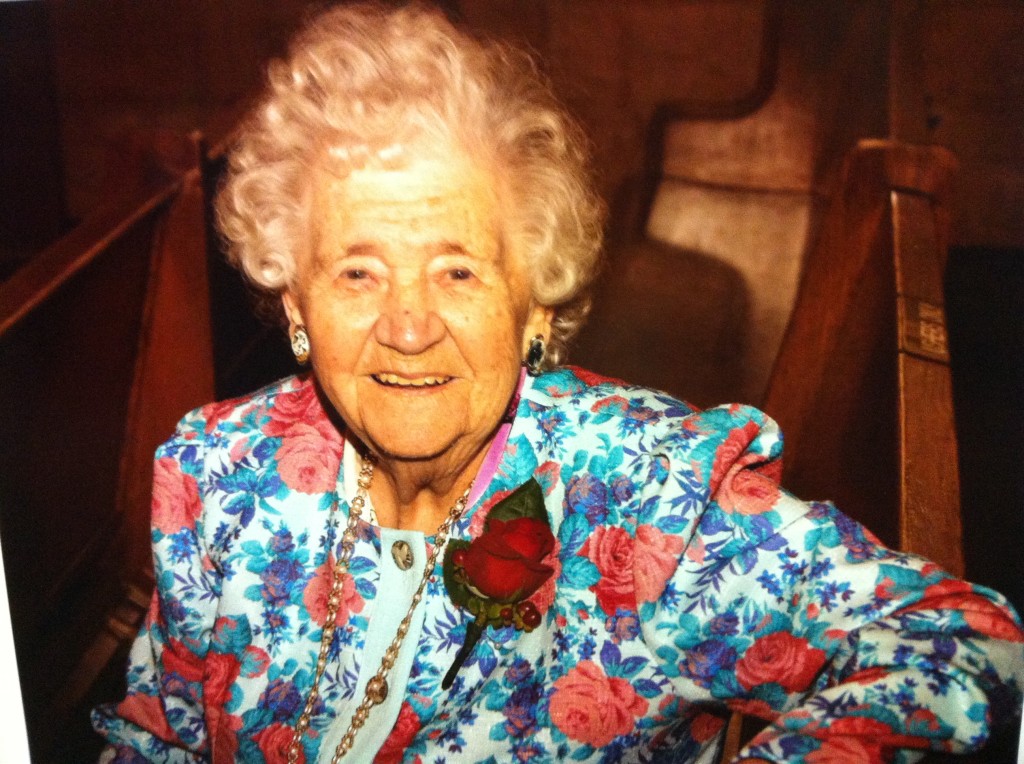 Grandma's Toffee Bar Treats
Ingredients:
1 cup butter (softened)
1 cup brown sugar
1 egg yolk
1 teaspoon pure vanilla extract*
2 cups flour or Bob's Mill Gluten Free All-Purpose Flour*
1/4 teaspoon salt
4 to 5 Hershey's Milk Bars (1.55 oz size)*
Directions:
Preheat oven to 350 degrees
Grease 9″X13″ cookie sheet or pan with light oil or cooking spray*
Mix butter, sugar, egg yolk and vanilla just until blended
In separate bowl, measure in sifted flour and mix with salt
Stir flour mixture into the wet butter mixture until well mixed
Spread batter into prepared pan, leaving about 1″ open all around the pan (batter will spread during baking)
Bake 20-25 minutes (18-20 in convection oven), just until golden brown. Toffee crust will still be soft.
Immediately place separated chocolate squares on top of the toffee crust while hot, leaving a 1/4″ to  1/2″ gap between squares
Let stand for a few minutes, and then spread the chocolate topping to cover the toffee base
Chill the pan to harden the chocolate and set the toffee bars (but bars do not need to be kept in the refrigerator)
Enjoy! Cut into squares or fun shapes
*To make the bars gluten free (GF)- use a gluten free flour, confirm your vanilla is gluten free (pure vanilla extract is GF). Hershey's has a list of GF chocolates (kisses are ok, too). If using a cooking spray to prep the pan- check online to see if GF
I was so happy to find that the gluten free flour adjustment still yielded a TOTALLY yummy cookie bar that reminded me of my grandma. 🙂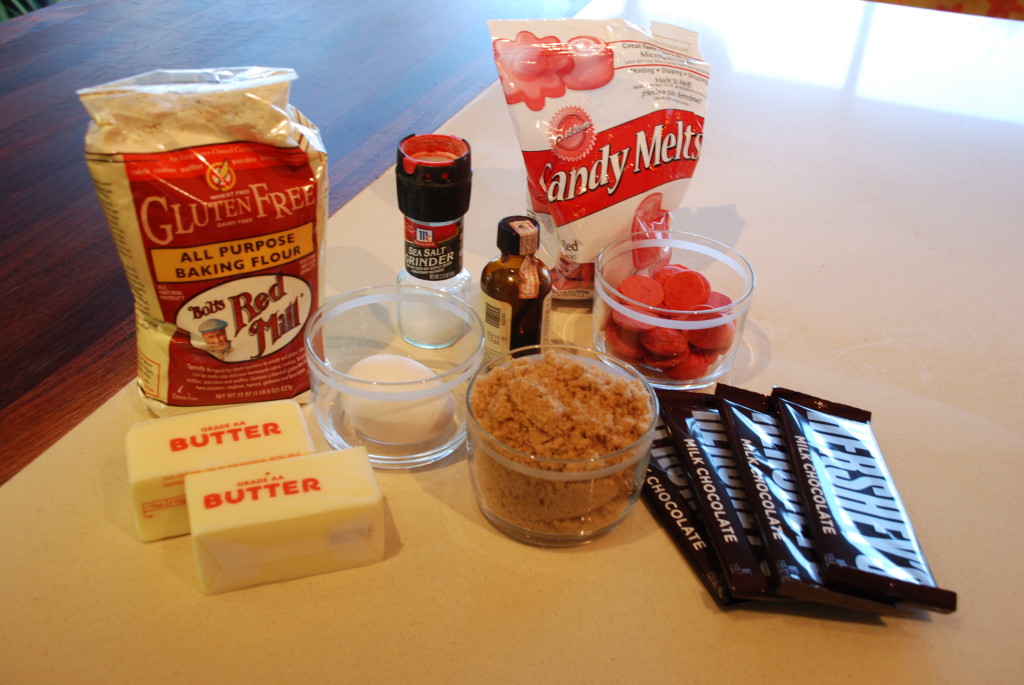 Mix the butter, sugar, egg yolk, vanilla: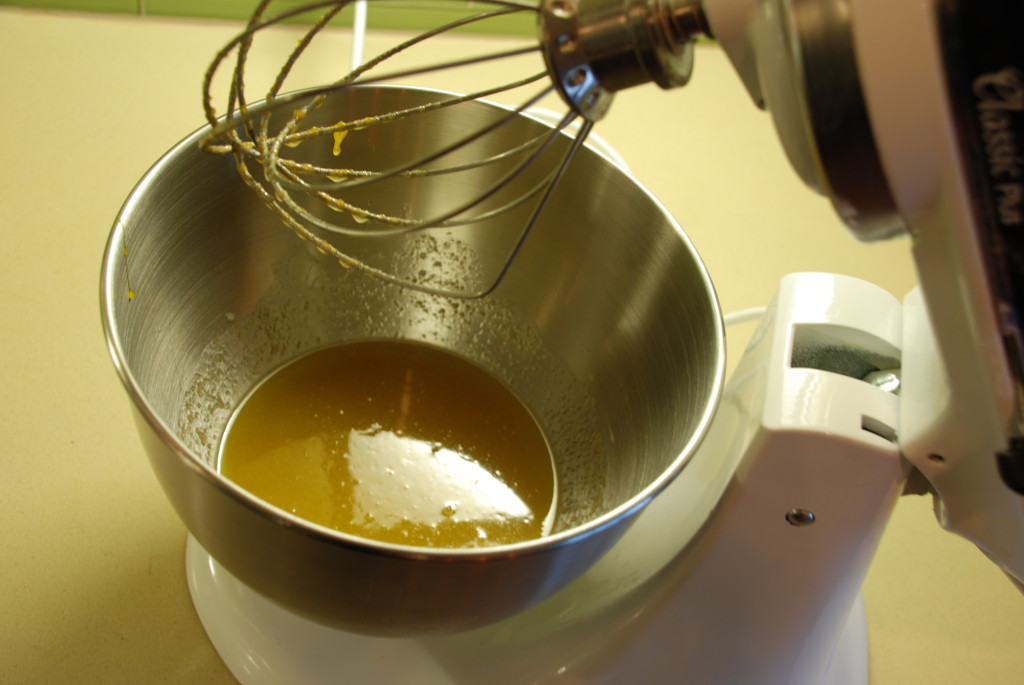 Stir the dry ingredients into the wet ingredients: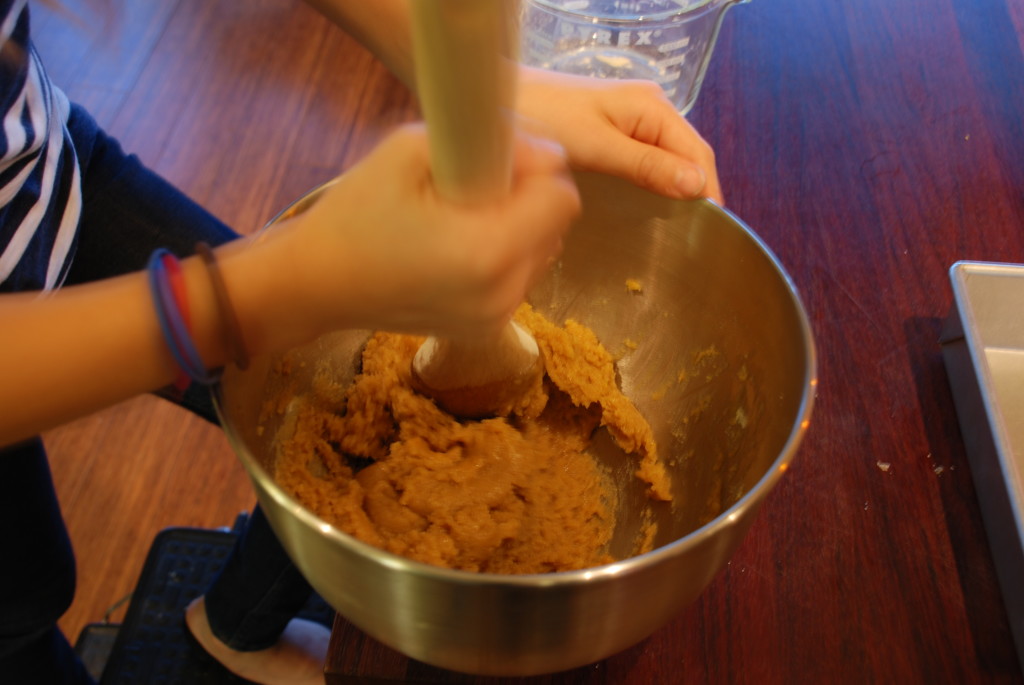 Spread batter into the 9″X13″ pan -leaving 1″ around: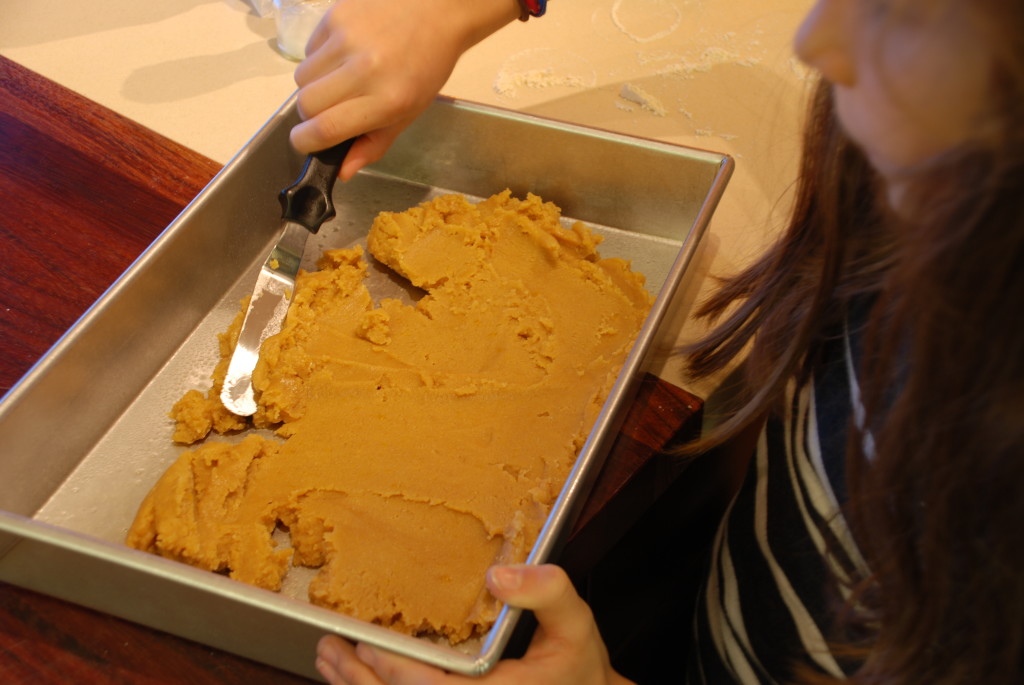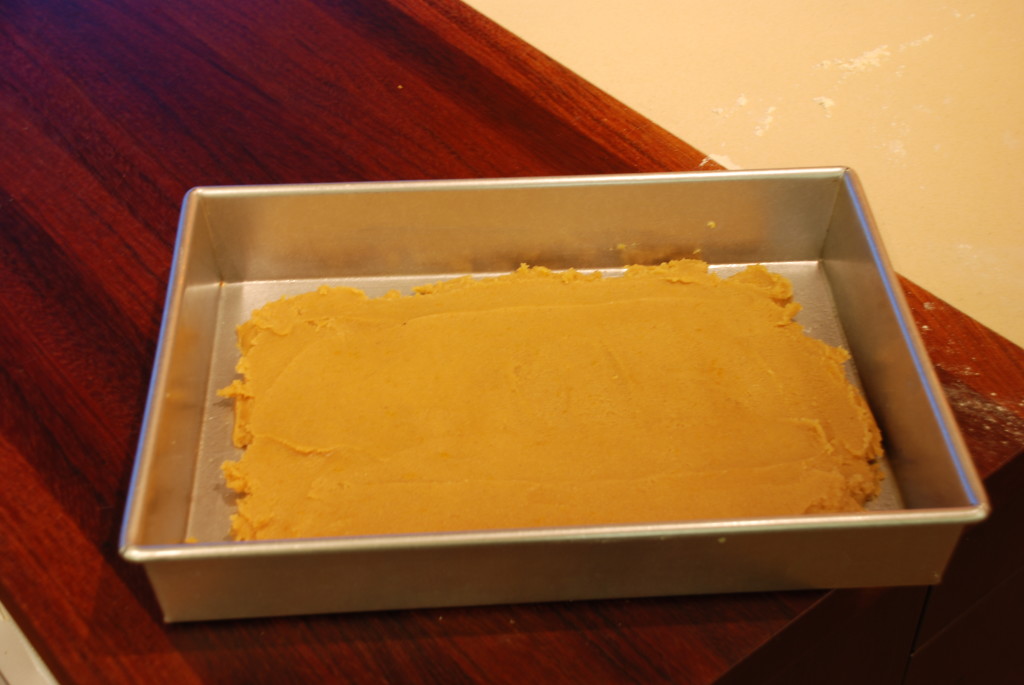 Bake just until golden brown (watch closely). Immediately place separated chocolate squares onto the toffee base to start melting: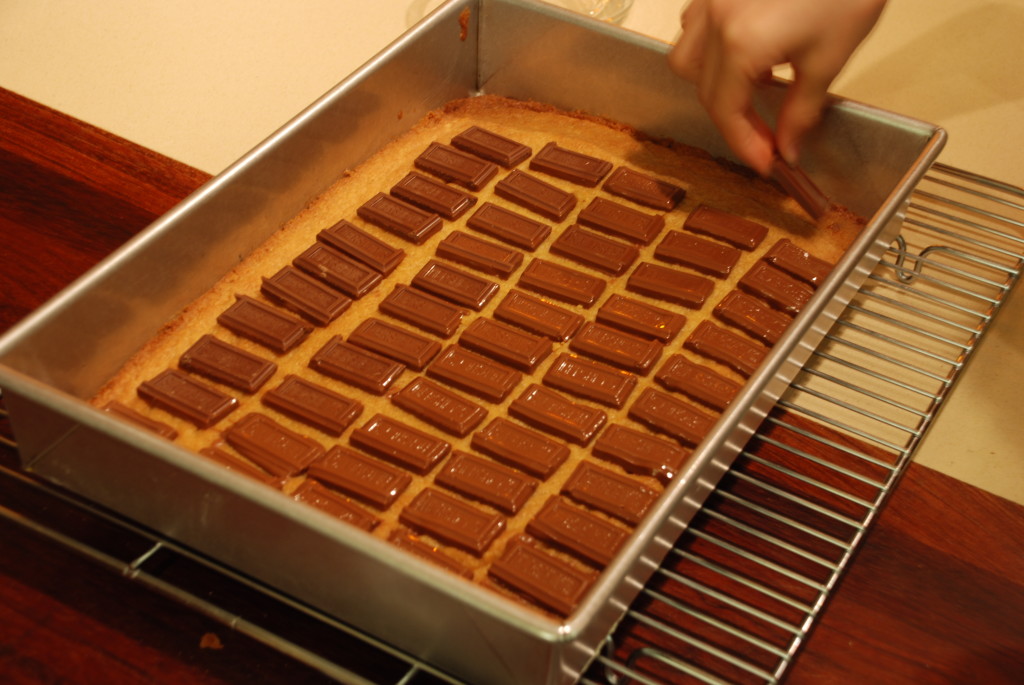 Let stand for a couple of minutes (to allow melting), and then spread the chocolate evenly over the toffee base: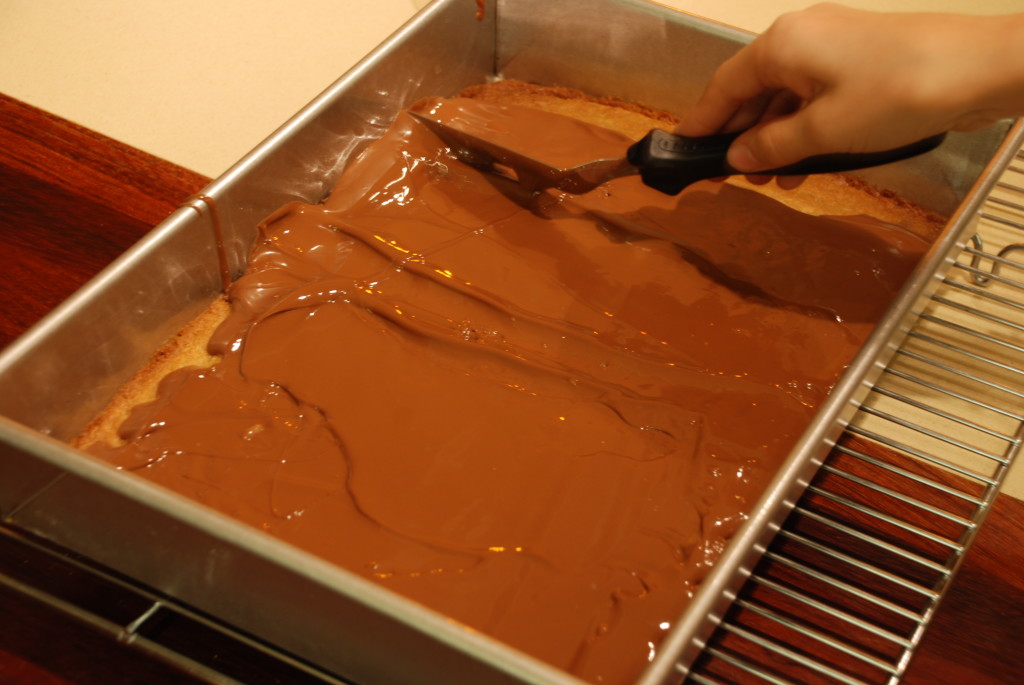 We added another twist melting some red candy melts in the microwave (first for 60 seconds, stir and at additional 10-second intervals, if needed). My daughter filled the melted candy melts into a piping bag and drew a heart into the melted chocolate to start getting us into the Valentine's spirit.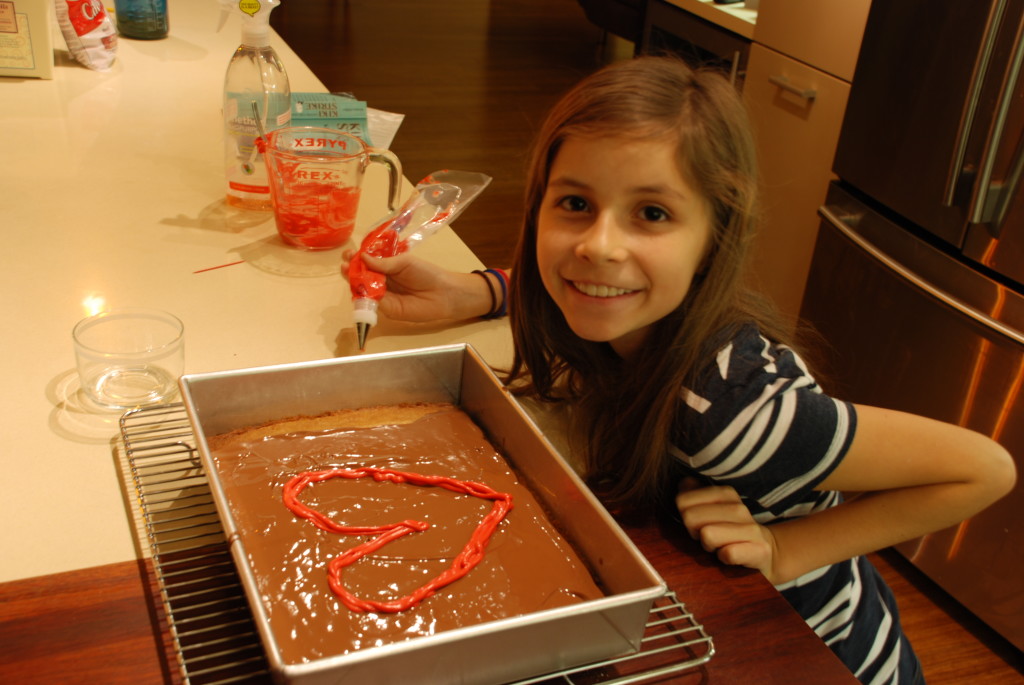 Before being able to cut into the bars, we needed to wait for the chocolate to set. After 15 minutes in the refrigerator – we we ready to go! We had more fun trying out our heart-shaped cookie cutters to make a special treat to our "Great Aunt" Ellen next door.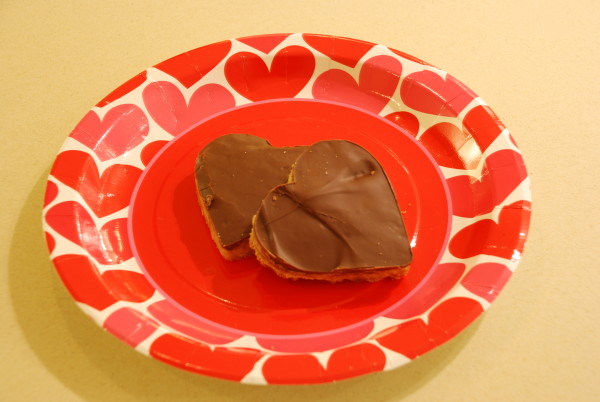 The chocolate toffee bars with a hit with our twins, too. They got a little chocolate crazy!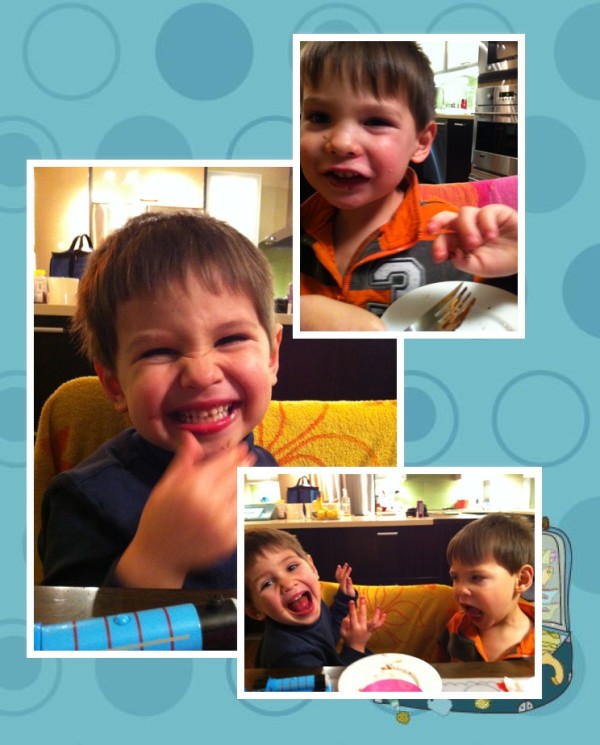 Whether you go gluten free or not – these bars are so easy, so yummy and will be so addictive.  I would love to hear what favorite Christmas or Valentine's treat stories you have from your family. How do you carry on the family traditions? Share in the comments below!
Gluten-free resource links (always double-check as ingredients and suppliers change):
If you liked this post, and want more, you can subscribe to be on our mailing list here.
Connect with Lynnee Jimenez on Google+ and Pinterest