Are you and your family getting ready for the BIG GAME? Are you planning a football and need some great ideas? World Market is one of my favorite places to find unique and cool things that I normally wouldn't find in a department or grocery store. It is a great place for home decor and gourmet food and beverages. And because they feature extraordinary finds from all over the world in their stores, it is just one of the reasons I love to shop there.
World Market wants to help you share your love for food, football, and parties! They have a fantastic food and beverage selection, as well as table decor and serving ware to help you host a great party. I had a blast shopping with my tween BIG GAME party ideas.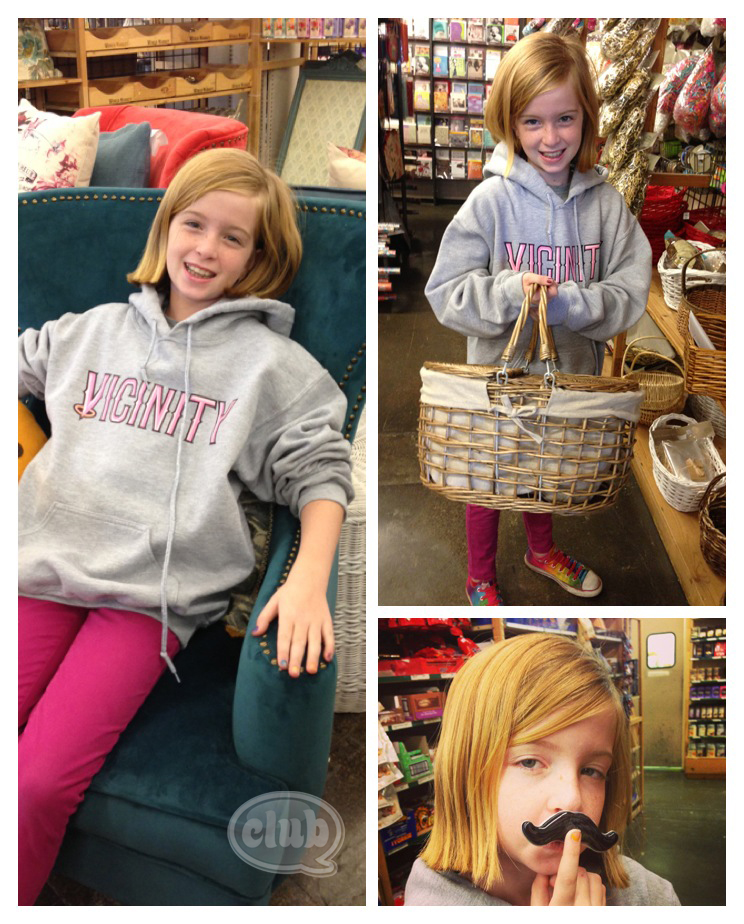 Every section of the store had new and fun discoveries, including the mustache shaped candy tin. = ) And of course, my girl had to try out every chair and sofa in the whole store.
It was hard to focus on just football party planning ideas, when there were so many things to choose from. My husband is a huge football fan, and he has followed the whole season religiously. I have to say, we have enjoyed our "craft days" together as he watches football, but I had so much fun planning a party that both kids and adults would enjoy. One thing I do know is that, we love to throw themed parties for sure. For the big game festivities, I wanted to make sure our football party table was kid friendly and fun at the same time. I knew I wanted to display an array of various finger foods from the sweet to the savory.
I found a variety of yummy snacks including football shaped pretzels at World Market, and some really cool bowls and dishes to serve them in.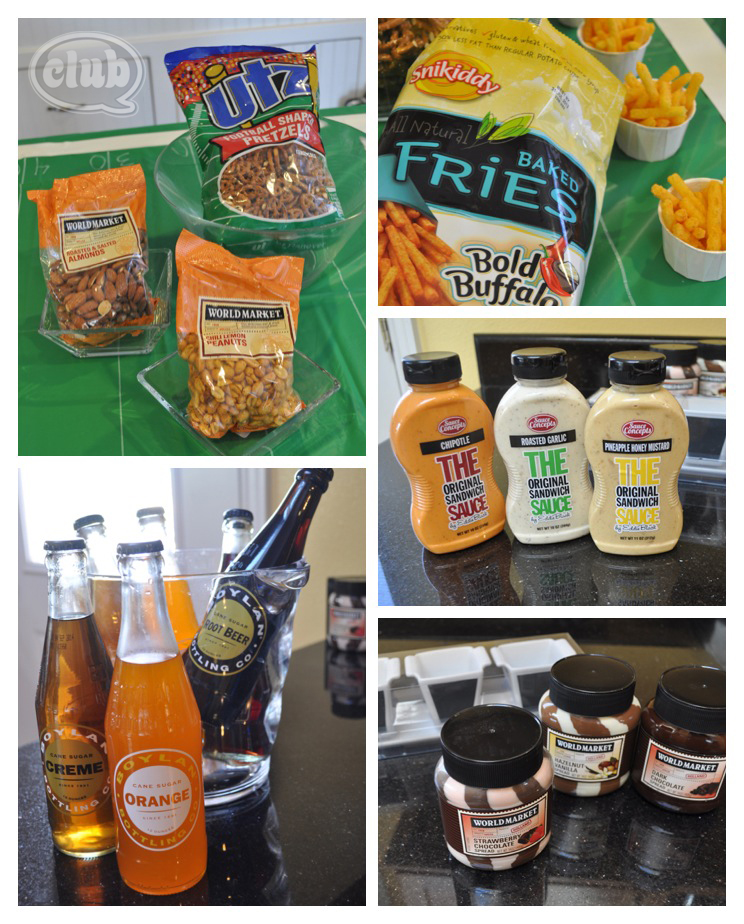 I especially loved the three dip bowl set with a chalkboard sign on each so that you can write what is in each both. I knew once I saw those, I would do a set of sweet dips, and a set of yummy savory dips. And who can resist the cool selection of sodas they have on their shelves. You can find sodas at World Market that you won't find in other stores and in old fashioned tall soda bottles. I found a really cool ice bucket to display them in too. Oh, and make sure to keep the bottles after they are empty. They make great upcycled craft projects like this for example.
Besides the dips and finger snacks, I couldn't resist making a some fun food treats. I made some football shaped marshmallow pops coated in cinnamon sugar placed on top of Pocky sticks (chocolate covered biscuit sticks). I found a cinnamon and sugar grinder in the spice aisle of World market, and Pocky in the snack aisle.
I also used regular popsicle sticks, marshmallows, foam blocks (that I wrapped in green plastic table cloth), and white candy decorating pen to create these fun treats.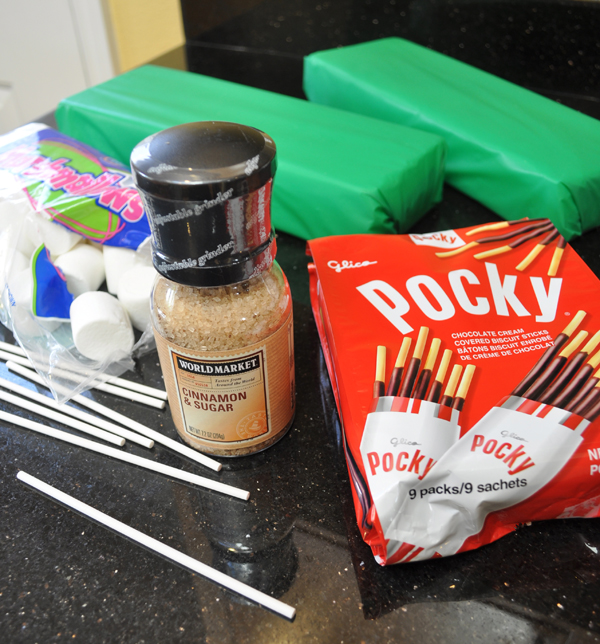 Here is how I made these Football Cinnamon Sugar Marshmallow Pops: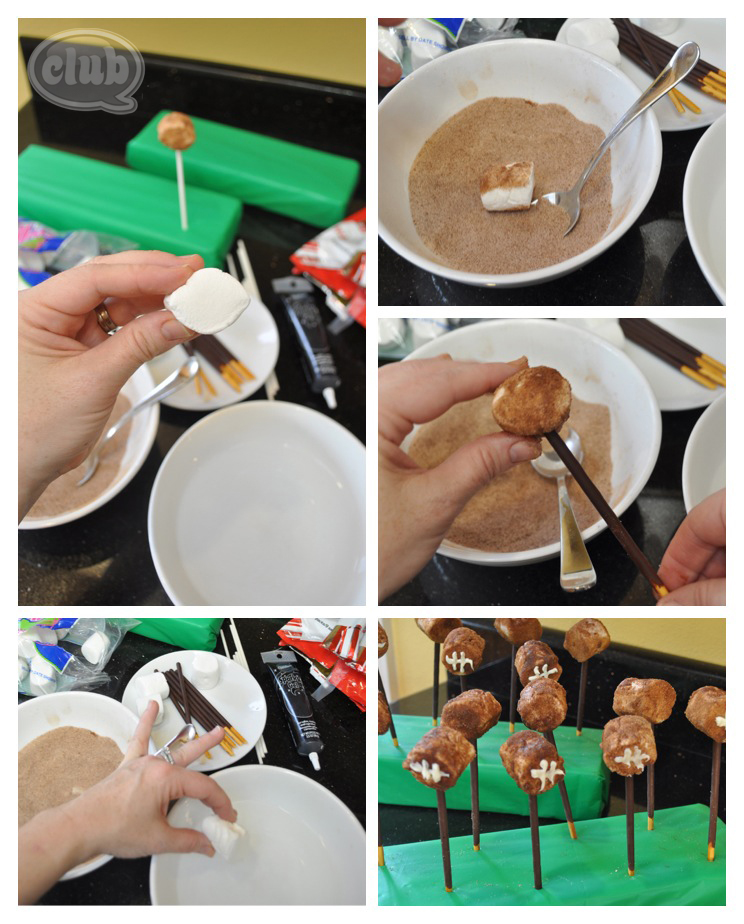 I had two separate bowls ready, one filled with water, and the other with cinnamon sugar. I added a little extra cinnamon to the cinnamon sugar mixture to make sure to capture the color of a football.
I pinched both sides of a large marshmallow to create a football shape. Then I dipped it into water and then into the cinnamon sugar mixture. The water makes the outside of the marshmallow sticky, and allows for the cinnamon sugar to coat the marshmallow. Then I placed each coated marshmallow onto a popsicle stick and then into the foam block. I found that it was easier to use the popsicle stick first and create the hole in both the marshmallow and the foam block without breaking the Pocky biscuit stick. Then I would carefully replace the popsicle sticks with the chocolate covered Pocky sticks.
For my final step, I melted the white candy decorating tube in a cup of hot water. It is hard in a tube, and then once melted you can squeeze it out and create designs for it to harden back up on your treat. I drew on football stitching onto the sides of the marshmallow footballs to complete this yummy treat. So cute!
And for the savory finger food treat, I made Pigs in a Pie. You may have made pigs in a blanket before, but this, my crafty friends, is pigs in a pie! I found the perfect Mini Wini's and yummy cheesy Chile Con Queso dip at World Market, and paired it with refrigerated pie crust.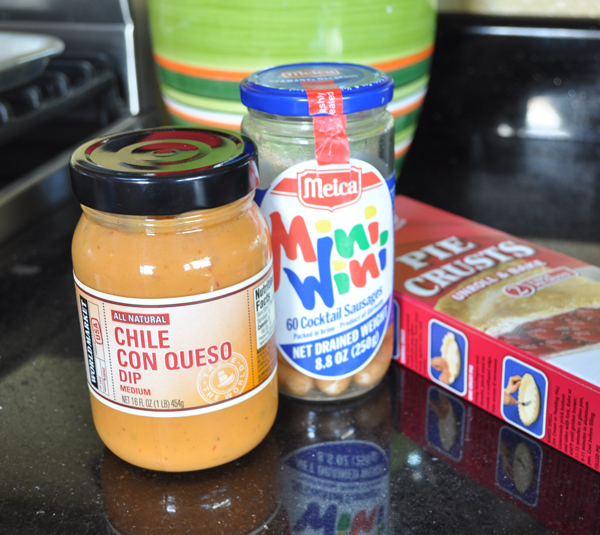 Here is the full Pigs in a Pie DIY: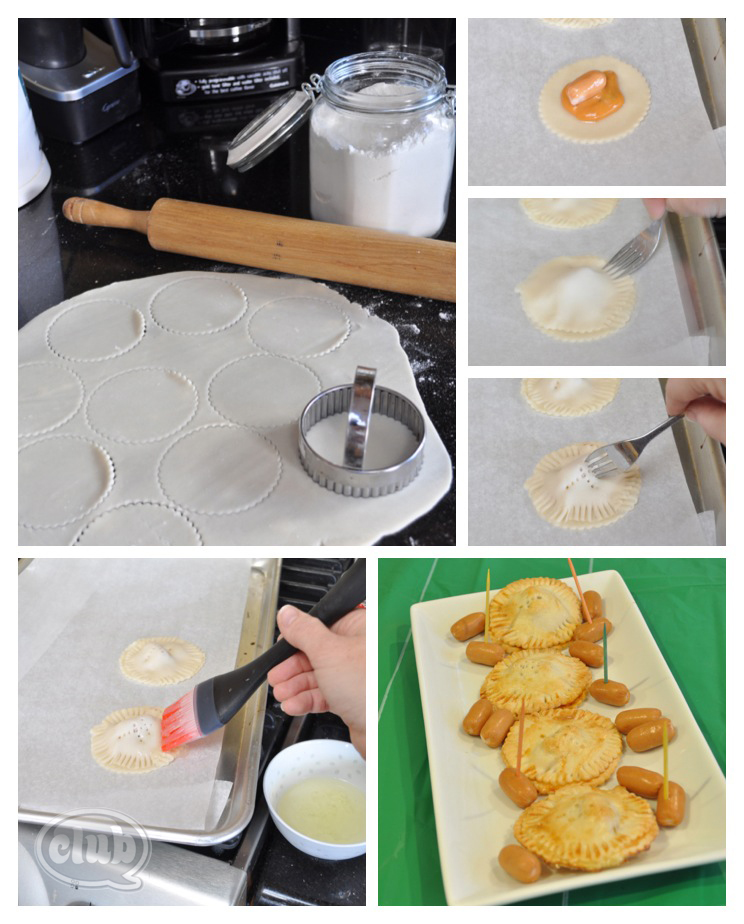 I rolled out a sheet of refrigerated pie crust onto a floured surface so that it was a little thinner. Then with a round scalloped cookie cutter, I cut circle shapes out of the dough. I placed one circle on a parchment paper lined baking sheet, and placed one spoon of the chili con queso dip and one cocktail sausage in the middle.
Then I placed a second dough circle on top and used fork all around the edges to score them together, as well as make vent holes in the top. Finally I brushed the tops with a little egg white wash so that they came out golden brown after they were baked. I baked them in a 350 degree oven for about 10 minutes. Delish!
After the football marshmallow pops and pigs in pie were ready, it was time to set the table. This was the fun part!
I knew I wanted to transform our dining room table into a football field. I used a large grass green plastic tablecloth, and taped off the edges and the goal lines with white duct tape. Then with a white paint marker and a ruler, I drew in the yard lines and numbers.
Then it was a matter of arranging my football party treats in different yard lines along the table. I made a progression from one end of the end zone to the other, starting with the savory dips and snacks at one end, and then the football pops and sweet dips at the other, with the pigs in pie in the middle. It was almost like a game was in play with the food! Party guests could choose to dip the pretzels or sticks into the sweet or the savory dips for a fun food party adventure.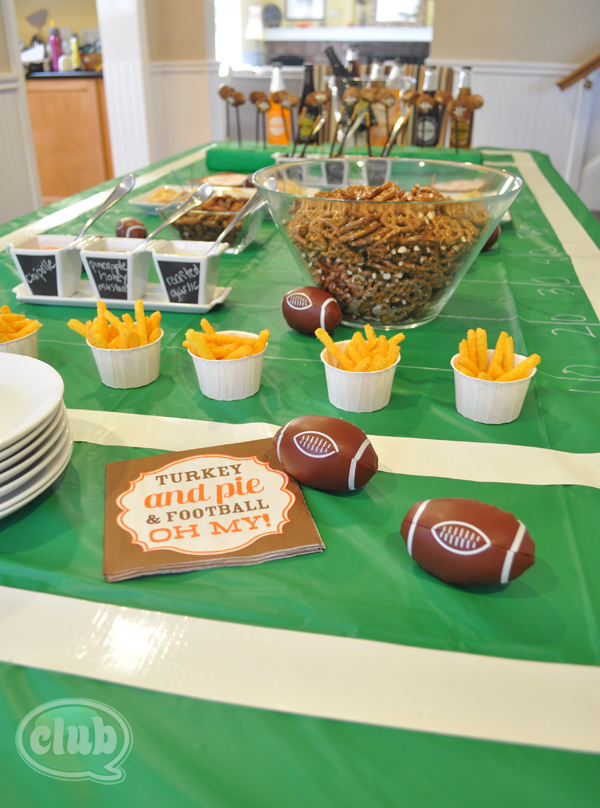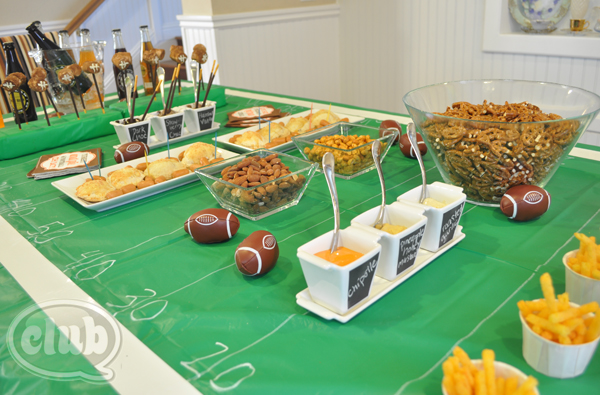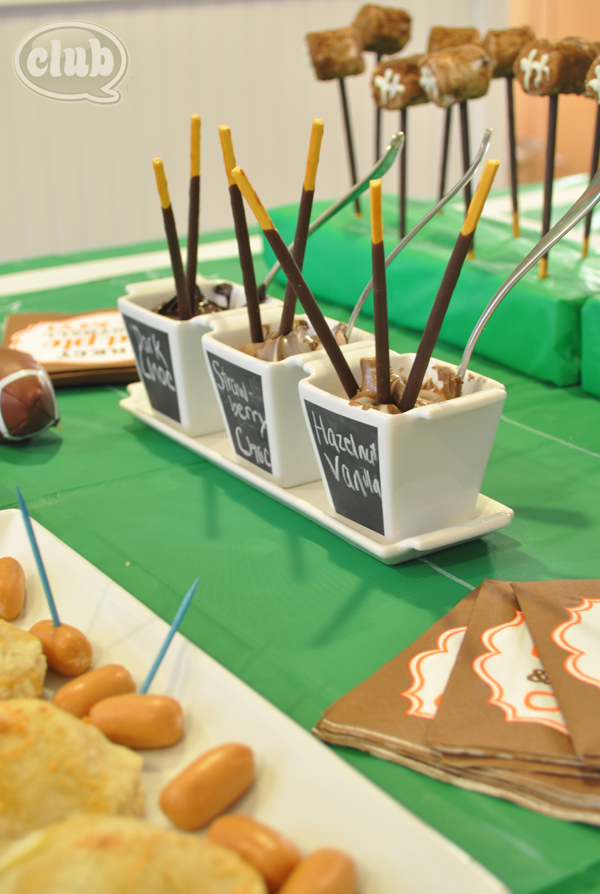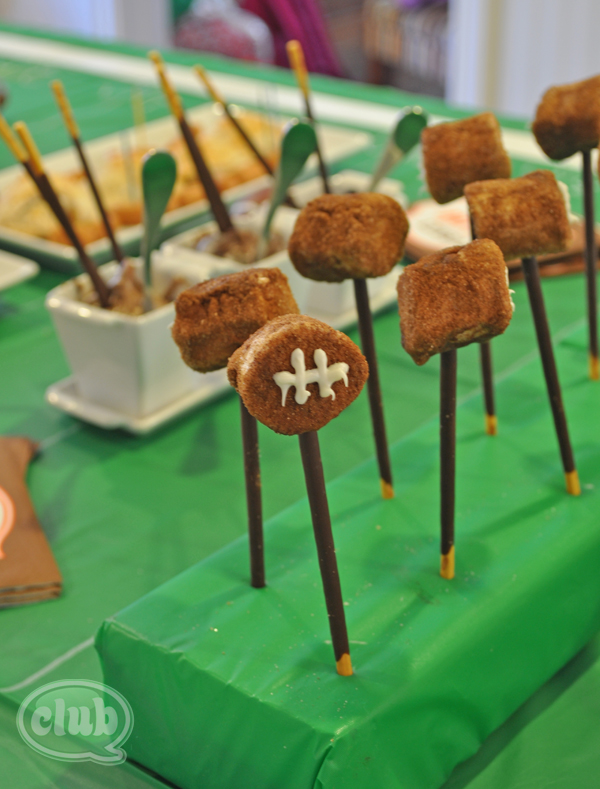 Now you can host the Ultimate Football Viewing Party! Enter the World Market Football Party Sweepstakes.
Like World Market on Facebook to enter for a chance to win one of (10) $500 World Market gift cards to purchase all snacks, drinks, and treats for the Ultimate Football Viewing Party.
*Sweepstakes runs from 1/5/13 – 1/25/13
*Must be a CPWM Facebook fan to enter the sweepstakes. Entry form is not available unless the customers account is a fan of our page
Connect with Cost Plus World Market on Facebook, Twitter, or Pinterest.
Have fun planning your own football party! And happy crafting!
If you liked this post, and want more, you can subscribe to be on our mailing list here.
This shop is part of a social shopper marketing insight campaign with Pollinate Media Group™, but all my opinions are my own. http://cmp.ly/3/8vNxcO