Little Miss Maggie, who isn't so little anymore, recently crossed over into the double digits. My resident tween is officially 10! It has been a decade since I welcomed this beautiful bundle of sass and sweetness into my life, and it has been a joy roller coaster ride ever since! Every year we have celebrated her birthday a little differently. Last year, it was a rock star party.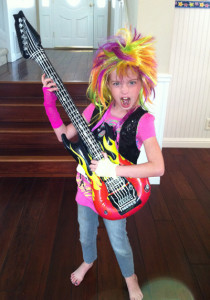 This year it was a "Cake Boss" inspired party. We really enjoy watching cooking shows together as a family, and one of her favorites is definitely Cake Boss. We are always amazed at what creative solutions and cake creations Buddy will make next. And once I saw this inspiration on Pinterest, I knew we had to try our own Cake Boss themed party.
Here is how we prepped for it:
We kept the invite list super small – no more than 6 kids including the birthday girl.
We ordered small cakes already baked and "dirty iced" from a local bakery (on the invite, each girl was given the choice of chocolate or vanilla cake, and chocolate, vanilla, lemon, or raspberry filling)
I ordered colored aprons, chef hats, and cupcake themed goodies from Oriental Trading Company
With my Cricut machine, I designed and cut out personalized Cake Boss names from Heat Transfer T-shirt Vinyl (I couldn't resist making a "Cake Boss Mama" t-shirt for myself)
The night before I prepped and made 8 batches of homemade fondant using this super easy recipe and coloring each batch using this easy tutorial. We got some really vibrant colors by using neon-colored food coloring. I wrapped each batch in plastic wrap and stored in a big plastic container so it would be fresh for the next day. I left a couple white just in case the girls wanted to choose a different color.
I bought a big tub of white icing from Michaels, and had disposable piping bags on hand with various cake decorating tips.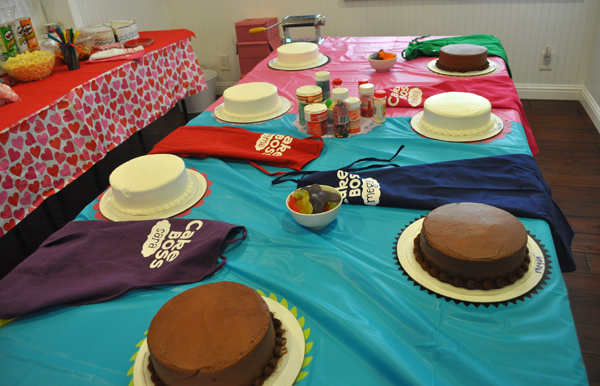 Then, with plastic tablecloths in place, and every baking tool I could think of that could be used for decorating set out, along with various candies and sprinkles, we were ready to make some delicious crafty mess!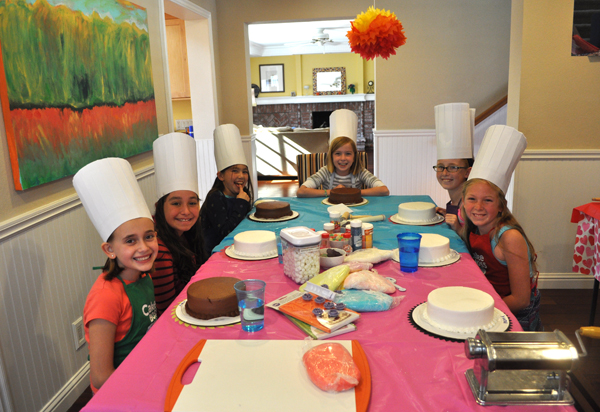 I borrowed extra rolling pins from neighbors so that each girl could happily roll out their choice of colored fondant. Each girl used a different technique for decorating their cake, and that was exactly the point. I gave a few suggestions on how to use the tools, how to roll out fondant, and how to attach fondant onto the cakes using white frosting in piping bags as "glue", but other than that, they were only limited by their imagination.
I created a "fondant station" on a separate table where powdered sugar was used as our "flour" so that the fondant didn't stick to our hands. As I mentioned, we did get a bit messy, but with aprons on, it was good clean fun. I had fun music playing in the background, plenty of snacks for the girls to munch on as they worked, and a gorgeous Southern California day.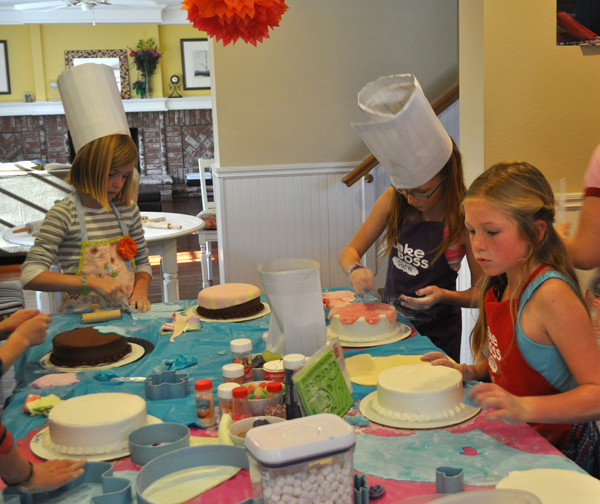 I have to say the favorite tools were the various shaped cookie cutters. After the girls were satisfied with their fondant application, I colored white frosting in a bunch of different vibrant colors and offered them up in piping bags as well. For some of the girls, there was no desire to "edit" their cake designs. I think the more decorations, frosting, and tools I gave them, the more they wanted to add to their cake designs – including the birthday girl. And yes, her cake does read "Happy Birthday ME!" = )
After about 2 hours of hard-core sugary artwork fun, each girl was sufficiently satisfied with their cake creations. I set them all together and had them displayed and ready for when each parent picked them back up again. Each girl left with their aprons, hats, goodie bag, and their own decorated cake. I even joined in and decorated a cake myself! I think we did Buddy proud.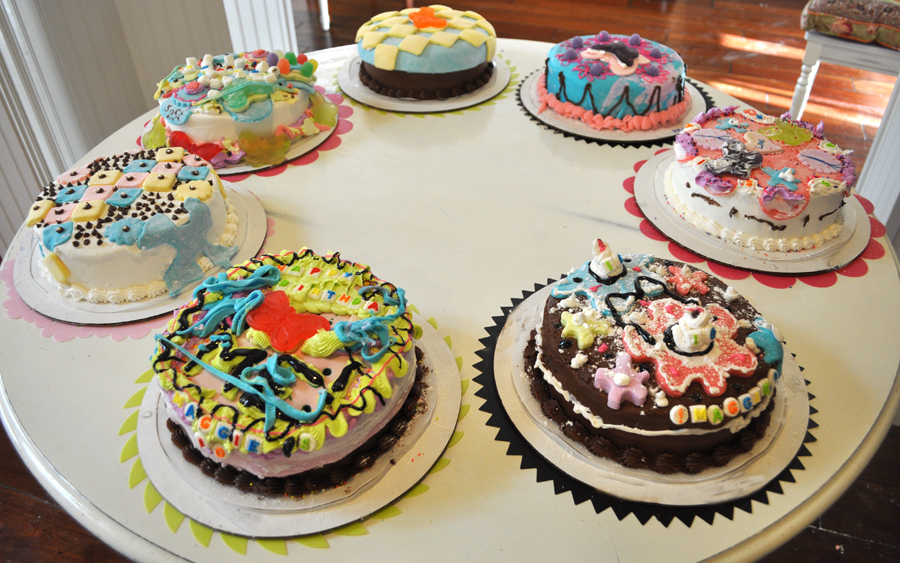 I let the girls play outside for a bit while I cleaned up, and then we sang "Happy Birthday" with the cake that Maggie decorated for herself—but not before posing for a group "Cake Boss" picture. Lovely!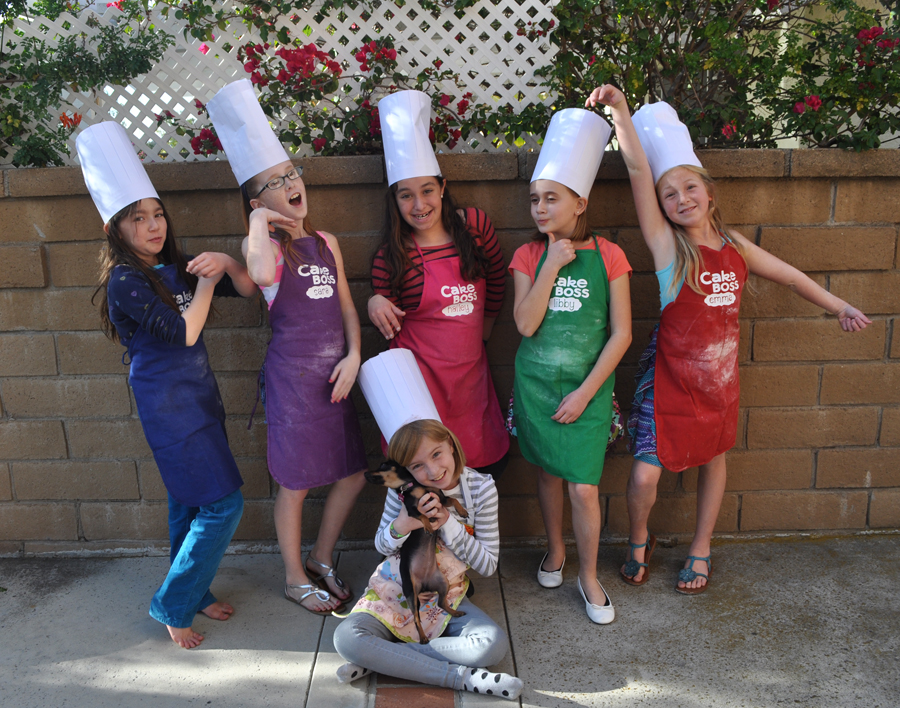 Now to send out thank you cards, for all the people in our lives who really did make it a special birthday weekend for girl, including the grandmas and grandpa, aunties and cousins. I wonder what crafty birthday bonanza next year will bring. Right now if I could stop time and make my tween stop aging I would, but until then, I will try and enjoy every minute of it!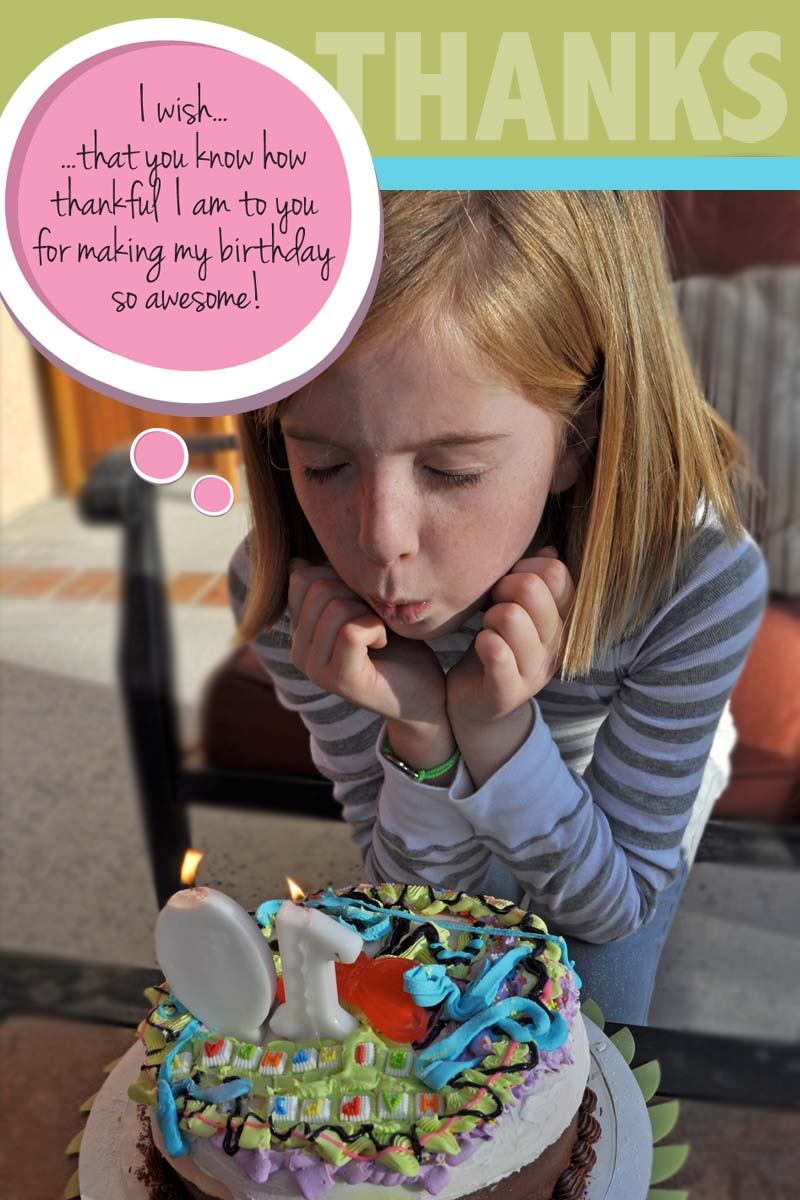 If you liked this post, and want more, you can subscribe to be on our mailing list here.