I wanted to create a quick and easy homemade Valentines Day gift and card that my daughter could hand out to her class. I know I could buy simple ones and add some candy and be done with it, but as soon as I saw these cute Valentines Day themed pencils and super cute pencil toppers at Michaels the other night, inspiration came to me. I love a good play on words, and of course, I wanted to tie in the pencil theme with a Happy Valentines message. I knew I was WRITE on track to a perfectly WRITEeous homemade Valentines Card, with all the WRITE stuff at home to make this cute gift idea. = )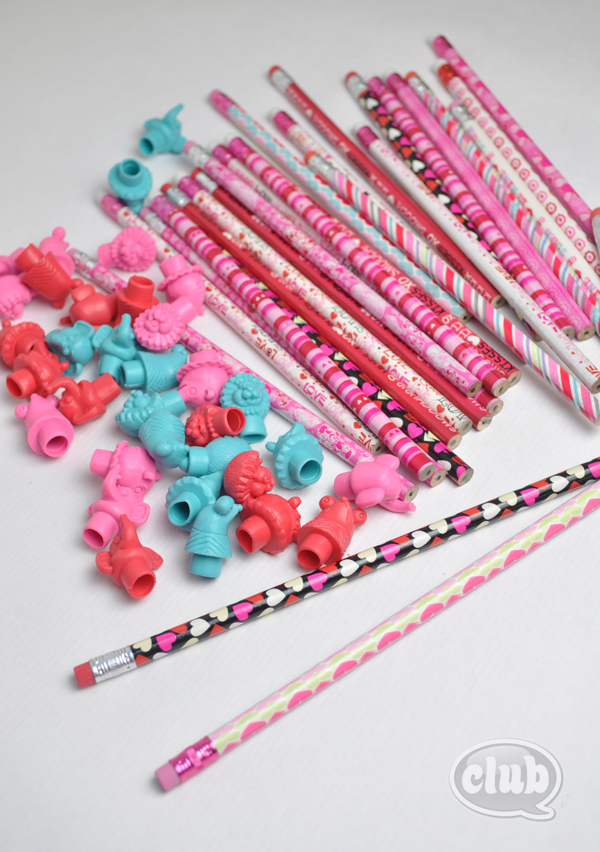 I made two different versions of the Valentines card printable. One which requires a 2″ circle punch, and a simpler one that can just be cut out into rectangles.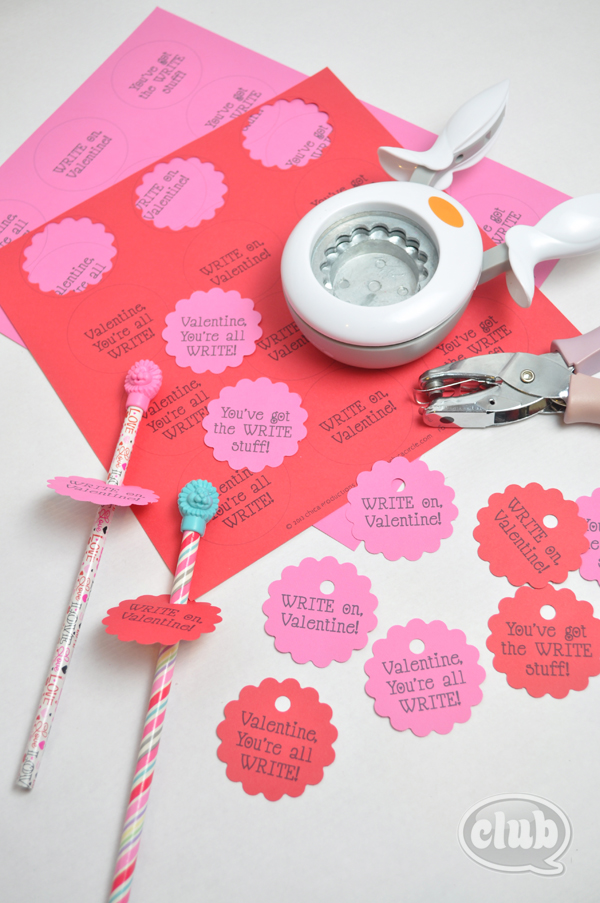 I love my circle scalloped punch from Fiskars, and thought this would make the perfect pencil tag shape for this Valentines Day craft.
Here is the printable if using a circle punch:
I provided gray circles around the type on the template to use as a guide. I printed them out on some pretty colored cardstock paper, punched out each scalloped circle, and then used a regular hole-punch at the top of each circle shape. Then I carefully attached each tag onto the pencil and finished off with a pencil topper. The 1/4″ hole will be snug enough that the tag will stay in place and won't fall off of the pencil.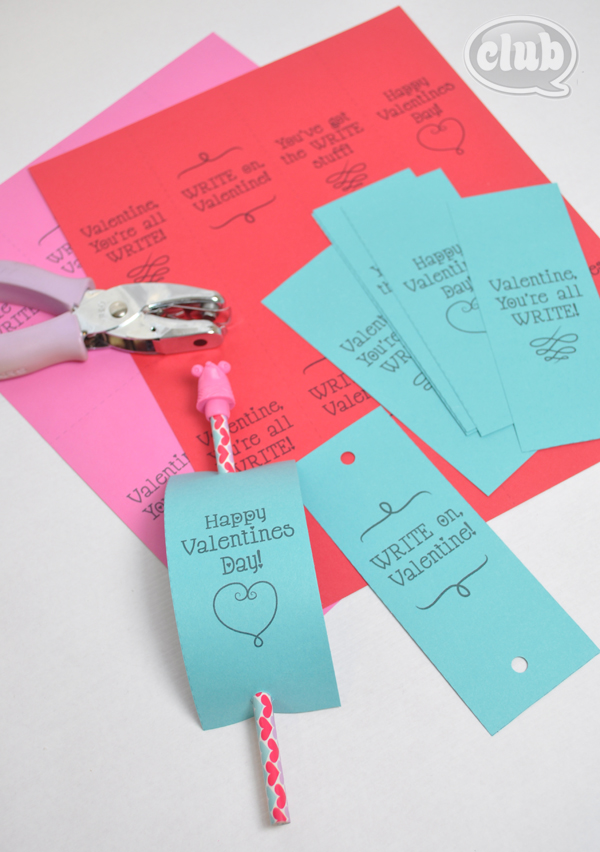 For the simpler, rectangular card template, I provided cut lines as a guide as well. Simply print onto colored cardstock again, and cut out each rectangle. Punch a hole at the top and bottom of the rectangle, and slide each pencil through to make a card flag on each pencil.
Get the rectangle card template here:
Write On Valentines rectangles
Assemble the Valentines for a lovely pencil bouquet of homemade Valentines Day Cards, ready to pass out to your child's class.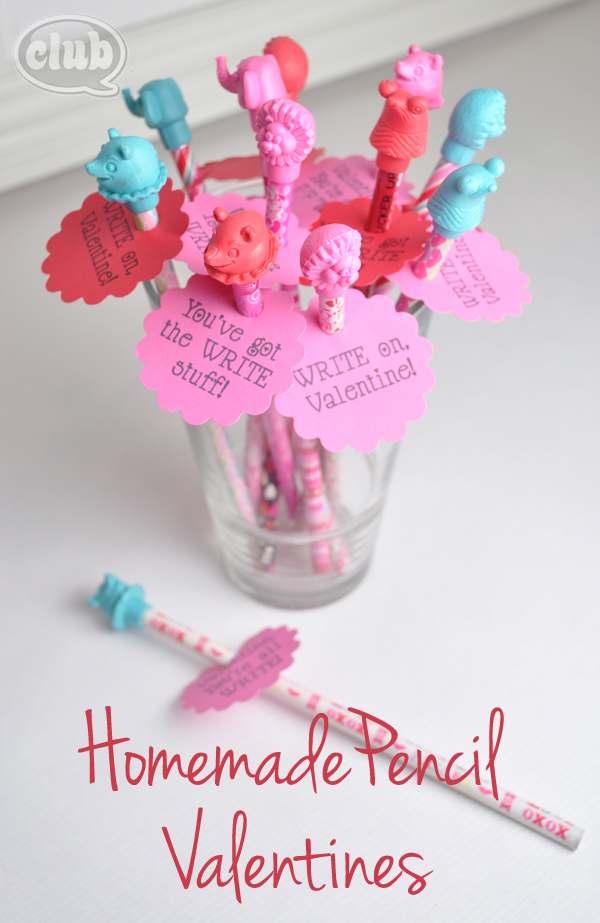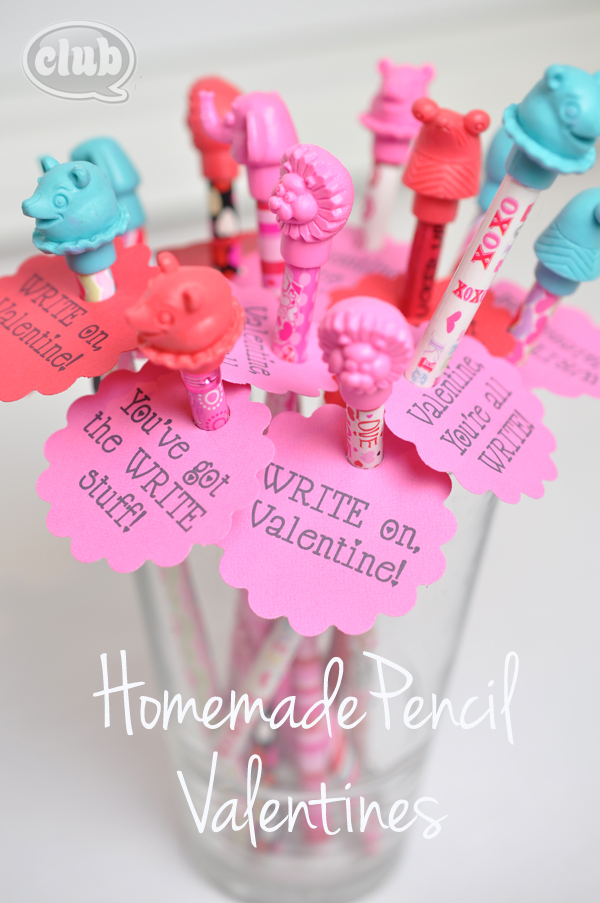 Enjoy! Happy crafting!
If you liked this post, and want more, you can subscribe to be on our mailing list here.