I spent the weekend filling a number of cupcake onesies gift box orders, and I had to share! I make each cupcake gift box to order, depending on the size and gender of the baby.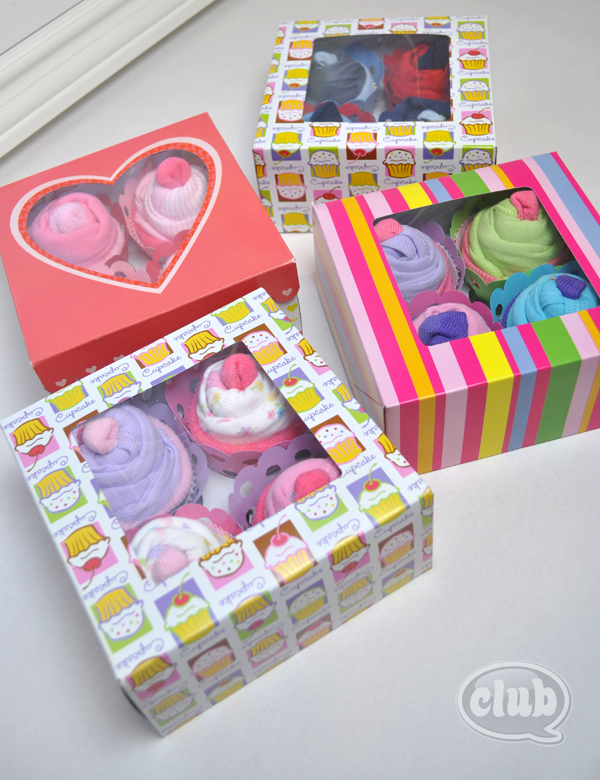 I love this super colorful one: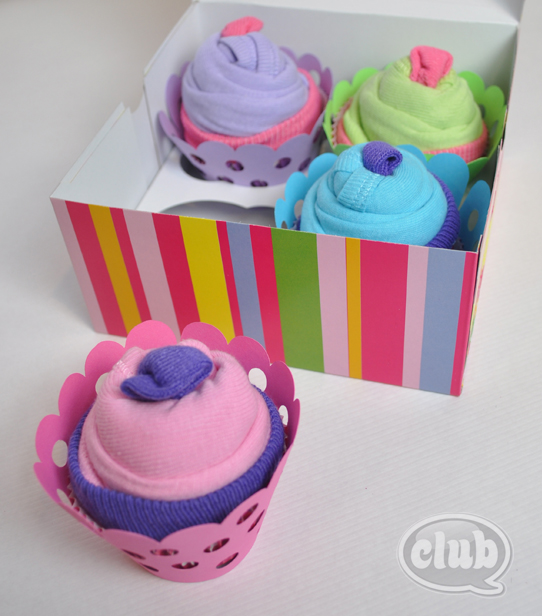 And I think this sporty baby boy box turned out great: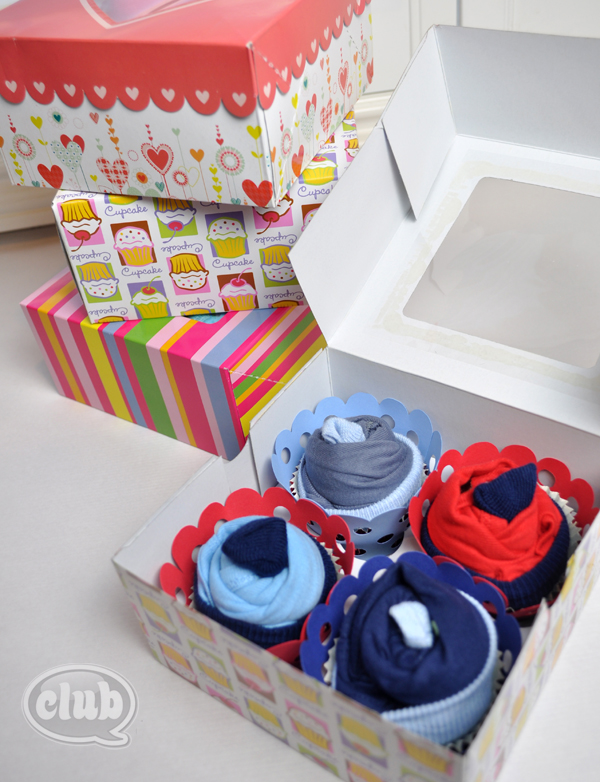 And who could resist this "pretty-in-pink" cupcake collection. = )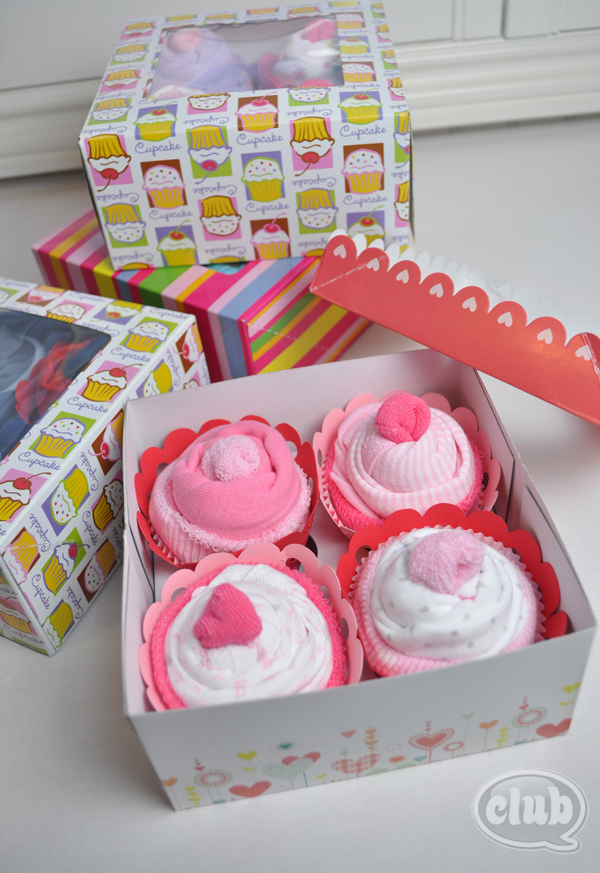 I assemble them, and tie them off with a cute coordinating bow to complete each package: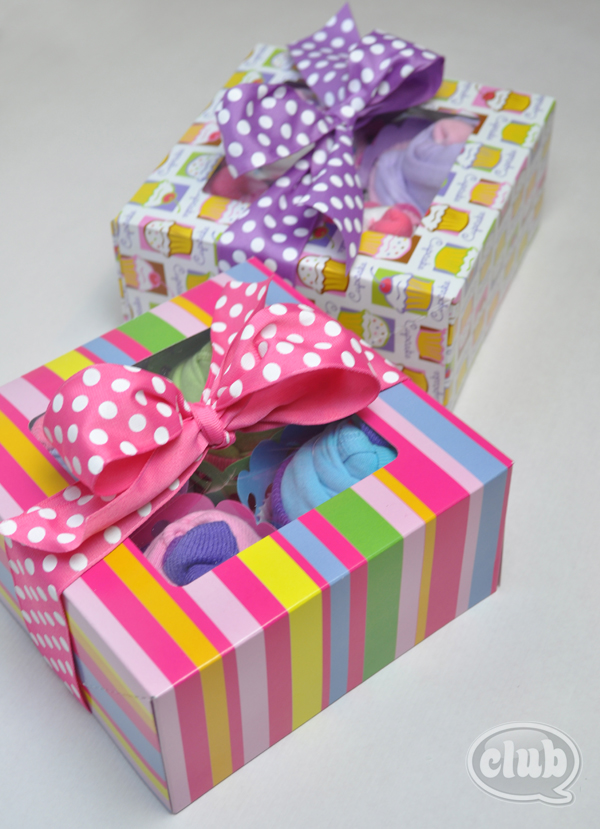 This got me thinking. I have shown you step-by-step how to make this cute baby gift here. It may seem counter-intuitive for a tween-focused crafty blog to be showcasing baby gift ideas, but it is the craftiness and the homemade quality of the gift that makes it a perfect gift idea on the site. That also got me thinking – it's time I gave the tweens some cupcake love too.
I have given my niece a cupcake gift box before with a tank and a pair of socks rolled up into a big cupcake. With Valentines Day just around the corner, this gift idea would be perfect for girls of any age. Right now there are so many cute patterned socks in the stores. I don't know about you, but the tank top is a wardrobe must-have in my tween's world. And, I have to admit, I don't think she owns one single pair of plain white socks. It is a miracle if the socks match each day. Needless to say, we like color in our world.
So in honor of my tween, and a cool gift idea that is sure NOT to give her a sugar-high, here is a quick tutorial on how to make a cute cupcake gift box using a simple colored tank top and a cute pair of socks.

For one cupcake, I would suggest using one colored tank, and one cool pair of socks.
Start by folding the tank top within itself lengthwise creating a thin long piece of fabric. I folded mine in twice on itself. Then I folded one of the socks in half and created a point at the top with one section. This is the part that I want to show peeking outside the top of the cupcake. I wanted the cute pink and red stars showing to resemble a cherry on top.
Then, with the smooth edge of the tank on the outside, I tightly rolled the sock in the middle until I had a complete cupcake roll. Then I took the end of the sock and wrapped it around the roll to secure it.
Finally, I took the second sock and tucked the end inside itself to make a smaller area to put on the cupcake. I placed the rolled cupcake inside of the second sock and adjusted accordingly until I was happy with my tank and socks cupcake shape. I finished the gift off with a colorful cupcake gift box sleeve.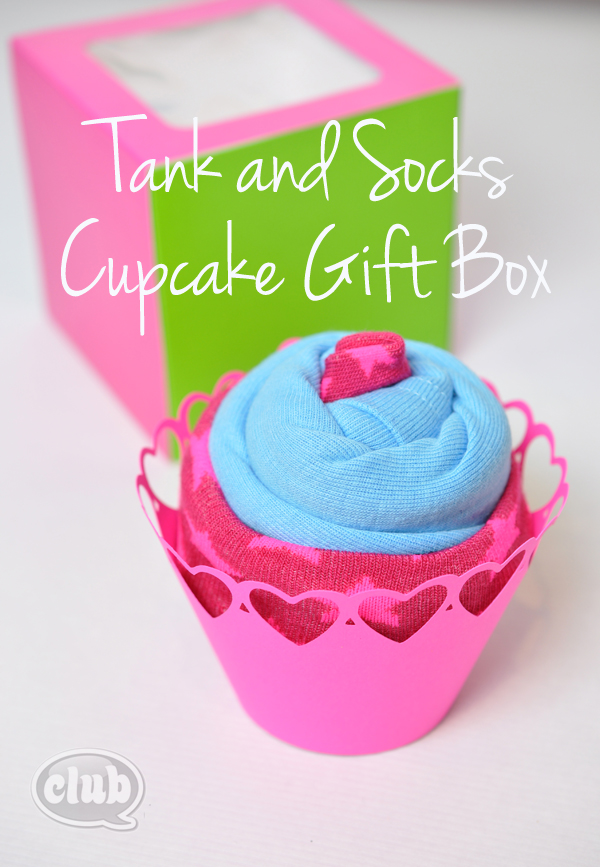 I found the single cupcake box at my local craft store, and completed the package with a pretty ribbon bow.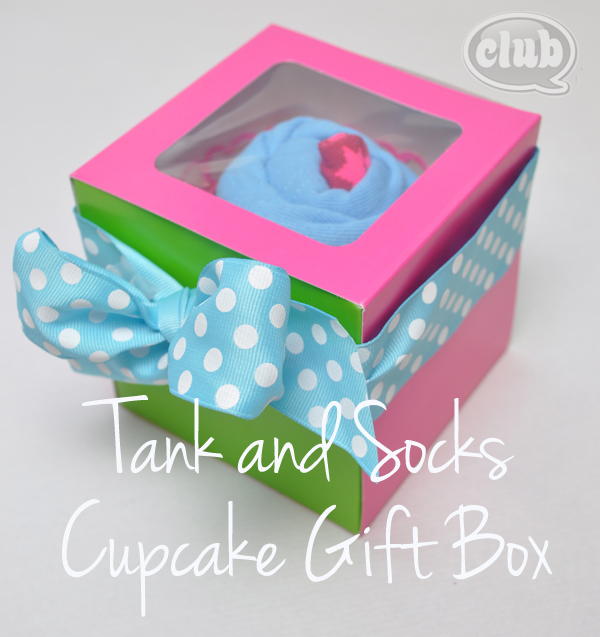 Lovely! You can check out the original cupcake onesies post here. The tween cupcakes turned out, of course, much bigger than wrapping a onesie and baby sock together, but they still turned out super delectably cute!
Enjoy!
Happy crafting!
If you liked this post, and want more, you can subscribe to be on our mailing list here.