I've been shopping in nature's craft store lately. I've already collected my share of Fall leaves and pine cones, but this time I came home with wood branches.
There is a green trail that love to jog through near my house, and one morning these two large branches that had broken off from a nearby tree were right in my path. Call my crazy, but I knew I had to bring them home and craft with them. I know I must have looked  a bit strange carrying two large wood branches out of the wooded area and up the street back to my house, but who cares right?
A good friend of mine recently got married in a small ceremony. She had a small beautiful nature-themed wedding. I knew I could do something special for here wedding gifts.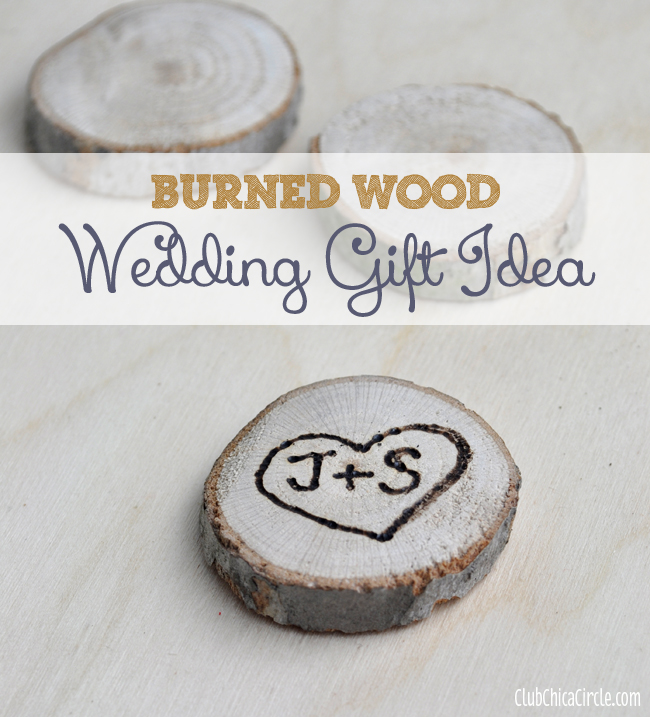 Today's post is the beginning of what evolved into one of my favorite homemade gifts I have ever made or given. Stay tuned to see how many crafts I could make with one large tree branch.
First step, I got out the power tools! This is the part that you don't craft with your tweens. I haven't done much crafting with the use of power tools in the past, but it was time.

First I sliced some of the wood into thin slices, approximately 3/8″ deep. The wood branch was about 1- 1 1/2″ in diameter. After that I used our power sand to create a smoother surface on the cut slices.
I recently purchased my first wood burning tool, and I'm not sure what took me so long. I remember growing up making homemade gifts with a wood burning tool. There is something about the smell as the tip burns a design in the wood. My daughter said it smelled like a camp fire. Just remember, the whole metal part of the tool gets REALLY hot.
I burned a cute heart design into the top of one of the wood slices with the first initial of the bride and groom.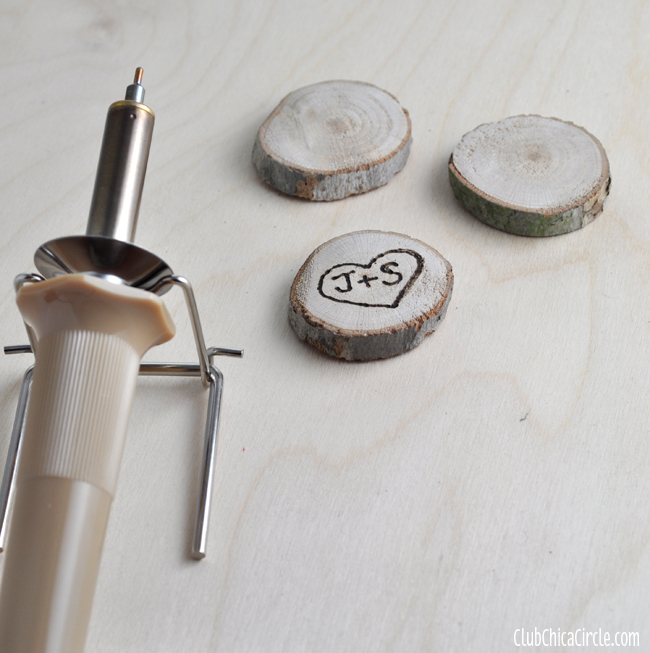 Then with the help of a couple DecoArt supplies, I turned it into a keepsake. I used DecoArt Metallic Lustre and Americana Multi-purpose sealer.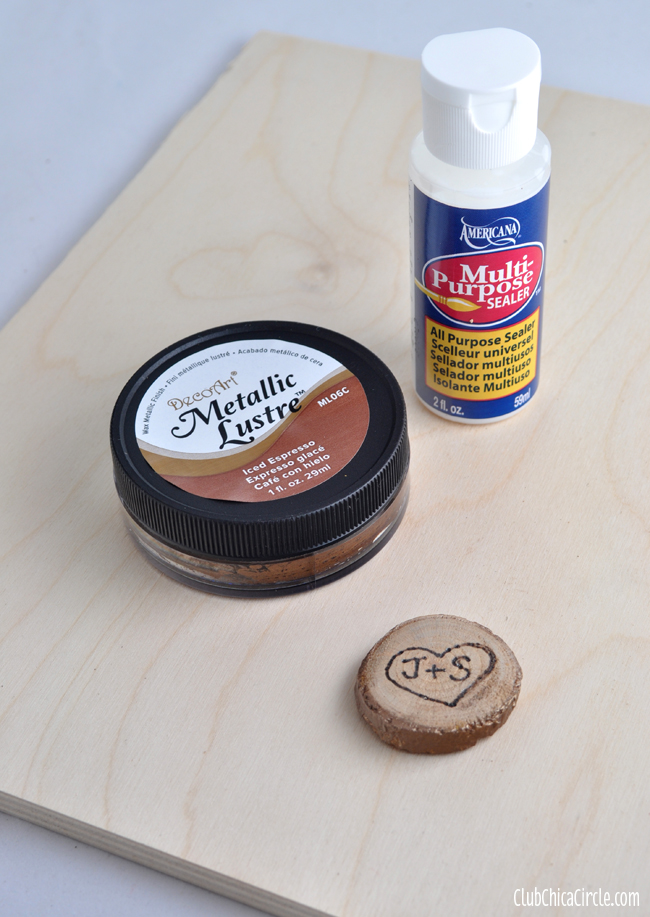 If you have never used DecoArt Metallic Lustre, it is one of the coolest things ever. It is like a metallic paste that you apply and buff to a metallic shine. Yes, I said buff.
I used a makeup sponge to apply along the outside wood edges which gave it a beautiful metallic shine. Then I sealed the top and bottom of the wood with the Multi-purpose sealer and let dry completely.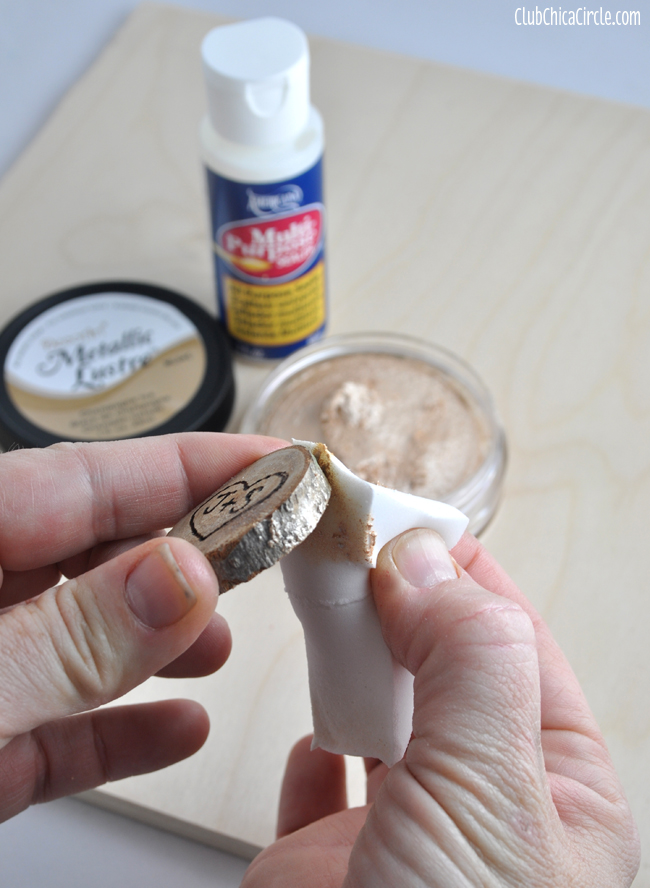 I love the way the wood charm turned out it. It begged to become a piece of jewelry.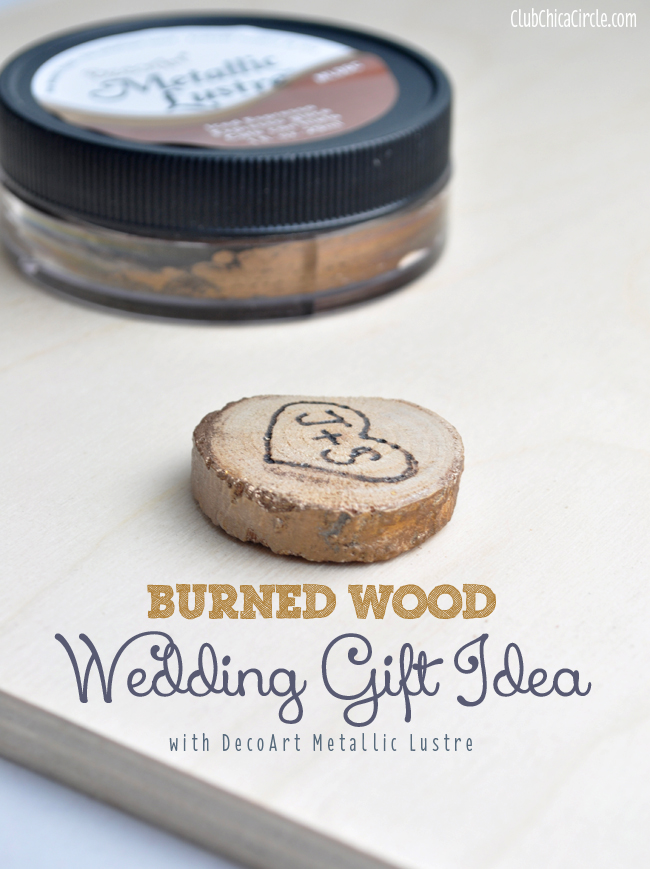 I bought a gold plain bangle at my local Michaels in the jewelry section and with the help of some super glue, I made it so.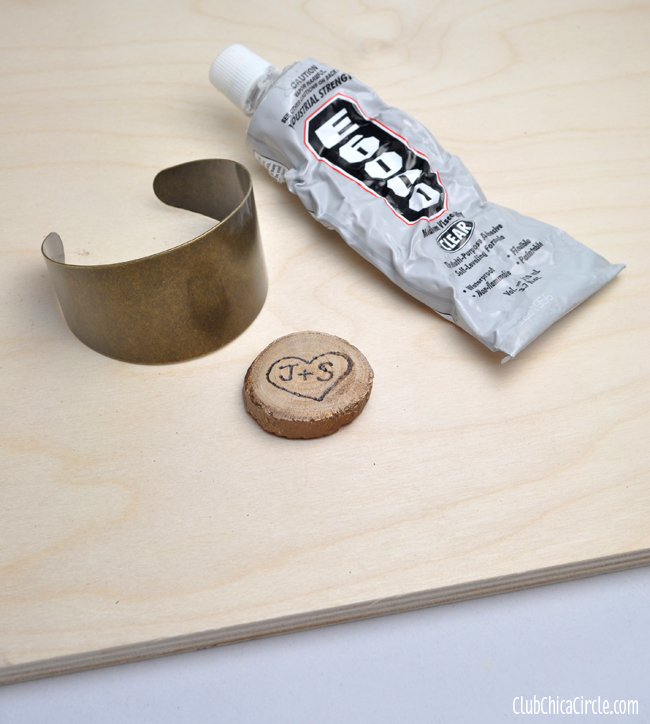 I love how it turned out, and most importantly, my friend loved it!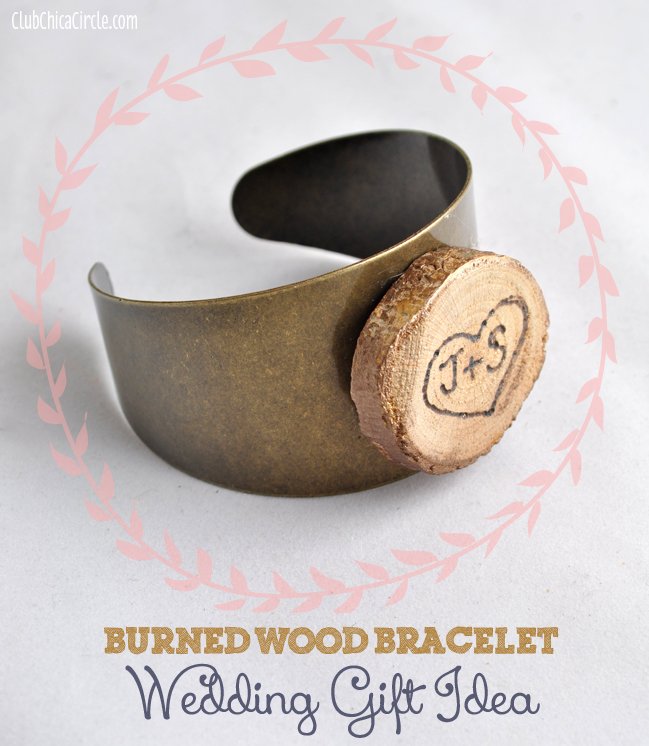 Stay tuned for more nature craftiness! After all, this was just one slice of wood. Imagine what I can do with lots of slices.  = )
Happy crafting!
If you liked this post, and want more, you can subscribe to be on our mailing list here.
Feeling social? Follow ChicaCircle on Facebook or Twitter, and follow me on Pinterest or Instagram.