This post is brought to you by Target, but all opinions and gift ideas are my own (with additional inspiration from my tween).
I need a little help this time of year figuring out what surprises would make the tweens in my life jump up and down with joy on Christmas morning. My daughter and niece have different wish list items and the items change dramatically from year to year. The girls are list makers (like me) so taking a trip to Target to help build the lists definitely does the trick.
Check out some of our favorite Target trip finds that made the list: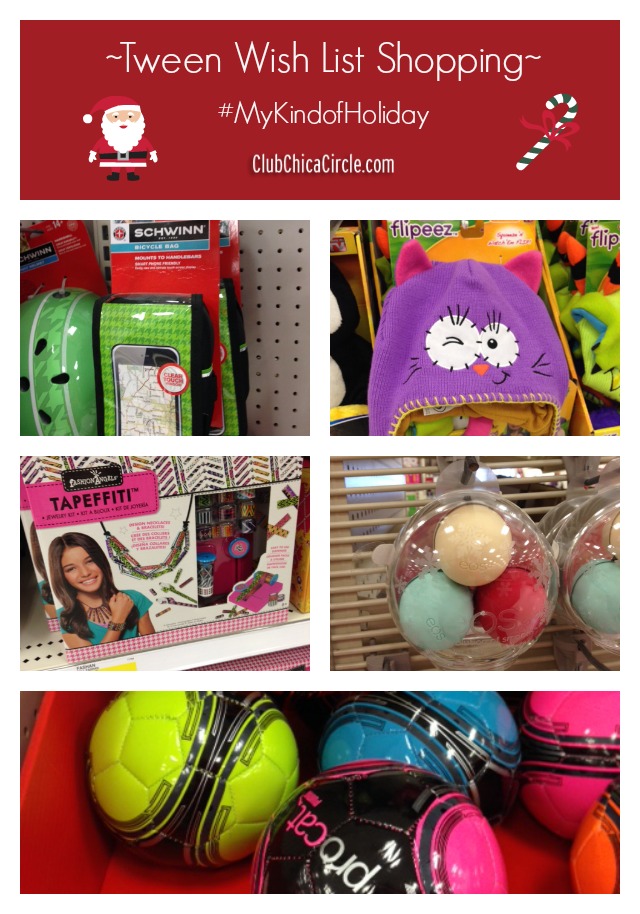 Schwinn Bicycle Bag (more colors in the store display) ~ Flippeez (flips and flaps with a push of the tassle button) ~ Fashion Angels Tapeffiti (many kits to choose from for a great Holiday break activity) ~ EOS lip balm (perfect stocking stuffer) ~ Soccer balls (because you can never have too many)
And, because I can never get out of Target without adding more items to my shopping/ wish list: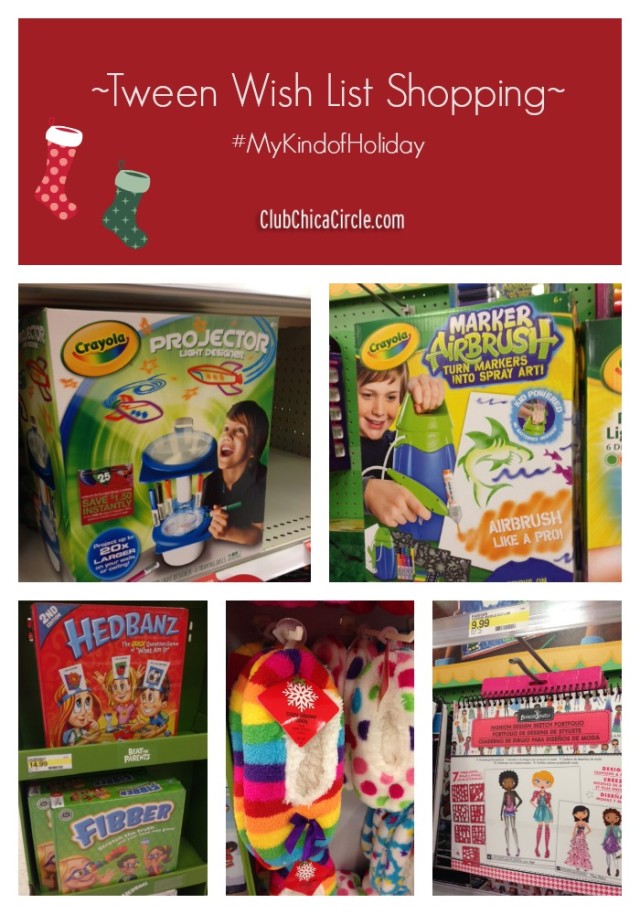 Crayola Projector Light Designer (turn art into a ceiling display) ~ Crayola Marker Airbrush (turn markers into spray art) ~ Hedbanz (which was a lifesaver for our family during a particularly horrible summer) ~ Slippers (250+ styles available online) ~ Fashion Angels Sketch Portfolio (with many kits to choose from)
What is on your tween's wish list? Let us know in the comments below.  Even better – enter the giveaway for a $25 Target eGiftCard. Visit the Target catalog and comment below on what gift you would choose and for which special person. **Be sure to enter through the Rafflecopter to record your entry**. This is #MyKindofHoliday and I hope you have a special holiday, too!
Content and/or other value provided by our partner, Target. #MKOH
If you liked this post, and want more, you can subscribe to be on our mailing list here.
Follow Lynnee's boards on Pinterest and Pauline's Club ChicaCircle boards here. You can also find  Lynnee Jimenez on Google+.