This is a Sponsored post written by me on behalf of FrogTape provided by ShurTech Brands, LLC for SocialSpark. All opinions are 100% mine.
Happy Holidays!
Do you decorate the outside of your house for the holidays? This is such a fun time of year to see all of the festive houses both in our neighborhood and just driving around.
Today's craft idea is a really great way to add some fun holiday decor to the outside of your home. I turned simple concrete blocks into a fun holiday gift boxes. And with the help of FrogTape Textured Surface, it was so easy!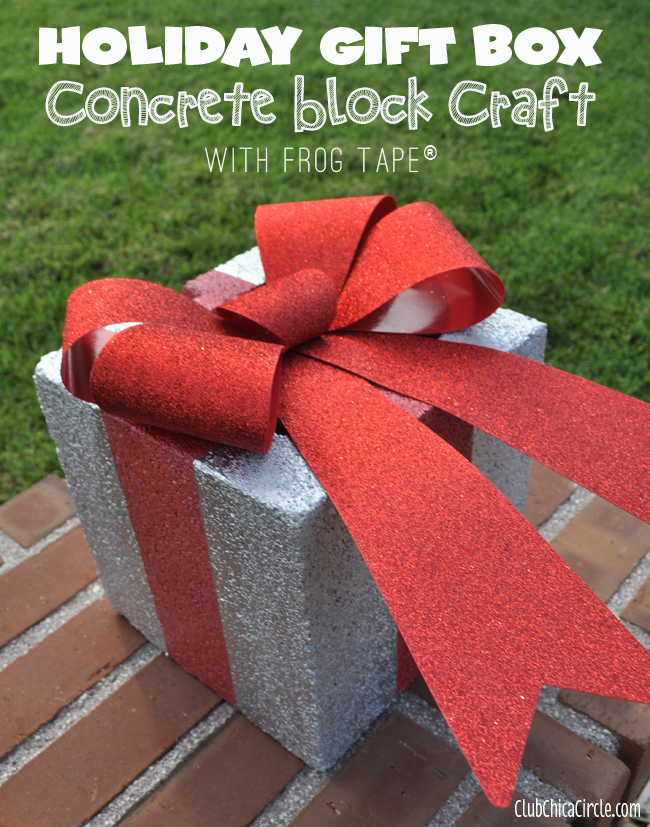 What is FrogTape®, you may ask?
FrogTape® for Textured Surfaces is more than just your average painters tape. It is specifically designed to create sharp paint lines on those surfaces that do have some texture, eliminating the bleed through that might occur with other tapes.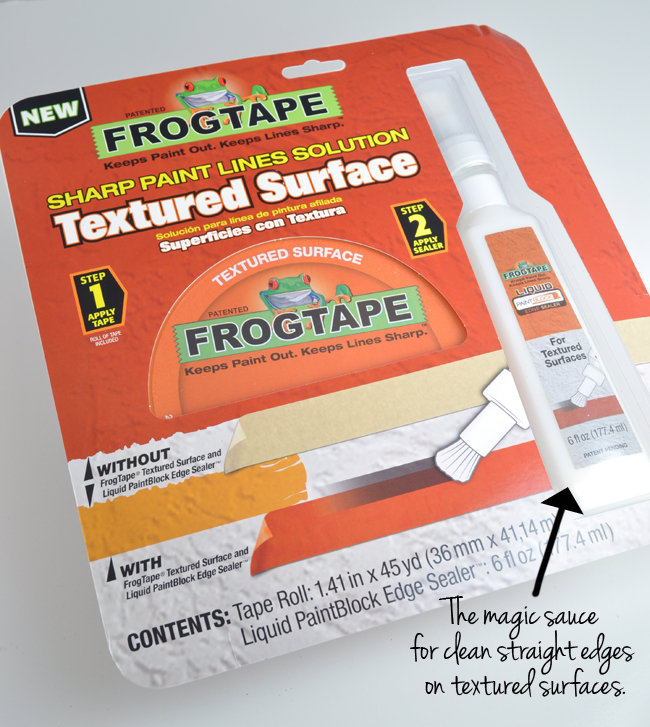 It has a unique two step process and, what I like to call, a "magic sauce" that seals your paint edge onto your textured surface.
Think of the design possibilities you could do with this. I know the walls in our home all have textured surfaces, and this tape would be the perfect helper to use when painting them with a design.
And of course, it is perfect for home decor craft projects like this one!
To make this holiday gift box decoration, I started with 8″ x 8″ concrete blocks. I found them at my local Home Depot for less than $1 each!
I also used silver and red metallic spray paint to create the perfect package glimmer.
My goal was to take the dull gray concrete blocks and transform them into sparkly presents wrapped in a pretty bow. I knew I wanted to use them as outside holiday decor, so by using the illusion of paint lines, I knew it be the perfect crafty solution.
The concrete block surface is really textured and uneven and hard to get perfect paint lines. FrogTape® to the rescue!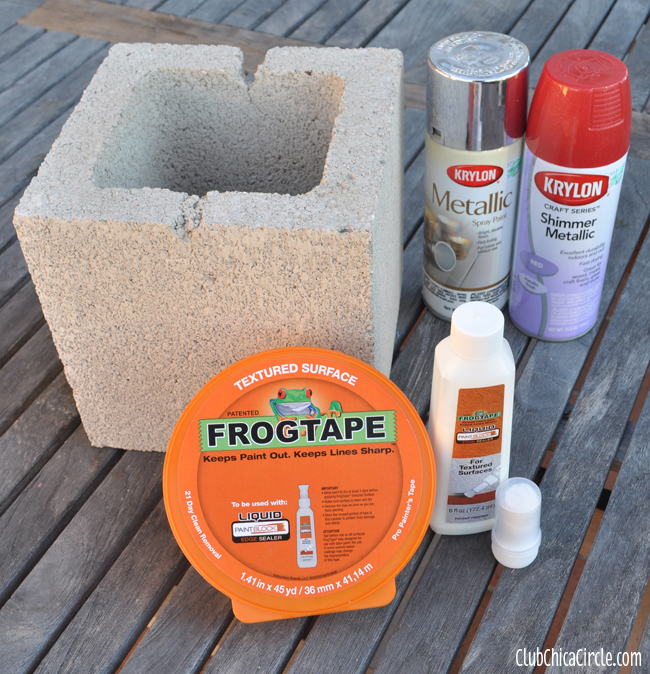 This is how I make the pretty holiday packages:
First, I painted red stripes down the middle of each side of my concrete block. This is what will become the "ribbon" on the "gift boxes". I didn't need to make them perfect. I just needed to make sure I had enough coverage and that they were wide enough for a nice fat ribbon stripe.
Then I applied FrogTape® stripes on top of my red painted stripes, making sure there was enough overlap of the red paint on each side. To activate the first step of the FrogTape® process, you need to wet it slightly with a damp cloth. I used a wet paper towel to wipe the outside of the tape stripes.
Next is where the magic happens. The second step in the FrogTape® process is to apply a generous coat of the sealer on the edges of your paint lines and let dry for 15 minutes. There is a special brush applicator that helps.
When the sealer was dry, I finished off with a coat of silver paint on top.
When that was dry, it was time for the big reveal! I removed the tape and added a pretty PVC glittery bow on the top of my holiday box. I used a little glue from my glue gun to attach the PVC bow that I found at my local Big Lots.

Can you say gorgeous?
Just look at those lines!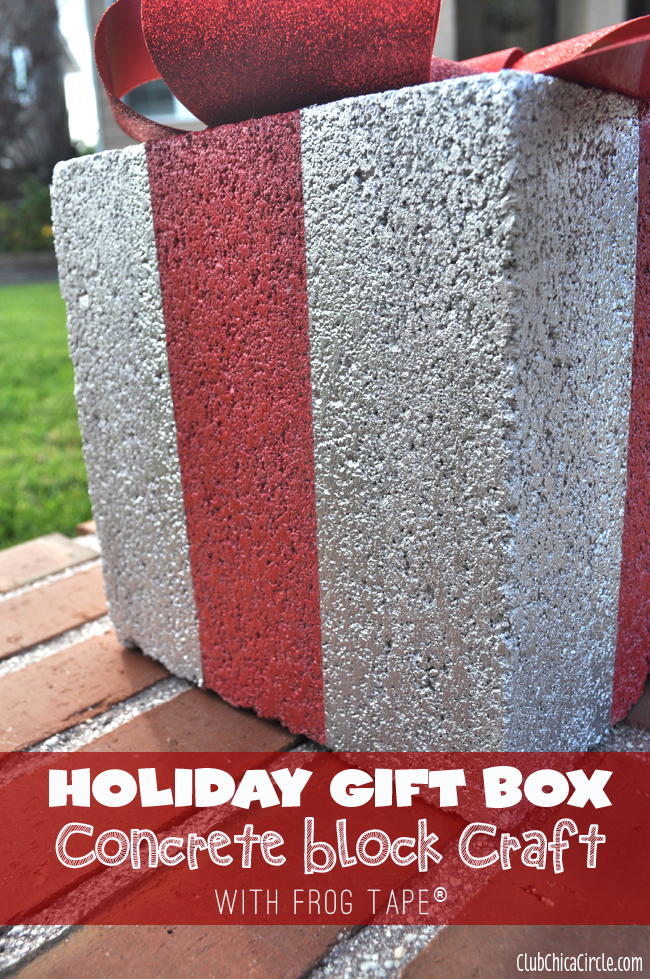 These festive holiday gift boxes make the perfect outside holiday decor as you walk up to our house.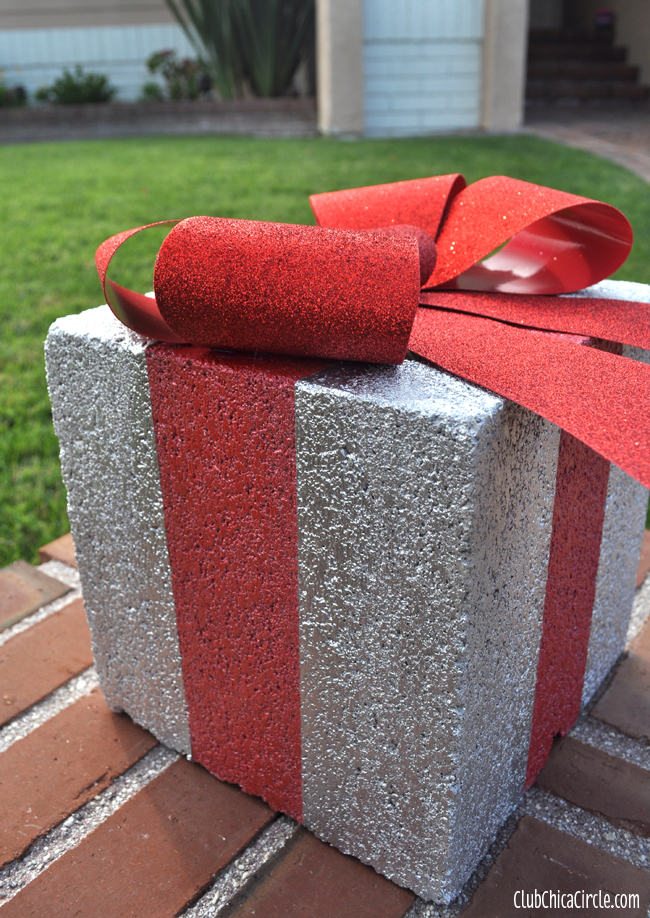 I love how they turned out, and I will definitely be using these every year as part of my outdoor holiday decorations.
This fun and easy craft is the perfect excuse to try out FrogTape Textured Surface.
Enjoy!