It's time for a little pine cone crafting!

One of my favorite things about the Fall is all of the natural craft materials you can find, right outside your front door. Every time I go for my morning walk, I can't help but pick up a few pine cones on the way to turn into some sort of craft or Fall decoration.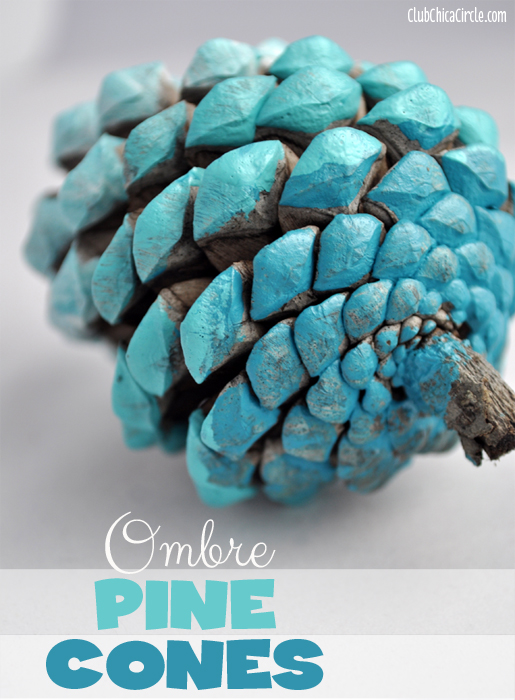 Today's craft idea is ombre painted pine cones. They make such a pretty Fall decoration, perfect to show off in a glass vase or bowl.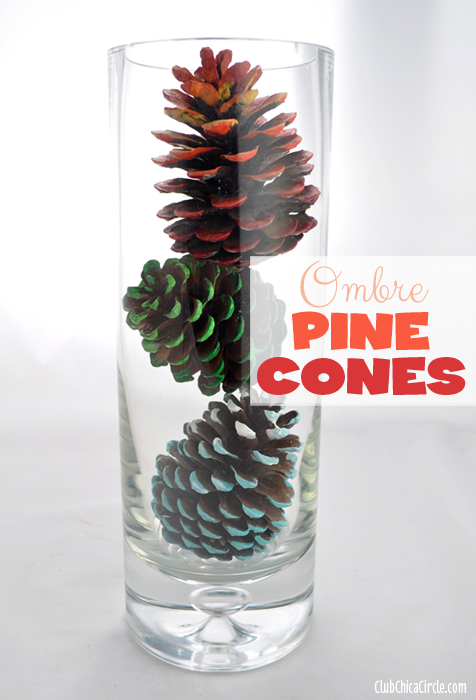 Ombre is a French term meaning "shaded," usually in a multicolored stripe, with colors graduating from light to dark. It easy to achieve on pine cones and so pretty!
All you need to start with is three different colors of paint from the same color family—one light tone, one medium tone, and one darker tone.
I used Americana Multi-surface Satin Paints because, this paint is truly a "multi-surface" type of paint. And, I would say pine cones is definitely a different type of surface. Craft acrylic paints would work too.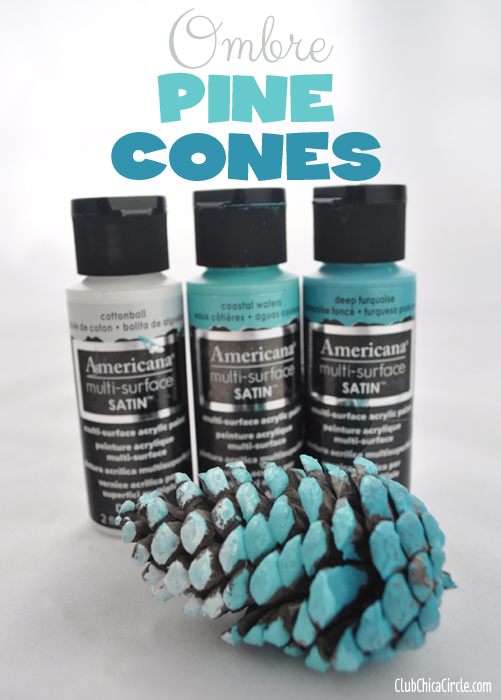 I picked a pretty teal, green and red tones for my pine cones. Specifically, for the teal ombre pine cones I used cottonball white, coastal waters, and deep turquoise Americana multi-surface satin paint. For the green pine cones, I used apple green, turf green, and green beret. For the red/orange pine cones, I used orange sherbet, pumpkin patch, and deep scarlet.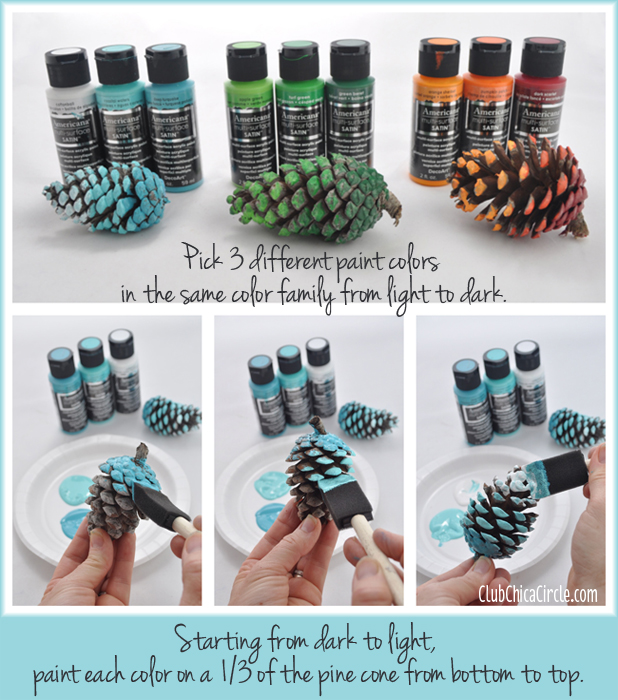 To paint your own pine cones, squirt each of the three paint colors onto a plate. Then, use a sponge brush to start at the bottom of the pine cone with the darkest color. Paint approximately the bottom third of the pine cone. Using the same sponge brush, dip it into the middle tone color and paint the middle section of the cone. Finish off by painting the lightest color at the top third of your cone and let dry.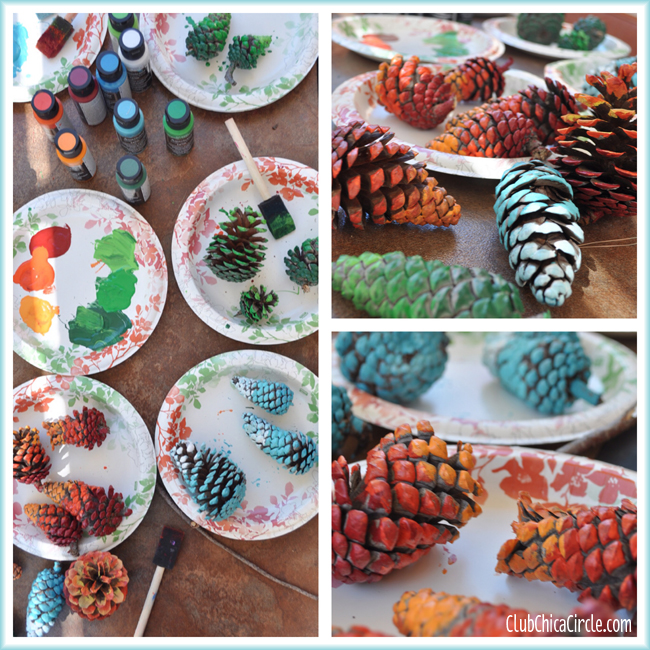 This was a great outdoor Fall craft activity. I made a whole batch of pretty painted pine cones and let them dry completely before using them as decorations.
They make a gorgeous Fall centerpiece for any table. The best part is, this craft idea is simple enough to get the whole family involved for a fun weekend craft project.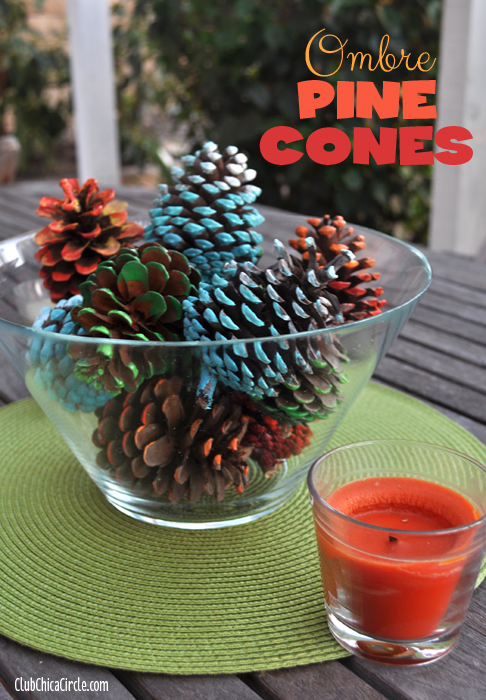 Go for a walk, find some lovely pine cones and try this easy Fall craft idea today!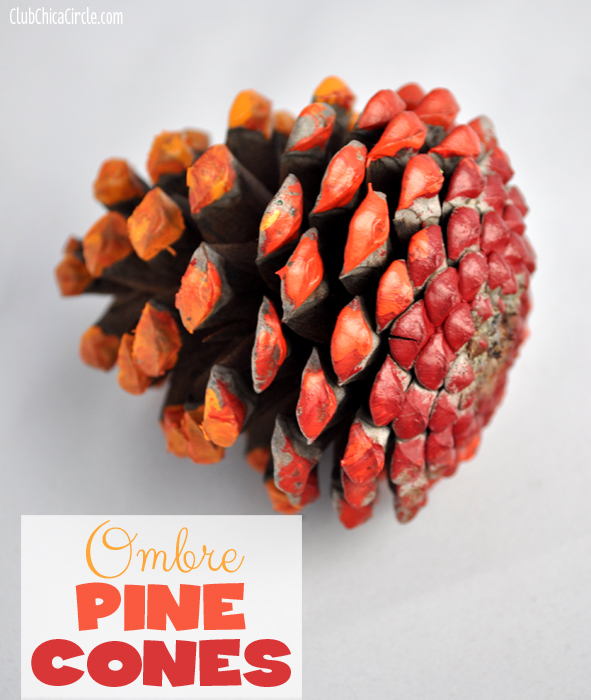 If you are looking for more pine cone crafting ideas, here are a few from the archive:
Happy crafting!

If you liked this post, and want more, you can subscribe to be on our mailing list here.
Feeling social? Follow ChicaCircle on Facebook or Twitter, and follow me on Pinterest or Instagram.
Save