One of our residents tweens just hit double digits! That is, my niece just turned 10. Hip, hip, hooray! The only bad thing was that my tween and I were so sad that we couldn't celebrate her birthday in person. So we decided to send her a birthday party in box! Her twin brothers recently had a birthday too, and so they all received their own personal birthday party in boxes in the mail, as well.
Here is what I did:
I started with photo memory boxes that I found at my local Michaels
Then I raided the party store for fun party supplies in each of their favorite styles. For my tween niece, I went with a black, rainbow colored, peace-themed birthday decorations. My twin nephews are obsessed with Thomas and Friends right now, so that was an easy choice for them. For instance, plates, napkins, balloons, bubbles, candles, party blowers, etc.
Next stop, I bought cake mixes, frosting, and sprinkles, etc at my local grocery store all in their favorite flavors. Wild blueberry muffin mix for my niece, chocolate and vanilla cake mix for my nephews.
And they I had a blast loading up each box with a personal party selection for each of them. I separated sprinkles and party confetti into smaller bags. I put a stack of cupcake liners along with a candle and cupcake toppers in a separate bag. I made it more personal by unpackaging everything, and then repackaging into separate bags with cute ties.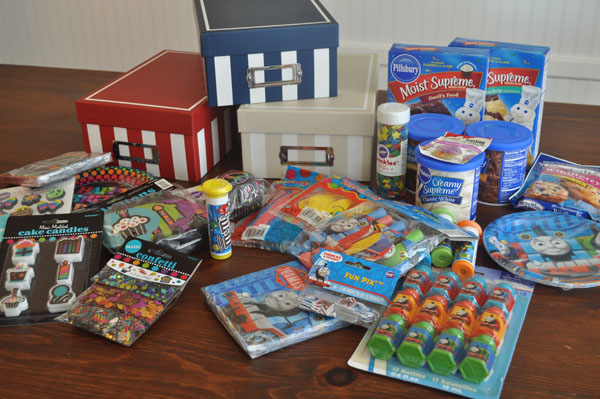 I

I used crinkled paper party filler to fill each box.
I also crafted a handmade party banner using triangle colored foam shapes and "Happy Birthday" tape along with ribbon.
Here is a quick picture collage of how the Tween Birthday Party in a Box came together:

And I finished off using my Cricut machine to cut out a "Happy Birthday" message and glued it on top of each box. (Tip: you don't need a fancy cutting machine to do this step. You could draw in your own design with Sharpie markers, use pre-cut vinyl letters, or just attach a pretty bow on top with a tag or card.)
Finally, I shipped them off. I used the medium sized flat-rate priority box from USPS, so it didn't matter how heavy I packed each box. The photo storage boxes fit perfectly inside, and arrived safe and sound. Just think of how much stuff you can put together in a box to send a personal party in a box!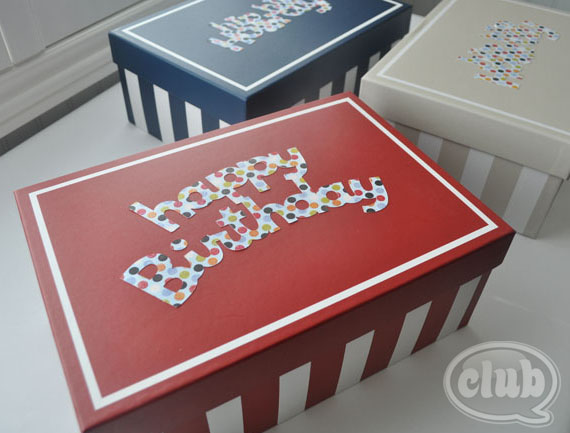 Here is a sneak preview at the Thomas Birthday in a Box: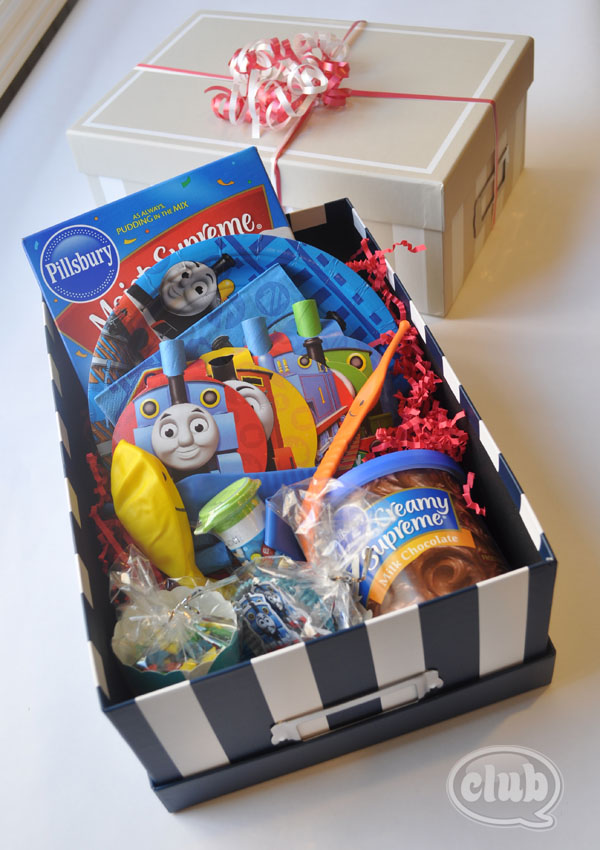 The best part was I prompted my sister to do Facetime from our computer and her phone with us while they opened the boxes. It was so fun watching them pull out all of the little party favors I packed in each box. I had a couple extra balloons at our house, and my daughter blew up a balloon while we watched them blow up their balloons, and we had a virtual party together!
Hope you liked this homemade gift idea. What would you pack in your party box?
If you liked this post, and want more, you can subscribe to be on our mailing list here.