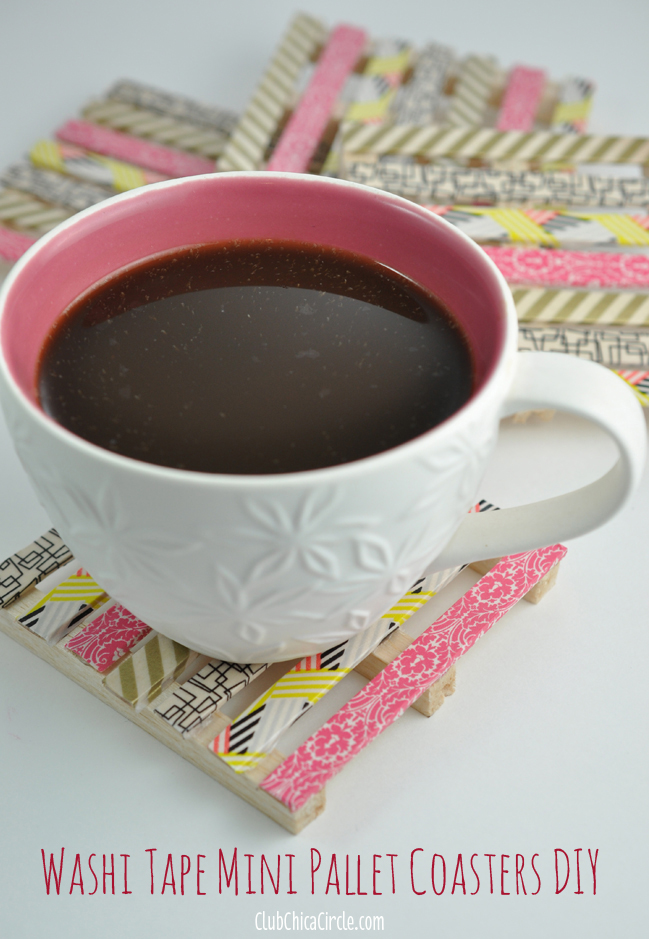 I have had a LOVE affair with washi tape as long as I can remember! It is such a fun and versatile tool to craft with, and you can find it in so many different colors and patterns!
I've made washi tape straw shooters, and have decorated every can, mason jar, or homemade gift idea I think I can think of with it.
Recently I shared how to make these mini wood pallet coasters decorated with washi tape over at Washi Tape Crafts, and I wanted to share with all of you, in cased you missed it.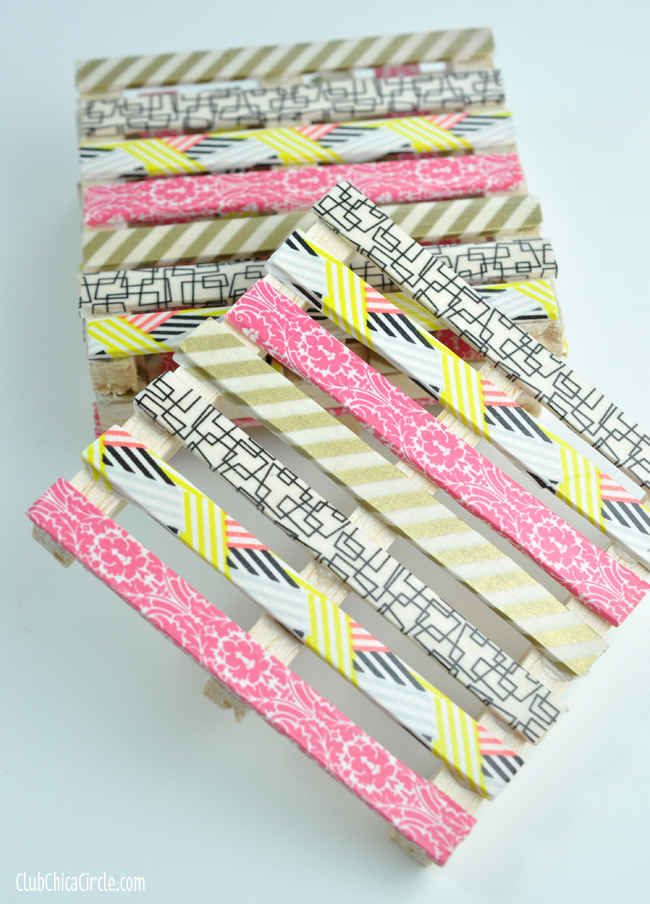 I'm showing you how I turned craft sticks into a small replicas of wood pallets embellished with fun patterned washi tape to make the cutest DIY coasters ever!
It's fun and easy to make a set of four coasters for yourself, or these make a great gift idea!
To make these mini pallets I used:
wood craft sticks
1/2″ square balsa wood rod (I found mine in the wood and hobby section of my local Michaels)
pliers with wire cutting blade
craft knife
sand paper
hot glue gun
washi tape
scissors
Mod Podge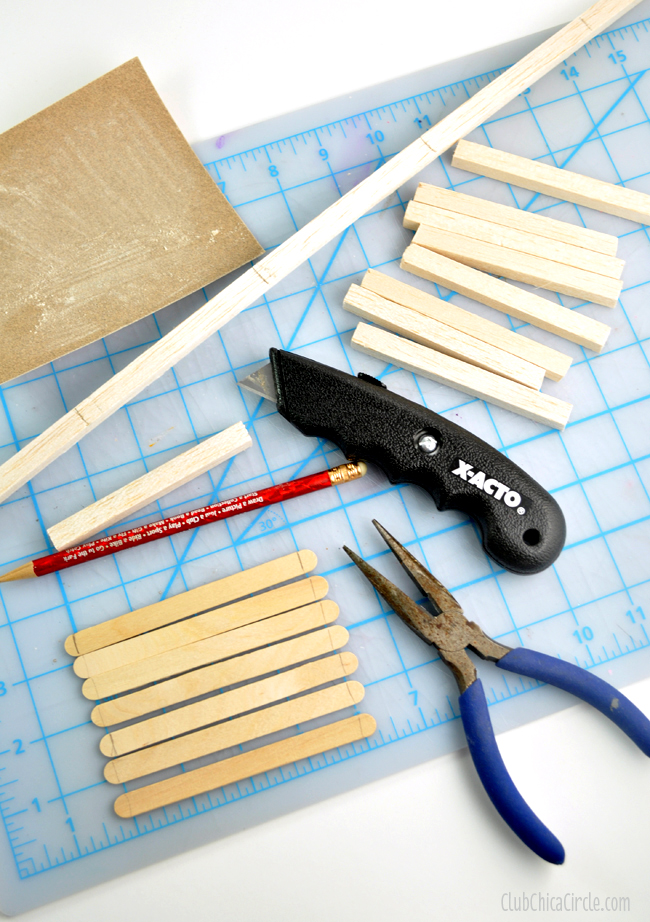 My craft table became a mini construction site to make these pretty pallet coasters. =)
First step is to prep and cut your wood pieces. I used 4″ sections for both my craft sticks and the balsa wood square rod that I marked off with a pencil.
Then, using the wire cutting blade on my pliers, I snipped off the ends of each of my craft sticks. I used 7 craft sticks per pallet.
After each of my craft sticks were cut, I sanded off any rough edges on a sheet of sand paper.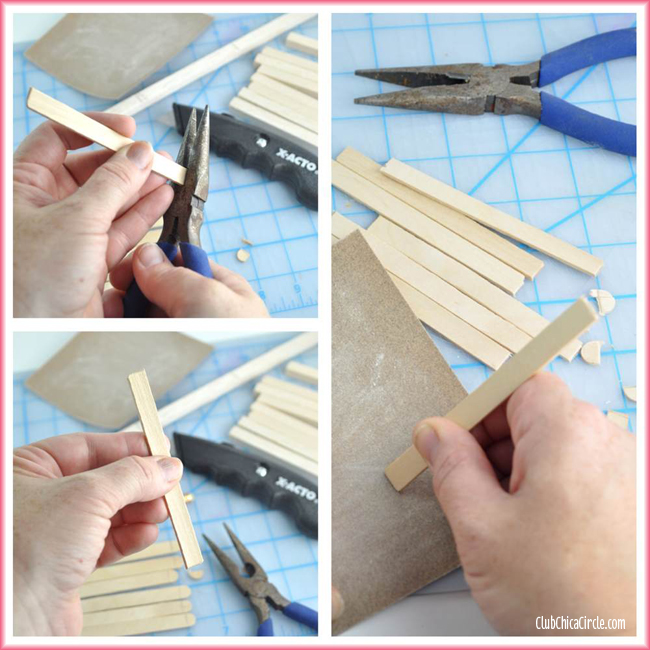 Then I cut my balsa wood sections for the base of the mini pallet. Again I penciled off 4″ sections, and I used a box cutting blade to cut them. The balsa wood is so soft, it took just pressing down the blade on all four sides to create a full cut all the way through.
I used the sandpaper again to smooth any rough edges on the ends of my wood pieces. I used 3 balsa wood pieces per mini pallet.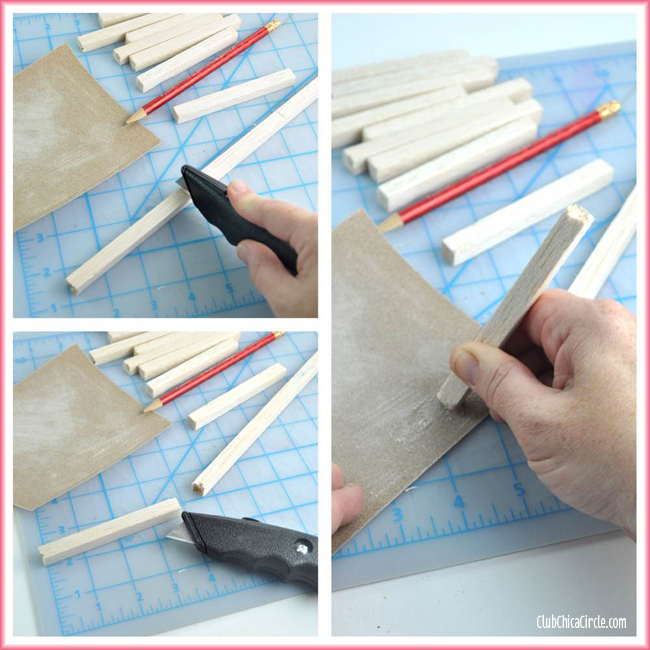 After all the wood is cut, it's time to decorate the craft sticks with washi tape. This is the fun part!
I used four coordinating washi tape patterns for mine, but you can certainly pick one favorite and they will turn out just as fabulous.
The washi tape is just the right width to cover the craft sticks. I cut a length of washi tape and attached to one side of a craft stick. Then, using a sharp scissors, I cut the ends off so they were flush with the end of each craft stick. I finished off by pressing down the sides of the washi tape along the side of the craft stick.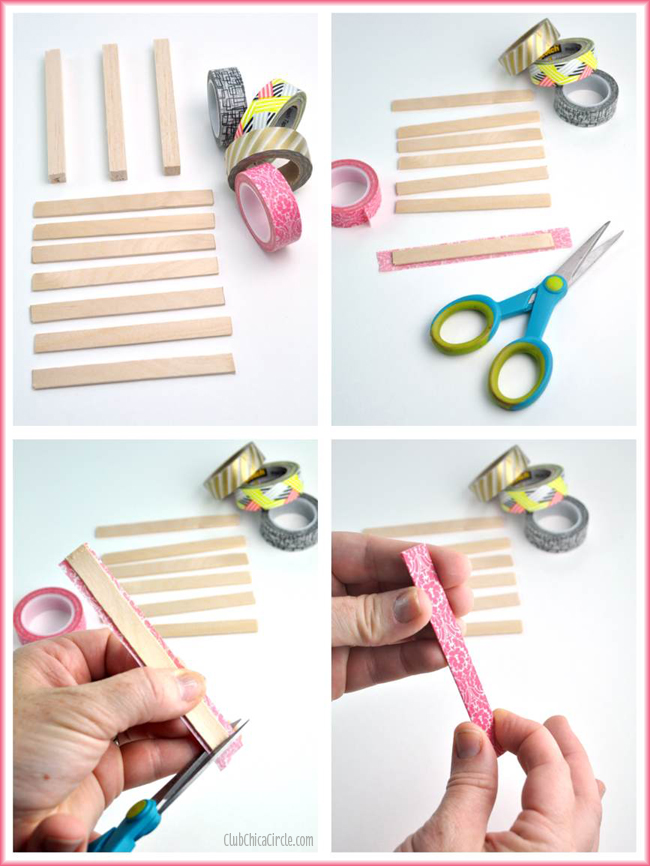 After I decorated all of my craft sticks, and made them washi tape fabulous, it was time to put it all together.
Using 7 washi tape sticks and 3 balsa wood pieces per pallet, I planned out my pattern and structure of my mini pallet.
I lined up the 3 balsa wood sections, spaced evenly apart, and attached one washi tape stick on the top and bottom with a glue gun.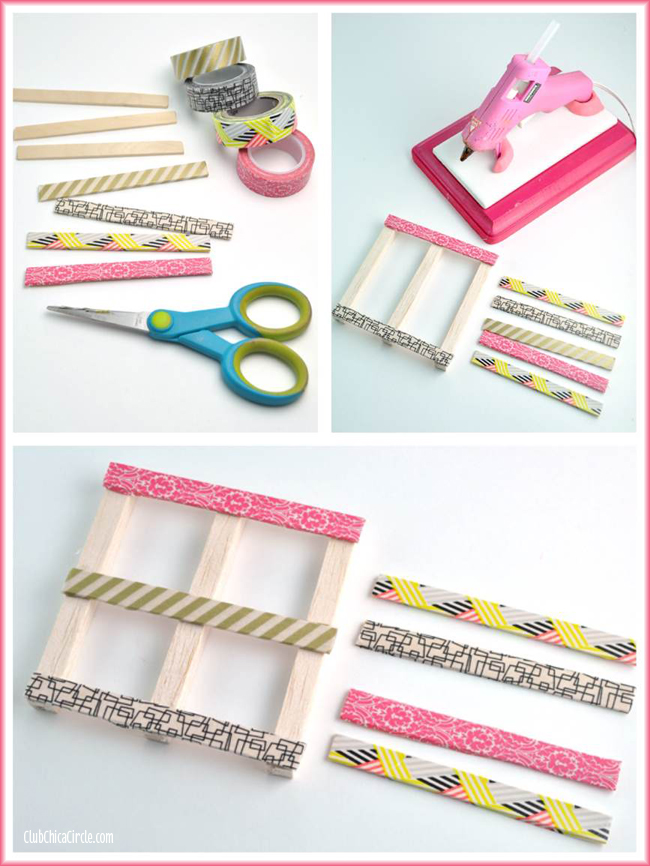 Then I glued the center stick straight across the middle. I had my pattern planned next to the mini pallet structure, that was starting to come together, so it made it easy to finish by adding the last 4 craft sticks.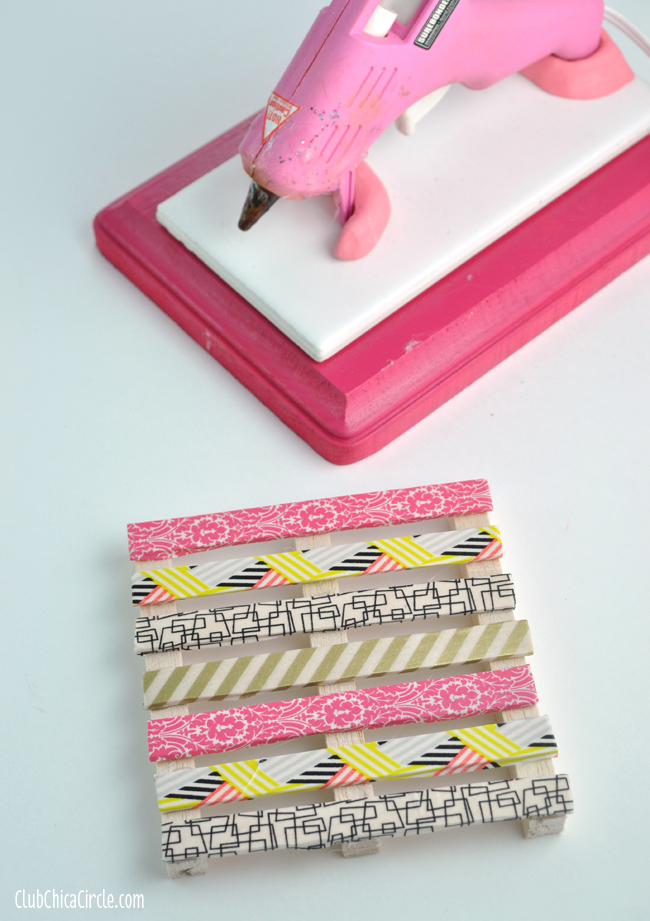 I just eyeballed the spacing to make my sticks evenly spaced out. It was easy after getting the first sections in place.
Finally,  I applied a coat of Mod Podge on top to seal everything. I used the matte finish on my coasters.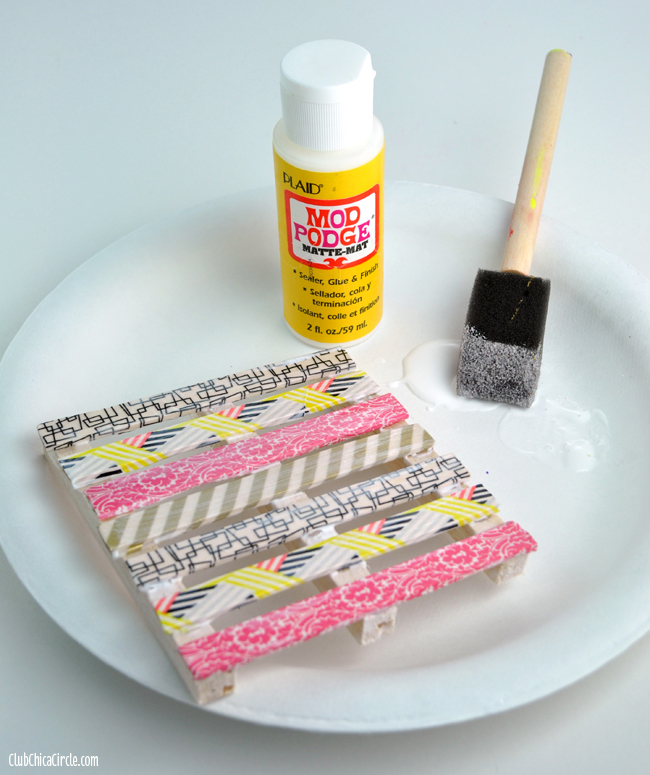 After the Mod Podge dries, you can put these babies to work!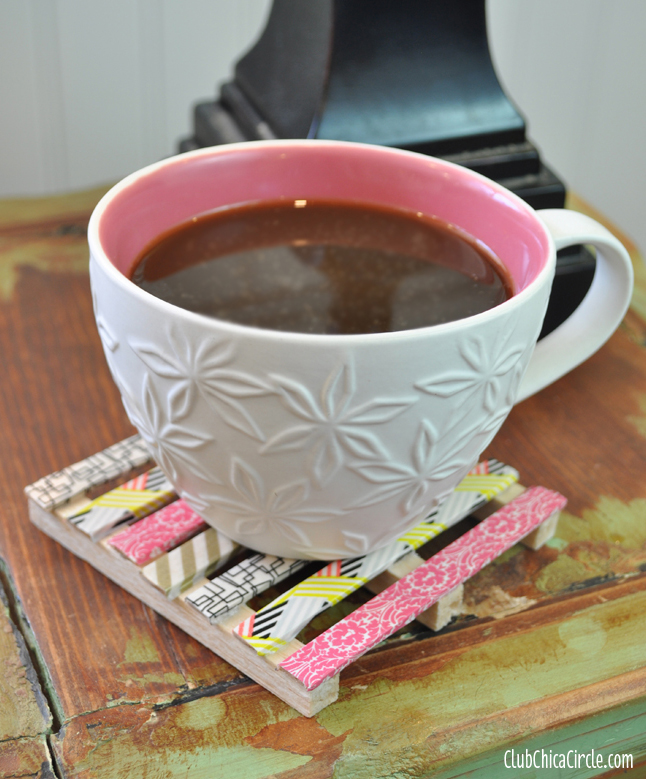 I made myself an afternoon cup of coffee, and used my new fancy mini pallet coasters. These look great on an end table, and would also be fabulous on a desk.
Stack them on top of each other and tie a ribbon around for a fun homemade gift idea!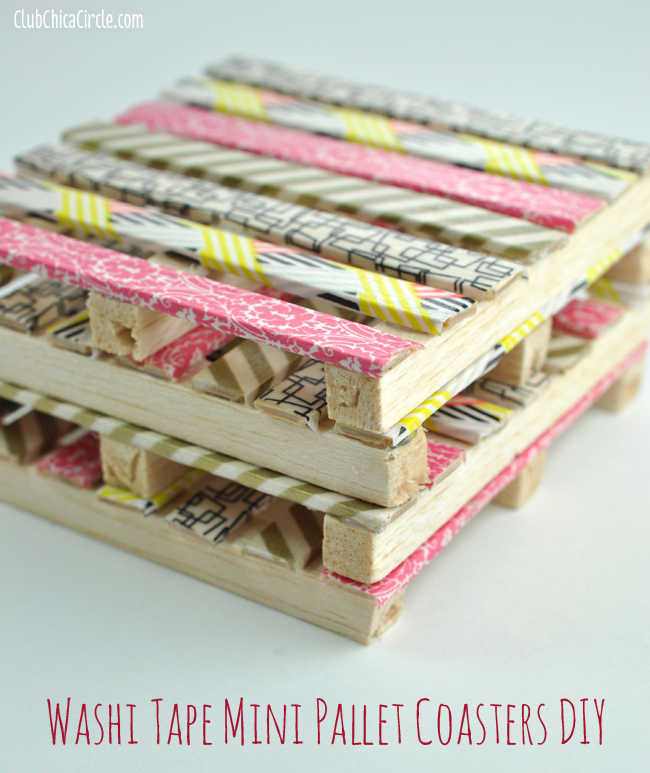 Enjoy!

This post was previously published on July 17, 2014 on Washi Tape Crafts.