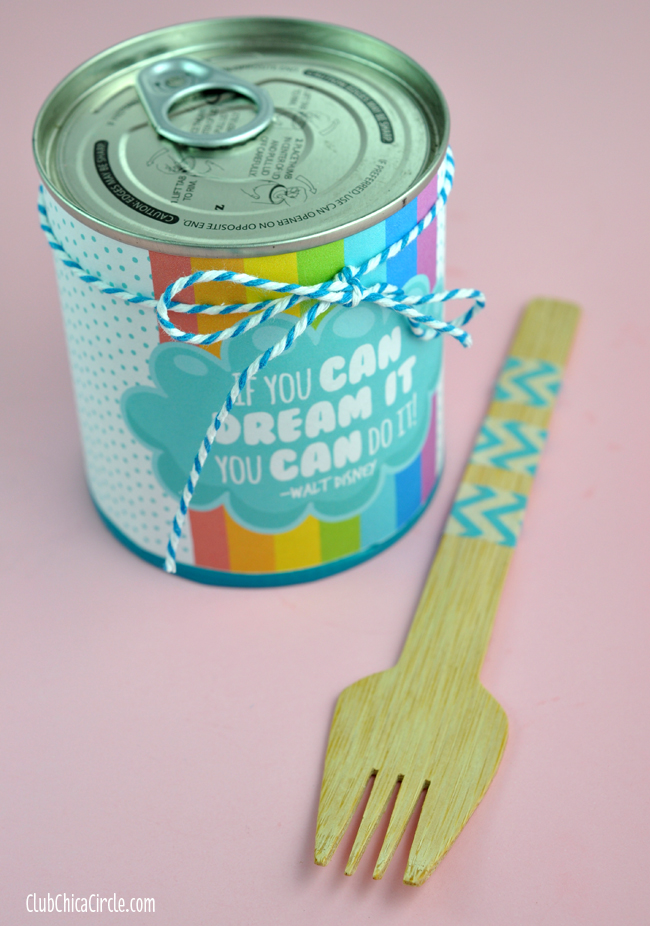 How do you get delicious brownie cupcakes in a cute can that is ready to eat once you pop the top of the can?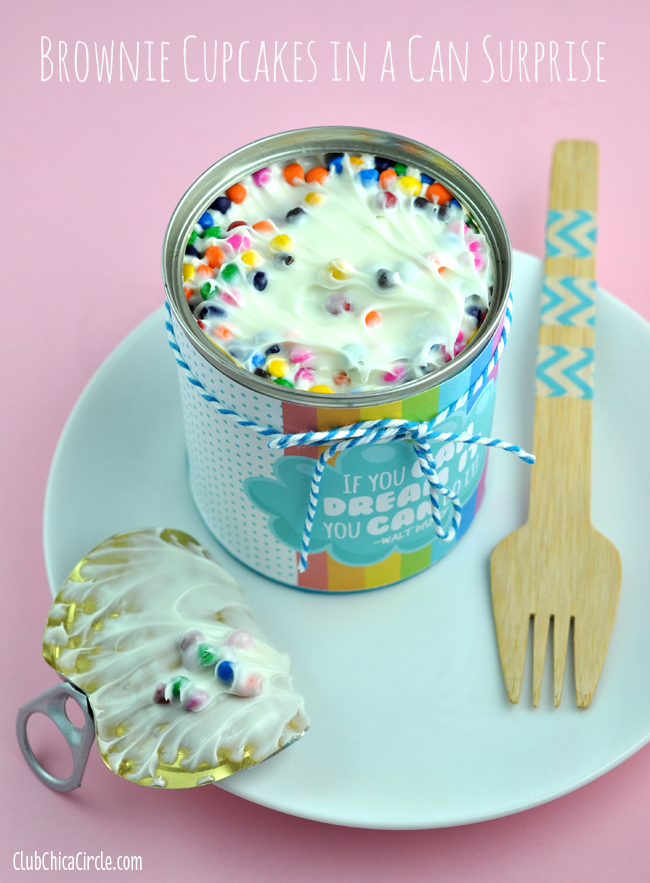 With a little magic and a little creativity of course!
It's the end of the school year for my daughter, and my niece who just finished her 6th grade year is visiting. She loved when I sent here a surprise cake in a can for her birthday, and this time I wanted something to celebrate her successful first year in middle school. This would also make a great graduation gift idea for kids of any age.
If you liked my cake in a can birthday surprise tutorial, you will love this one!
Actually it doesn't take magic to turn a can of mandarin oranges into a one filled with yummy brownie cupcakes.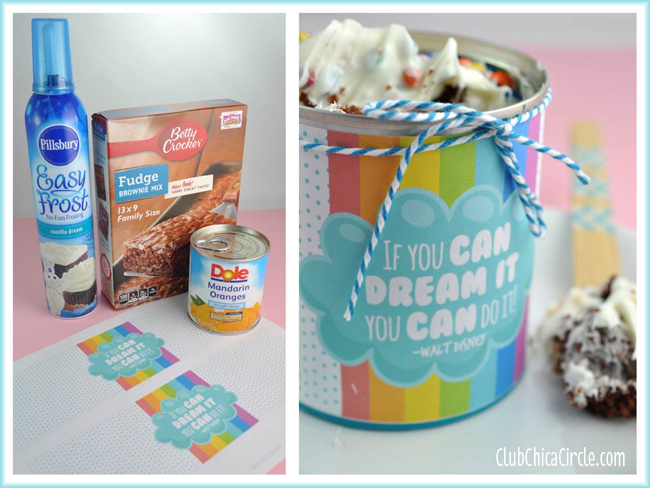 It's super easy! I used ready-made ingredients to make it even easier, but you can certainly make your favorite brownie and frosting recipe too.
You will need:
11 oz sized can with pop-top feature (I used mandarin oranges)
Fudge brownie mix of choice (or homemade recipe of course)
Vanilla frosting with a squeeze top (you can also use homemade frosting that you squeeze through a piping bag)
Rainbow sprinkles (optional)
Can opener with safety feature (a must)
Free printable customized label (I designed one with one of my favorite quotes, grab download below)
Duct tape or clear packing tape
Washi tape or clear tape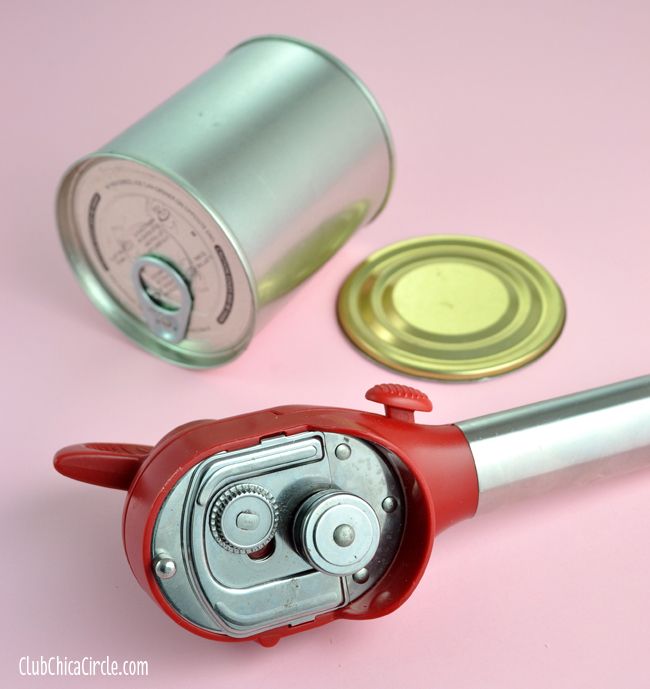 The trick is to start with a can that has a pop-top already, and to use a safety can opener that doesn't leave a sharp edge. This is the exact can opener I used, but I know you can find it in different brands as well. It safely and easily removes lids, leaving a smooth edge that is suitable for resealing with a plastic lid, or in this case, attaching back on the can.
First important step: remove the BOTTOM of your can lid and empty contents. We want to leave the pop top lid intact.
Clean and dry out your can or cans in preparation for filling with yumminess. Then bake your brownies in a cupcake pan. I found that they were the perfect size to fit right into my can. I only filled the cupcake pan using 1/4 cup of batter, so my round brownies baked to no more than an inch high.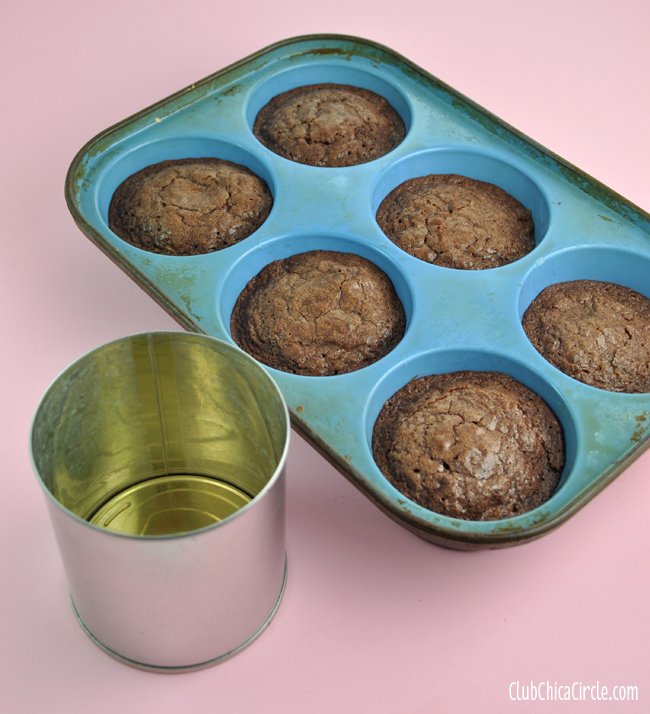 Then once the brownie cupcakes are cooled and popped out of your pan, it's time to assemble this yummy surprise treat!
I wanted to use rainbow sprinkles for color. I poured some at the bottom of my can. REMEMBER, the bottom of the can is actually what turns out to be the TOP of the can once opened. So, you are actually building your cupcake can upside-down.
After the sprinkles, it's time for a little squeeze of frosting, topped off with a brownie cupcake.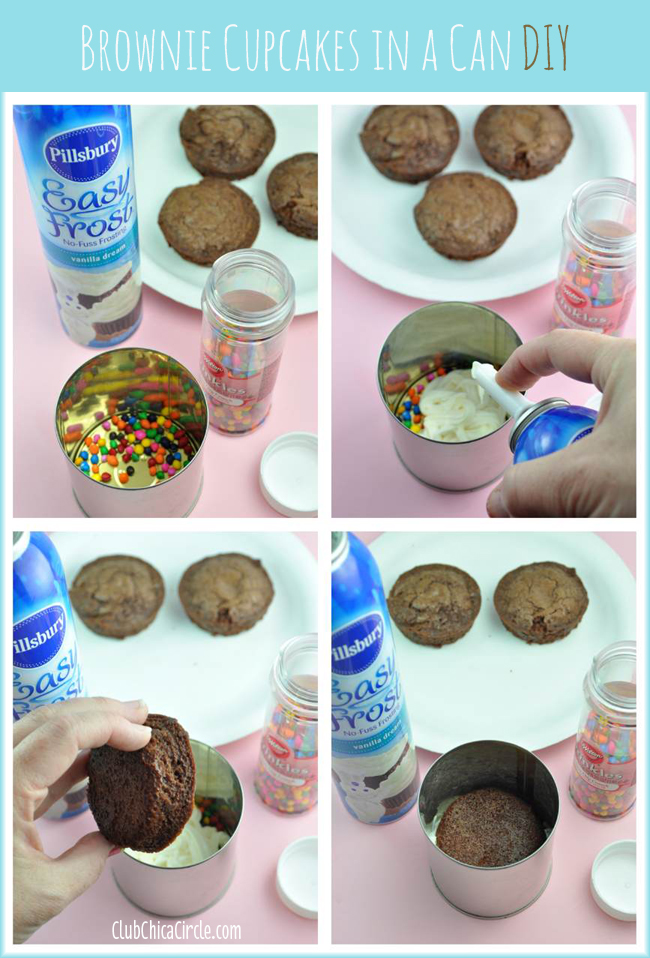 Then I added another layer of frosting, another cupcake brownie, etc. until I had three delectable layers of frosting and brownies in my can.
My can fit 3 brownie cupcakes.
Finish off by replacing the bottom of the can and sealing with tape. I used coordinating blue duct tape, but you can certainly use clear.
Then, I attached my custom label that I cut out from my free printable and attached it with some pretty coordinating washi tape.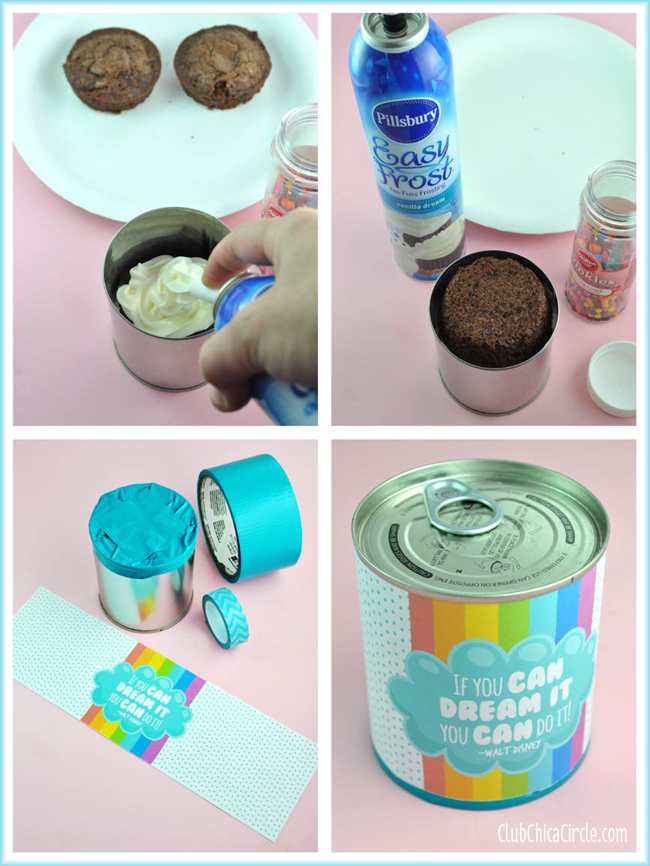 You can grab your free printable here:
If You CAN Dream It You CAN Do It Printable Can Label
This is one of my favorite all time quotes from Walt Disney, and I think it can be applied in so many occasions – graduation or encouragement!
The front and back look like this: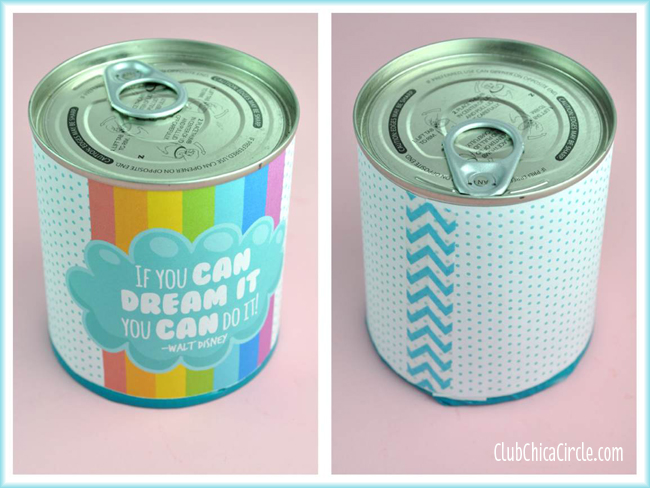 Now, you are ready to surprise someone with this tasty gift.
And for a truly portable treat, attach a disposable fork to your can. I used a little bakers twine, or washi tape would work too.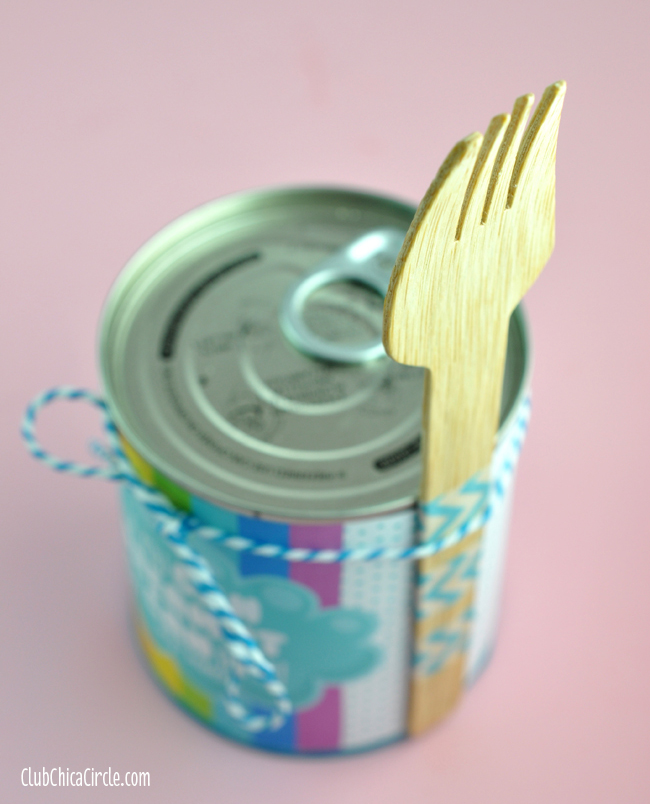 Then when you or your recipient open the can…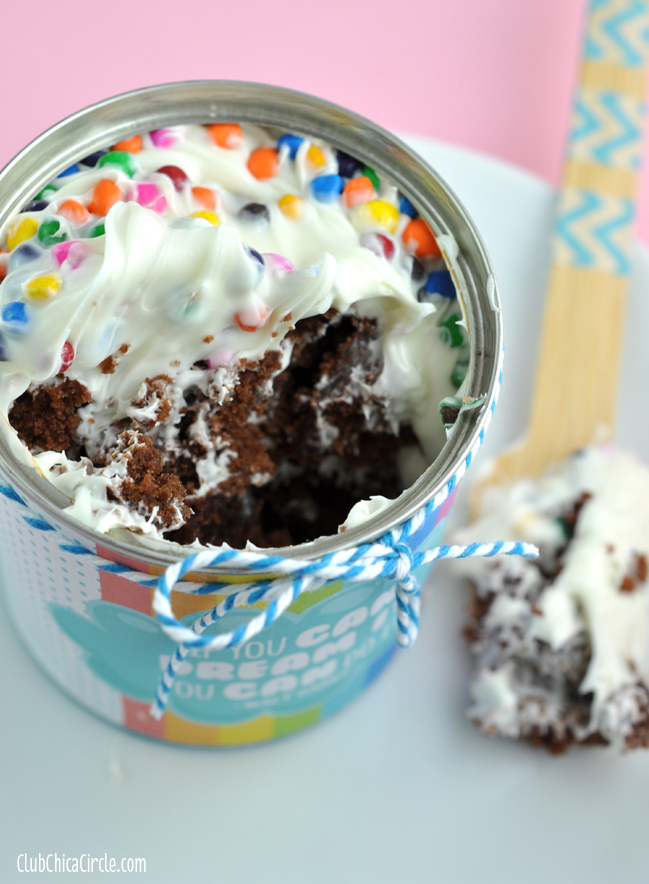 …big smiles and happy tummies are sure to be had!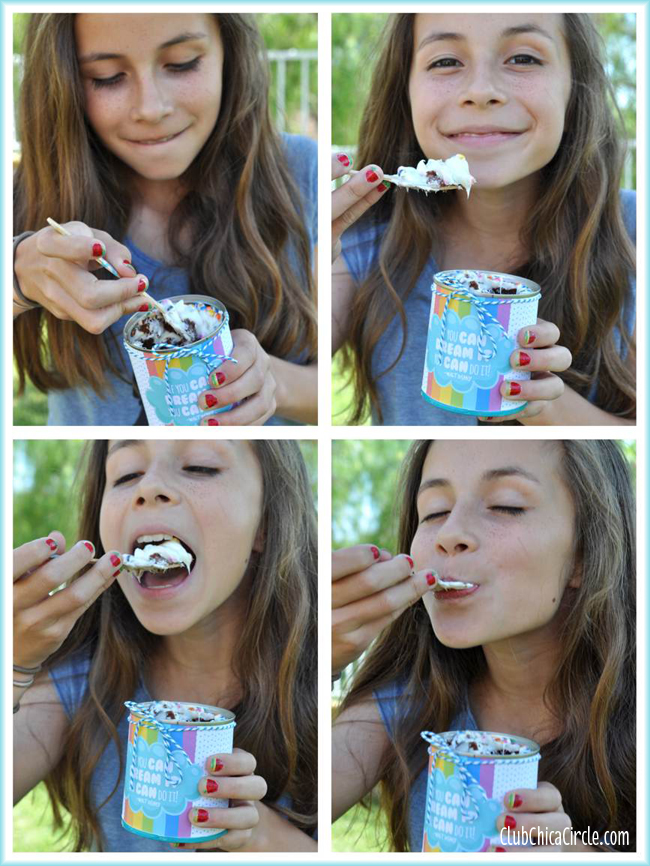 Yum!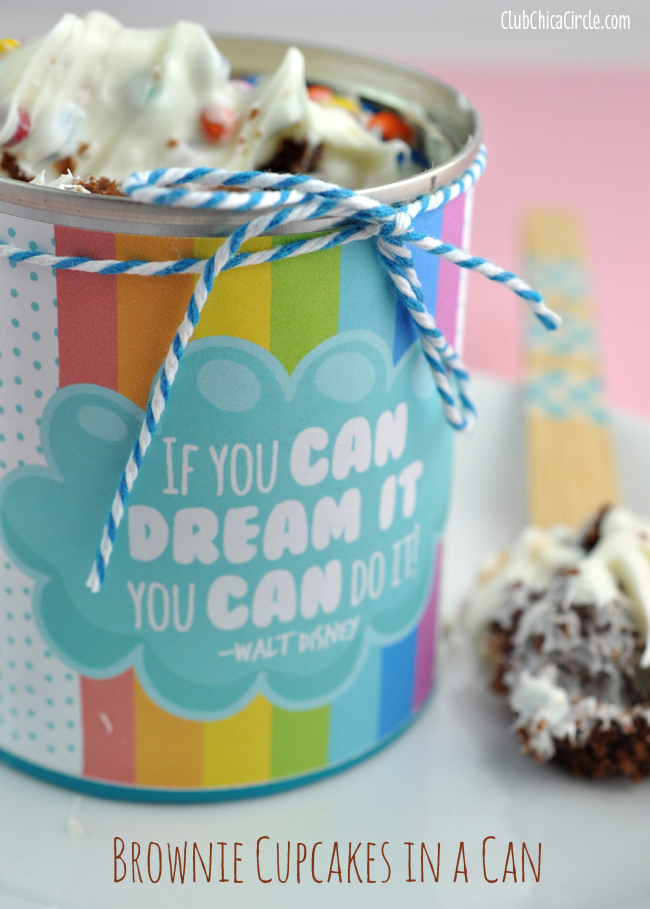 You CAN do it!
Get it? = )
Happy crafting!
If you liked this post, and want more, you can subscribe to be on our mailing list here, and make sure to get your free Cupcake Toppers Printables for Every Occasion.

Feeling social? Follow ChicaCircle on Facebook or Twitter, and follow me on Pinterest or Instagram.