I'm so excited to introduce my good friend and fellow crafty blogger, Jess. She is one of the new contributors gracing us with her presence this summer! Please give her a warm welcome, and check out this fun DIY! Love it! Check out her own blog and give her some love, and tell her the club chica ladies sent you!
~~~~~~~~~~~~~~~~~~~~~~~~~~~~~~~~~~~~~~~~~~~~~~~~~~~~~~~~~~~~~~~~~~~~~~~~~~~~
Hi there! I'm Jess from Chaos & Love and SO excited to be hanging out here at Club Chica Circle today! As a mom of boys, I don't get to be girly very often so when Pauline and Lynnee offered me the chance to do so, I was all in!
This wrap bracelet tutorial is the first in a series of 3 this summer using very basic crochet to create fun, girly accessories. Ready??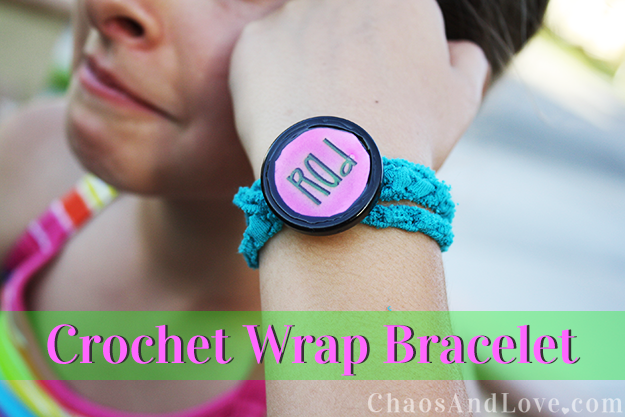 Make this super cute wrap bracelet is made with a piece of jersey fabric (stretchy) and a button – either something fun you find or one you decorate as shown in this tutorial. Making this bracelet is a snap. The only hard part will be waiting overnight for the ModPodge to dry on your button (or it is for me at least).
What you're going to need:
– a piece of jersey knit fabric, 1/8 of a yard is more than enough (remnant or old t-shirt would also work great)
– G/4.0 Crochet Hook

– a 1″ button
– needle and coordinating thread
– 1″ circle of cardstock decorated as you wish
– Mod Podge Dimensional Magic
What you're going to do:
Use a rotary cutter to cut a strip of jersey about 1/2″ wide.
Tie a slip knot at one end of the fabric.
Crochet 50 chain stitches (you may need more or less depending on wrist size – you want a long enough chain to wrap comfortably around the wrist 2-3 times).
Tie off end and trim excess fabric.
Tie ends of chain together.
Sew on button.
Apply a small amount of ModPodge Dimensional Magic to fill indentation in button (if yours has one).
Carefully place paper disc on button and apply second layer of ModPodge Dimensional Magic, using applicator tip to ensure coverage.
Allow to dry 24-48 hours.
Voila! That's all there is to it. To wear, simply wrap bracelet around wrist 2-3 times. Totally cute, right?? And, as a mom of boys, I feel like it's important to note here that these wrap bracelets would be equally fun for boys to make and wear. I'm thinking boy colors and superhero logos in the buttons, am I right?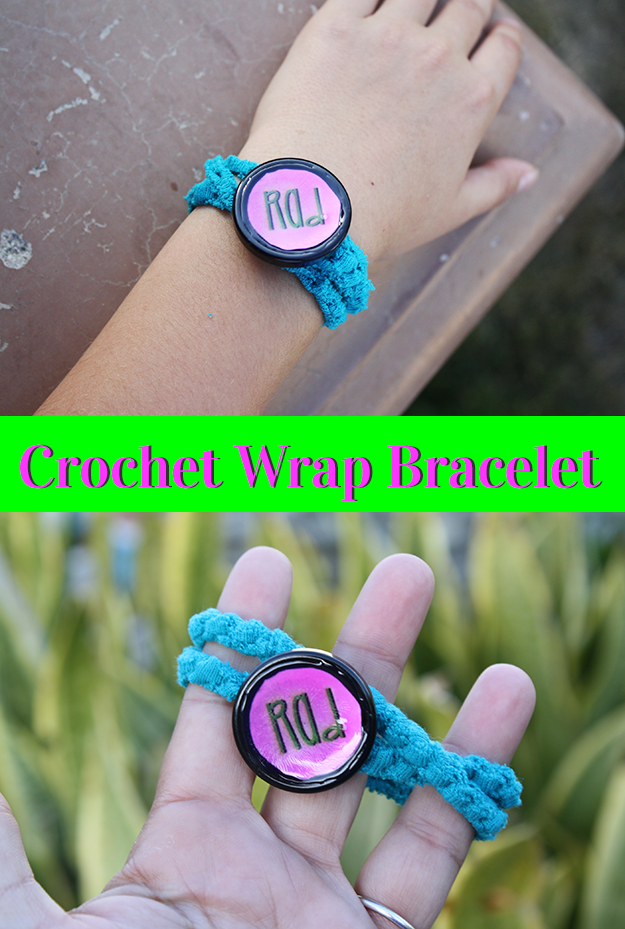 Looking for more easy craft ideas?
Check out these upcycled juice box craft ideas – great for using up the miscellaneous supplies in your craft stash.
These fun little wallets are awesome for beginning sewers and make a cute gift for kids of all ages!
Add a little whimsy to your life with a quick and easy pattern for a What Does the Fox Say? coffee sleeve. These will put a smile on anyone's face.
Thanks so much for having to me today! I'll see you all again next month! In the meantime, I'd love to connect with you all over the interwebs!