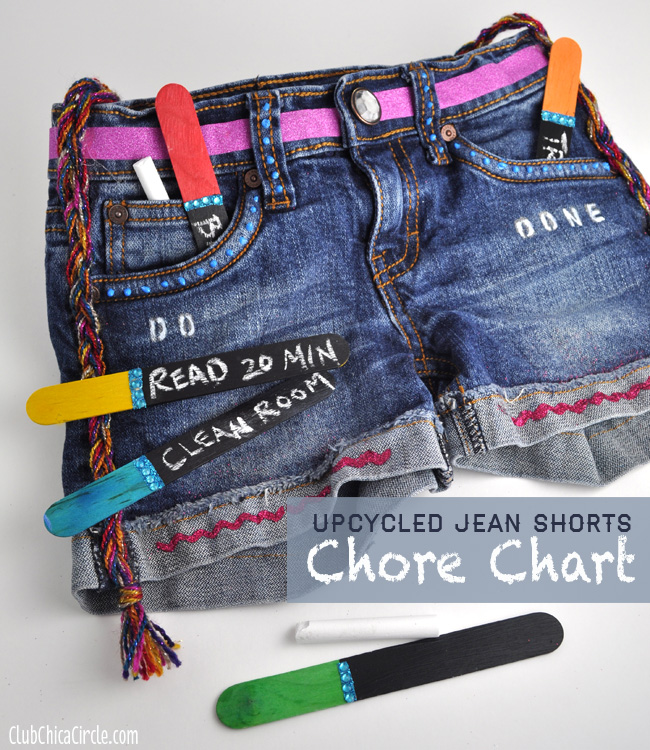 Remember back when I told you about the recent CHA (Craft & Hobby Association) conference I attended?
Well, I also attended a special Blogger Networking Event, and came home with so much crafty swag. FaveCrafts is running a contest with all of the bloggers who entered and attended showcasing the variety of projects they made from some of their swag.
Here are the products I used, including a pair of denim jean shorts that my tween had recently grown out of: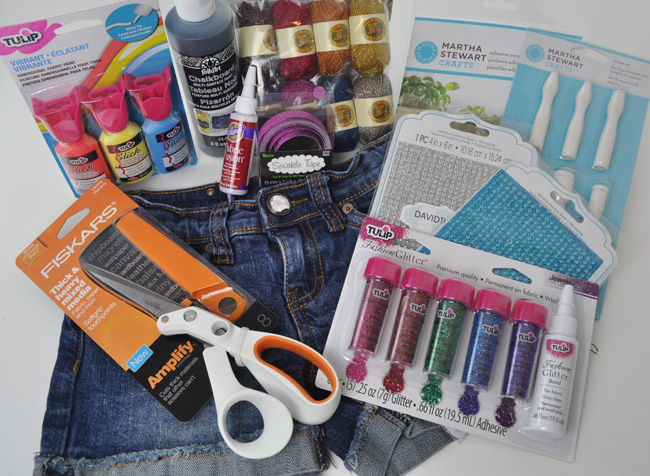 Lion Brand Yarn Sparkly variety pack
Aleene's Fabric Fusion
Sparkle Tape
Tulip Fashion Glitter Bond and Glitter
Folk Art Chalkboard Paint
Martha Stewart Self-Adhesive Stencils
Martha Stewart Multi-Surface Paint – metallic silver
Martha Stewart pouncers
Tulip Slick neon blue fabric paint
David Tutera self-adhesive jewels
Fiskars scissors
Denim shorts
Colored craft sticks
Glue gun
Painter's tape
Sponge brush
Here is how I transformed her outgrown shorts into a cool interactive chore chart:
First I made the chalkboard craft sticks that the "chores" could be written on.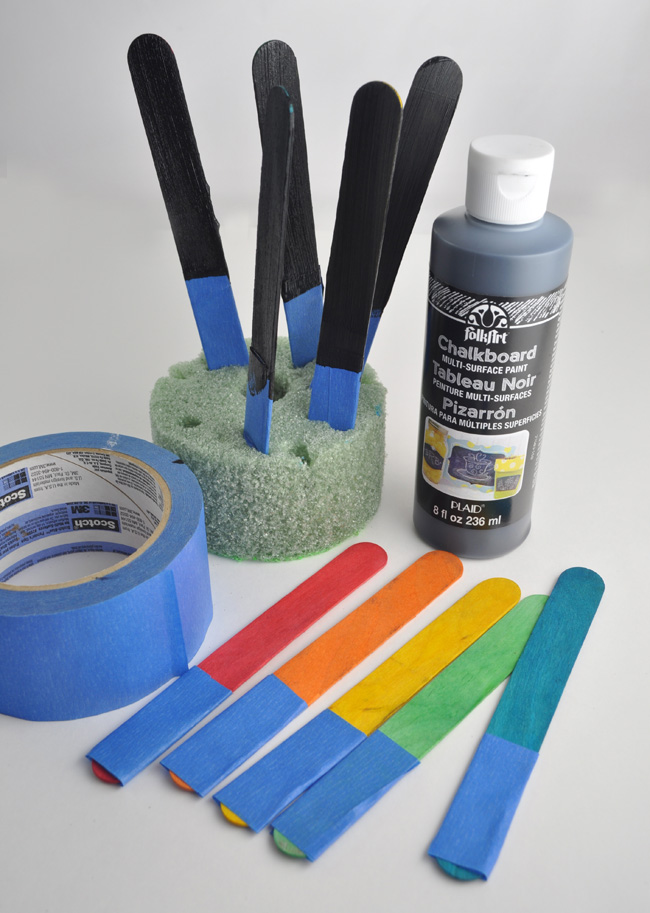 I masked off the top 1/3 portion of colored large craft sticks with painters tape. Using a sponge brush, I applied chalkboard paint on the rest of the stick and let dry.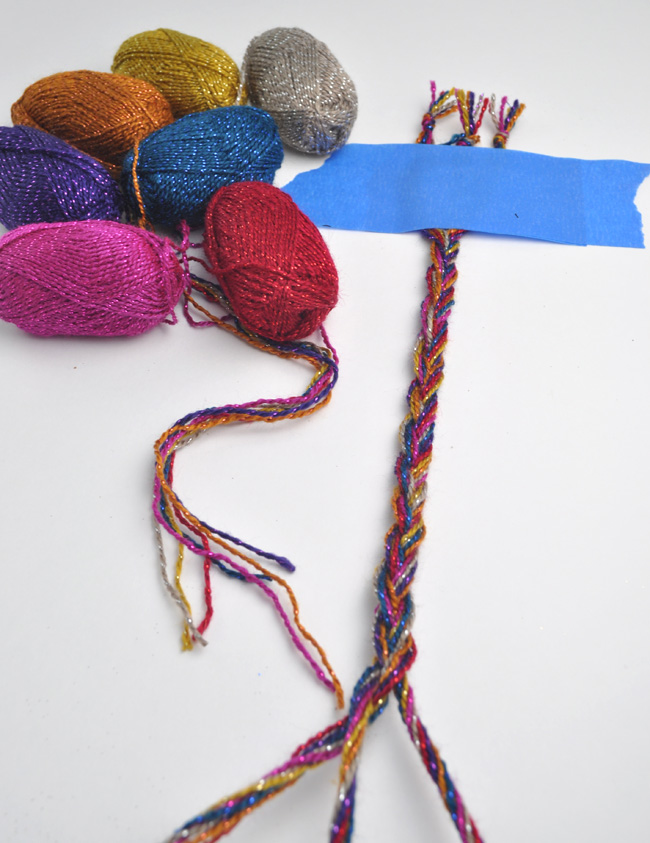 Then I made a decorative hanging yarn braid with approx. 18″ of multicolored cut strands of the glittery yarn. Then I glued the front and back of the shorts together with a glue gun inside the waist line. I attached decorative glitter sparkle tape along the top replicating a belt.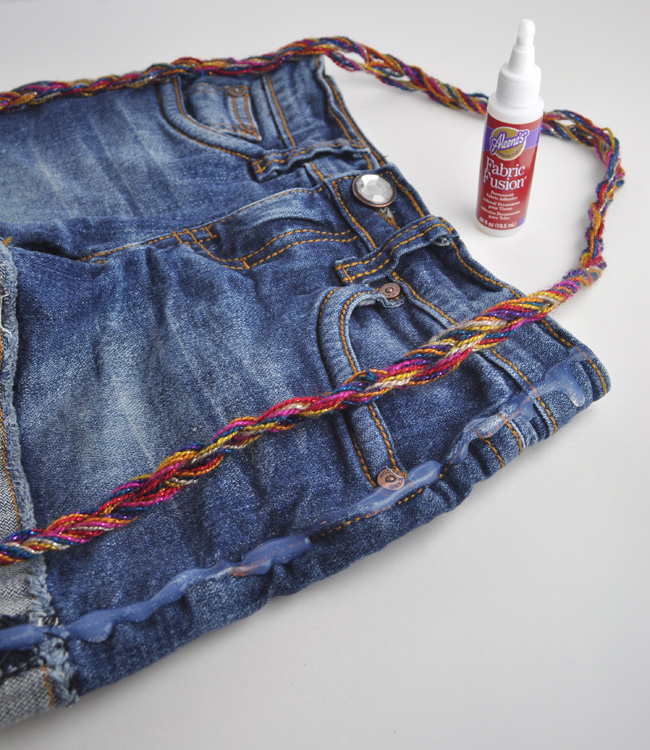 Then using Fabric Fusion glue, I attached my braided yarn along the side seams starting from the bottom of one end to the other and let it dry completely.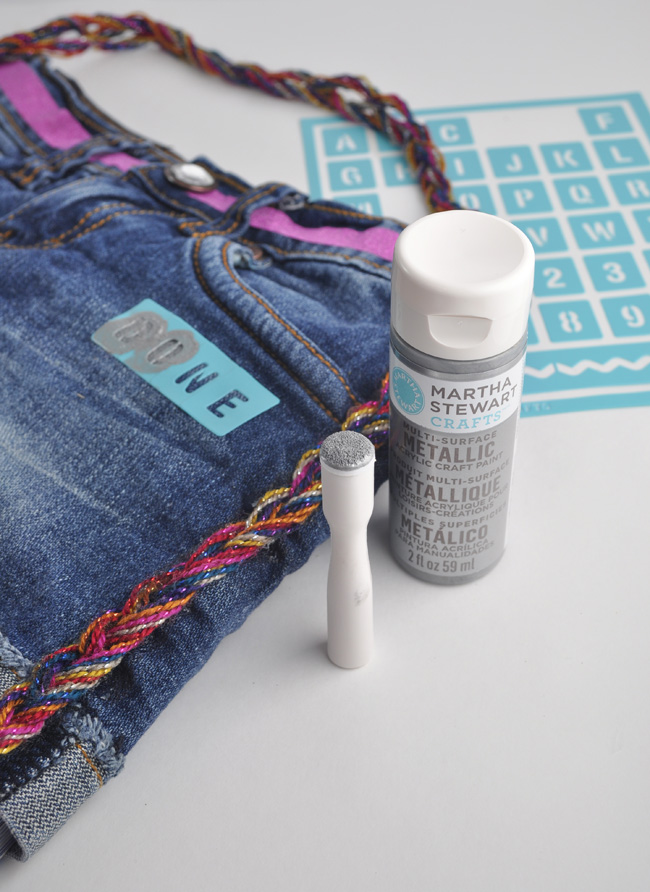 Using self-adhesive letter stencils, I applied the words "DO" and "DONE" just below the left and right front pockets and used contrasting metallic paint and a paint pouncer to stencil the words on the pockets. Remove the stencils and let dry.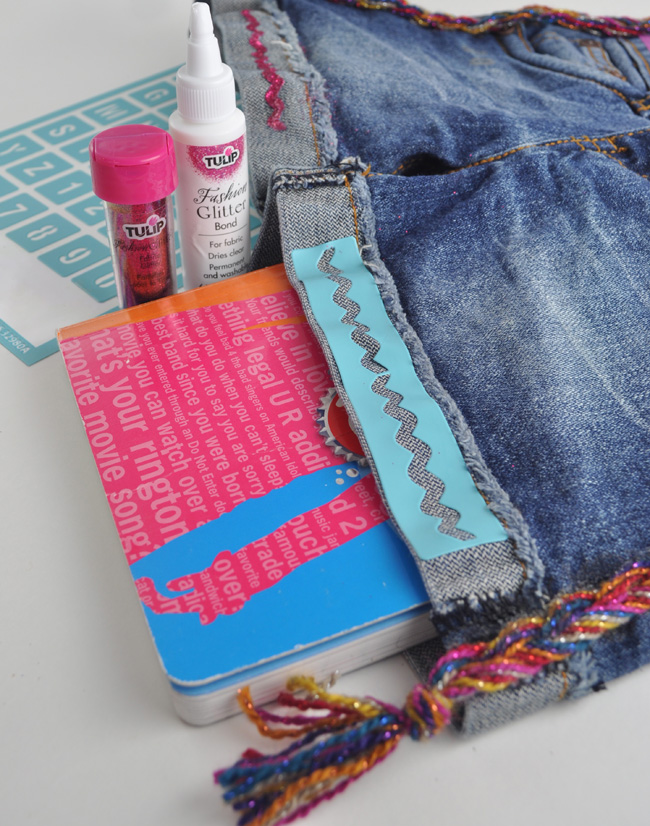 Using a book for stability and as a flat surface, I used the decorative chevron self-adhesive stencil to create a fun design on the hem. I first applied the Fashion glitter bond glue and while it was still wet, I sprinkled on colored glitter. I then carefully pulled off the stencil to reveal glittery design and let it dry. I also added polka dot details along the seams of the pockets and loops with Slick dimensional fabric paint.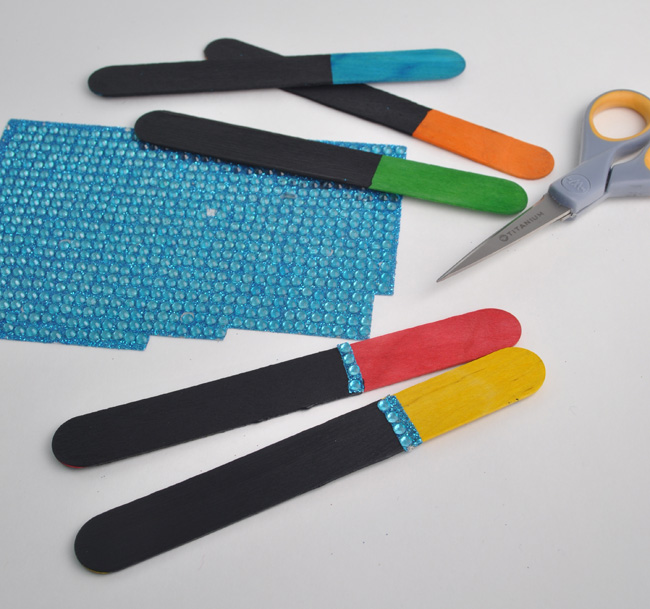 When the craft sticks were dry, I removed the painters tape and applied small single strands of the self-adhesive decorative jewels. Perfect!
To use the chore chart, simply use chalk to write a to do list or chore item on each craft stick and put in the "DO" pocket. When the task is done, move the stick to the "DONE" pocket, and so on. Use the yarn to hang on a wall with a removable hook.
And I upcycled it into this interactive chore chart idea hanging in my daughter's room now.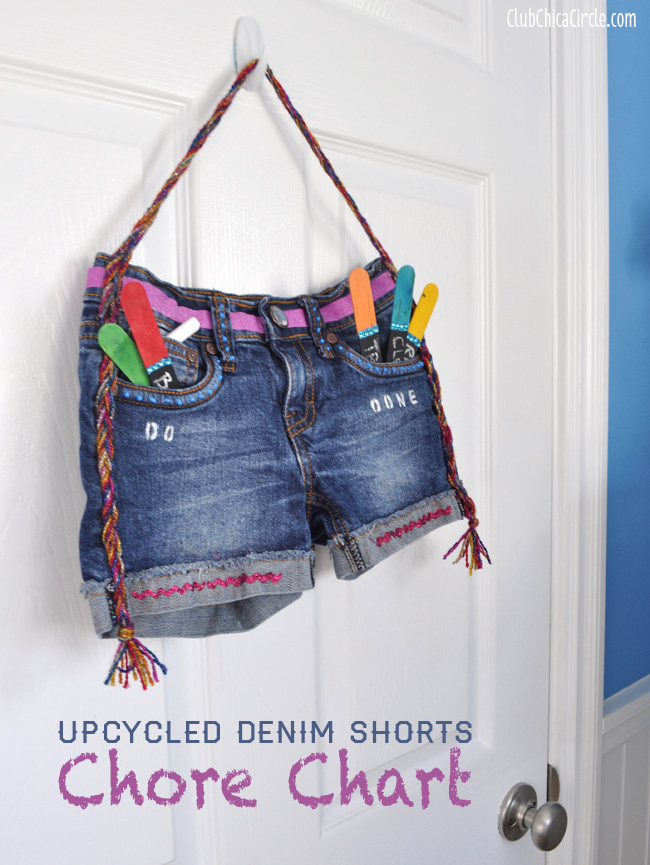 Now that the chore chart is done, next task – making sure the chores get done. = )
Happy Crafting!
If you liked this post, and want more, you can subscribe to be on our mailing list here, and make sure to get your free Cupcake Toppers Printables for Every Occasion.

Feeling social? Follow ChicaCircle on Facebook or Twitter, and follow me on Pinterest or Instagram.