I hope you all had a super wonderful Mother's Day, and were treated like queen's for a day like I was! I think one of the best gifts I got was being able to sleep in until 8am! = )
I also had the pleasure over the weekend celebrating a dear friend's graduation ceremony with my tween. Her daughter and son go to school with my tween, and she just received her Doctorate degree. What an accomplishment! I am so impressed, and I love calling her Doctor now. And as soon as I saw this inspiration on Pinterest, I knew I had to make her a chocolate graduation cap bouquet as a fun and delicious homemade gift.
Here is what I used to make the chocolate graduation caps:
Dark chocolate mini Reese's peanut butter cups
Lollipop sticks
Mini M&M's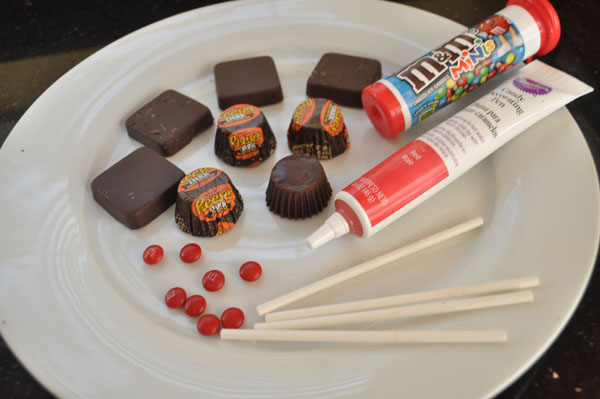 I melted the candy melts in the a ziplock bag for a minute, and squeezed the chocolate into small square silicone pan. I used a silicone mold for small brownies, but I know you can buy square candy molds as well. I tapped the mold on the table lightly until the melted chocolate had settled to create even square bars, and put into the refrigerator to set up. These create the top of the graduation cap.
Next, I carefully inserted the lollipop sticks into the top of each peanut butter cup. I used a toothpick first to create a hole, since putting too much pressure sometimes split the peanut butter cup in half. I put on a plate and placed these in the refrigerator for about 5 minutes too to make they were completely set up. Sometimes the heat from my fingers was enough to melt them just enough to want to come off the sticks.
Then it was assembly time. Using the candy writer as "glue" I attached a square chocolate on top of each peanut butter cup. I let the hats sit "upside-down" on a plate until they quickly set up before arranging each peanut butter cup on a stick on a Styrofoam circle that I placed in a small planter.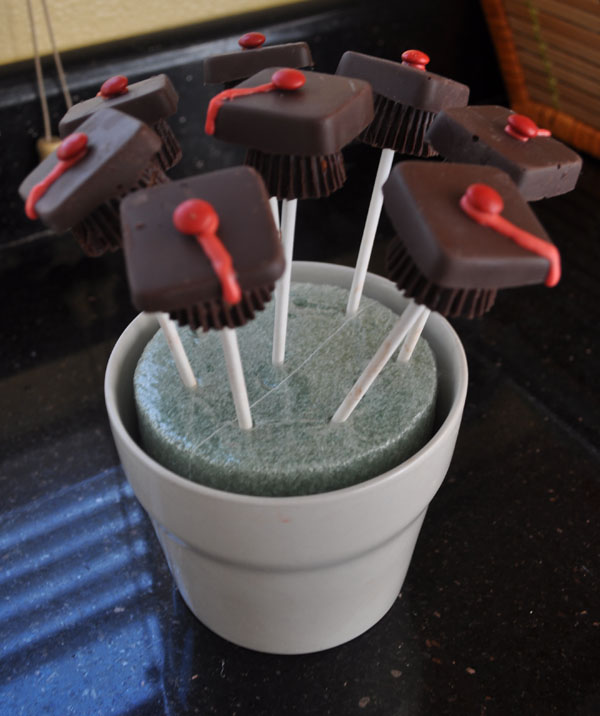 The last step was adding a stripe of color from the candy decorator pen and attaching the mini M&M at the top. I coordinated the colors to the university she was graduating from. This created the tassel.
After the whole chocolate bouquet was set up, I covered up the Styrofoam with some gift wrap filler paper and decorated the planter to make it even more personal. I love my Cricut machine which is what I used to cut out the letters in adhesive vinyl, but you can use paint pens too.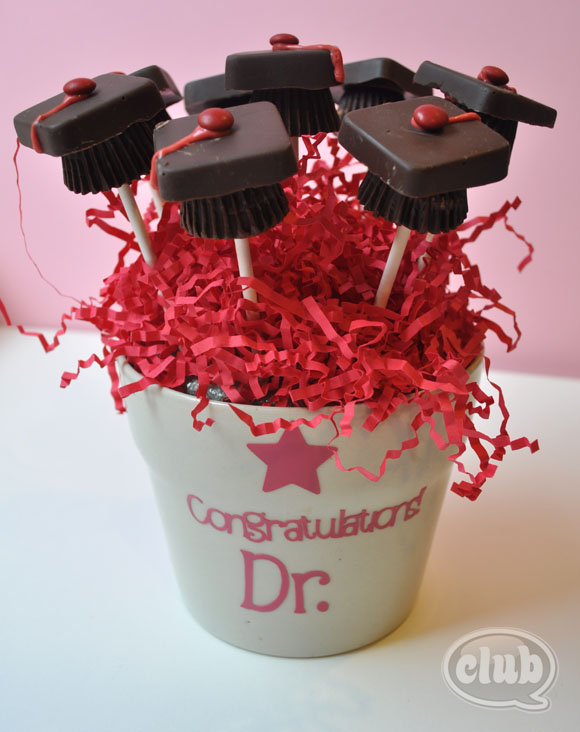 This one's for you Miss Cherie! Or should I say "Dr. Cherie"! I loved helping you celebrate your huge accomplishment, and making you a yummy chocolate graduation cap bouquet.
This would make a great unique homemade gift for a graduate in your world, or a party decoration centerpiece for a graduation party. Happy yummy crafting!
If you liked this post, and want more, you can subscribe to be on our mailing list here.