I was so honored when asked to participate in the "My Amazing Mom' World Market campaign. Being a mother is such a special gift and adventure. I don't think I could fully appreciate what my mother did for us girls until I had my own daughter. The bond I share with my daughter is like no other. She inspires me everyday to be a better person and mom. But I know a large portion of my creativity and compassion comes from my own mom, or Grandma Rosie. = )
I grew up in a house with two sisters, and I am smack dab in the middle of them. We are all so different in our personalities, and our mom always made sure to make each one of us feel special.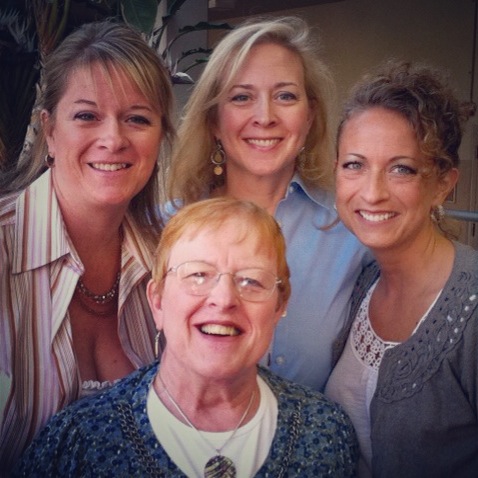 What I love seeing now, is my mother having the opportunity to enjoy being a grandmother. She is a very active and playful grandma. I know I don't tell her enough how much I appreciate how much she has helped me in the past and present and how she inspires me to be the best mom that I can be to my "tweenager", as I like to call her now.
When my daughter was just turning two years old, her dad and I divorced. Becoming a single mother, and going back to a full-time job outside of the home was not quite in the plan at the time. I don't know if I could have made it through that period and time without my mom. She was there to help me pick up the pieces, and give me the strength and the extra help I needed so I could readjust my life and go back to work.
What do you do when you life gives you lemons? Make lemonade, of course. I built a fulfilling and successful career in children's publishing, and got to travel to many cool places. My biggest obstacle when I needed to travel for work, was feeling assured that my daughter was taken care of. My mom was always there to lend a hand. For that, I will always be grateful.
Fast forward almost 10 years, and I have since remarried, and if you couldn't guess, been reinventing my career yet again. My inner crafty diva has emerged, and I'm enjoying building this blog and community with my older sister, Lynnee. Our blog is focused on tween crafting and moms connecting with their daughters through craftiness, but three years ago, another life change happened. Lynnee gave birth to my beautiful twin nephews. For anyone that has ever raised twins, it truly takes a village. Grandma Rosie, the still playful, active, creative, loving grandma that she is, has once again been an integral part of helping support her daughters in any way she can.
We grew up in the Midwest, but after college, one by one, the three sisters all migrated to California. Our parents still live in the Midwest, so they fly out to California as much as possible to visit. Since all of us girls are in different parts of California, it is rare that we are all in the same place together. Recently, my daughter and I were up in Northern California during our Spring Break visiting my sister and family. Grandma Rosie was due to arrive for her next visit. We were flying out the next morning, so we knew we had to grab the opportunity when she arrived to treat her to an early Happy Mother's Day celebration when both of her granddaughters were together. World Market was the perfect place for us to start.
We were planning a mini "Mom Spa" night to treat her to a little pampering after she arrived from her long day of flying. Our first stop was World Market. Lynnee and I snuck away while our girls were enjoying an after school art class together. Good thing we had a limited amount of time, because we could shopped in all afternoon in there!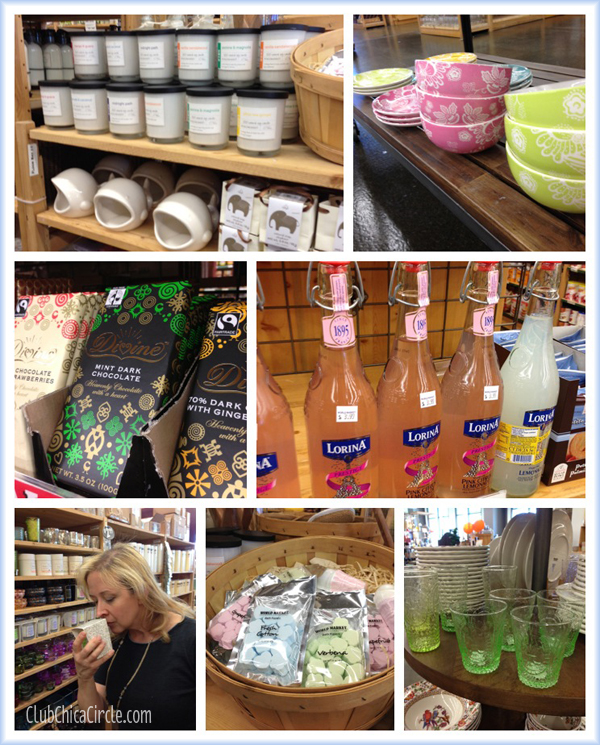 Honestly, it was so hard to narrow down our purchases. World Market has a stellar bath section, and to-die-for kitchen and dining choices. I think I might have to go back for those super cute pink and green bowls. Um, and talk about fun and yummy treats! The chocolate section was filled with so many choices, it was really difficult to narrow down our choices. Because for any party or celebration, you need chocolate, right?
Here is what we eventually came home with: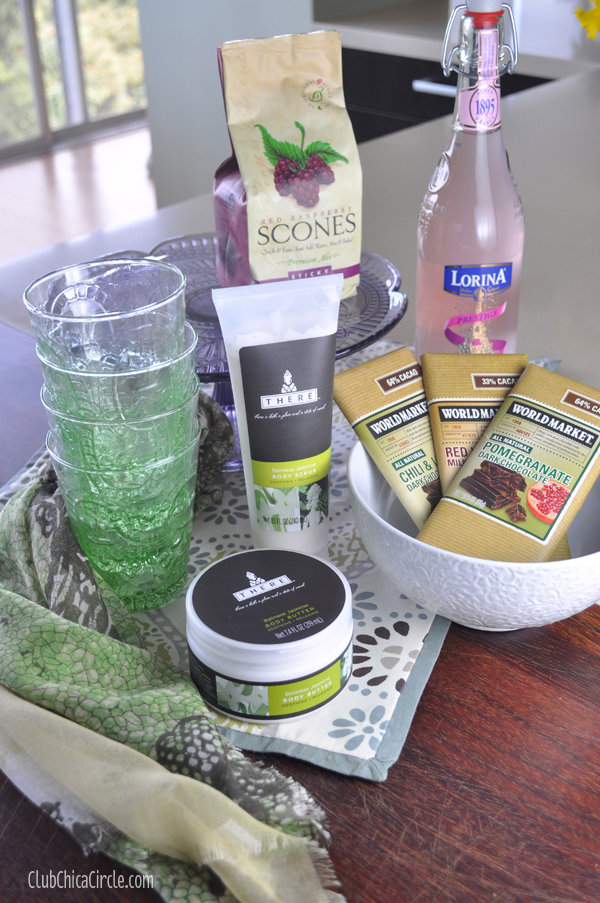 We decided to bring home a few of Grandma Rosie's favorite things. She absolutely loves tea and scones. We found a baking mix for homemade red raspberry scones, and a beautiful purple cake pedestal to display it on. The gorgeous ornate white bowl would go along with our in-home "spa experience" to use a hand soaking bowl paired with yummy scented body scrub and body butter. The decorative green glasses we found were perfect showcase the bubbly pink lemonade. For the chocolate selection, we grabbed a fun selection of interesting flavors. We always make Grandma Rosie try something new when she visits, and this was a fun opportunity to do that. We chose World Market Pomegranate Dark Chocolate, Red Velvet Milk Chocolate, and Chili & Lime Dark Chocolate. And, we couldn't pass up the beautiful place mat that completed the whole color scheme we were going for. Finally, we grabbed a beautiful scarf for Grandma Rosie that we knew she would love. World Market has a fantastic scarf selection.
Now for the preparation of our Mom Spa Day at home.
I baked the scones, and made some fresh lemon curd. I have used this 10-minute microwave recipe for fresh lemon curd many times, and it has been a crowd pleaser every time.

Fresh lemon curd is really only four simple ingredients – butter, sugar, lemon, and eggs. It comes out tasting so fresh and sweet.
While I was baking, the girls were making Grandma a homemade card. I saw this cute sleepover craft keepsake idea in a recent issue of Family Fun magazine, and knew that it would be a perfect homemade card idea.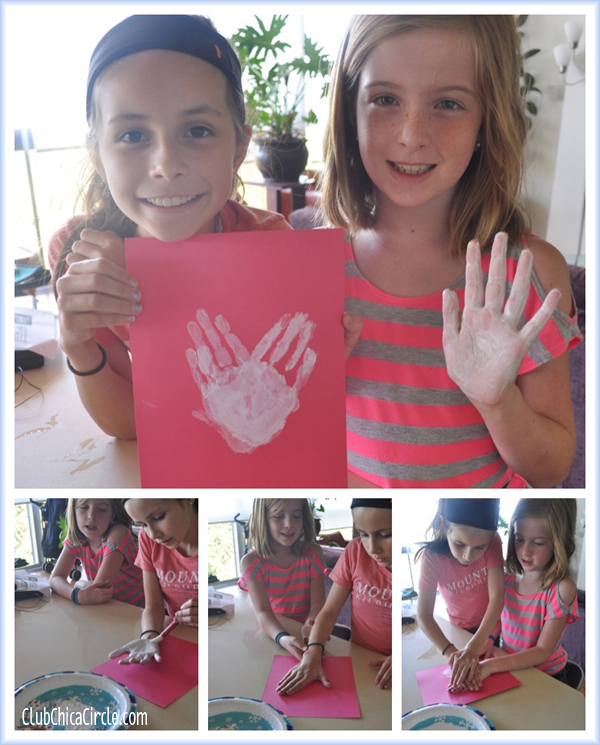 The girls worked together to paint one of their hands with white craft paint and stamp them together on a piece of colored paper to create a custom "heartprint". The trick was that they each painted opposite hands. Then they used markers to decorate the card after it was dry.
Now it was time to set the Mom Spa stage!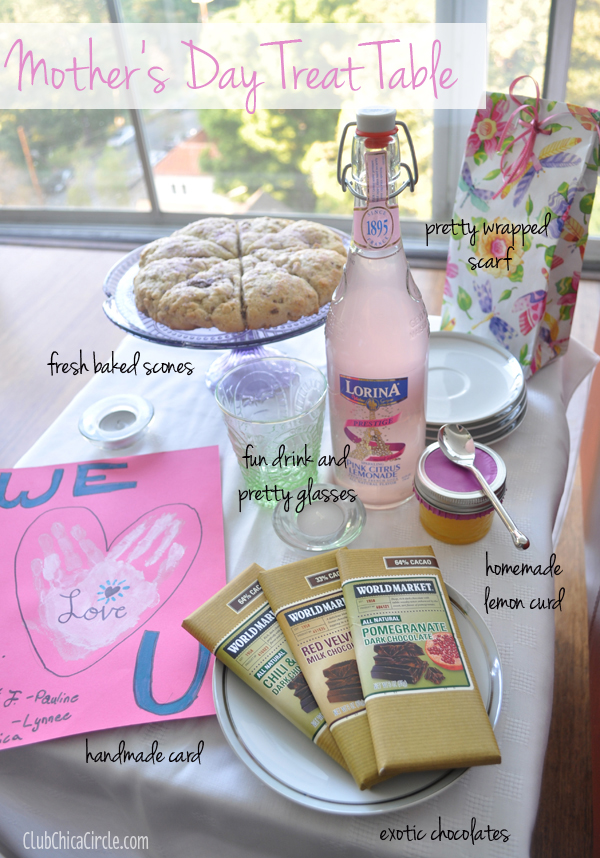 The treat table was set and ready. I wrapped the scarf in a quick homemade bag using wrapping paper and this cool Pinterest suggestion.
And we made Grandma a little "spa" chair and set up on the other side.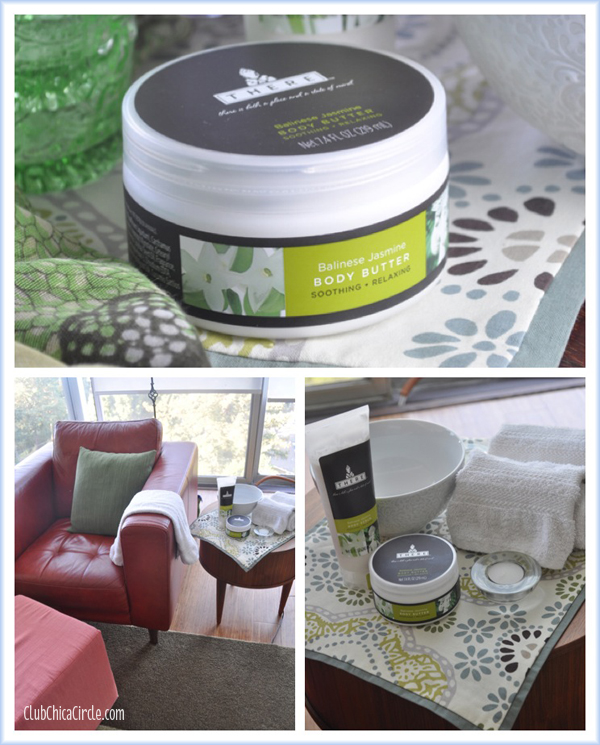 We had towels, candles, and a bowl of warm water ready for dipping her hands into, and treating Grandma to a lovely hand massage.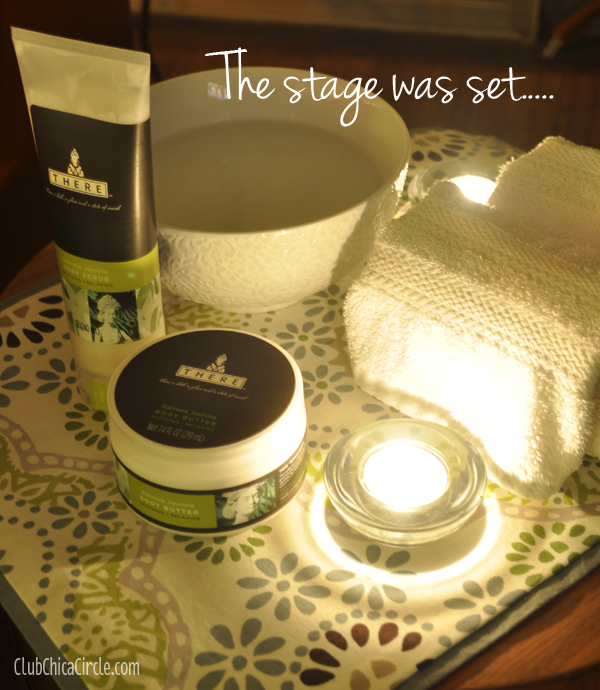 Grandma arrived safely from her flight, and when she walked in, she had no idea what was going on. The girls whisked her off to her own comfy in-home "spa" chair, and she nibbled on our yummy treats first.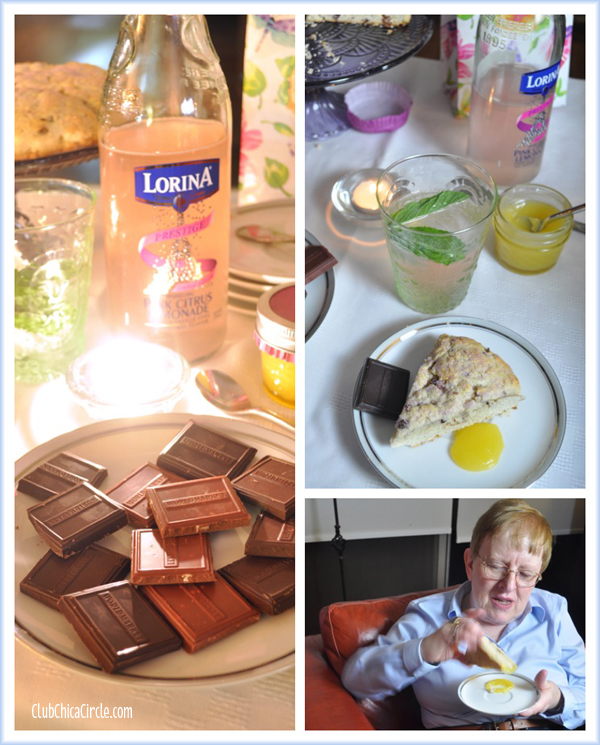 Now, it was time for the full spa experience. The girls each took turns on her hands, dipping them into warm water, scrubbing them with the body scrub, and finishing off with the delectable body butter.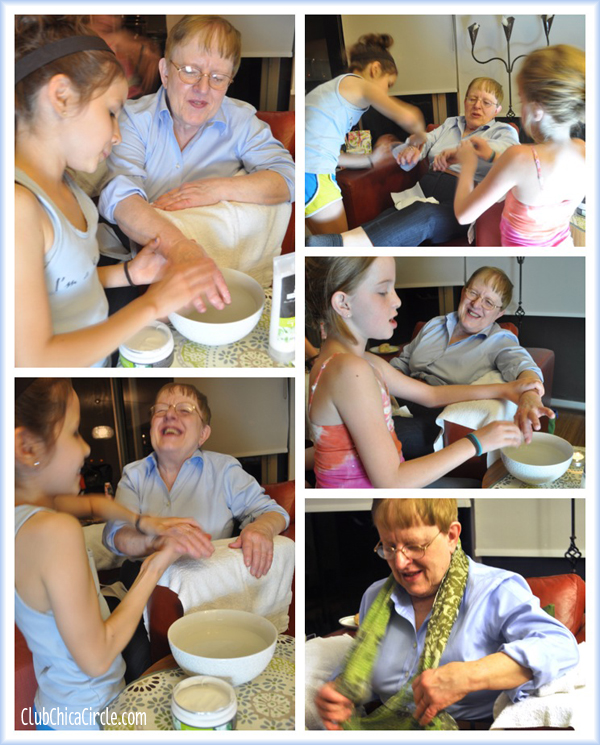 And last, but not least, she opened her Mother's Day scarf and tried it on. We all had fun treating her like the queen she deserves to be. We made some fun memories that night. Time seems to move so quickly, and our kids are growing up so fast. I'm so appreciative and so lucky to have my mother share in the experience of raising confident and creative girls.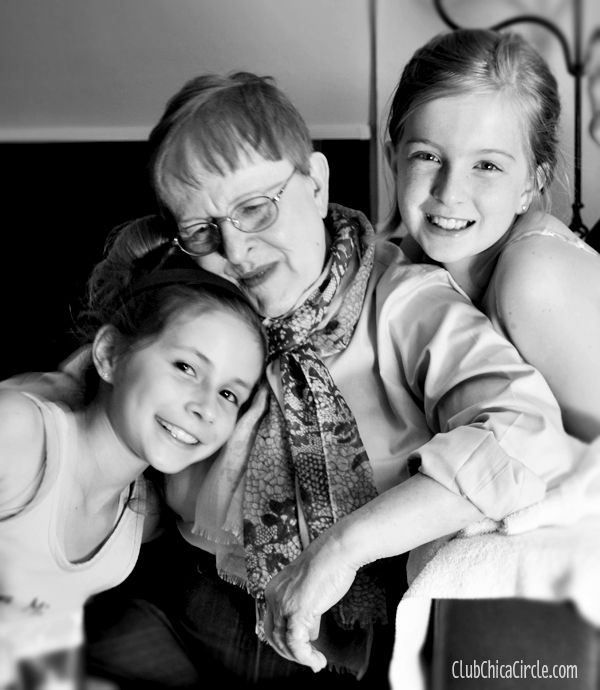 Thanks Grandma, thanks Mom, for all that you do! We love you with all of our hearts, and we wouldn't be the women we are today if it wasn't for you. xoxo
Do you have an amazing mother that you want to celebrate too? World Market wants to help.
Enter the My Amazing Mom Sweepstakes here.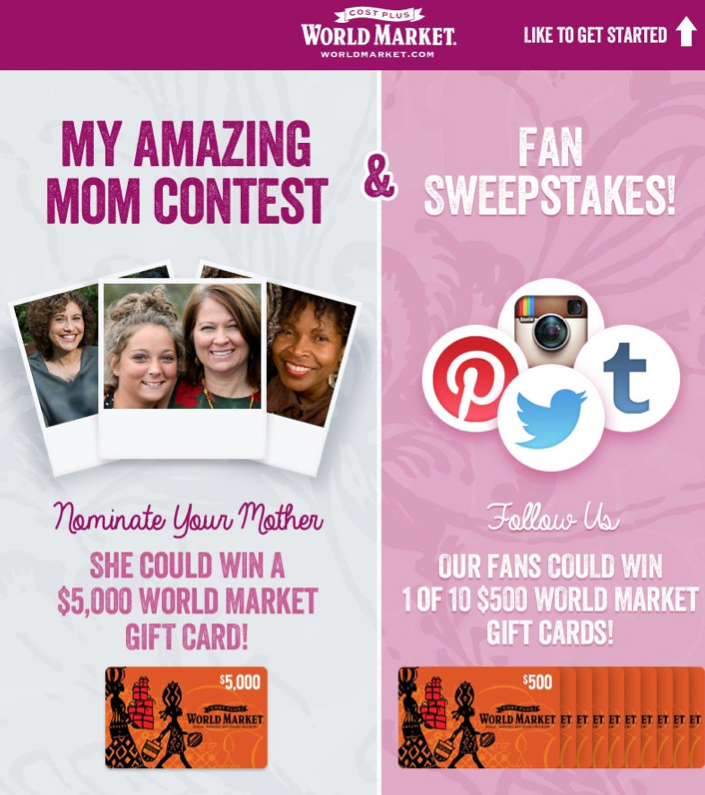 Nominate your mother for a chance to win $5K! Also, you can enter to win one of 10 $500 World Market gift cards in the Fan Sweepstakes.
Connect with World Market on Facebook, Twitter, Pinterest, or Instagram.
If you liked this post, and want more, you can subscribe to be on our mailing list here.
Feeling social? Follow ChicaCircle on Facebook or Twitter, and follow me on Pinterest or Instagram.
This post is part of a social shopper marketing insight campaign with Pollinate Media Group® and World Market, but all my opinions are my own. #pmedia #MyAmazingMom. http://cmp.ly/3/8vNxcO