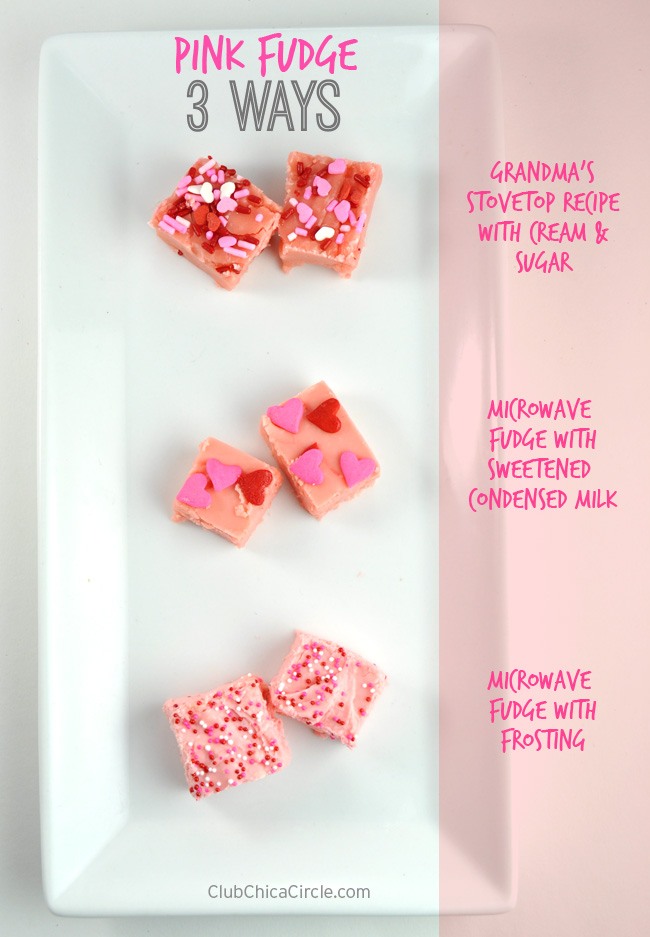 This post could also be called my adventures with pink fudge. It all started when my mother was visiting recently, and she brought an old recipe for Pink Fudge that her mom used to make. She knows I like to try out new recipes, and I thought pink fudge would be perfect to highlight for Valentines Day coming up. I've make no-bake pink truffles before, but I have actually never made homemade fudge.
So, my mom and I recently made a batch of Grandma's Pink Fudge.
Here is Grandma's original recipe:
2 Tablespoons butter or margarine
3 Cups Sugar
1/4 Cup corn syrup
1 1/2 cups of light cream (we used half-and-half)
2 teaspoons of vanilla
Few drops of Red food coloring
Mix all of the ingredients in a saucepan except vanilla and food coloring. Cook the mixture over medium heat, stirring constantly, until it boils. Continue cooking, stirring occasionally, until a small amount forms a soft ball when tested in a cup of very cold water. Remove the mixture from the heat and add the vanilla. Cool until the mixture is lukewarm. Beat the fudge until it begins to thicken and lose it's gloss. Add the food coloring, a little at a time, to get the right shade of pink. Spread into a greased 8-inch square pan and cool.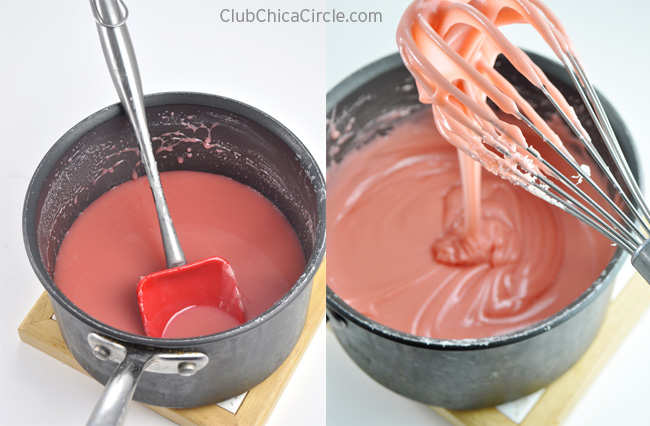 Honestly, this was a long process. Instead of using the cold-water method to test out our fudge, we used a candy thermometer and got our mixture between 235 – 245 degrees.
You can see in the pictures above what the candy mixture looked like before whipping and after. We poured it into our pan and added pretty sprinkles on top and put it in the refrigerator to cool completely and set.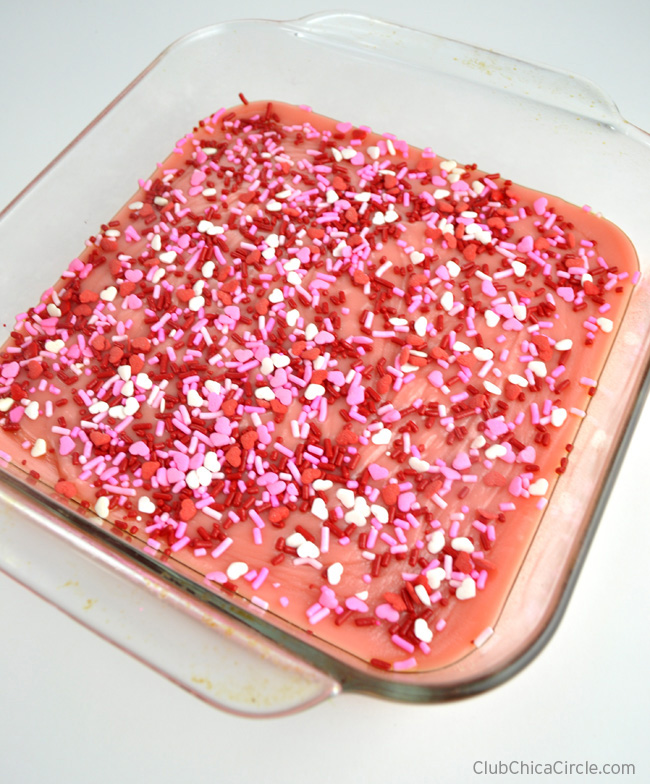 The pink fudge looks great, and so pretty for a Valentine's Day treat. I cut it up into little squares. Keep in mind, this fudge is really rich and sugary.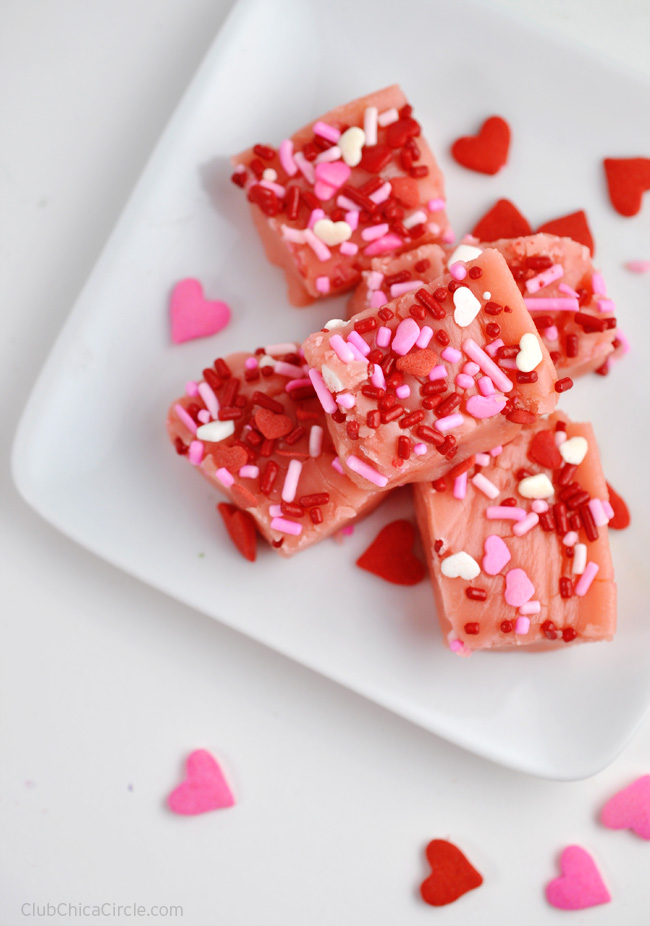 This got me thinking. Is there an easier way to make homemade fudge that doesn't require a candy thermometer and lots of attention?
After doing some research of other homemade fudge recipe techniques, I came across two different recipes that I wanted to try out – and see if I could make them in one bowl and in the microwave.
Yep, I said MICROWAVE.
Here are the two recipes I tried—one with a vanilla frosting base, and the other with a sweetened condensed milk base.
Easy Microwave Pink Fudge Recipe 1:
1 bag of white chocolate chips
1 cup sweetened condensed milk
3 tbsp of butter
1/2 tsp of vanilla
red food coloring
Place chocolate chips, condensed milk and butter into a microwave safe bowl. Microwave until melted together (about 2 minutes). Mix with a spatula and add the vanilla and a few drops of red food coloring until you get the desired shade of pink. Pour into greased pan and put in refrigerator to set.
Easy Microwave Pink Fudge Recipe 2:
1 bag of white chocolate chips
1 container of ready-made vanilla frosting
red food coloring
Place chocolate chips into a microwave safe bowl and melt in one minute intervals until smooth and melty. Add in the vanilla frosting and a few drops of red food coloring until you get the desired shade of pink. Pour into greased pan and put in refrigerator to set.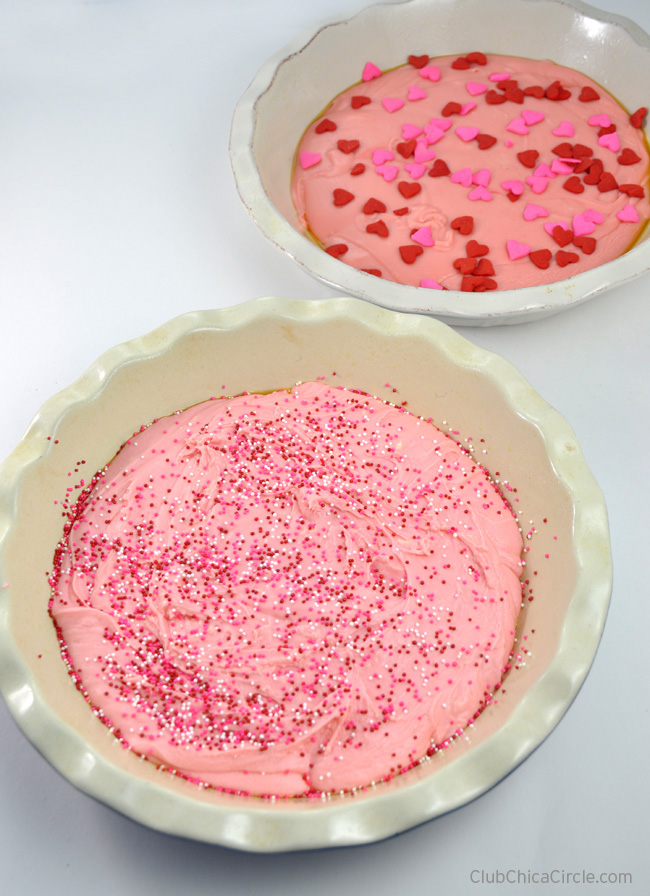 Honestly, no joke, I made each of these fudge recipes in less than 5 minutes each. I put pretty sprinkles on each of them again, and let them set before cutting into small squares and doing the ultimate fudge taste test.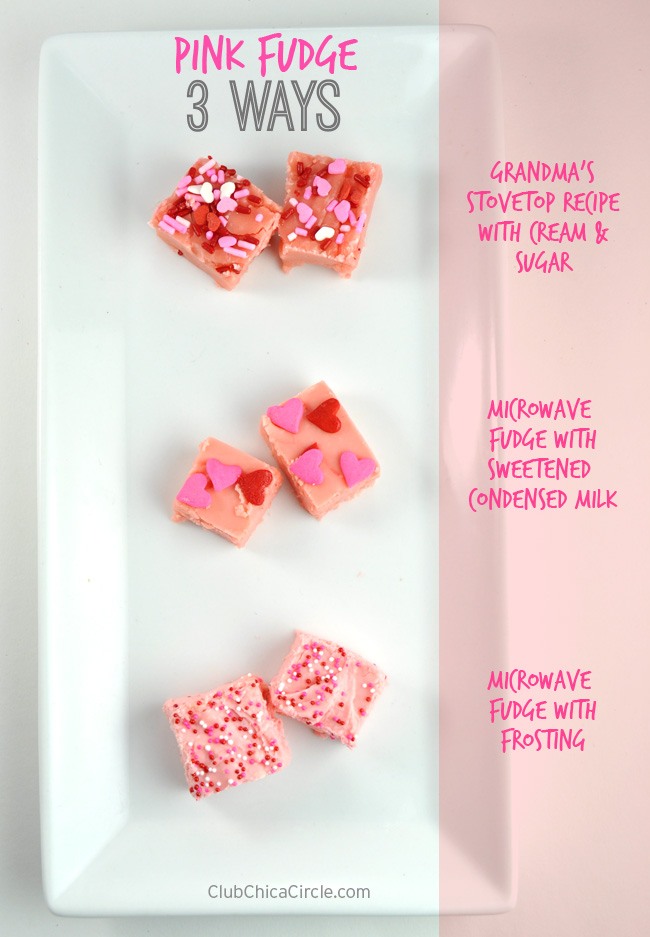 So how did they stack up? What was the pink fudge verdict?
Although I wanted to love Grandma's recipe, it was a little too sugary for me, and I know I don't have the patience for constant stirring and using a candy thermometer.
Both microwave fudge recipes were really easy to make, so it really came down to taste preference.
The one with sweetened condensed milk was creamy and rich. The pink fudge with frosting was light and fluffy.
Honestly, my favorite was the condensed milk recipe, and my daughter's favorite was the frosting recipe one.
They all looked yummy, and super sweet—literally and visually.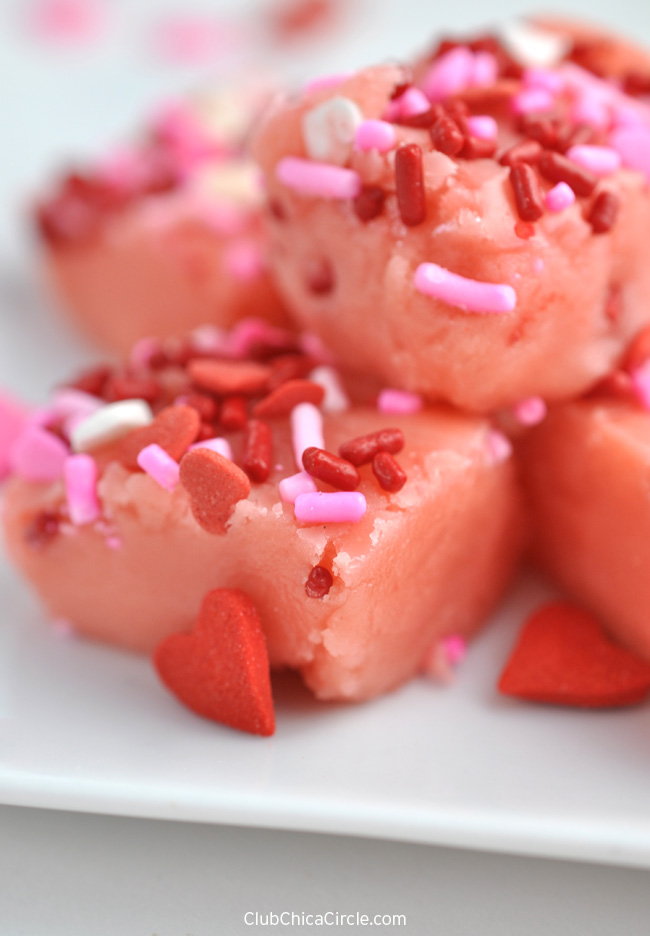 Fudge makes great homemade gift ideas, and the best part is that because it is so rich, you don't have to make a lot to give a sweet impression.
Do you have a favorite fudge recipe? Share below! = )