I recently had the pleasure of attending the Blogher Handmade/The Creative Connection conference in St. Paul, MN. I think the most inspiring and overwhelming part of the conference was just experiencing the pure electric energy of a ballroom packed full of creative women. It wasn't competitive energy, it was pure excitement and very warm, expressive energy. Every attendee there had their own skill, trade, and unique perspective to participate in such a collaborative, inspiring. and teaching event. The actual one-on-one connections I made throughout the day was my favorite part. I am crafty and creative in my own little bubble at home, but it was great to meet other like-minded women and entrepreneurs.
My tween missed me desperately, but the community I felt at the conference is the same spirit that I try and teach her about her relationships with her friends. Connecting through craft and creativity is the whole purpose of Club ChicaCircle, and if I could take a couple days to recharge, connect, and be inspired by others, it was all worth it!
I also wanted to give a quick shout out to some of the people I personally met and was delighted to hang out with all day. I went to this conference not knowing a soul, and came out with friends that I intend to stay in touch with. A special shout out to Kathy Hester, author of Vegan Slow Cooker Cookbook, and Sharon Madsen of Sharon Sews. Thanks ladies for being fun cohorts for the day!
In true BlogHer style, we did a little speed dating – yes, I said speed dating! BlogHer really knows the best and quickest way to connect people you would normally never get a chance to meet. I met such a variety of creative ladies, from jewelry designers, artists, knitters, and the list goes on.
There is power in connecting with, NOT competing against, other creative women. One of the quotes I wrote down that really hit home was, " There is room for everybody!" I truly believe that.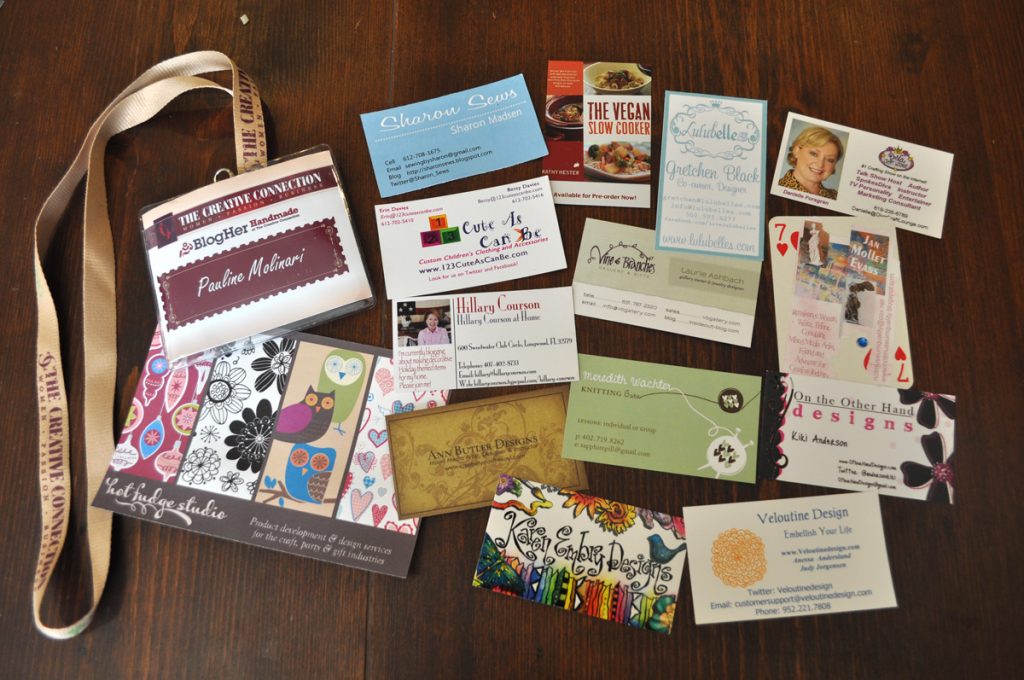 This is just a small sampling of whom I was lucky enough to meet in person. Here is my list of the lovely ladies above if you feel so inclined to be inspired by them:
Sharon Madsen of Sharon Sews; super sewer
Kathy Hester of Healthy Slow Cooking; vegan cook extroadinaire
Gretchen Black of Lulubelles; jewelry designer
Danielle Forsgren of Diva Craft Lounge; TV host and personality
Erin Davies of 123 Cute As Can Be; Children's custom clothing and assessories shop owner
Laurie Ashbach of Vine & Branches; gallery owner and jewelry designer
Jan Mollet Evans of Not Museum Quality; Creative curator
Hillary Courson of Hillary Courson at Home; Holiday home decorating diva
Meredith Wachter; Knitting Guru
Kiki Anderson of On the Other Hand Designs; Crafty blogger and entrepreneur
Colleen MacDonald of Hot Fudge Studio; Illustrator and designer
Ann Butler of Ann Butler Designs; Mixed media artist
Karen Embry of Kathy Embry Designs; artist, designer and author
Anessa Andersland of Veloutine Design; Etsy shop owner
I want to close with one of my favorite things I took away from the conference. A special message from the Brave Girls Club was placed on everyone's plate at lunch. This was mine, and now it resides on my inspiration cork board in my office.
LOVE IT!