Disclaimer: this post is sponsored by DecoArt. All opinions, ideas, and images are completely my own.
We HEART teachers!
Have you seen our round-up of 25 Terrifically Creative Teacher Gift Ideas? Here is one more to add to the list—a pretty ombre pencil holder made from PVC pipes!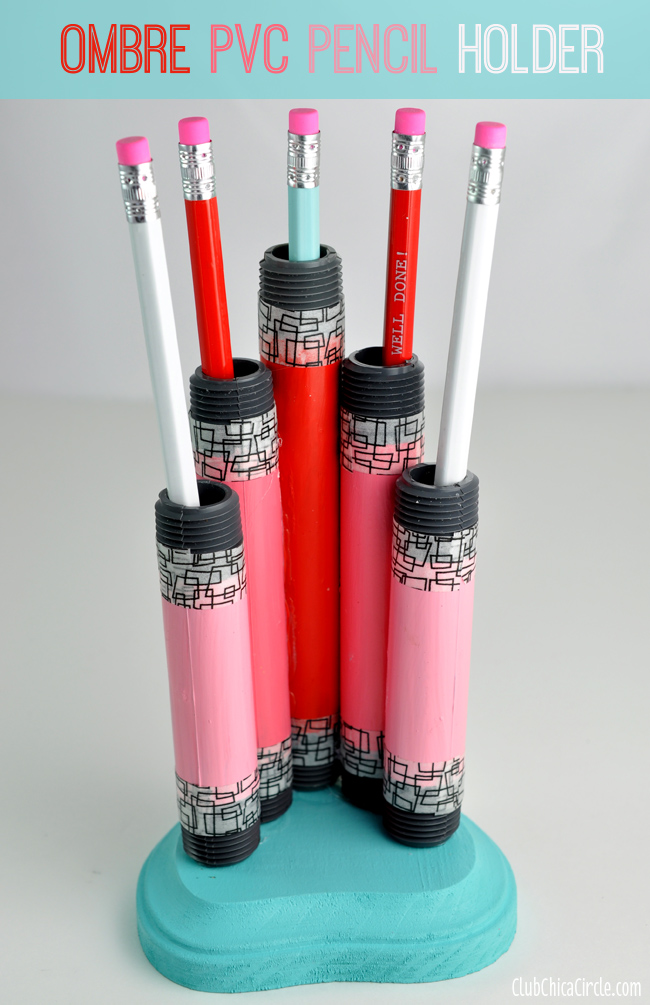 This would look fantastic on any desk!
Here are the supplies I used:
Americana Multi-surface Satin paint (I used Lipstick red, Cottonball white, and Coastal Waters teal)
PVC connectors or nipples (I found these at my local hardware store, and used one 6″ pipe, two 5″ pipes, and two 4″ pipes)
Painters tape
Wood heart shaped plaque
Paint brush
Foam block
Decorative Washi tape
Glue gun

First I started by taping off the top and bottom of each pvc pipe with painters tape. I liked the dark gray color of these pipes, and wanted to make them a neutral accent color.
Then I used the red and white multi-surface paints to mix together different shades to create my ombre effect.
The trick to making an ombre design is to first pick a starter or base color (in this case red) and mixing in different amounts of white to create lighter shades. I wanted to create two lighter shades of red, so I premixed a coral pink color and a lighter pink on a paper plate before painting.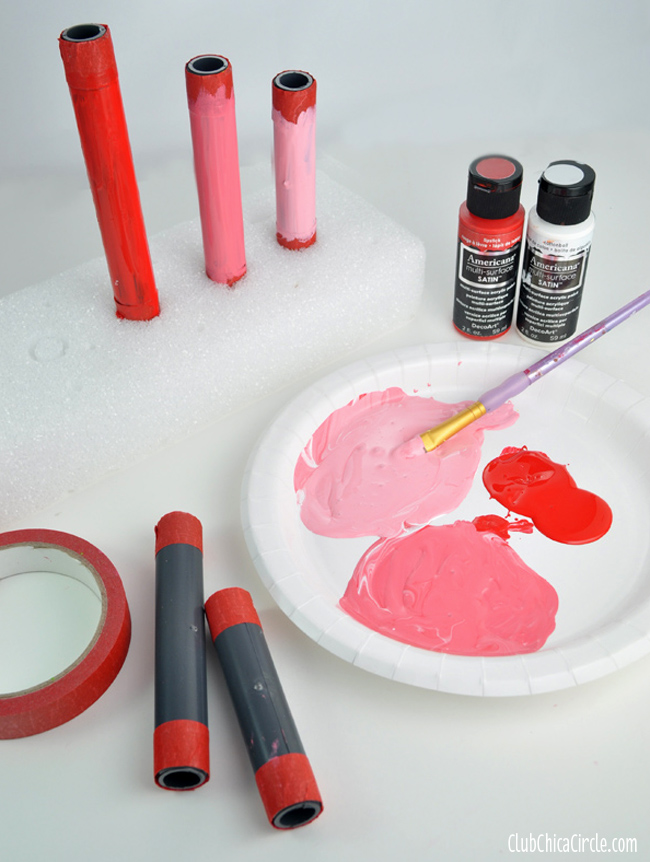 I used the foam block as a PVC drying rack or holder to allow the paint to dry without touching anything. While the PVC pipes were drying, I painted the wood heart plaque with my contrasting teal color and let that dry.
I added an extra decorative detail using washi tape on the top and bottom of the pipes and finished by using my glue gun to attach the pipes to the wood shape.
I arranged the piped in a V pattern which replicated the curves and direction of the heart shape.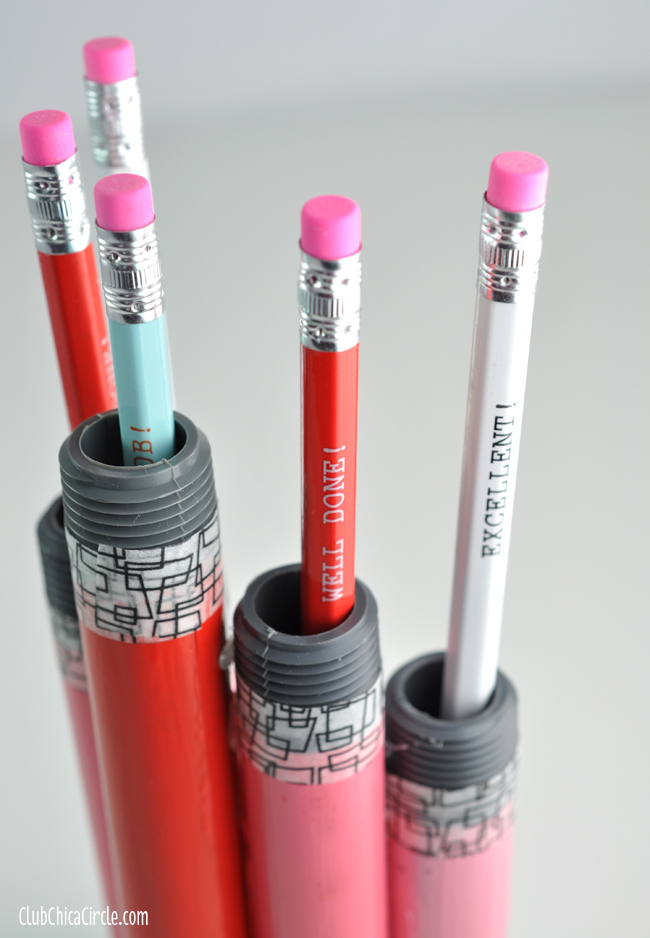 To top it off I found these great pencils with the perfect words on them. I know these are normally meant for the students, but they expressed exactly how I wanted my daughter's teacher to feel for a job WELL DONE!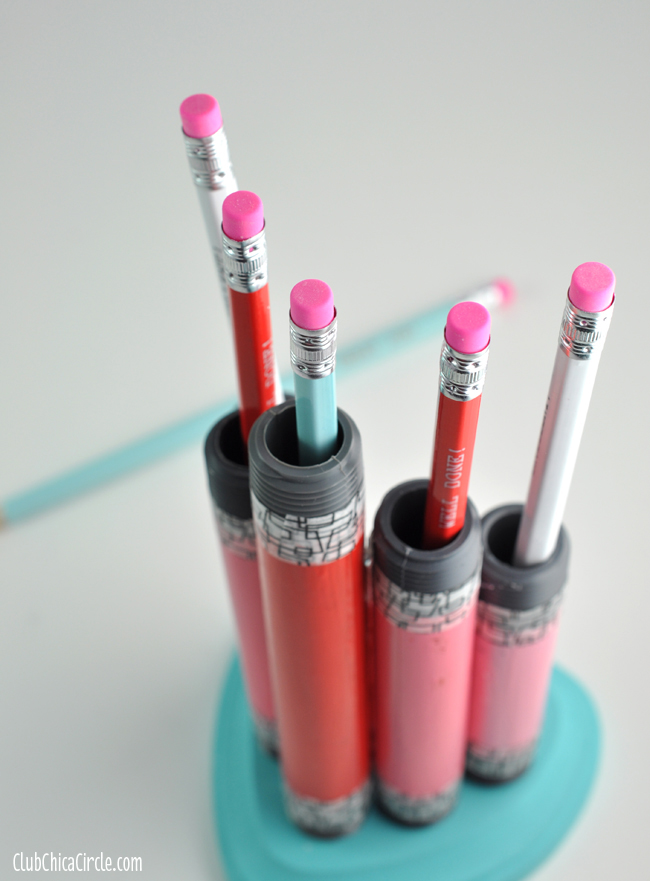 I give this craft an A+!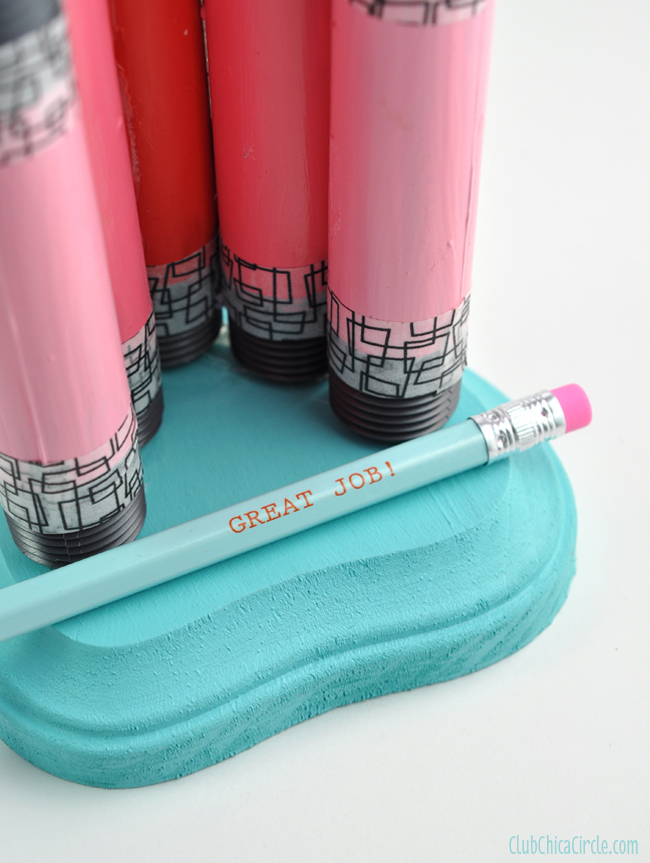 Make sure to show your favorite teachers how much you appreciate them this year. This craft idea would be a perfect one to make for teacher appreciation week, or an end of school year present!
Happy crafting!
If you liked this post, and want more, you can subscribe to be on our mailing list here, and make sure to get your free Cupcake Toppers Printables for Every Occasion.

Feeling social? Follow ChicaCircle on Facebook or Twitter, and follow me on Pinterest or Instagram.
Disclaimer: this post is sponsored by DecoArt. All opinions, ideas, and images are completely my own.