This is a Sponsored post written by me on behalf of Duck Brand for SocialSpark. All opinions are 100% mine.
Spring is in the air, especially with all the flowers blooming!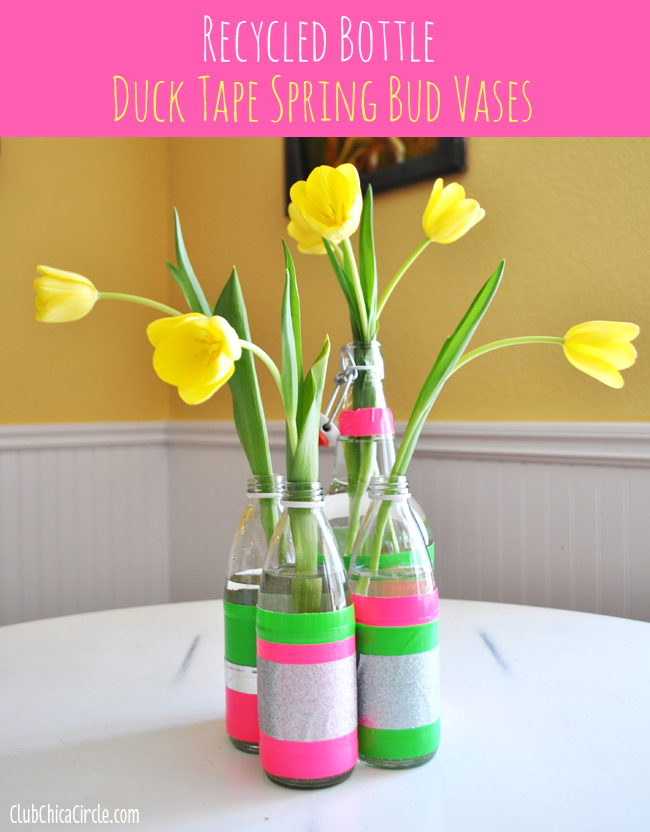 I love tulips in Spring, and I couldn't resist picking up two bunches of them when I was buying groceries recently. These pretty blooms needed some pretty vases to hold them. Tulip stems are usually so floppy, you really need a thin neck on your vase to hold them up.
A light bulb went off after opening the box for fun Spring Duck Tape® colors and Glitter tapes I received in the mail. Duck Tape® has always been on of our favorite all time craft supplies, and I knew these were going to be perfect to make some pretty Spring bud vases.
So, what do you get when you combine these fun pink and neon colored Duck Tape® and silver Glitter Duck Tape® with…..
… a whole bunch of fun shaped glass bottles?…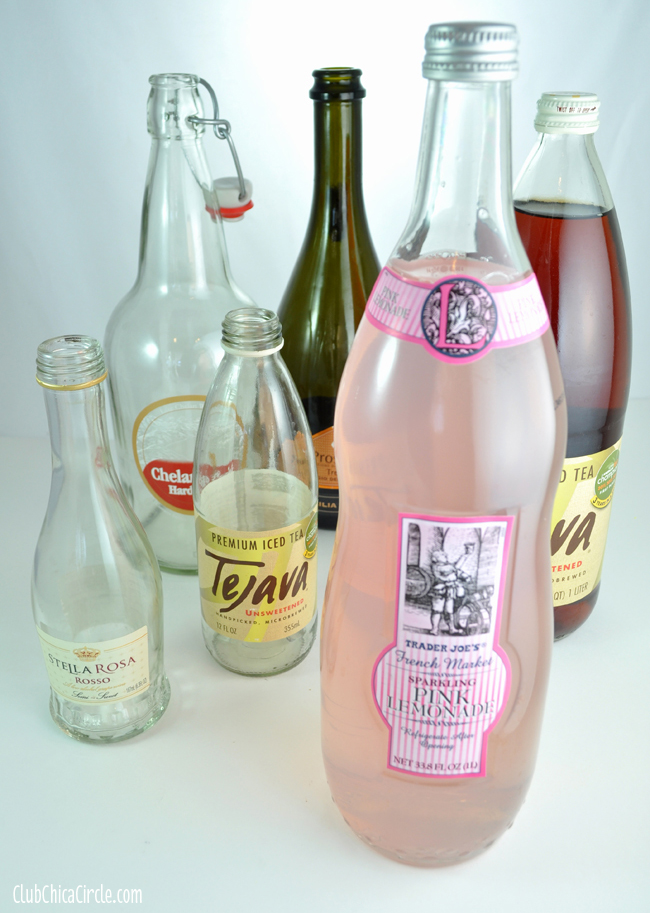 …today's super easy craft idea, and some of the cutest bud vases for Spring, of course!
I have to admit, I have a bin of recycled bottles that I keep on hand for crafting with. For this craft, I gathered a number of fun shaped glass bottles that I had already recycled, and a couple more I thought would be perfect during that same grocery trip. Believe me, my daughter was so sad when I came home with the sparkling pink lemonade for her to drink. NOT! = )
All you need to make your own Spring bud vases are:
Duck Tape® in a variety of colors – find Duck Tape here
Recycled glass bottles that are cleaned out and dry
Sharp pair of scissors
For single bud vases, I really liked the small 12 oz tea bottles. And, with this craft, in most cases you won't even have to peel off the label first.
I cut strips of colored Duck Tape® long enough to go around the bottle, overlapping it about 1/2″, and just combined different stripes of the thick and thin Duck Tape® rolls.

The Glitter tapes are a little more transparent, so I either put strips of them right over the colored bands, or applied them to my bottles that I had already taken the label off of.
I absolutely love the combo of neon green with the neon pink paired with a little silver for some extra glam.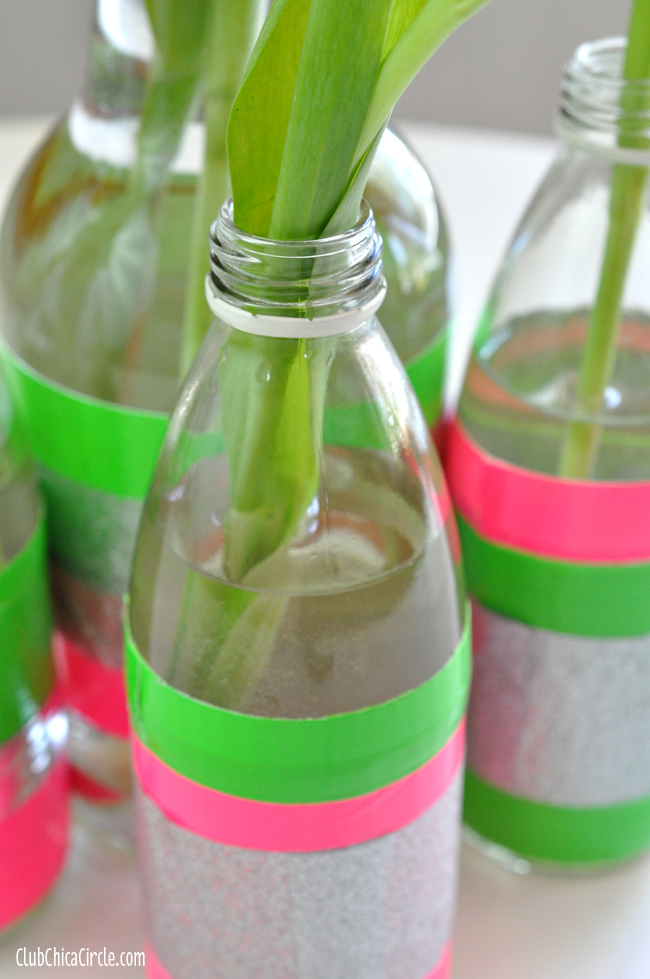 Once I started, I couldn't stop making more and more bud vases. I made a grouping for my dining table with yellow tulips.
And I found a couple that looked so pretty on my kitchen windowsill with red tulips.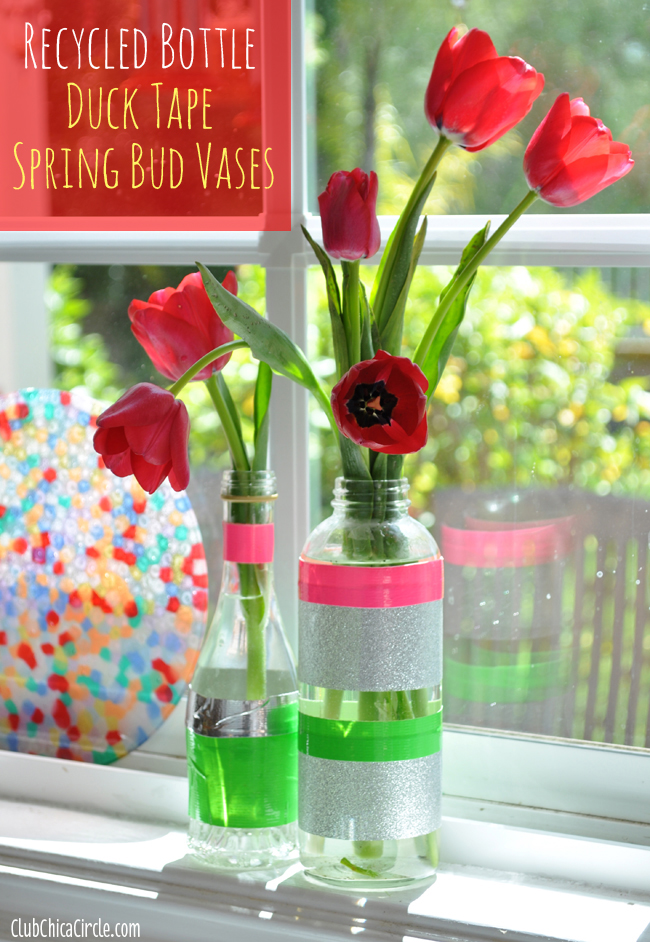 Lovely!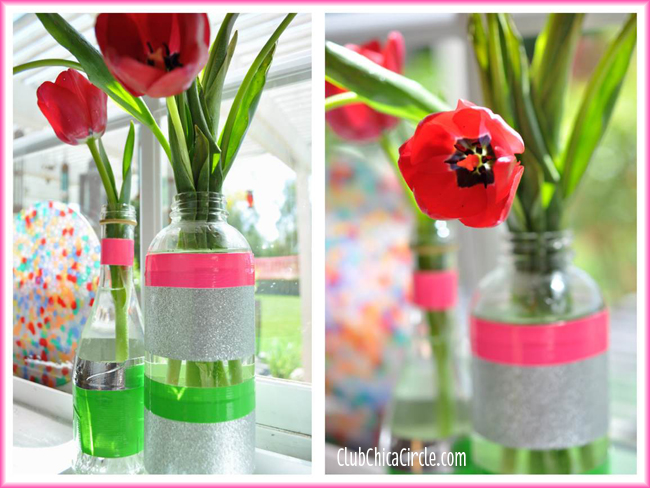 And wine bottles work great too! I made another grouping that I put on my outdoor table using taller stalked flowers.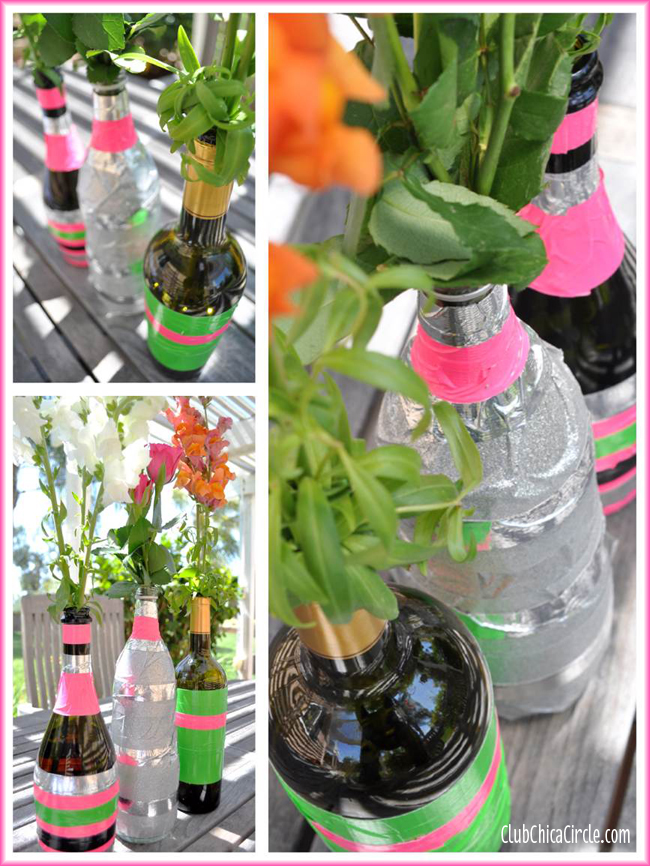 So, the next time you enjoy a beverage in a glass bottle, remember to save it and turn it into a pretty bud vase.
Decorate it with Duck Tape®, and you are golden!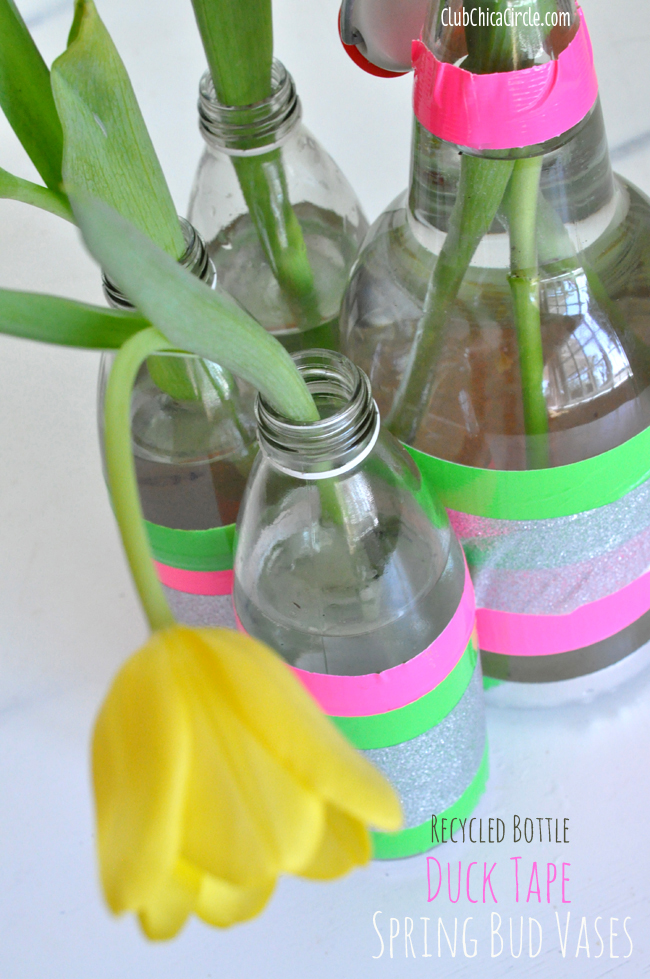 Happy Spring…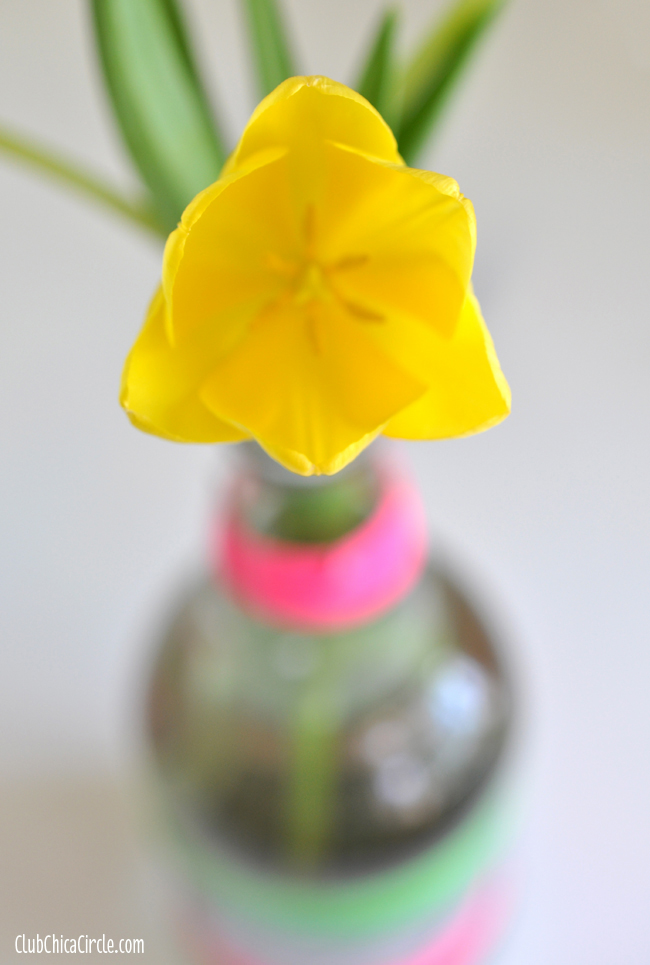 … and Happy Crafting!
For more great Duck Tape® inspiration, follow and check out Duck Tape® on Pinterest. Connect with Duck Tape® on Facebook and on Twitter.