It's happening! My tween is turning 12! Aaaaah!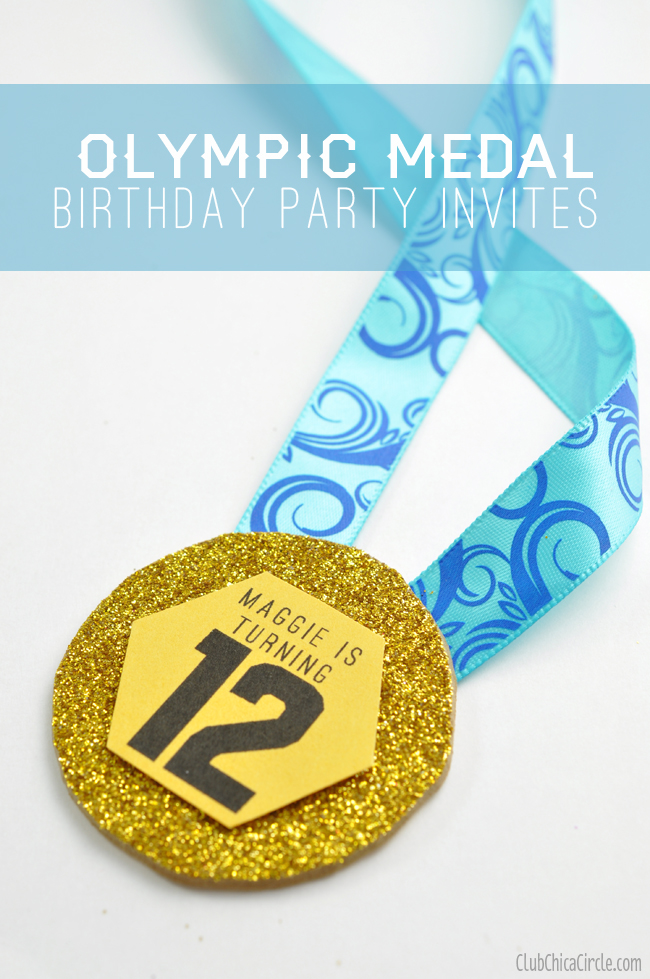 We are big on homemade themed parties in our house. Last year it was a spa sleepover. Another great theme we've tried for fun is a Minute to Win It games at home.
This year we kept going back and forth on party themes, and she finally decided on an Olympic themed party a week before the party. Aaaaah! Let me just let out another tiny scream. First task on our list – make the invitations.
I literally made her Olympic gold medal invitations in less than in hour, with supplies I had on hand at home. I realize many of you may not have the crafty storage that I do, but all of these supplies can easily be found at your local craft store.
These are the supplies I used:
Gold glitter self-adhesive foam sheet
Ribbon of choice
2″ circle paper punch
1-1/2″ hexagon paper punch (you could use a smaller circle one here too, just something smaller than the 2″ circle)
Yellow/gold cardstock paper to print on
Scissors
Tape runner or double-sided tape
I planned for the medals all to be 2″ circles with the gold glitter showing on the front and the party details printed on coordinating yellow-gold paper on the back. The most time-intensive part was fitting all of the details of the party on the 2″ circle. I created a quick printable for the party detail circles and the front "Maggie is turning 12" badge for the front.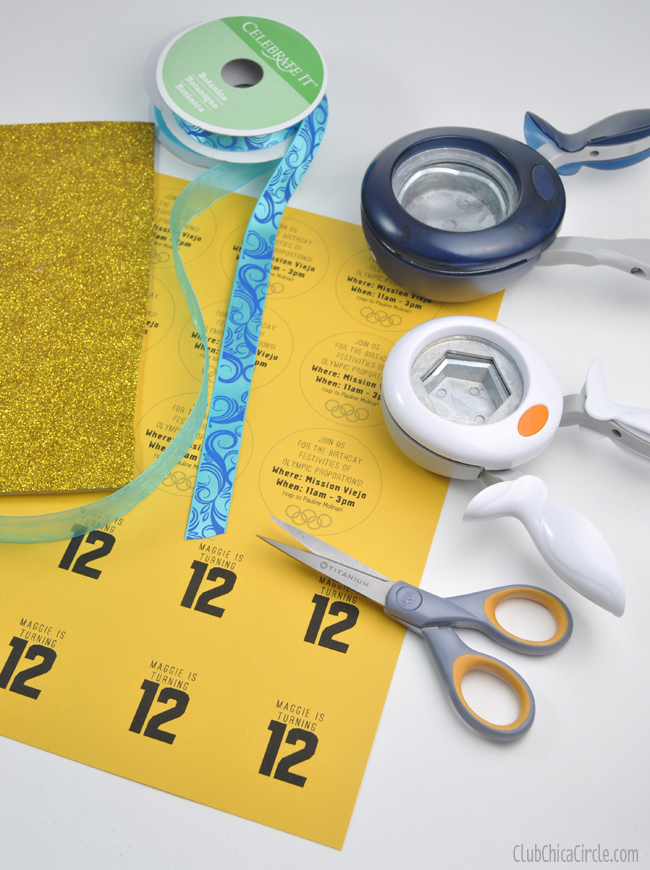 First step – punch out all of the invite detail circle and the hexagon fronts. We needed 9 invitations in total. Next we cut 9 lengths of ribbon about 28″ long. Then I cut 9 squares of the glitter foam that was larger than the 2″ circles.
Once I had all of my materials gathered, it was just a matter of putting them all together.

Since the gold glitter foam was self-adhesive, it was really easy to sandwich the ends of the ribbon in-between the yellow circles to create the hanging medals.
Then I used the yellow circles as a template to cut around the gold glitter, making sure not to cut the ribbon.
Finally, I attached the hexagon fronts with my tape runner, and voilá!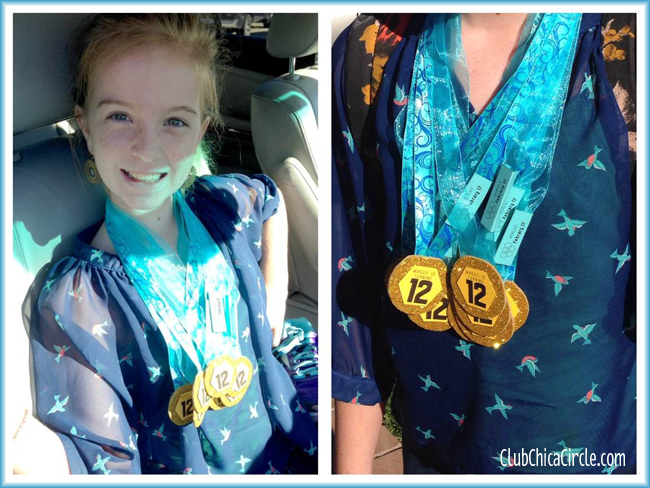 She went to school the next day wearing her medals around her neck ready to pass out to all of her friends.
Now we just have to plan the rest of the party. Aaaaah! One more tiny scream. = )
Hope you are enjoying watching the Olympics as much as we are.
Enjoy and Happy Crafting!
If you liked this post, and want more, you can subscribe to be on our mailing list here, and make sure to get your free Cupcake Toppers Printables for Every Occasion.

Feeling social? Follow ChicaCircle on Facebook or Twitter, and follow me on Pinterest or Instagram.