Guess what? The Game Show Network (GSN) is bringing Minute to Win It back to TV! I am privileged to be able to share with you the recent announcement that Apolo Anton Ohno, speed skating champion, will be hosting this addictive and exciting game show.
It's a new season, with a new host, and all new episodes of Minute to Win It premiering June 25th at 8/7c only on GSN! And see how you can enter to win a $100 Visa gift card, just by reading this post.
I know we loved to watch this show as a family, and my tween and I have been watching episodes on on GSN. She is absolutely obsessed with perfecting the Stack Attack challenge! But, I'm getting ahead of myself. If you aren't familiar with the concept of the show, you will have no idea what a "stack attack" is. Let me fill you in on this super fun game show. The whole idea is centered around challenges of escalating difficulty using everyday household items. And when I say, everyday items, I mean cups, gum balls, liter bottles, cards, dice, noodles, cotton balls, just to name a few. I personally think it is so clever how the challenges are based on such simple items. It's all in how they are put together in what is called the "blueprint" for each challenge. I also love, that these aren't about IQ or how much smarter my 5th grader might be than me. These challenges require patience, practice, perseverance, and in many cases luck. Here is the kicker, each game or challenge needs to be completed successfully in 60 seconds. Each contestant has exactly one minute to win that level's prize. It it nail-biting fun!
Summer vacation is finally here, and my niece has been visiting for a couple weeks. Since I had my two favorite resident tweens together, it was the perfect opportunity to have a little family fun, and orchestrate a Minute It To Win It Tween Challenge Day.
We had a blast planning our adventure. We watched a mini marathon of Minute to Win It episodes, and each girl made a list of their favorite games they wanted to try. Then we researched online to review all of the challenge blueprints for more inspiration. Then it was off to the store to get our "everyday" items for the 10 challenges we were going to play. Here is what we came home with and gathered from our house to begin the Minute to Win It Tween Challenge extravaganza: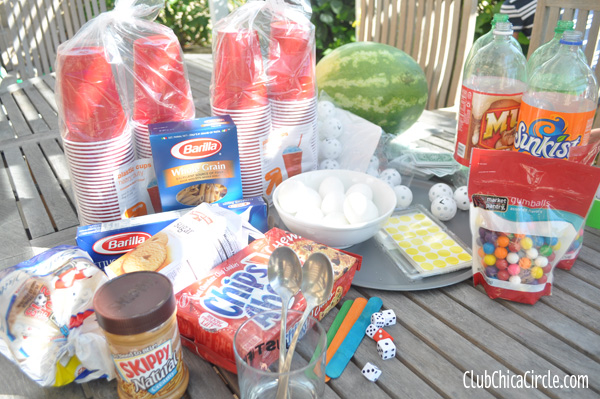 As you can see, we gathered quite the variety of random objects. Then we set up a "bootcamp" of sorts around the backyard and in our dining room. We created stations, almost like an obstacle course, set up with a variety of Minute to Win It inspired challenges. Here is a peek at the challenges my tweens tackled. (Note: I modified some of the challenge objectives from the original show to accommodate kids and availability of items):
Stack Attack
Objective: Stack 28 plastic cups in a pyramid shape, and unstack them all back in 60 seconds or less.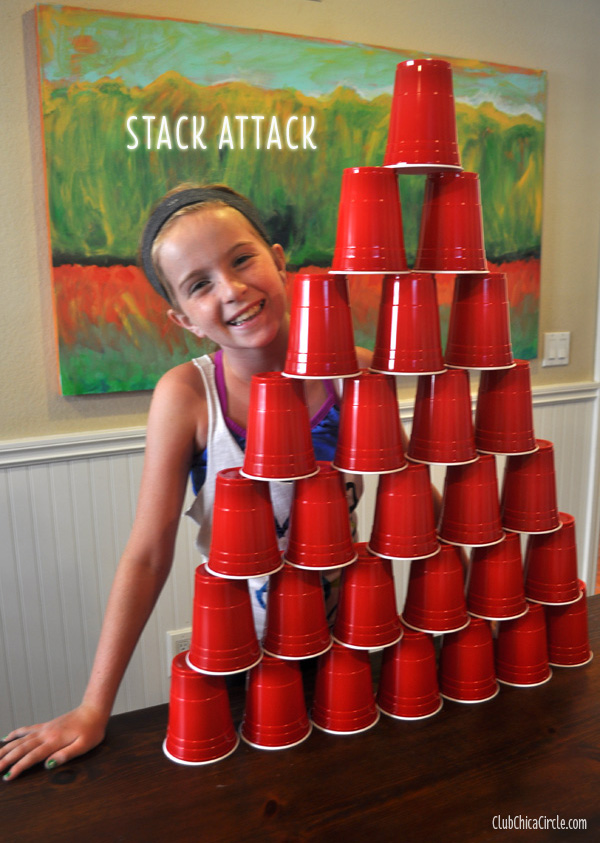 This one was my tween's favorite, as mentioned above. I captured her challenge on video, with my niece in the background holding the timer. Talk about down to the last second!
Face the Cookie
Objective: Using only your facial muscles, each player must move a cookie from the top of their head, down their face, and into their mouth without dropping the cookie.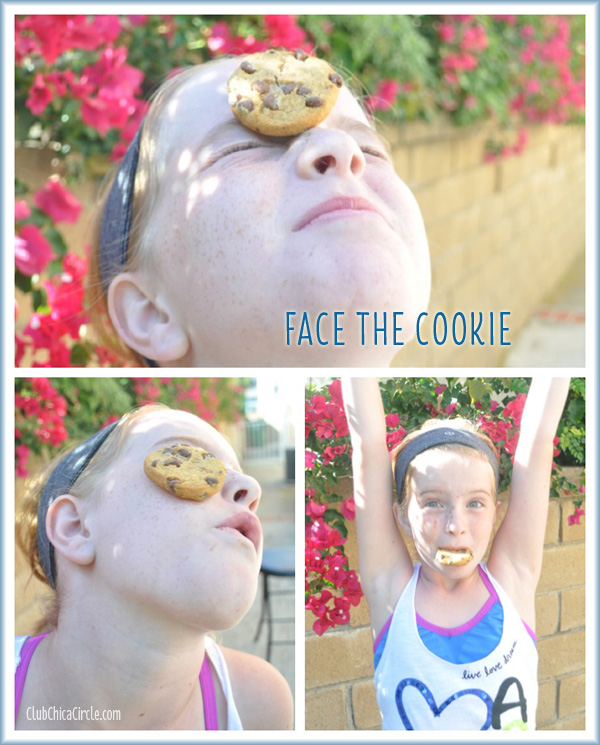 This was HI-larious to watch! I just had to capture it on video. I challenged each of the girls at the same time to complete the cookie challenge. Check out the funny results:
Noodling Around
Objective: Using a long piece of spaghetti in your mouth, stack 6 penne pasta in a row in 60 seconds or less.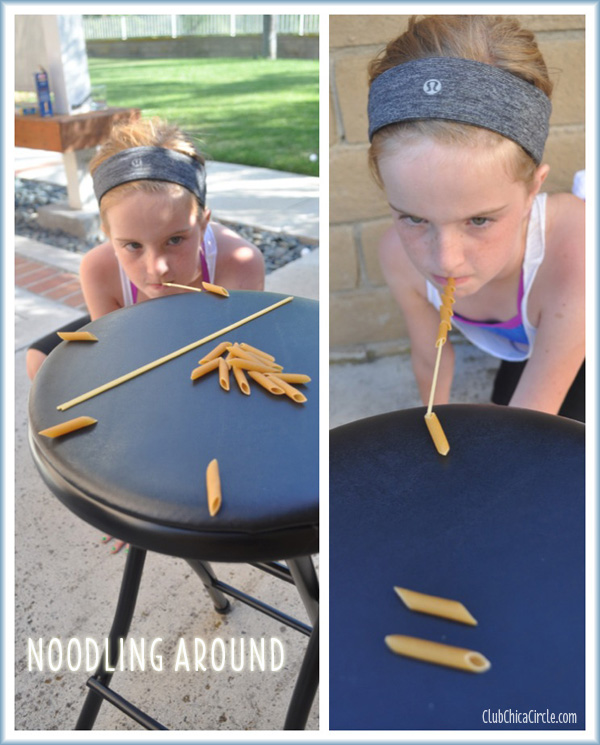 This one the girls actually find really challenging. It wasn't that it was difficult to do, it was definitely hard to achieve in the time frame.
Card Ninja
Objective: Using regular playing cards, player must stick one card into the side of cut watermelon.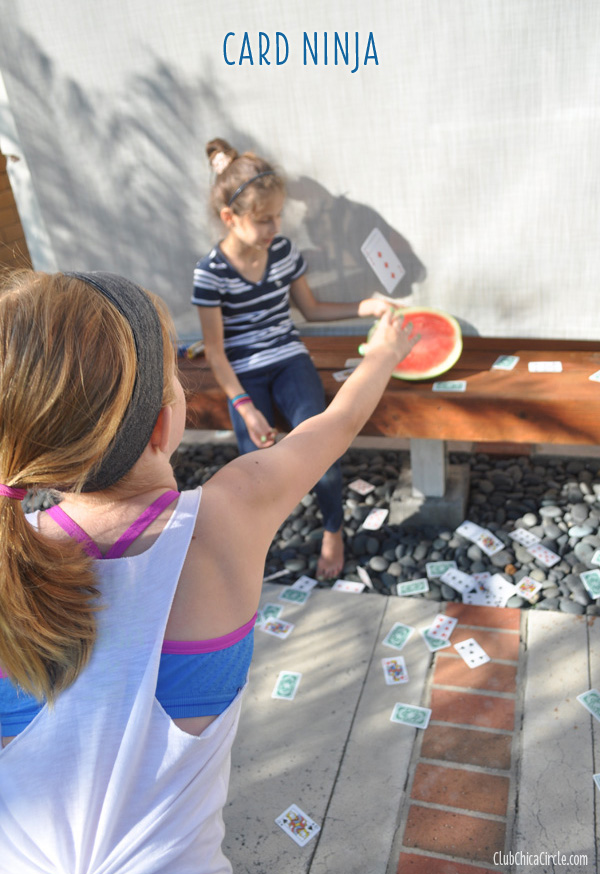 As you can see, this one was even more challenging. We all tried this one, and only got a couple cards actually stuck in the side of the watermelon. You definitely had to the right flick of the wrist and the perfect angle of the card to hit the watermelon and stick.
Baby Rattle
Objective: Player must shake gumballs from an empty 2-liter bottle into the other bottle on the bottom.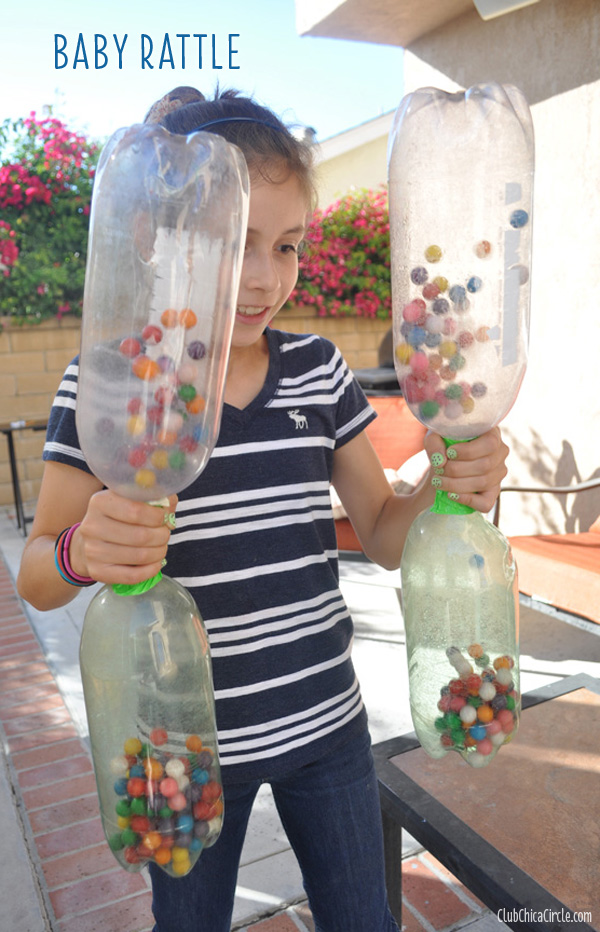 This one was fun to make, and probably the easiest challenge to complete.
A Bit Dicey
Objective: While holding a craft stick in your mouth, player must stack 6 dice on top of each other on the end and hold for 3 seconds.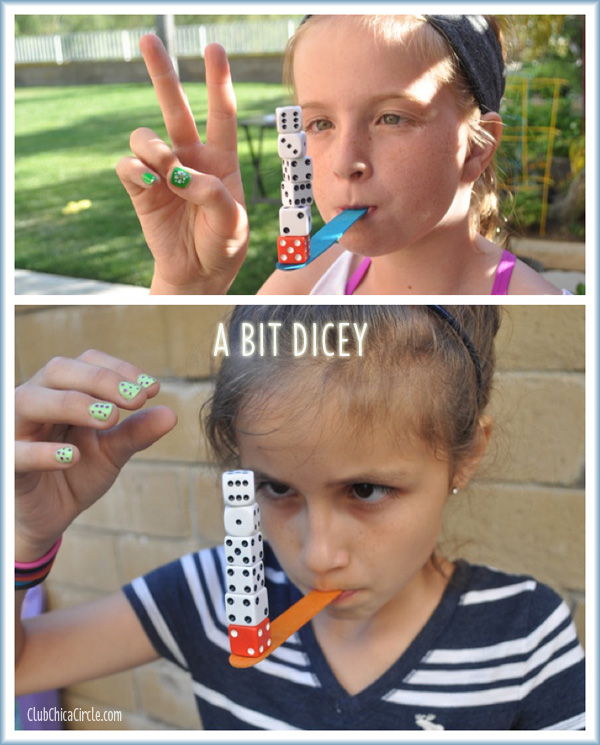 Each girl mastered this one pretty quickly. You can just see the focus in their eyes.
Spoon Frog
Objective: Propel a spoon into a cup using another spoon as leverage. Must fill 3 cups within 60 seconds.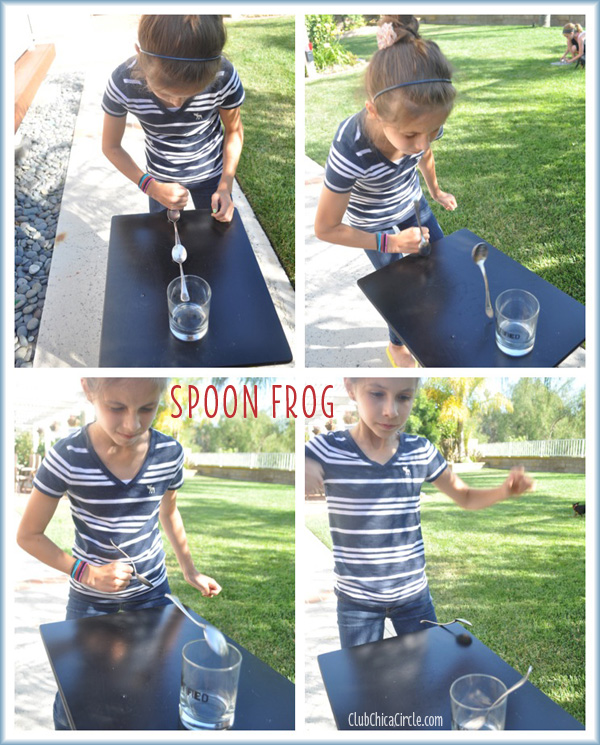 My niece was a pro at this one. I caught her 60 second accomplishment on video:
Sticker Picker Upper
Objective: Player must roll an egg on a round platter using only one hand and pick up the 3 stickers upside down on the tray without the egg falling off.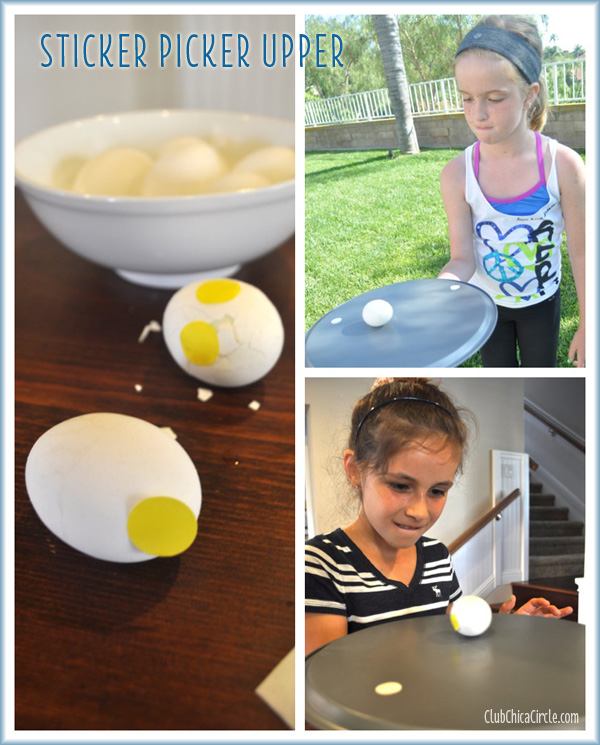 We had many "accidents" with this one. Good thing we used hard boiled eggs for the challenge. = )
Sticky Situation
Objective: Launch a ping pong from one table to the other to stick one onto a piece of bread with peanut butter on top.

This was one of the funnest challenges, I think. I got pummeled with plenty of balls while trying to get the perfect shot. Good thing they were ping pong balls.
Nose Dive
Objective: Transfer cotton balls from one bowl to the other using only petroleum jelly on the end of your nose.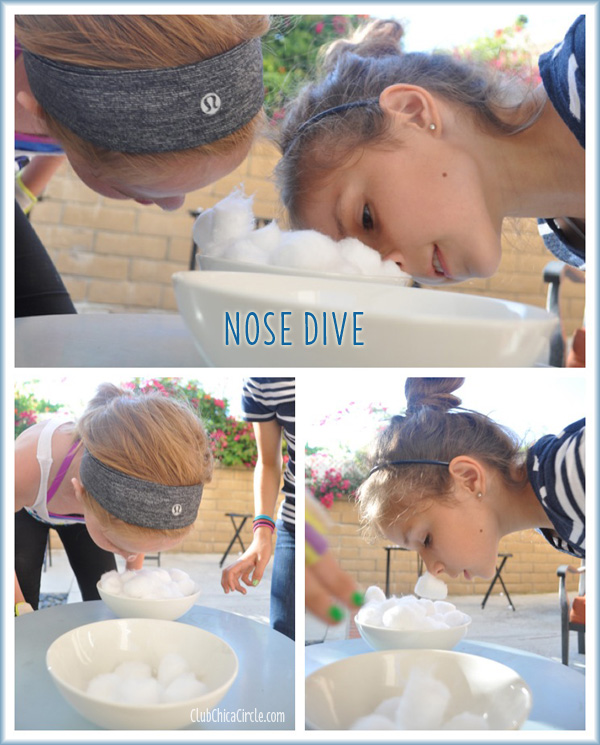 This one, I challenged each girl to see who could get the most cotton balls into the ball in 60 seconds.
Here is the hilarious challenge caught on video:
Are you inspired yet to try some of your own Minute to Win It challenges at home? We ended the day with each girl requesting a Minute to Win It themed birthday party for their next milestone!   Guess what? You could win too! Simply add a comment onto this post and you will automatically be entered to win a $1oo Visa gift card to use towards your own "family fun night in". What are you waiting for? What "Minute to Win It" game would your family play?   Tune-in to the premiere of Minute to Win It on Tuesday, June 25th at 8/7c only on GSN with your family. For more information, connect with M2WI on Facebook and Twitter and visit the GSN website.
Sweepstakes Rules: No duplicate comments. You may receive (2) total entries by selecting from the following entry methods: Leave a comment in response to the sweepstakes prompt on this post Tweet (public message) about this promotion; including exactly the following unique term in your tweet message: "#SweepstakesEntry"; and leave the URL to that tweet in a comment on this post Blog about this promotion, including a disclosure that you are receiving a sweepstakes entry in exchange for writing the blog post, and leave the URL to that post in a comment on this post For those with no Twitter or blog, read the official rules to learn about an alternate form of entry. This giveaway is open to US Residents age 18 or older. Winner will be selected via random draw, and will be notified by e-mail. You have 72 hours to get back to me, otherwise a new winner will be selected. The Official Rules are available here. This sweepstakes runs from 6/18/13 – 7/17/13.