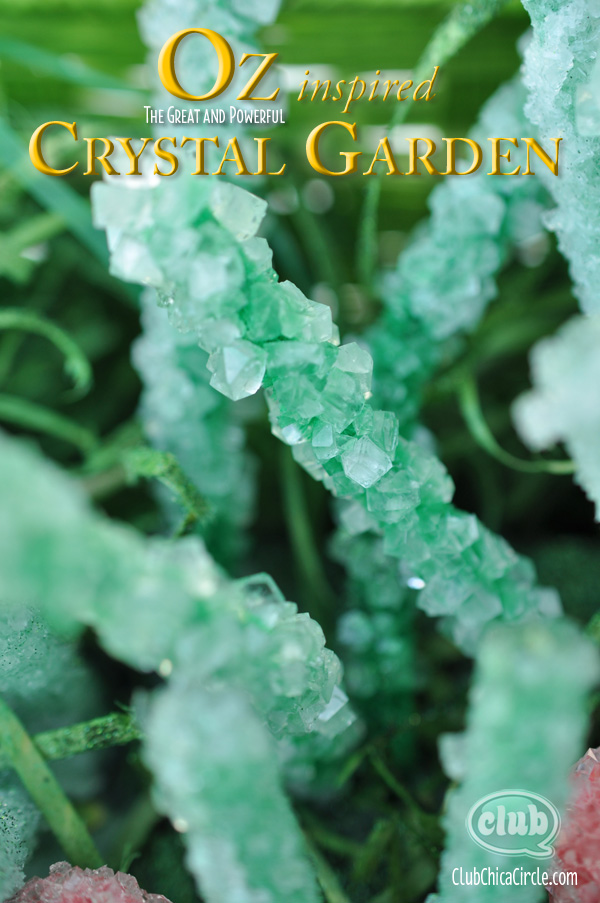 When previews for the Disney's OZ The Great and Powerful movie came out months ago, it seems like my tween was counting down the days until we could see the movie. I have to admit, we saw it opening day in the theaters with friends, and then a couple weeks after with family. So, I was so excited to be a part of the campaign announcing the Blu-Ray Combo Pack release of this fun movie. Of course, we had to watch the movie again for more inspiration, but this time in the comfort of our own home.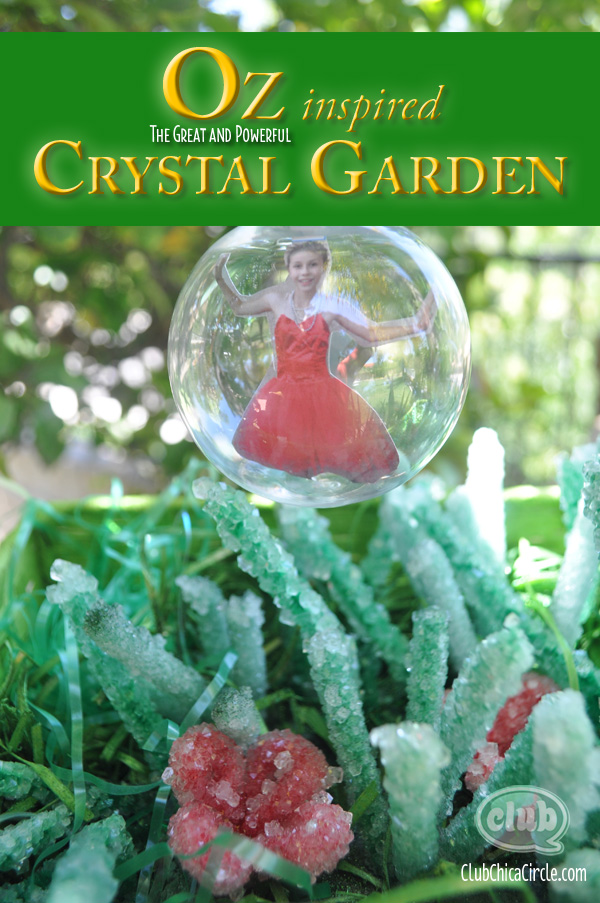 One of our favorite parts in Disney OZ the Great and Powerful was when Glinda, Oz, and the China Girl float above an emerald forest in bubbles. I knew I had to recreate our own emerald crystal garden inspired by the movie.
I've made borax crystal hearts before for Valentine's Day, but this time I wanted to create a whole crystal garden. The steps are pretty simple, and you just need a few supplies to make your own.
Here is the full DIY on how to make your own borax crystal emerald garden:
You will need
Borax (I found it in the cleaning aisle of my local grocery store)
Mason jars
Boiling water
Green and red pipe cleaners
Green and red food coloring
Popsicle craft sticks
String or twine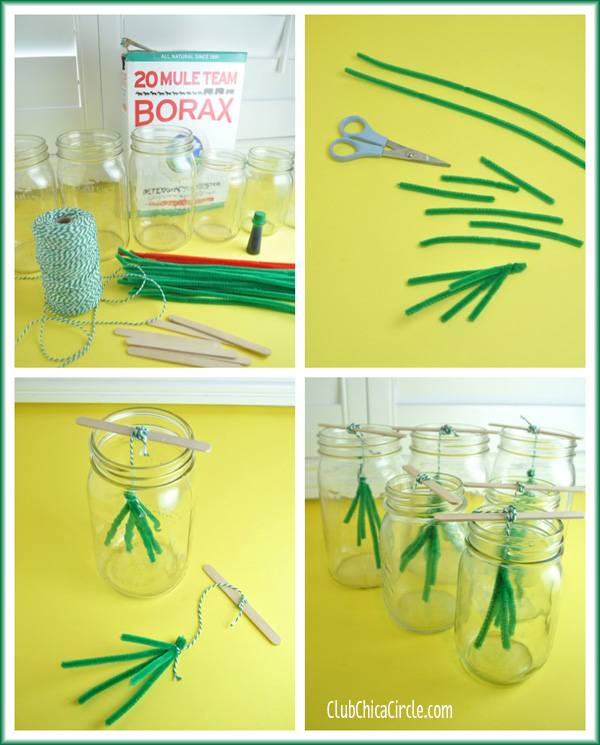 The first step is to set up your pipe cleaner shapes. I cut pipe cleaners into random lengths and twisted them together at one end to create spiky "crystal" flower shapes. Then I attached twine on the twisted end and tied it to the middle of a popsicle stick. These shapes are what the borax crystals will form on, so you want them to hang down in the middle of a mason jar without touching the sides or bottom.
Now it is time to create the crystals with this crafty science. Pour boiling water into a mason jar and add borax into the water. Borax is actually naturally in crystal form, and dissolves in boiling water. Hot water can actually hold more borax than cold water. When you pour enough borax into the water, it actually becomes saturated. When the water cools, the borax returns to its natural state leaving large crystal shapes.
I used about 1/2 cup for a pint sized mason jar, and 3/4 of a cup for a quart jar. Then I added food coloring to the water/borax mixture and stirred with a spoon to make sure the borax was all dissolved.
Then I placed my pipe cleaner shapes back into the jars to soak for 4-6 hours, or overnight.

What you are left with are really cool crystal shapes formed on the pipe cleaners. Pull them out of the jars and place on paper towels to dry.
Crystals will form on the bottom of the jar as well. To remove the excess crystal from the jars to reuse, rinse out with hot water, and using a table knife to dislodge from the bottom if necessary.
I also made some red crystal flowers, inspired by Disney's OZ the Great and Powerful movie too.
After all of the crystals are dry, it is time to build your garden. I found the perfect green basket with a handle at my local Michaels, along with wet floral foam, and grass decoration.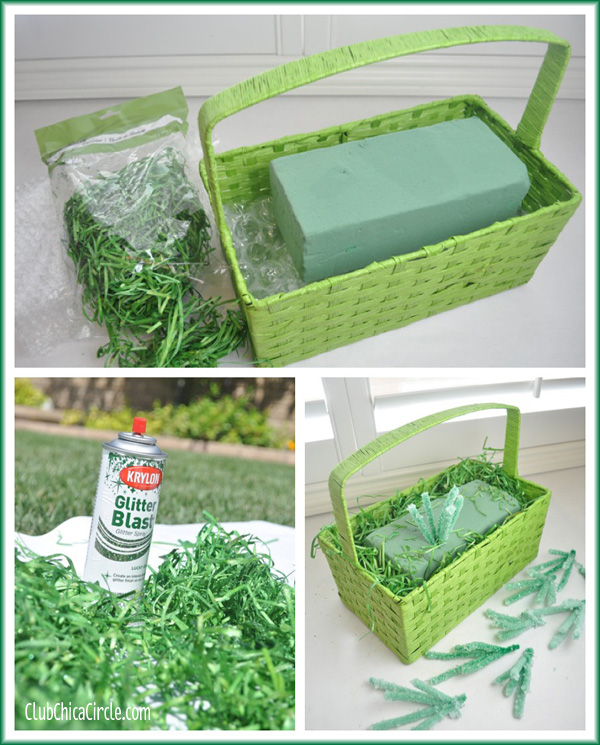 I lined the bottom of the basket with a little packing bubbles, then the wet floral foam in the middle. I wanted the filler grass to be especially sparkly to match the crystals, so I gave it a quick spray from emerald colored glitter spray paint.
Then I arranged my emerald borax crystals and red crystal flowers into the foam block, placing the glittery grass around the edges for filler.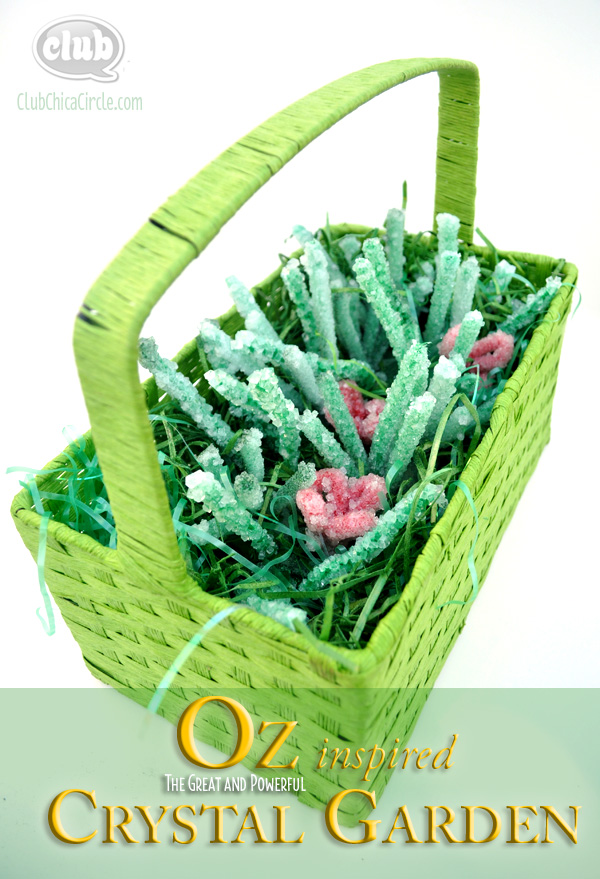 But I couldn't stop there. I just had to make my resident tweens float above this crafty crystal garden.
I took pictures of my daughter and niece dressed up in a OZ inspired wardrobe, and printed them out in miniature onto cardstock paper. I cut out their body shapes leaving a thin tab at the top.
I used clear plastic ornaments and placed each girl inside their virtual bubble.

Just as the China Girl's expression showed her amazement as she floated above the beautiful landscape in the movie, I had the girls act out their own amazement or joy.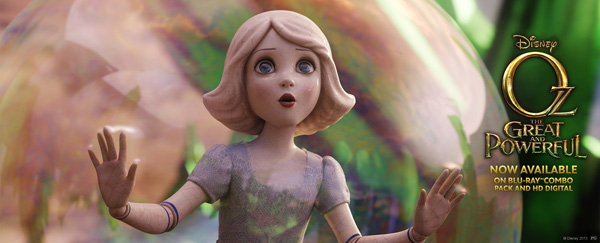 They had fun imagining that they were floating in a real bubble, dressed up in fancy dresses.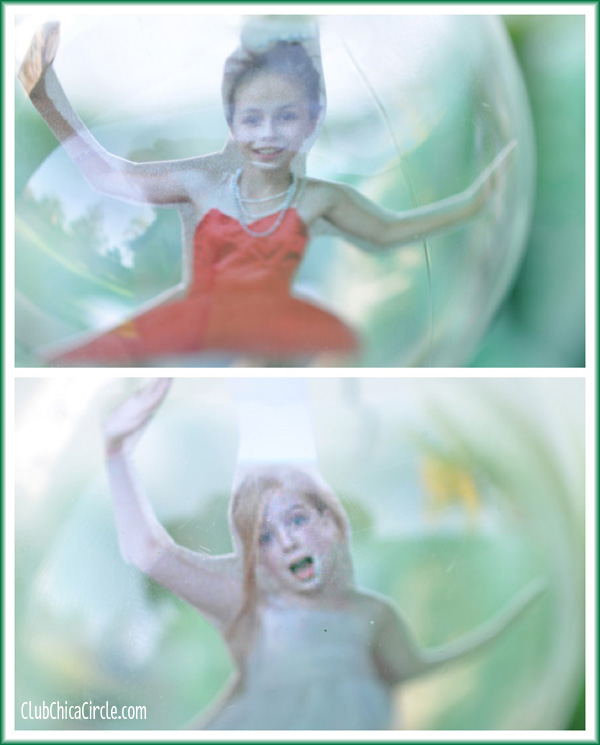 Then I just attached the bubbles on the handle of the basket, and the OZ inspired crystal garden was complete.

If you haven't seen the movie, we highly suggest you run out and get your own copy of the Blu-Ray Combo Pack. What crafty adventure will you be inspired to make after watching the movie?
Check out some of these crafty inspirations from my fellow bloggers:

Win your own copy: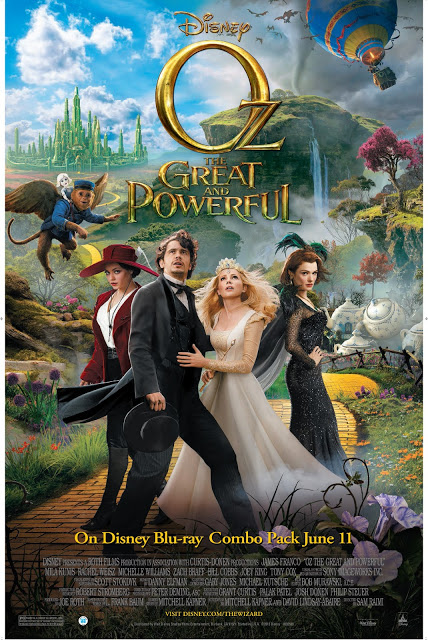 You can enter to win your own copy of the Blu-Ray Combo Pack! Pin your adventure into the land of Oz for a chance to win a DisneyOzMovie prize pack! Or go to Facebook to enter.
Be sure to follow on Facebook, Twitter and Pinterest for all the latest news and information from the Land of Oz.
Disclaimer: This post is sponsored by Disney via The Blueprint Social. I received compensation and/or products for this post; however, as always, all opinions are 100% my own.
If you liked this post, and want more, you can subscribe to be on our mailing list here.
Feeling social? Follow ChicaCircle on Facebook or Twitter, and follow me on Pinterest or Instagram.