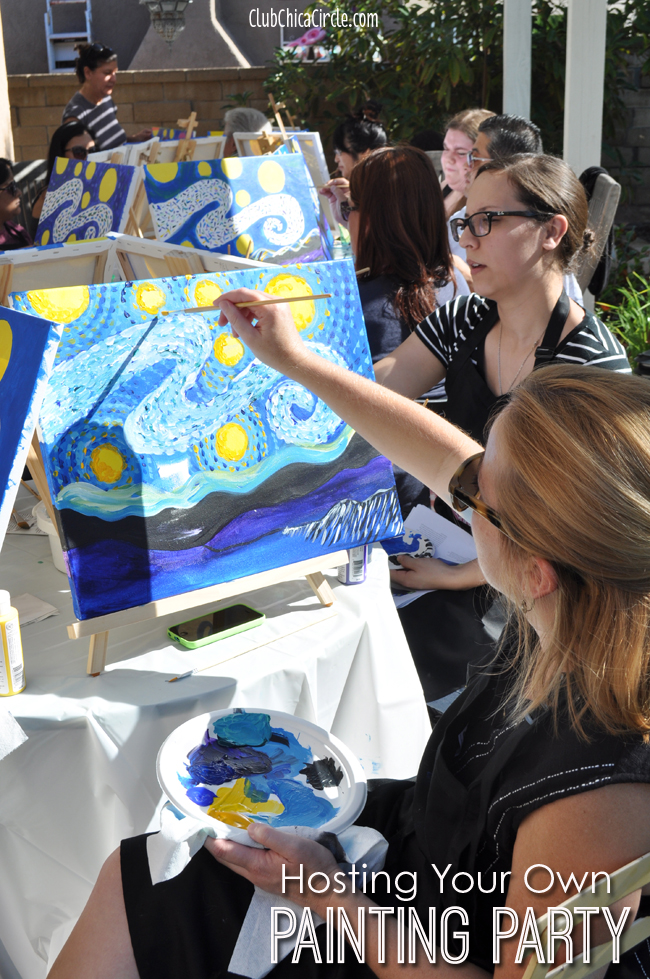 Painting parties are so popular right now. I keep seeing more "wine and painting parties" popping up or being offered at a variety of locations.
I recently hosted one in my own backyard!
I have hosted a mother/daughter painting party before, but this one was a company-sponsored event. When I am not sharing my creativity here on the blog, I work with a group of creative people producing a variety of inspiring, instructional, entertaining and high quality books for both kids and adults in the California office of Quarto Publishing. I'm part of the Quarto Kids team, and we also have a Quarto Creates team in house as well. We are a small but mighty group of 18, and that was how many people painted their own "Starry Night" masterpiece in my backyard recently.
How in the world did I pull that off, you might ask? Social Artworking® of course!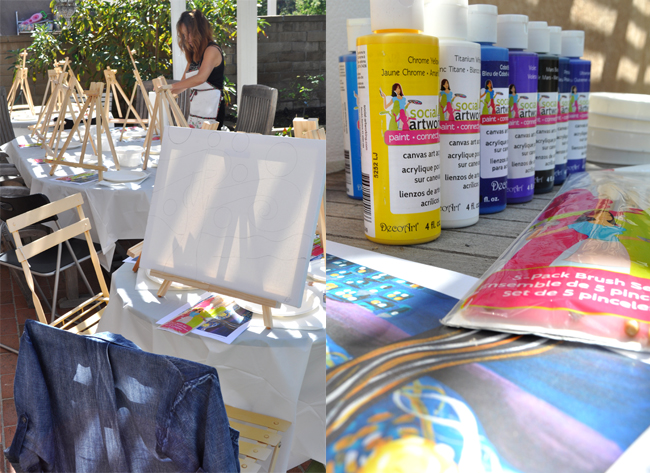 Social Artworking is a hub or site where you can plan and order supplies for a painting party. Everything from easels, to canvases to paints and paintbrushes. There are so many designs to choose for any age group.
I took an office vote, and we decided on the Van Gogh inspired "Starry Night" design. This design might look intimidating, especially since I knew we had a every skill level of "artist" attending the painting party, but the key is the template and transfer paper included and the easy-to-follow step-by-step instructions.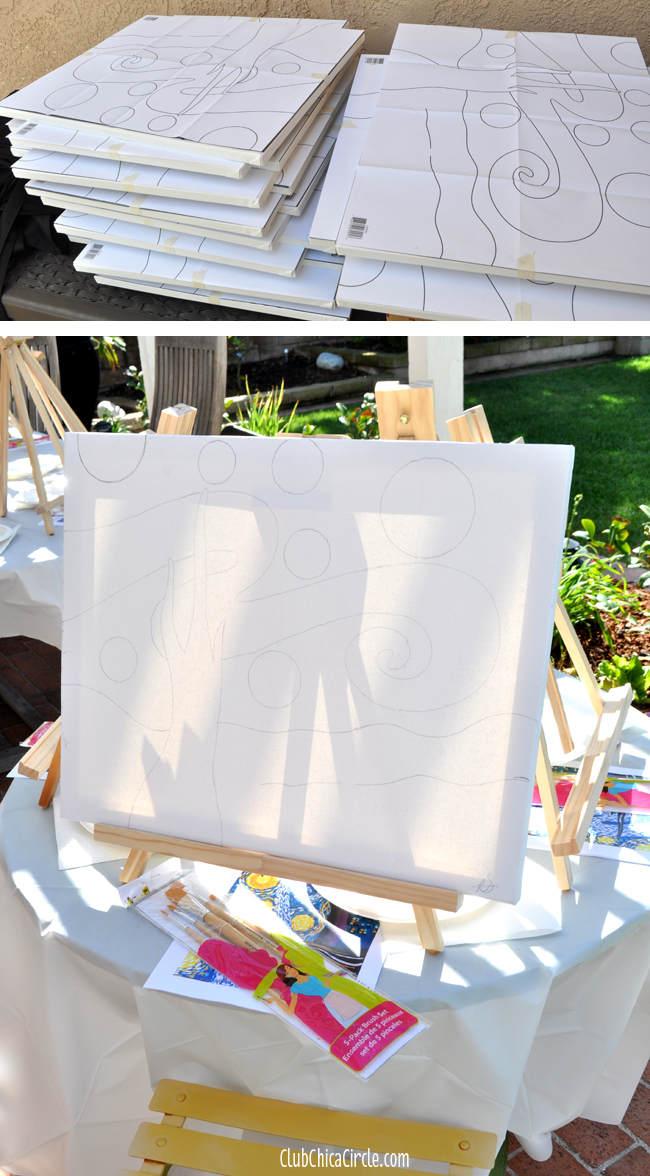 All the supplies for the actual painting part of the party came from Social Artworking, but if you are hosting a painting party. you forget to provide refreshments and food. While I set up the easels outside in my backyard, I created different "stations" in my house. I had a drink station with lemonade and tea for make-your-own Arnold Palmer drinks, and I had orange juice, Prosecco and pomegranate seeds for making your own mimosas.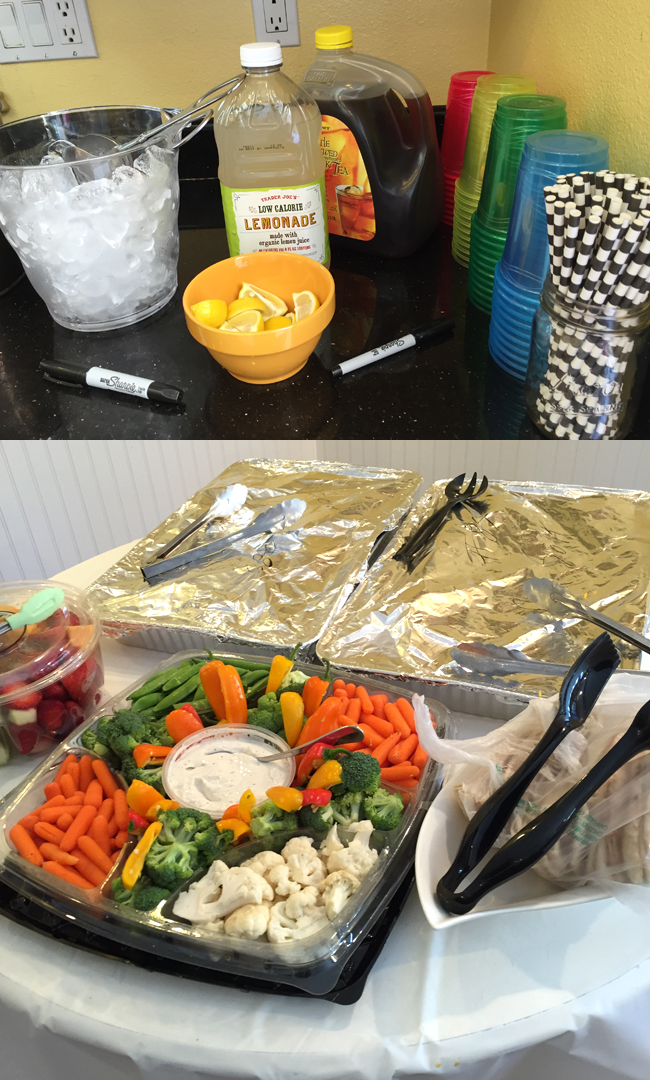 We ordered in food, and I had a veggie and fruit tray for lunch,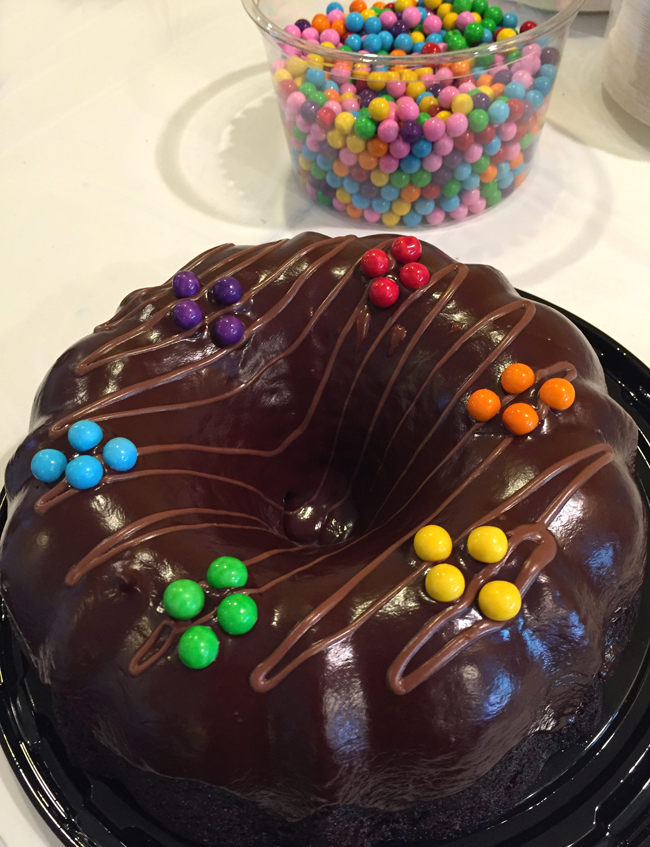 And I dressed up two bundt cakes with chocolate candies for dessert. I call this my "color wheel" cake.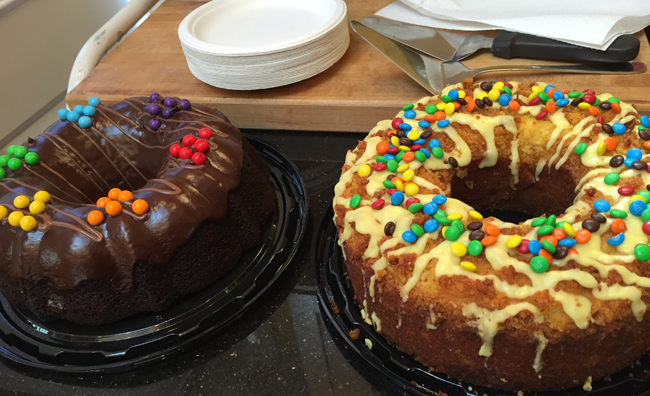 After everyone arrived, and they prepped their canvases by drawing on their template, we had a quick lunch before getting started.
I prepped each art station with a set of brushes and the step-by-step instructions to follow along with. I knew everyone would go at their own pace, and with this many people it was best way to keep the party moving. As the host, I was the dispenser or paints, I washed out and refilled paint water cups, and I made sure everyone was hydrated and happy.
One tip is that I used regular paper plates as palettes for every one. It is an easy surface to mix and keep your paints, and when your palette is full, you can simply throw it away and grab a new one.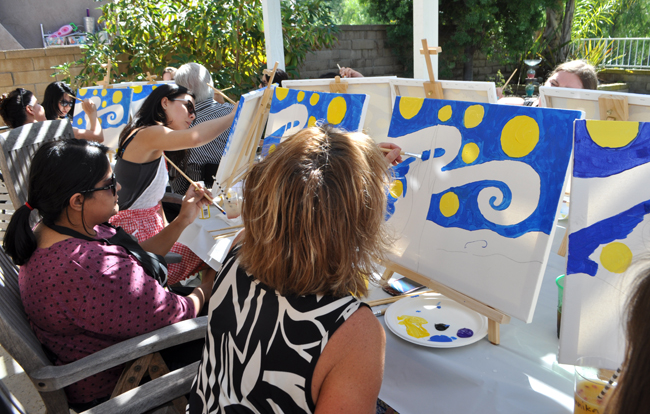 It was so fun seeing how each painting took shape.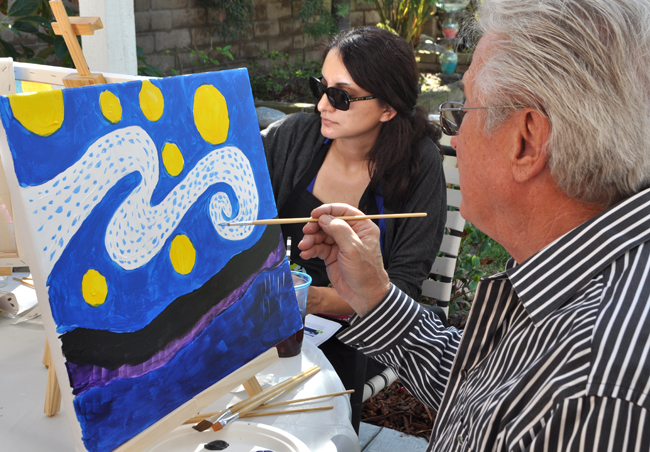 Even though the instructions and the template were the same, everyone's had their own personal style come through.
I had a couple who strayed completely from the instructions, from a glow-in-the-dark modern art Starry Night…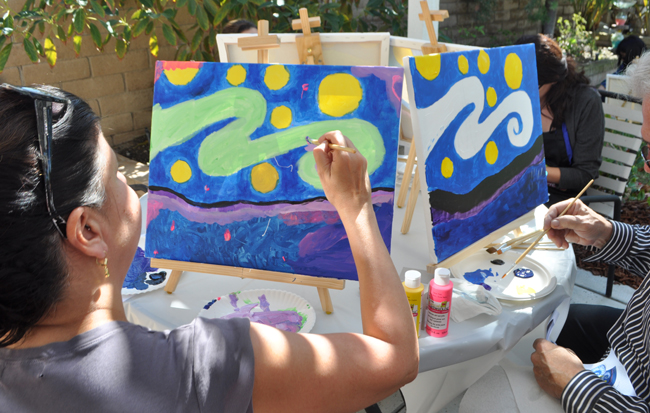 …to and alien invasion Starry Night.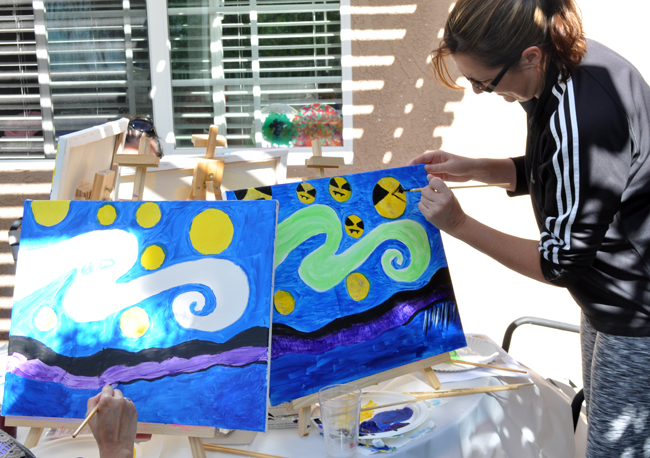 The point was—everyone was having fun and simply enjoying the relaxing and fun nature of painting.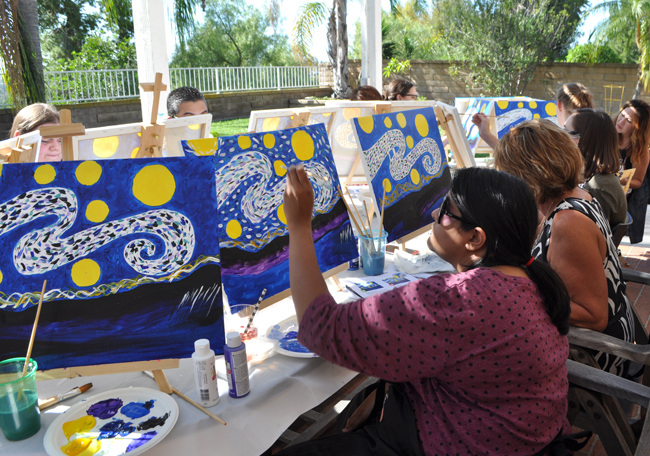 There was even one of my coworkers who created her own zen backyard painting spot on the grass in my backyard.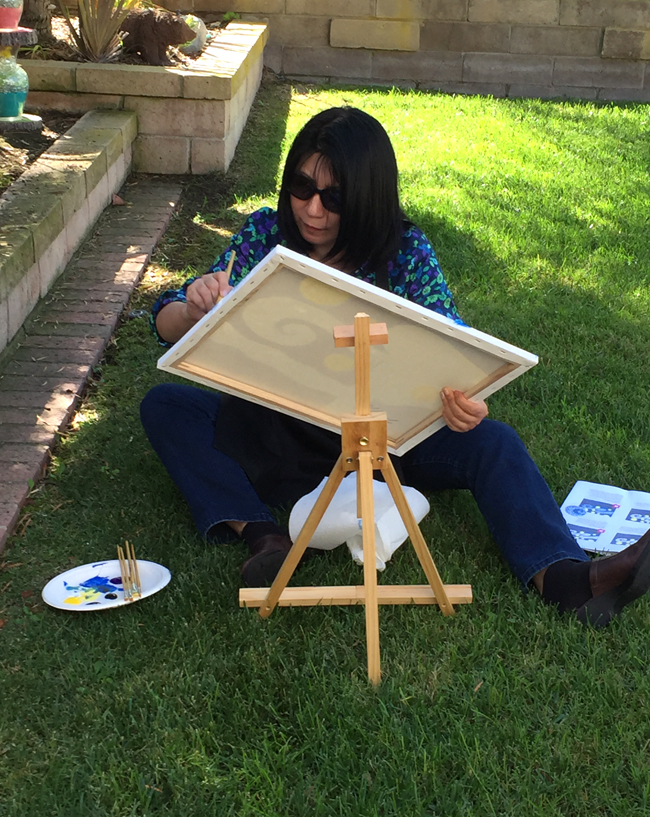 Fun was had by all!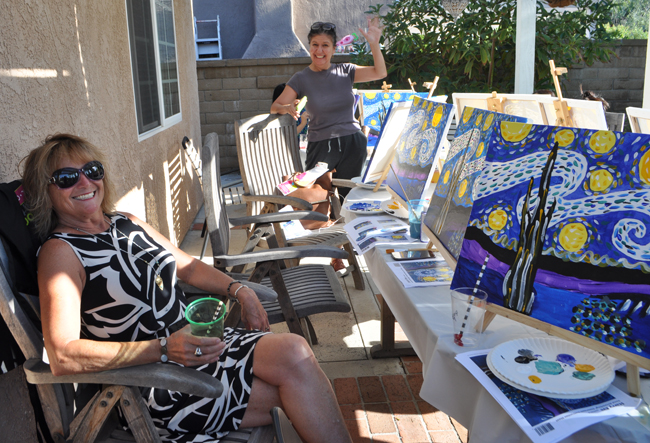 One thing I know about hosting a painting party is that people will want to take breaks.
We had it just before Halloween, so I set up a little craft station where my guests could make their own paper plate sugar skulls too.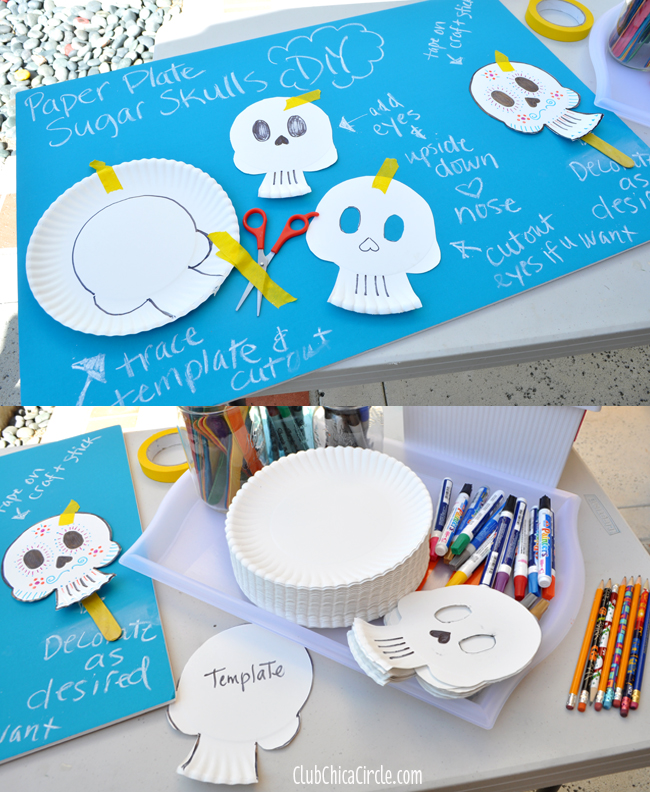 It was purely optional, but I wanted to give my guests more opportunity to express their creativity.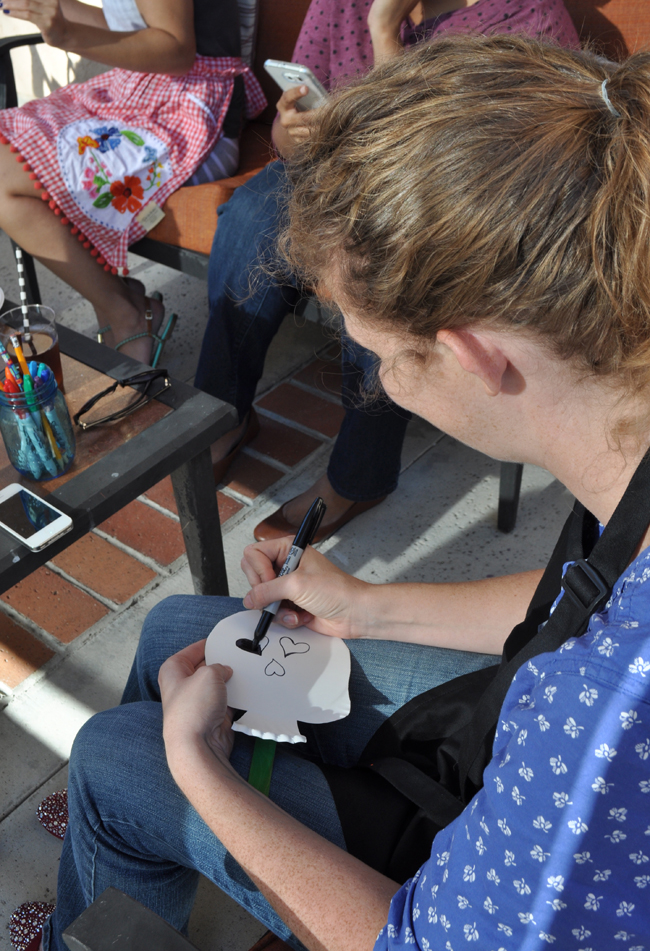 Lovely!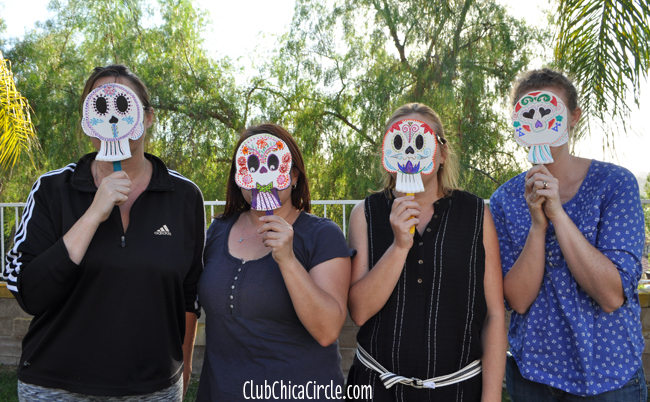 After everyone was done with their own Starry Night masterpieces, we laid them along the fence of my backyard to just take in how everyone's was similar but so different at the same time.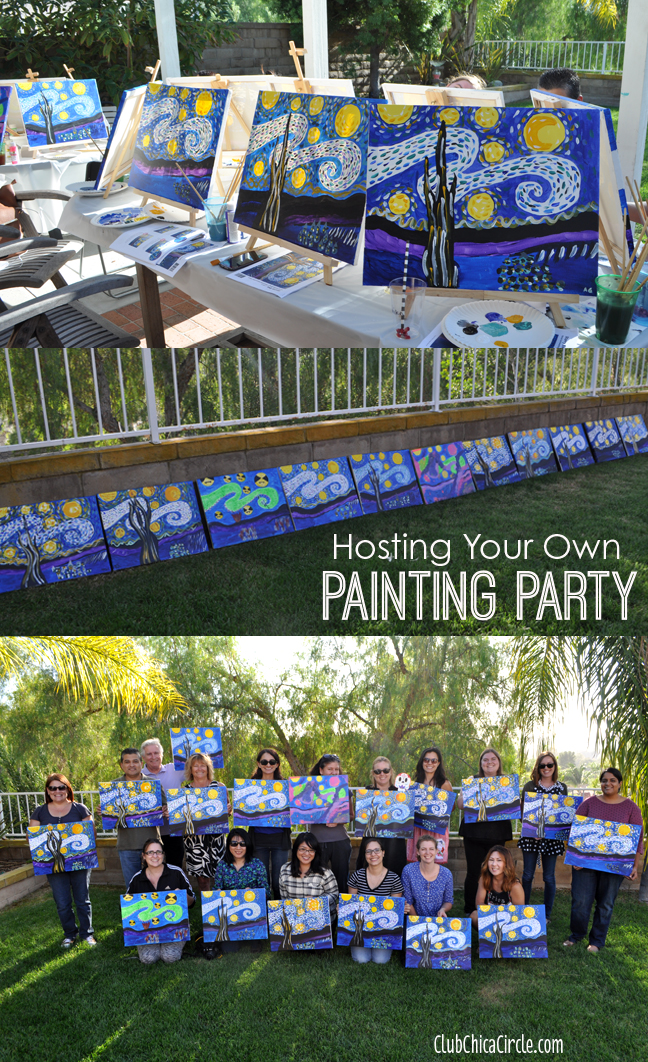 We had such a great time!
And at the end, everyone went home with their own Starry Night painted masterpiece.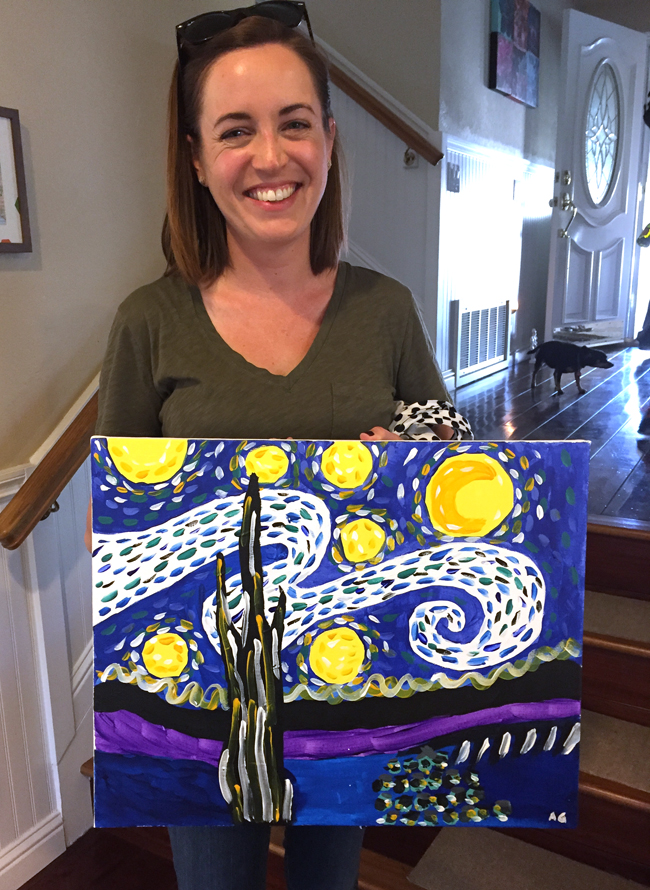 This paint party was part team-building and part taking a break from our busy work day. It was a great way for all of us to take a breath and relax and really enjoy each other's company, the beautiful California weather, and create a beautiful work of art.
Thank you to Social Artworking for help making this party happen!
If you want more info on how to host your own painting party or for more information, check out the Social Artworking blog. You can also connect with them on Facebook, Instagram, Twitter, or Pinterest.

Disclaimer: I am a member of DecoArt's Core Blogger group and received free product for this post. However, all photographs, thoughts, ideas and opinions are my very own!