One of my daughter's favorite thing to do is paint. There is just something special about creating something on a blank white canvas that is so satisfying. We have spent many relaxing weekend afternoons painting together. Her first question though after we get all of our supplies set up is, "Mom, what should I paint?"
I have shown her a few easy tricks like painting modern art with painters tape, and occasionally helped her sketch something on her canvas to get her started. When I asked to host a Social Artworking® party from DecoArt, I was so thrilled.
I knew right away that a mother/daughter painting party would be perfect. And I let my tween pick out the design that the party would paint. This takes out all of the guesswork of, "what should I paint, mama?"
She picked the "Electric Zebra" pattern. If you follow our blog, you most likely have gotten a glimpse of my girl's electric personality, and her favorite animal pattern is definitely the zebra. The electric zebra was a perfect painting project!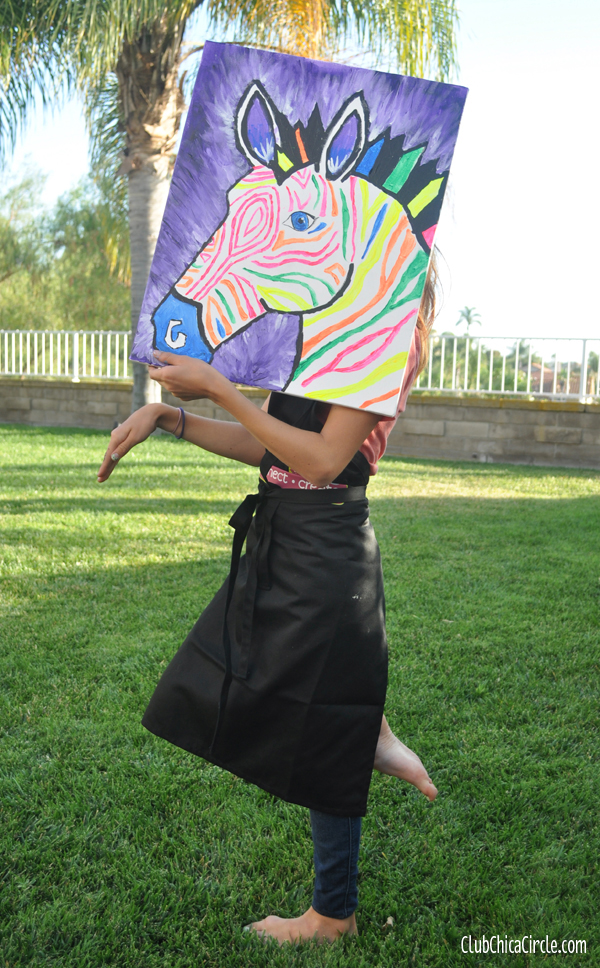 A Social Artworking® painting party is a fantastic way to enjoy an afternoon with friends or family. The best part is that with Social Artworking, you can get all of the supplies you need to host your own party, starting with 16″ x 20″ canvases, loads of patterns to choose from, and all the supplies needed to complete your own painted masterpiece including the exact paint colors and easy to follow step-by-step instruction. And I mean everything! In the Social Artworking shop you can find a large variety of fun designs, disposable palettes, paintbrush sets, easels, aprons, and water basins. This would make a fun birthday party idea, or just a fun excuse to have a group of friends over.
We had 10 people total at our mother/daughter painting party. I planned it for a lovely Saturday afternoon in our backyard. It was easy to host and pull together with just a little prep work. First I set up the tables by covering them with white paper tablecloths. I found plastic-lined ones at my local Party City.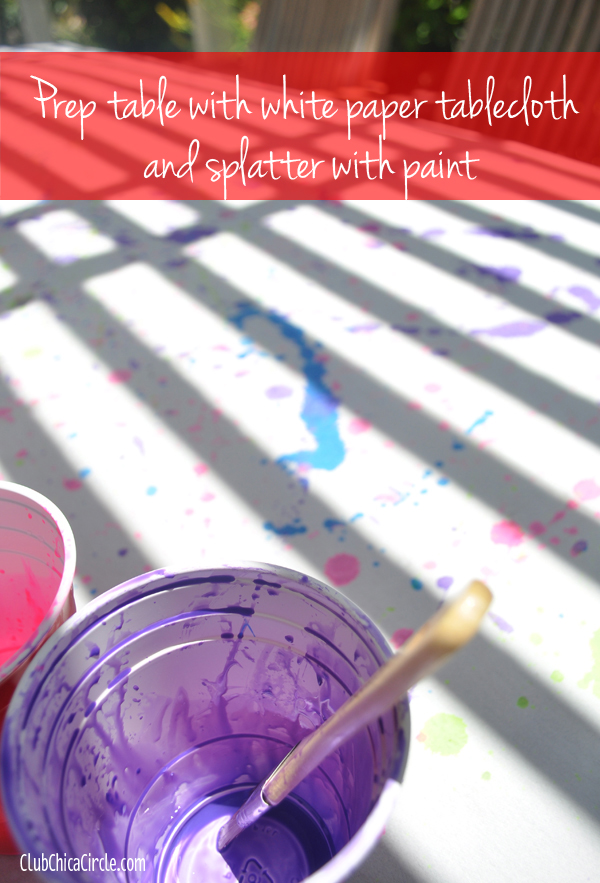 To carry the painting theme, I had my tweens splatter the tablecloths with some of the colors we would be using in the paintings. Then after the party, the tablecloths could just be pulled off the table, and I didn't have to worry about our guests getting paint on the table.
Then, I set up a snack and refreshment table. Keeping with the art theme, I made a "color wheel fruit dessert pizza" and sliced up colorful sweet peppers along with veggie spinach dip. I used a wood painter's palette as a serving tray. I also served yummy apple tea in mason jars for the guests. You may have tried an Arnold Palmer before, which is lemonade and iced tea mixed together, but I was recently introduced to how yummy apple juice and tea could be while attending Mom 2.0 and enjoying some Tree Top apple tea. For extra flavor you can add some fresh mint as well. I bought a jug of black tea for the adults, and a jug of green/white tea for the kids.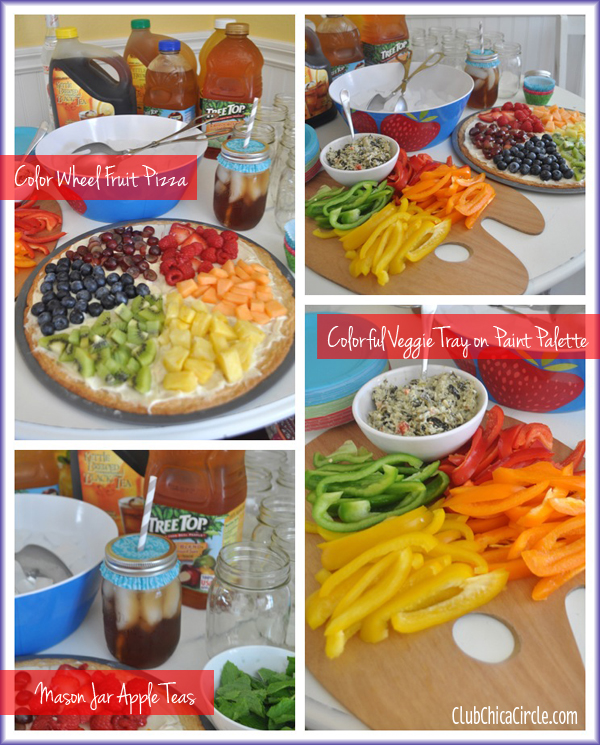 And because it was a warm afternoon outside, I used this quick cupcake liner trick I am sure I saw on Pinterest one day. I used a paper cupcake liner on the top of the mason jar, screwed on the rim lid, and inserted a straw through the top. This way no flies could get into anyone's drink. = )
After the guests arrived, and everyone had transferred the zebra pattern onto their canvases, we got started with the first step.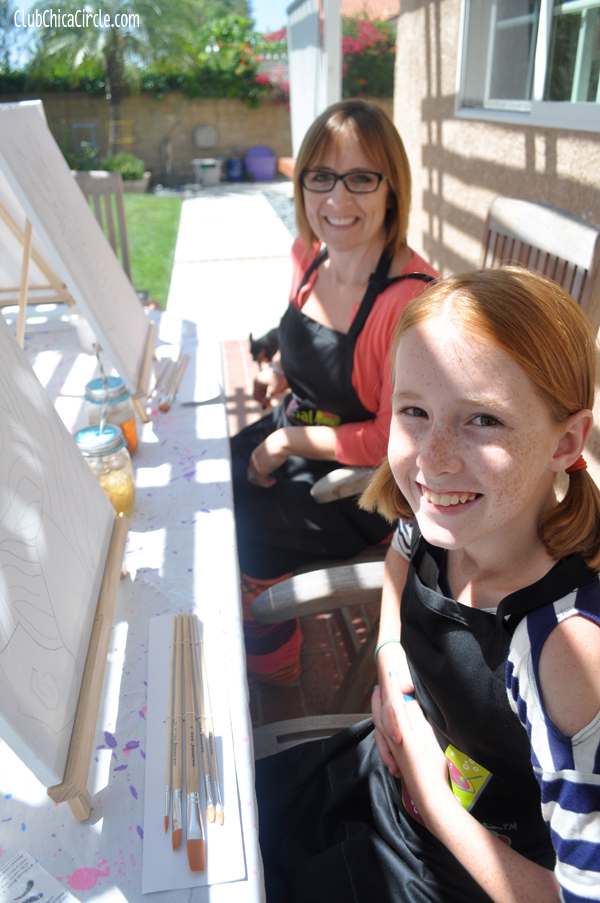 I led the group with the step-by-step instructions provided with the Social Artworking kit, and we all progressively made it through each phase of our electric zebra masterpieces.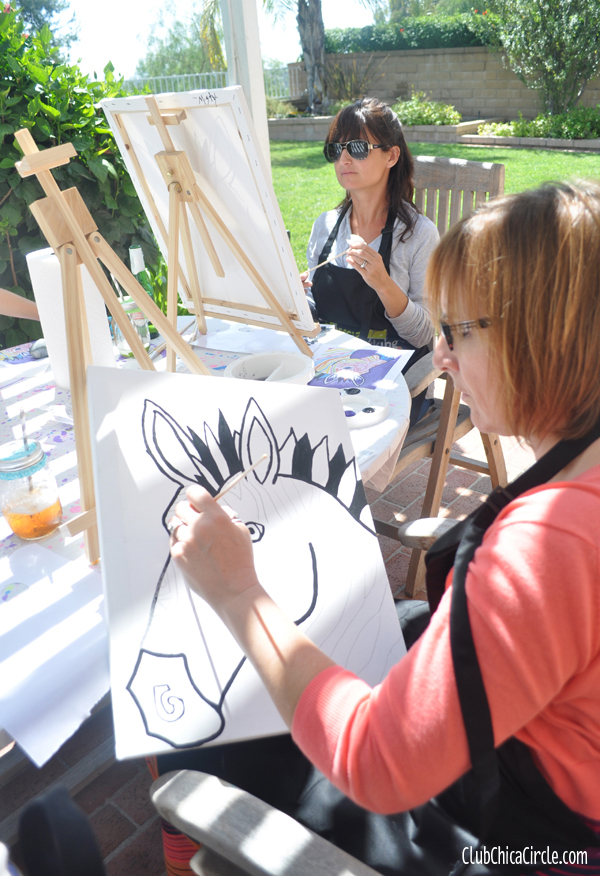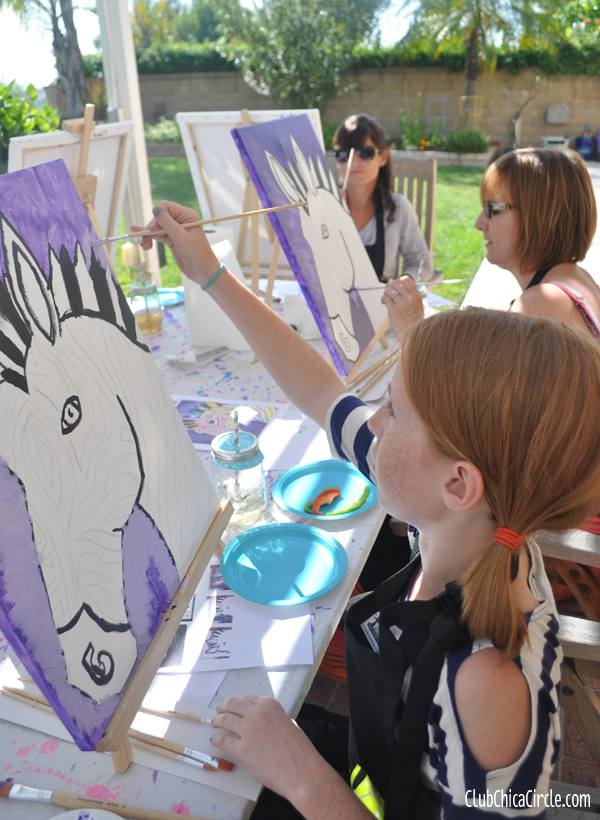 I'm not sure who had more fun – the moms or the girls.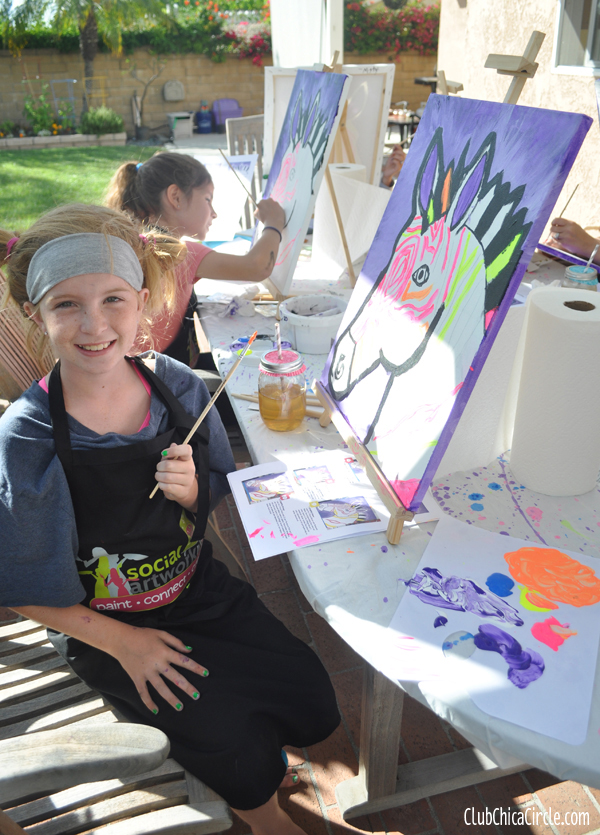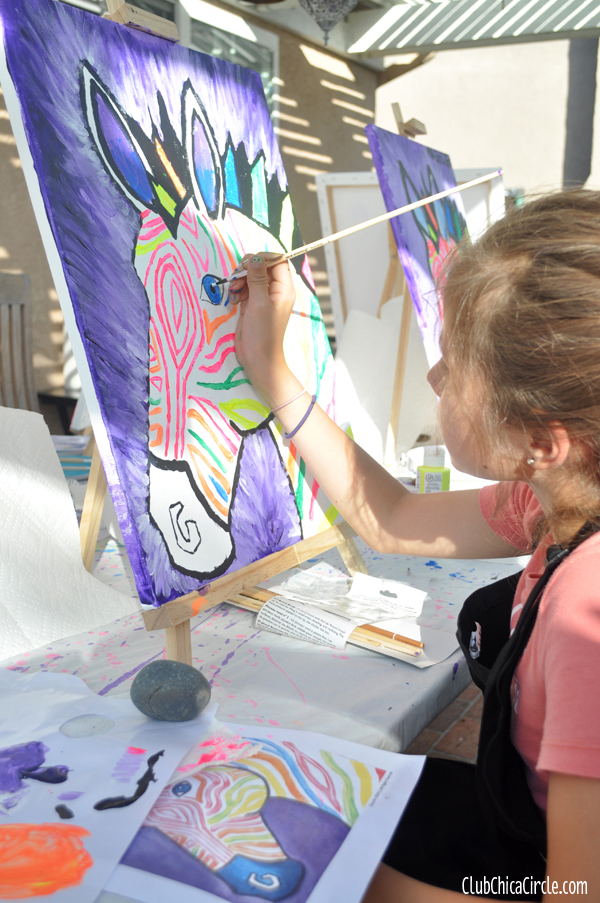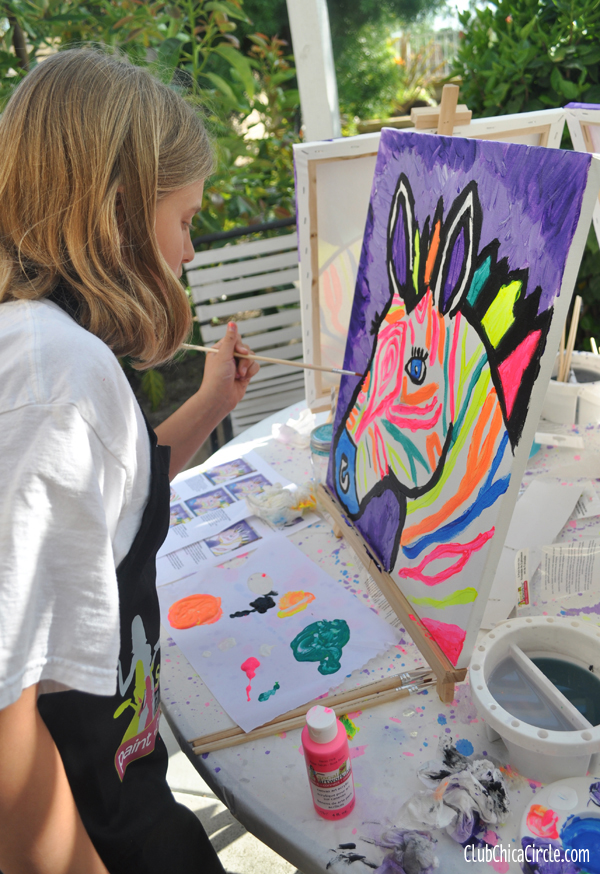 It was so cool to see how everyone's painting progressed. Even though we were all painting the exact same thing, everyone put in their own unique touches. Some added eyelashes. Some preferred thicker colored zebra stripes, and some preferred thinner. The suggested painting time is about 2 hours for this specific design. We took about 3 hours with a little snack break in-between.
I was amazed at everyone's results. Check the herd of colorful electric zebras!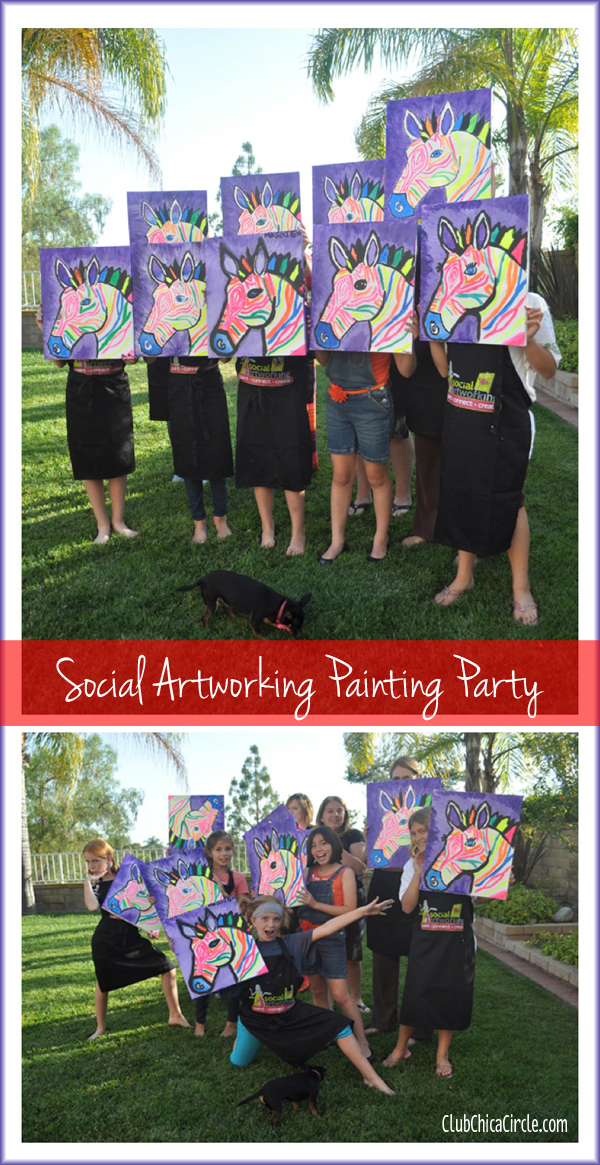 Everyone had so much fun, and in the end, they each got to take home their own masterpiece to hang on their walls, or in our case, prance around in….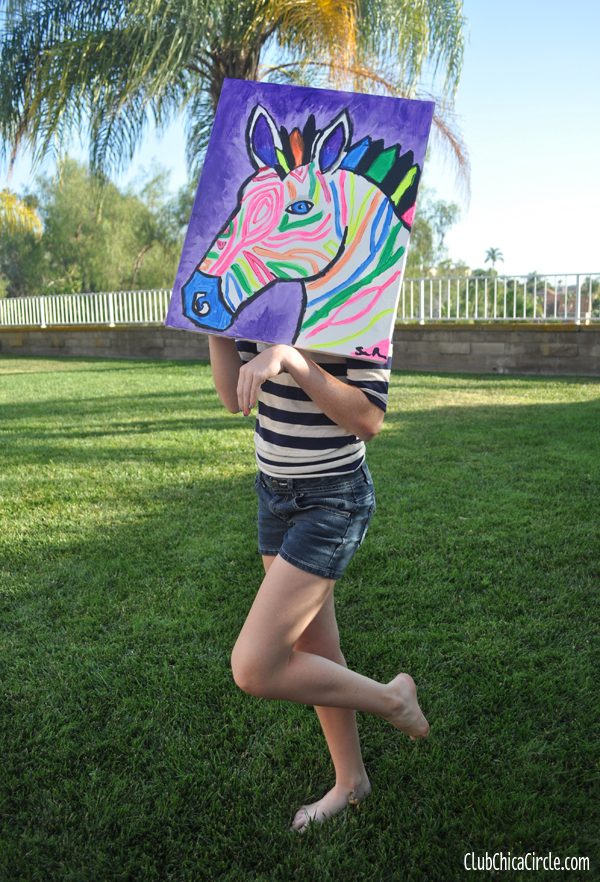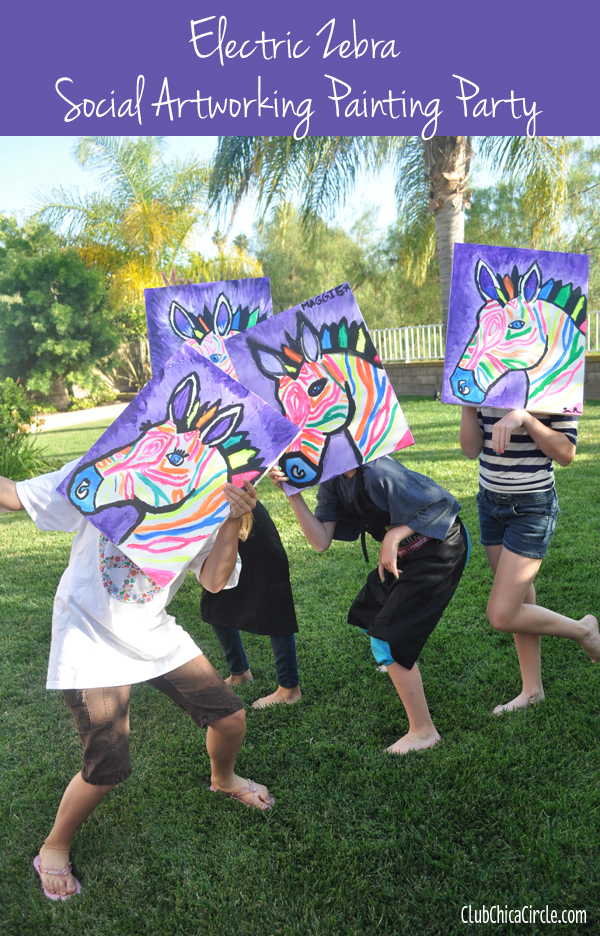 Love it! Check out the Social Artworking site for more details on how you can host or attend your own painting party.
Enjoy!
Disclaimer: I am a member of DecoArt's Core Blogger group and received free product along with compensation for this post. However, all thoughts, ideas and opinions are my very own!