Disclaimer: this post has affiliate links. All ideas, thoughts and images are completely my own.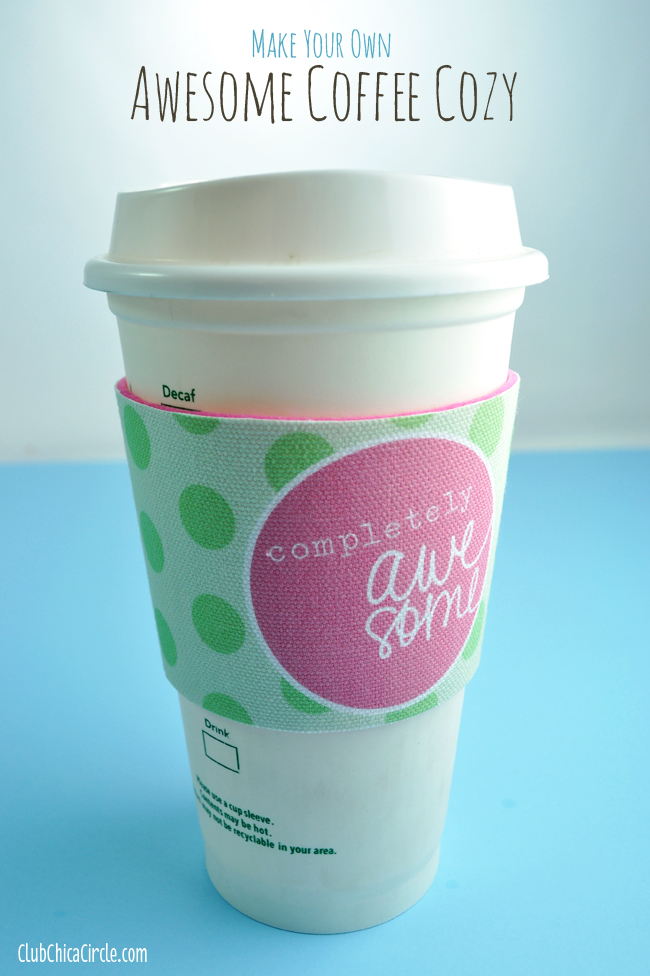 Ok, I promise, this is completely awesome!
First, I made this custom designed coffee sleeve in about about 5 minutes, after I printed out my designs onto this awesome PRINTABLE COTTON CANVAS from Silhouette.
Yep, I ran these self-adhesive sheets straight through my inkjet printer! The only other supply I needed to make these coffee cozies was sheets of colored felt.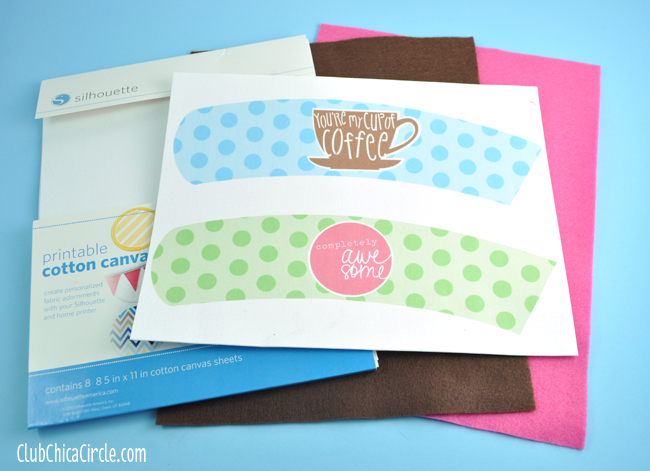 First I made a coffee sleeve template using Adobe Illustrator, saved it as an .svg file and then imported into my Silhouette Studio Designer program to customize.
You can grab the pdf download of the template here: Coffee Sleeve Cutting Template
The Silhouette Studio Designer software makes it so easy to create your own designs and connect to a ton of fun, super awesome designs in the Silhouette online store.
In the coffee sleeve designs above, I used YOU'RE MY CUP OF COFFEE (Design #55744) and COMPLETELY AWESOME (Design #58851) from the Silhouette online store.
And then I filled my coffee cozy sleeve template with a couple of the preloaded patterned already available in the software.
After I printed out my designs on my printer, there are two ways you can cut them out. If you print your designs from the Silhouette software, you can print with registration marks for the Silhouette machine to recognize and know where to cut out your designs.
I wanted the cut edge of my cotton canvas design to be flush with the felt sheet, so I chose to go the old fashioned way and cut out the two together. (You could cut out the cotton canvas design first, and then place on a felt sheet and cut it to the edge, but you can cut the two of them together in your machine.)
Because the cotton canvas sheets are self-adhesive, I used that to my advantage when creating the coffee cozy. I adhered my coffee sleeve design on top of a color coordinating sheet of felt, with the curved end (about an inch) hanging over.
Then I cut the two pieces together out with a sharp pair of scissors. The inch curved portion that I did NOT adhere to the felt is the flap that attaches to the outside and creates the perfect coffee cozy shape.

It is secure and ready to attach to your coffee cup. To make it super secure and more permanent, you can add a little extra fabric glue or adhesive on the flap.
Remember the trick is to make sure you create a curved flap by NOT putting attaching felt to that portion.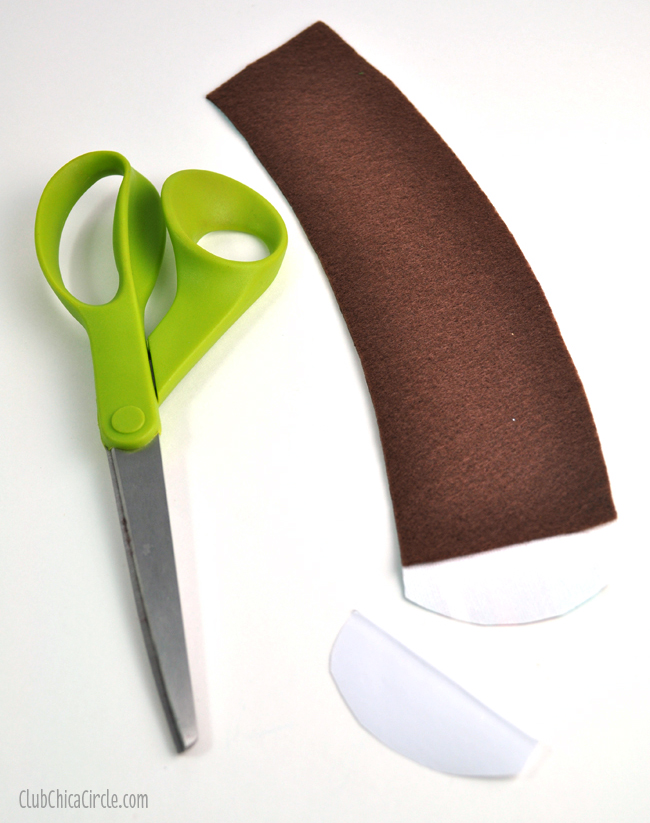 When you wrap it around the two straight edges of your felt match up and the tap wraps around it, securing it together.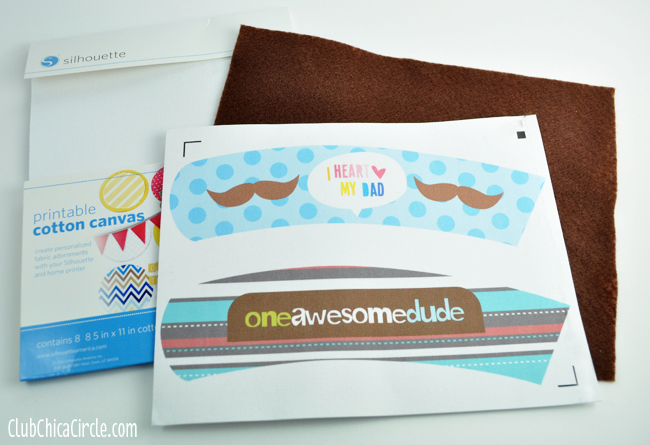 Once I started, I couldn't stop. And with Father's Day right around the corner, these would make really fantastic, quick and easy Father's Day gifts.
I used these designs from the Silhouette Online store: I HEART MY DAD & Mustache (Design #18726), ONE AWESOME DUDE! (Design #8572).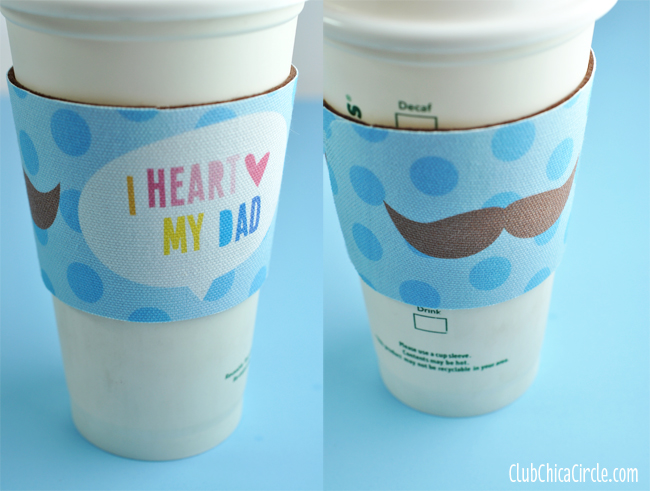 LOVE IT! Don't you think DAD would love a little breakfast in bed with a nice hot cup of coffee, with one of these custom designed coffee cozy sleeves?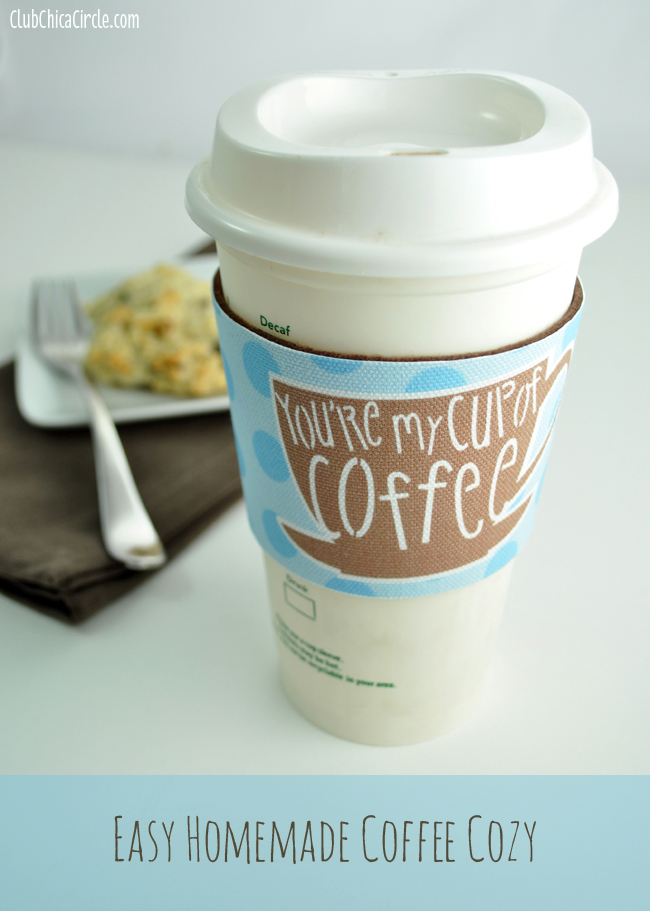 And because you all are MY CUP OF COFFEE, check out this great promotion running now on Silhouette: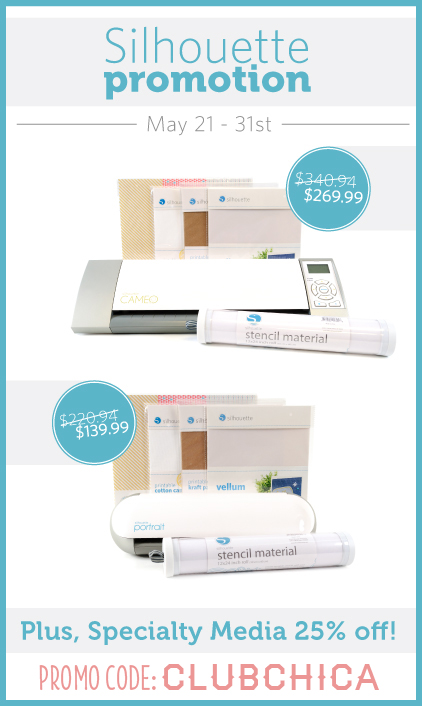 May 21 – 31, 2014
CAMEO Bundle
Silhouette CAMEO
1 Printable Cotton Canvas
1 Vellum
1 Adhesive Washi Sheets
1 Printable Adhesive Kraft Paper
1 Stencil Material
MSRP: $340.94
Sale: $269.99
Portrait Bundle
Silhouette Portrait
1 Printable Cotton Canvas
1 Vellum
1 Adhesive Washi Sheets
1 Printable Adhesive Kraft Paper
1 Stencil Material
MSRP: $220.94
Sale: $139.99
All Specialty Media 25% off

USE: CLUBCHICA promo code at checkout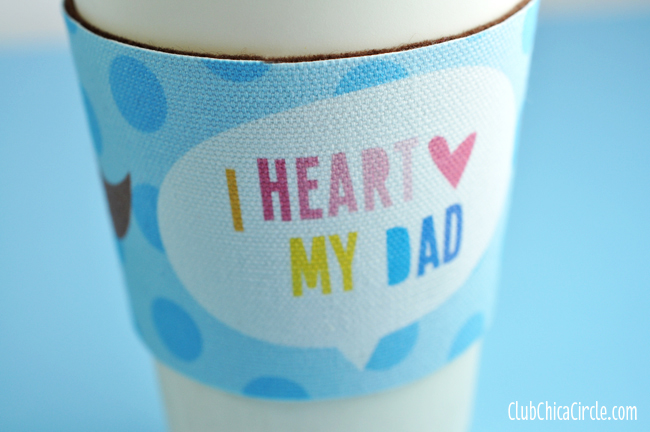 I absolutely HEART the printable cotton canvas, and I can't wait to try the printable temporary tattoo sheets or the stencil material on more crafty projects!
Happy Crafting!
If you liked this post, and want more, you can subscribe to be on our mailing list here, and make sure to get your free Cupcake Toppers Printables for Every Occasion.

Feeling social? Follow ChicaCircle on Facebook or Twitter, and follow me on Pinterest or Instagram.