My girl doesn't like to read. She is a creative soul, and she loves math and art, but reading isn't her strong suit, never has been. I know I was the same way when I was her age. A book really had to grab me before I actively wanted to read something. And growing up, I usually only read because it was a required assignment for school. Reading is so important, especially during the Summer months. I don't want her to lose the learning momentum she had at the end of the school year. My niece, on the other hand, can devour a book in a couple of days. My girl needs a little more motivation.
So, how do you motivate your child to read when they aren't a natural reader?
One idea is to read with them. I don't think I ever read for pleasure until I was an adult, and one of my favorite series is the ever popular Harry Potter series. Honestly, these books aren't just for kids. I read the whole series multiple times before my daughter was even born. I couldn't wait until she was old enough, so that we could enjoy the Harry Potter series together. I still like to read with her at night before bed. It's our own one on one time. We are in the middle of Book 4 right now. Our tradition is to read a book in the series and then plan a mother/daughter Harry Potter movie night viewing the book we just finished reading.
Another idea is to create a special reading space or "nook". Today I'm sharing my tween's new reading nook that I recently hung in her room.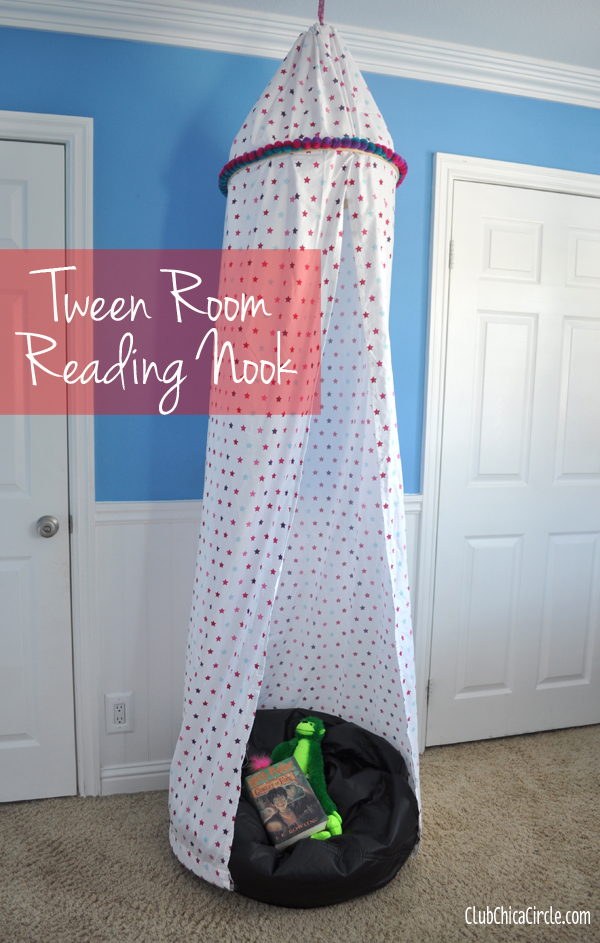 I started with a fun patterned twin sized flat sheet and an XL 18″ embroidery hoop that I found at my local Michaels.
I folded over about 3″ on the top and bottom of the sheet to create two open seams. On the top seam, I strung a about 2′ of ribbon through and tied it together to gather it together into one small circle.
Tip: it is easier to string a soft ribbon through by attaching a safety pin on one end. That way you can feel for the safety pin and more easily string it all the way through.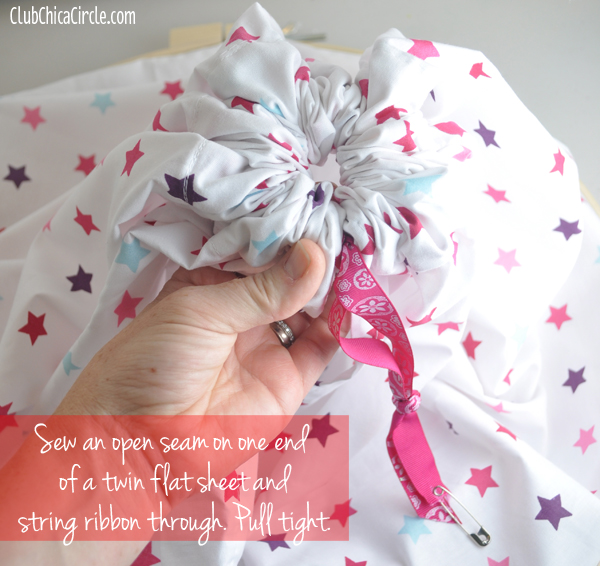 Then I attached the large embroidery hoop around the sheet about 18″ from the top to create the top canopy section.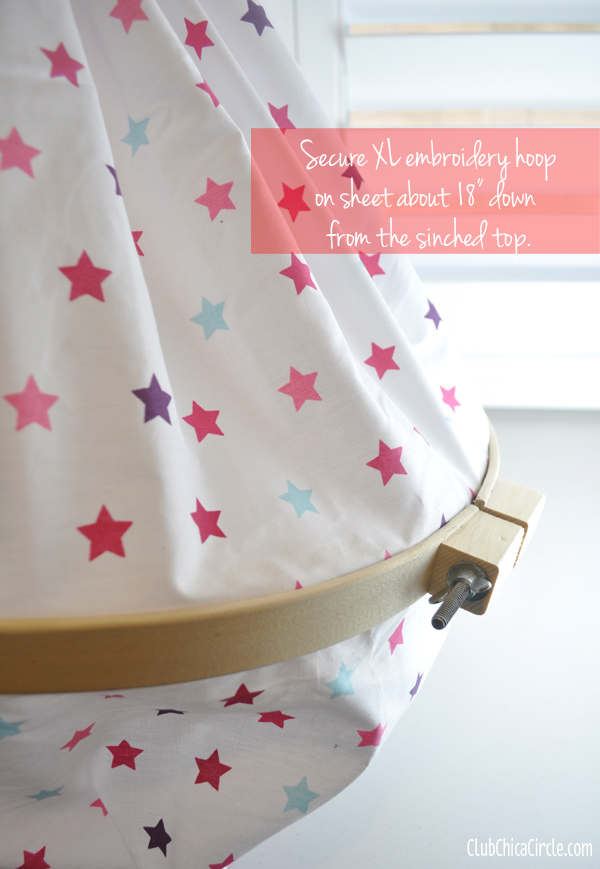 Then I used a length of plastic clear tubing that I found at my local hardware store. They sell it by the foot, and it is normally in the plumbing section. I used about 6′ of tubing and strung it through the bottom open seam. This gives it the needed weight and rounded shape for the reading nook to hang nicely.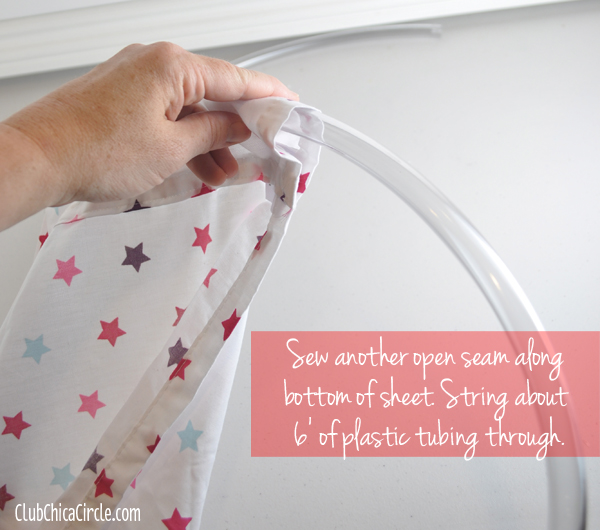 Finally, I added a little flair to the outer edge of the embroidery hoop by adding a fun multicolored pom pom trim that I also found at Michaels. I attached it with my glue gun.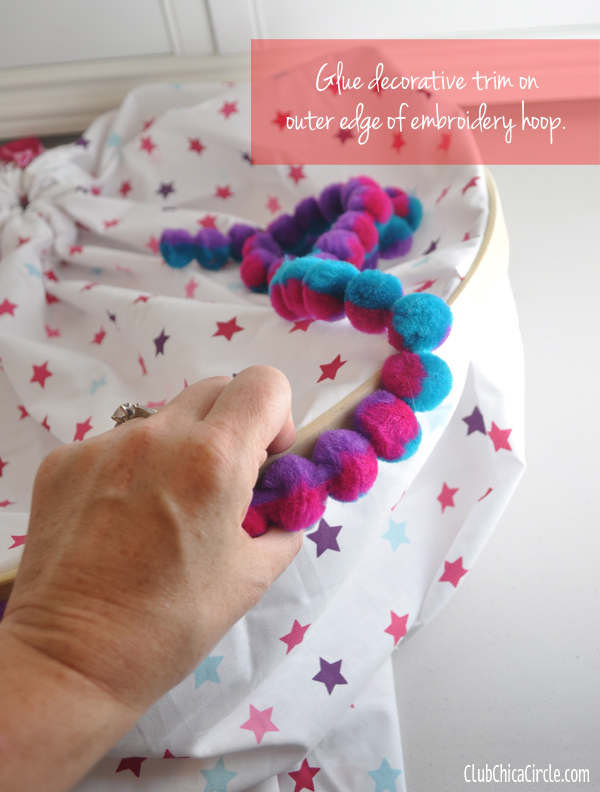 That's it! The rest was just hanging it from the ceiling.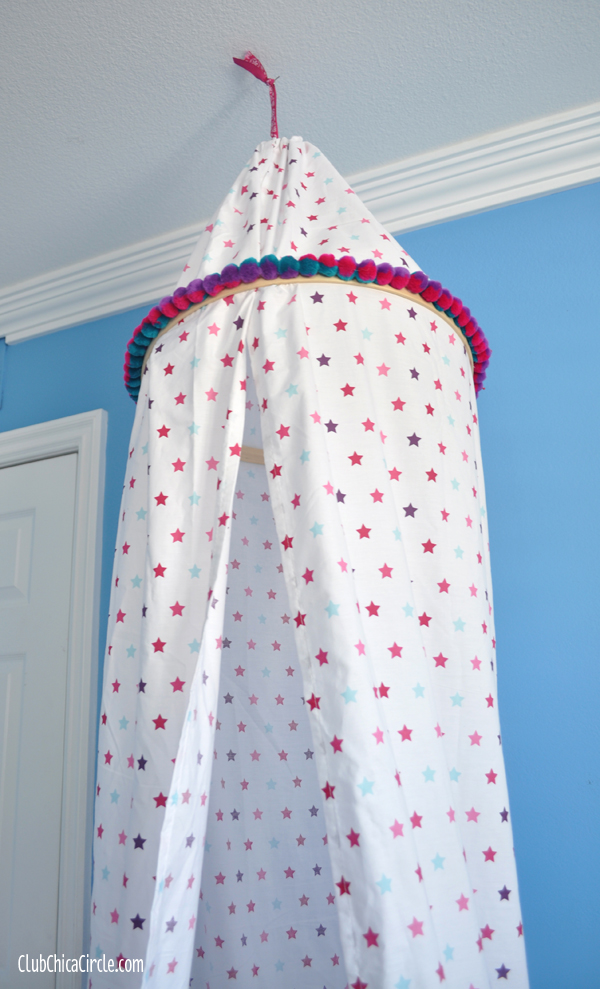 For ease of use, I found these "Super Hooks" that simply go into your wall or ceiling making only a small hole. They are shaped in such a way that the end of the hook grabs onto the wall on the inside and uses the power of gravity to hold it into place.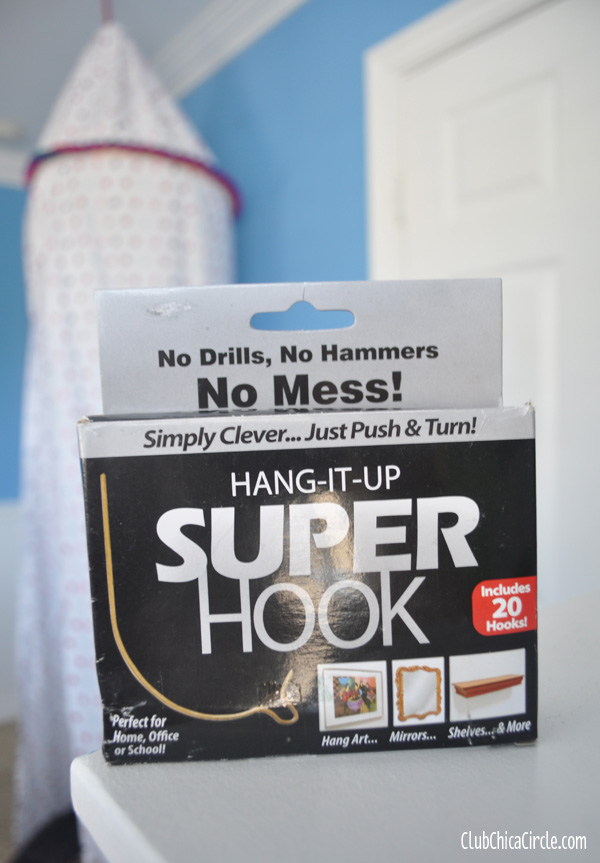 I put a cushy bean bag at the bottom of the reading nook, and it was ready for my girl to test it out.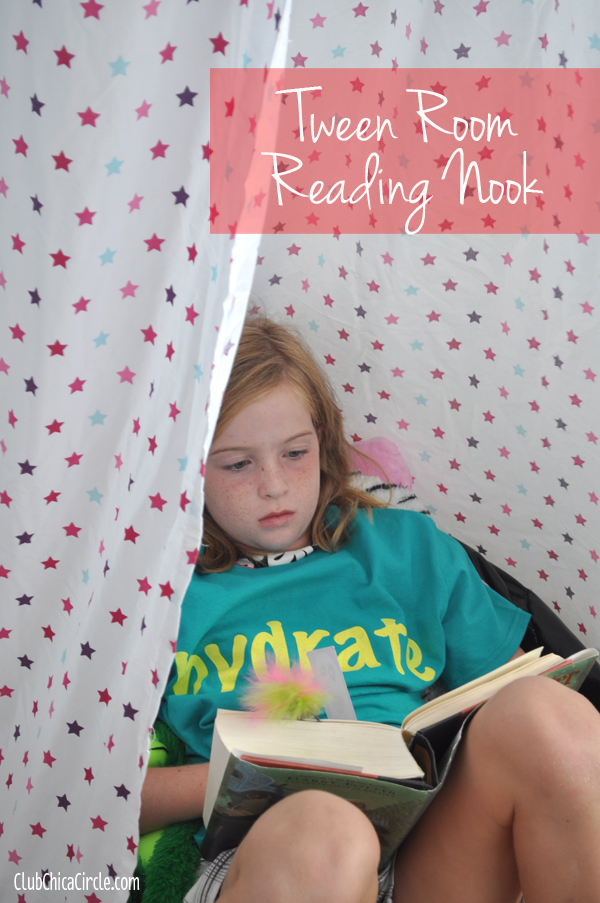 Success! Her words: "Stop taking pictures, and let me read Mom!" = )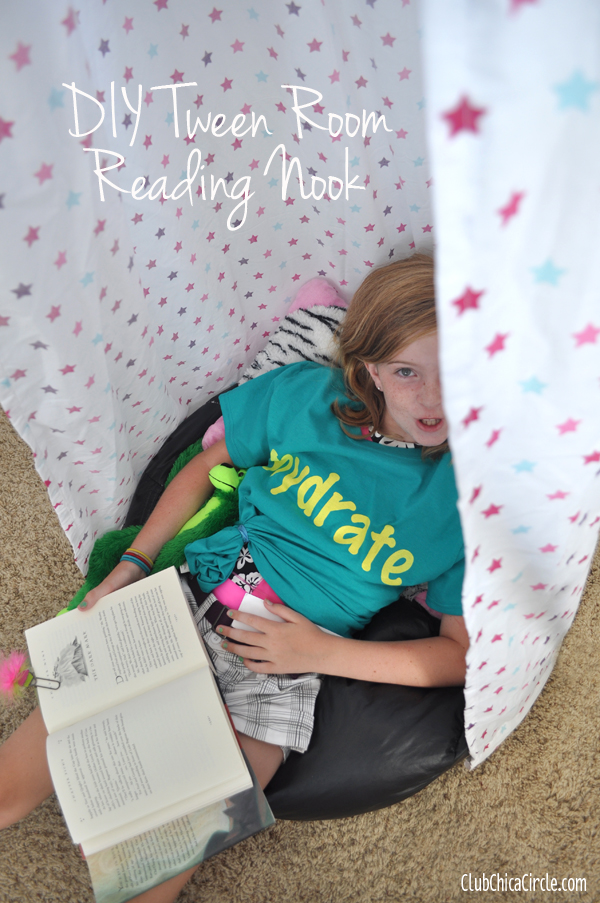 I would love to know how you keep your tween motivated to read. Tell me in the comments below.
For more tween room decor ideas, check out our "room under the stairs" idea.
Happy crafting!
If you liked this post, and want more, you can subscribe to be on our mailing list here.
Feeling social? Follow ChicaCircle on Facebook or Twitter, and follow me on Pinterest or Instagram.