As a member of the DecoArt core blogger team, this post is brought to you in part by DecoArt. All thoughts, crafts, photographs, and ideas are my own.
Summer is in full swing. Are the kids bored yet? Here is fun backyard neighborhood game idea that kids can make themselves with just a few supplies.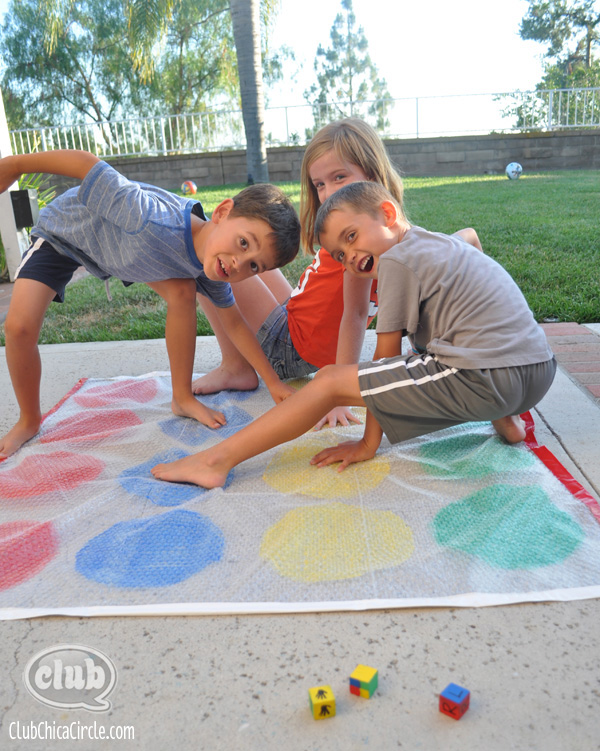 The first supply is one that I am sure your kids are familiar with – bubble wrap. Do you remember how fun it was when you first discovered the satisfying pop noise that bubble wrap makes when you pop the bubbles? Take that and the classic game Twister, and you have your own backyard game that POPS!
The second supply I used for this homemade backyard game, is one that you may not think of. Have you ever used paint writers to decorate car windows or make posterboards with? I used DecoArt Team Spirit Writers for this craft idea. You can find Team Spirit Writers at Jo-Anns. Here is a great example of how these paint writers can be used to decorate a car from Whipperberry. I decided to use them on the back of bubble wrap. The large nib makes it so easy to apply, and since they are perfect for glass or posterboard, I thought, why not plastic bubble wrap. Right?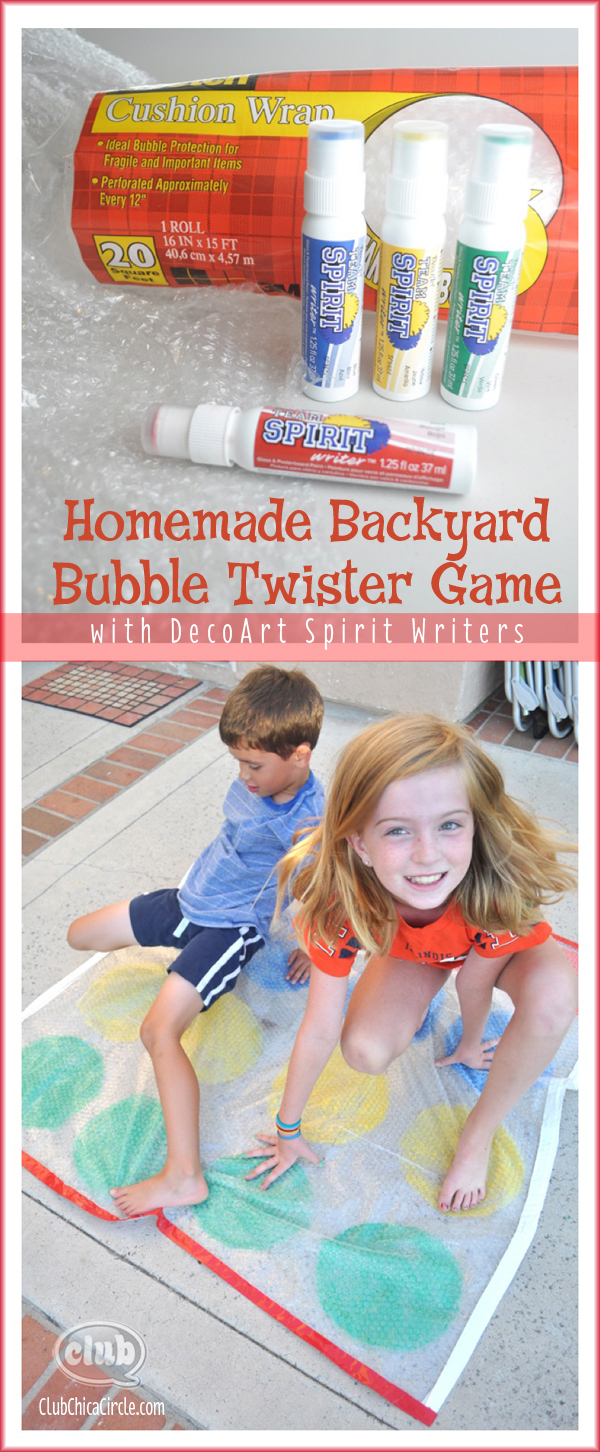 For a bit of fun weekend crafting, my tween and I constructed our own bubble Twister game board. We started with a large roll of bubble wrap, 16 inches x 15 feet.
We lined up 3 rows of bubble wrap, 4 feet each, and taped them together with clear packing tape.
Then, we lined the edges of our bubble wrap board with duct tape for a little more stability.

Using a regular sized paper plate as a template, we painted in 4 rows of colored circles using the red, blue, yellow, and green Team Spirit Writers from DecoArt.
The trick is to color in your circles on the smooth side of the bubble wrap, and play the game on the bumpy bubble part.
We also created our own Twister dice to determine what color and limb to place on the board. If you already own a Twister game, you can certainly use the original spinner, but here is another DIY way to play the game.
I had a few wooden blocks leftover from my graduation gift message in a bottle craft, so I decided to use them. I used Americana Acrylic paints  in Red Alert, True Blue, Bright Yellow, and Bright Green to match the game board circle colors,  along with a black Sharpie marker.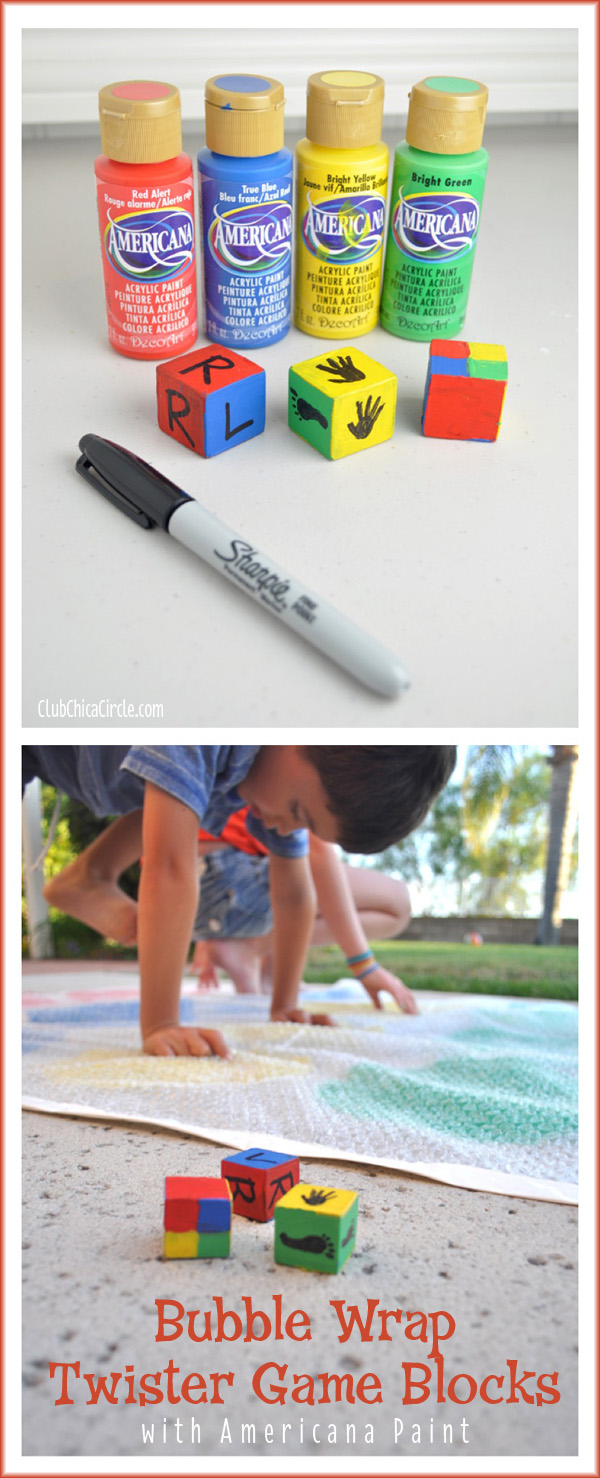 One block is for what color to land on, the second one is for right or left, and the third block is for hand or foot. You with me?
On the first block, we painted each side one of the four colors. Then the remaining two sides, we painted a grid with all four. We made up our own rule for the multicolored side. If it landed on this side, then it was player's choice on what color to land on.
Then on the second block, we painted three sides red and three sides blue. When the paint was dry, I drew the letters "R" for red or "L" for blue on top.
The final block we painted three sides yellow and three sides green. When that paint was dry, I doodled in handprints on the yellow and footprints on the green sides.
Then one player rolls the "dice" for the other players to maneuver on the bubble wrap game board. For instance, the roll above would be "left hand on red".
My girl called over some neighborhood friends to test out our homemade bubble wrap Twister game. The results were hilarious!
I rolled the dice first while the kids played the game. They got into some pretty funny situations. What I wouldn't give to be that limber again!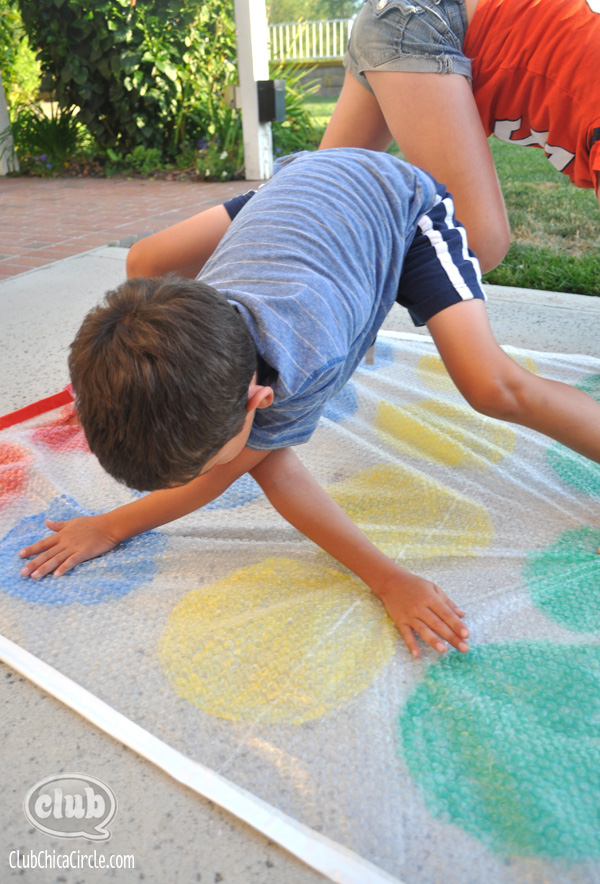 And I got a few, "Mom, his butt is in my face" giggles.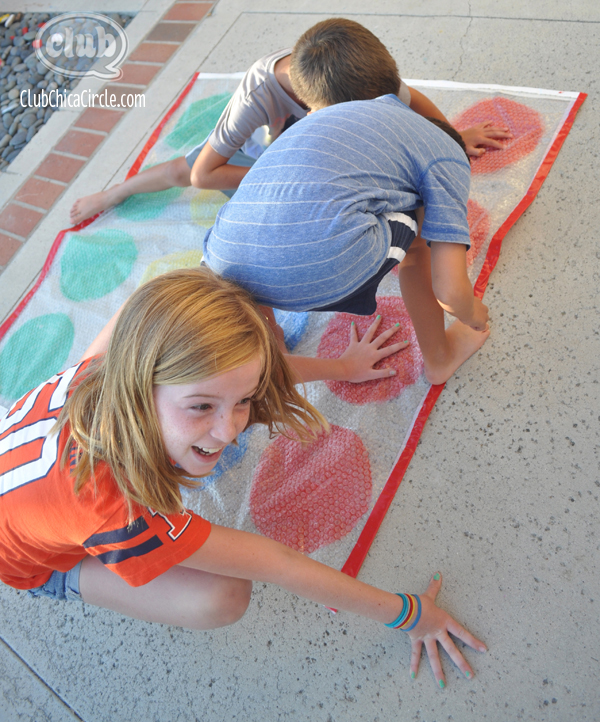 They played until someone fell over.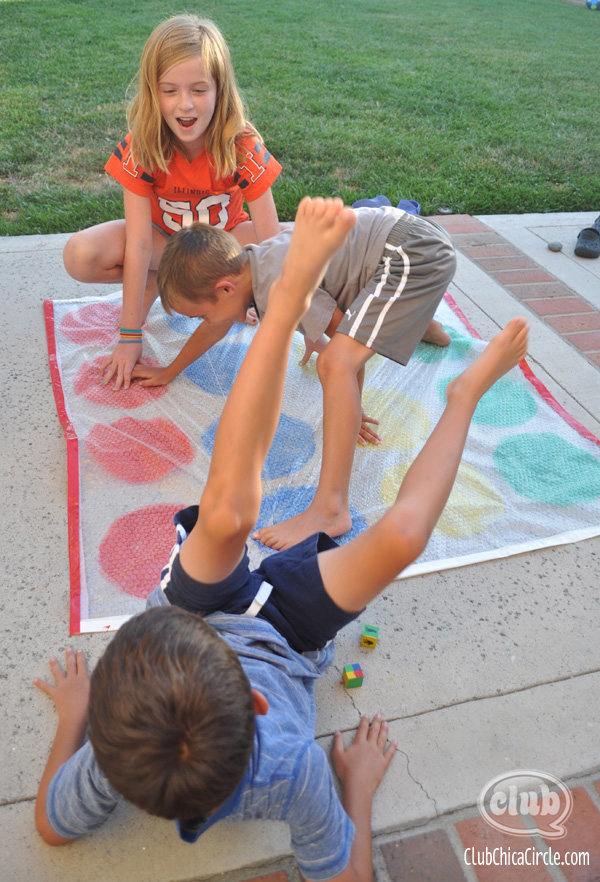 Then they decided to try a two-man game, with the third friend rolling the dice.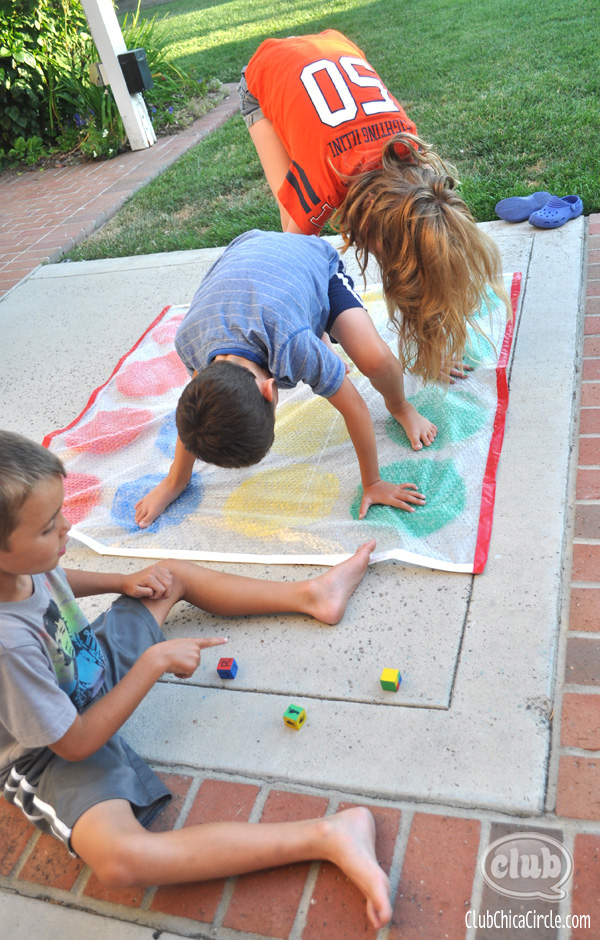 Our dog even tried to get in on the action!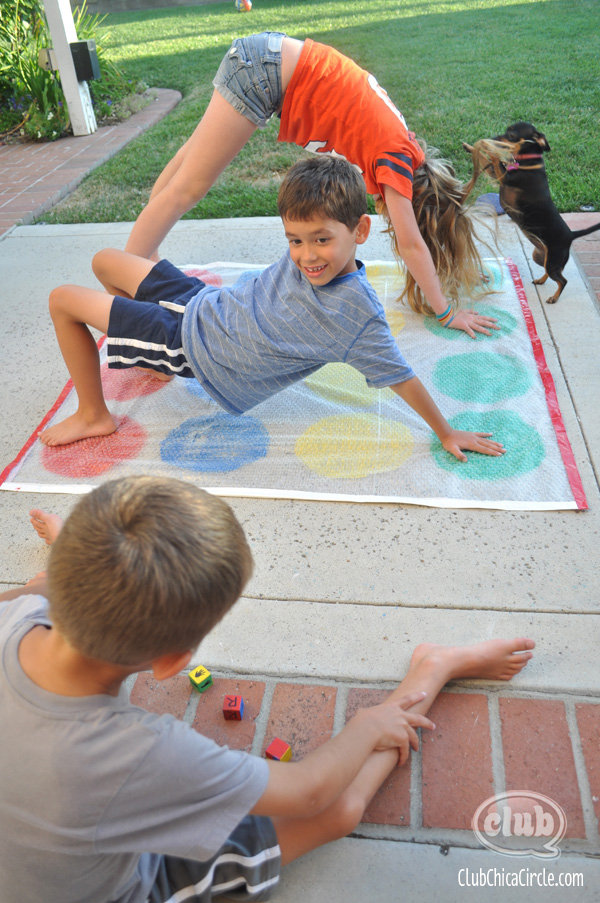 It was a successful afternoon craft and game. Perfect idea for a boredom busting Summer craft for kids.
Hope you and your kids are enjoying the Summer. Happy crafting and enjoy!
If you liked this post, and want more, you can subscribe to be on our mailing list here.
Feeling social? Follow ChicaCircle on Facebook or Twitter, and follow me on Pinterest or Instagram.