We definitely know what Girl Scout cookies mean and taste like in our house. My girl has been selling them with her troop since she joined Girl Scouts in 1st grade. And her troop is prepping for another year of cookies sales in the Spring. One thing I do know is that there is something very distinctive about Girl Scout cookies. When I was recently asked to try out the New Coffee-Mate Girl Scout flavors, I jumped at the chance. But I also knew that I could enjoy some of my favorite flavors in more than just my coffee.
In today's post I'm showing you two yummy ways to enjoy the new Coffee-mate Girl Scout flavors other than in your coffee!
Number 1: Make your own Girl Scout cookie flavored doughnut glaze.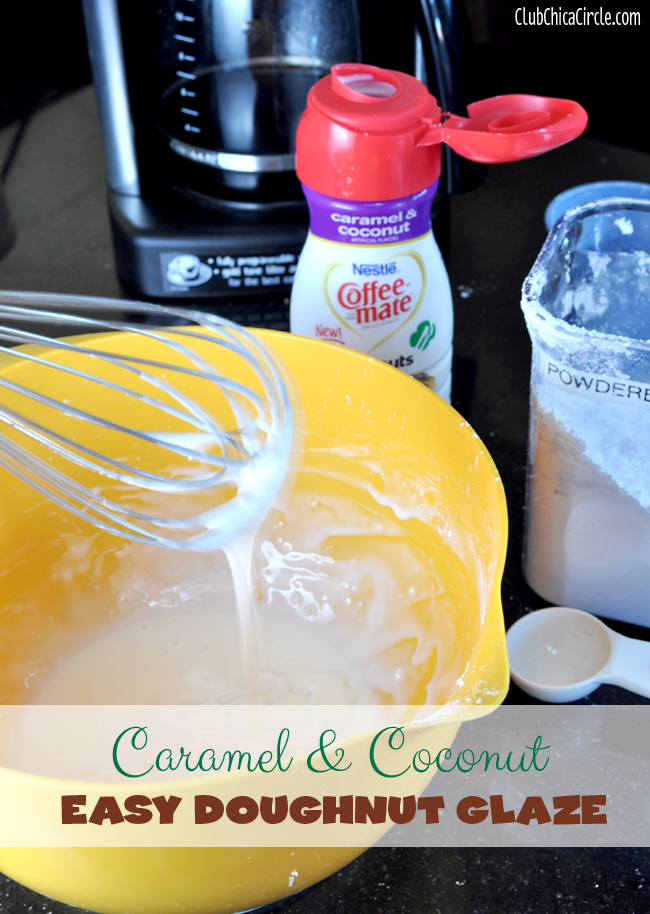 And for a new twist on a doughnut, try a baked "cronut" version. If you have never heard the term before, it's a croissant shaped like a doughnut.
I tried the super simple shortcut way to do this in my kitchen using crescent rolls.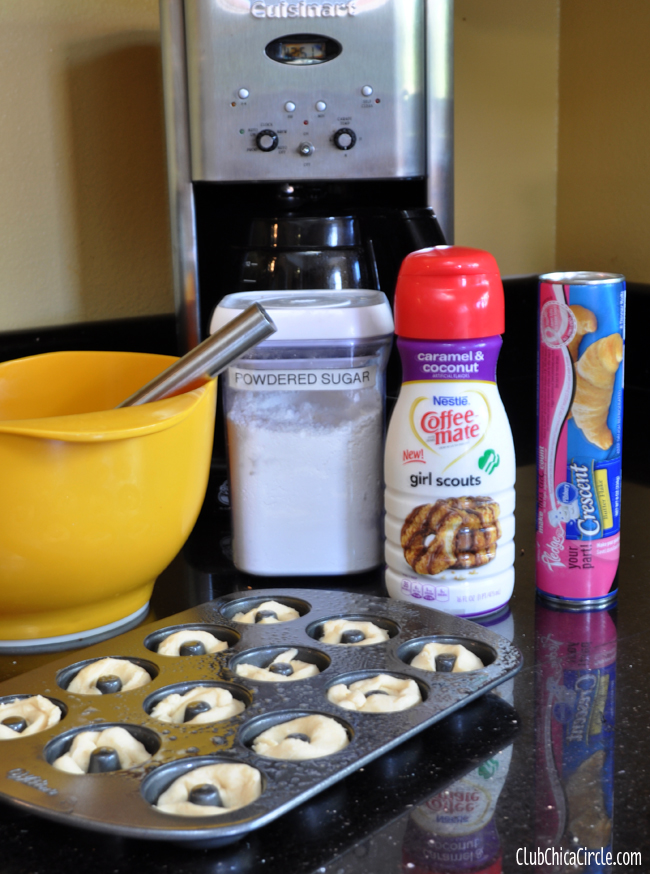 I've made tons of baked doughnuts for my family using pancake batter in my nonstick donut pans, but this time I wanted to give a "cronut" a whirl. Or should I call this version a "cresnut"?
Either way, the results were yummy. In my mini doughnut pan I broke apart each crescent triangle into thirds and wrapped it around the doughnut shape. For my regular-sized donut pan, I wrapped one whole crescent roll triangle into each circular cavity.
Then I baked them in the oven according to the directions on my crescent roll package, but kept a watchful eye on them until they were golden brown.
For super delicious Girl Scout cookie flavored doughnut glaze, simply mix together 3 tablespoons of Coffee-mate Girl Scout flavored creamer with 1 cup of powdered sugar. I used the Caramel & Coconut flavor to make the doughnut glaze, but I am sure the Thin Mint variety would have been just as tasty!
Then simply drizzle on top of the baked "cronuts" or "cresnuts" and enjoy. Sprinkles are optional. = )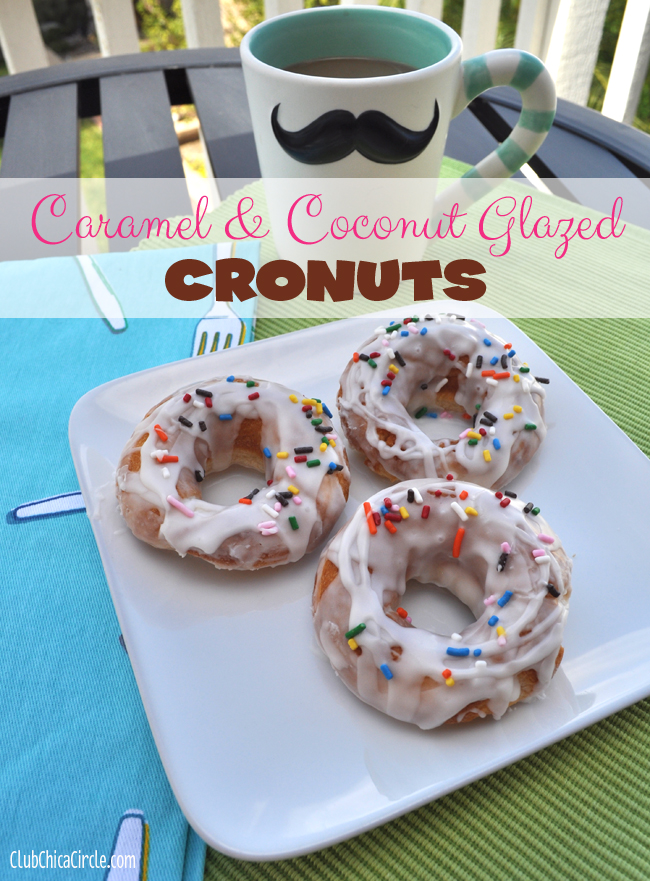 2. Make Girl Scout cookie flavored whipped cream.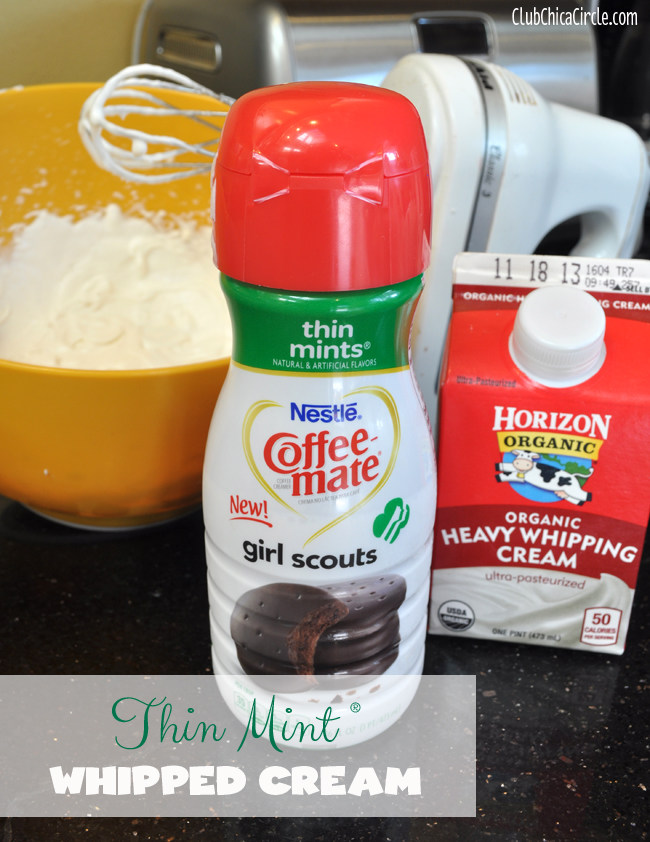 Have you ever made homemade whipped cream before? If you haven't, it is so worth it for a special occasion and so easy! All you do is use a hand mixer, or even a whisk and muscle grease, to mix together 1 cup of heavy whipping cream, 1/2 cup of sugar, and vanilla extract, and whip until fluffy and stiff.
To make Girl Scout cookie flavored homemade whipped cream is even easier! I mixed together 1/2 cup of Thin Mint Coffee-mate creamer with 1 cup of heavy whipping cream and mixed it up until stiff.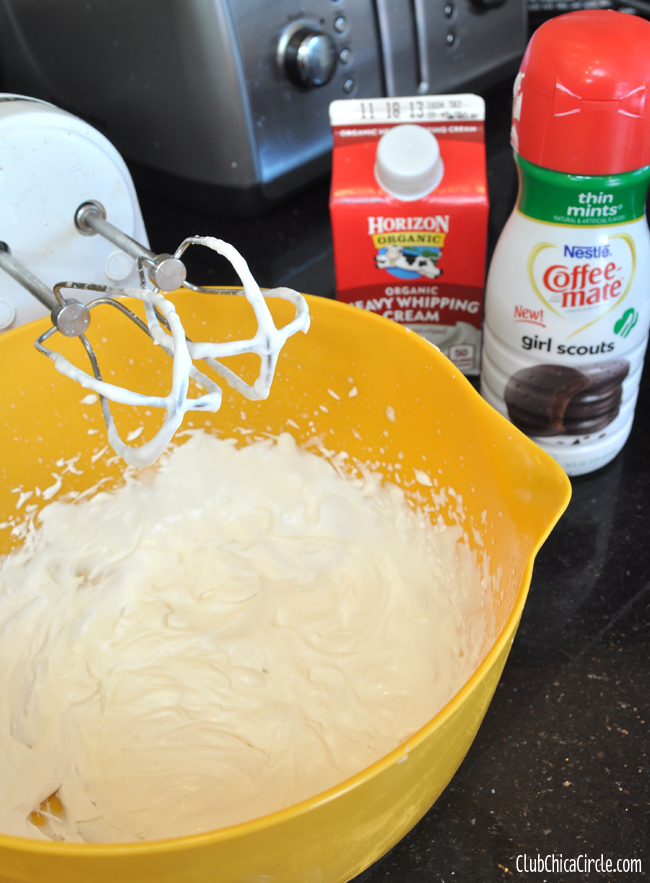 Then just top on top of your favorite treat. I made up a batch of fudge brownies, and just let me tell you, a dollop of Thin Mint homemade whipped cream took it to a new level.
Yum!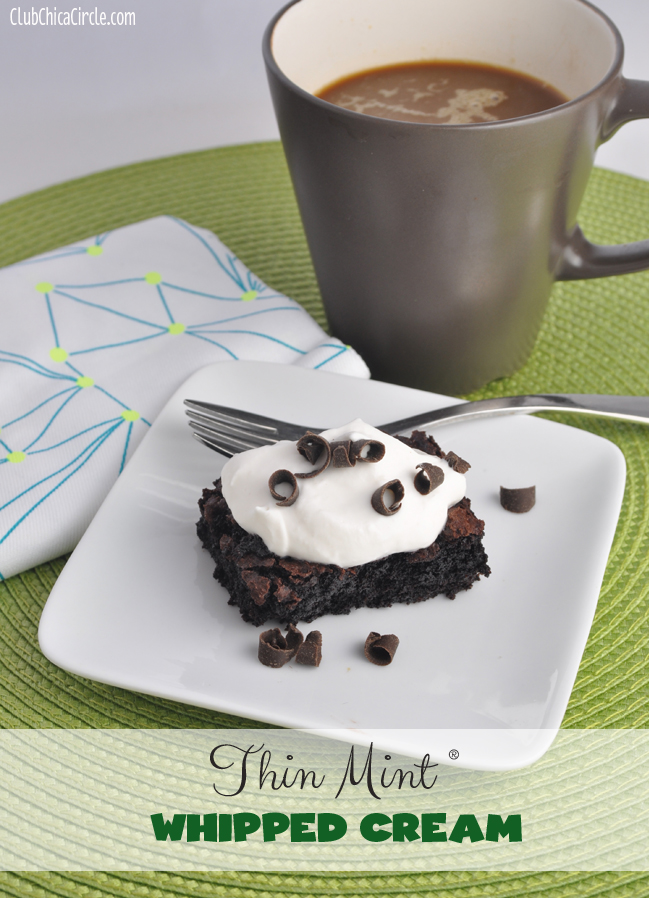 Oh, and you can enjoy the new Coffee-mate flavors with your coffee too!
And check out this hilarious commercial featuring Abby, a real-life Girl Scout and super star. Makes me giggle every time.
Enjoy!
If you liked this post, and want more, you can subscribe to be on our mailing list here.
Feeling social? Follow ChicaCircle on Facebook or Twitter, and follow me on Pinterest or Instagram.
Disclaimer: Although I was given free samples of Coffee-mate Girl Scout flavors to test out, I was not compensated for this review. All thoughts, ideas, photographs are solely my own.