Disclaimer: this post is sponsored by DecoArt. All opinions, ideas, and images are completely my own.
Don't you love when you find a treasure at a garage sale, and just know that you can reinvent it into something else?
I recently found this lonely cabinet door at a garage sale near my neighborhood. I paid $2 for it and couldn't wait to give it a new look and different purpose than just a cabinet door.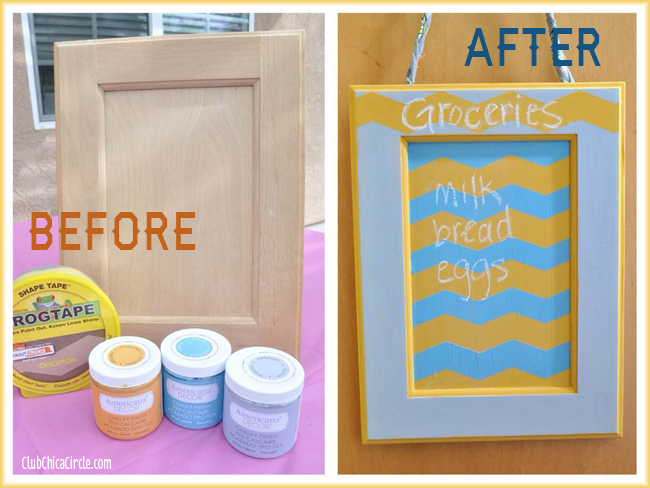 With the help of Americana DECOR Chalky Finish paints and chevron shaped Frog Tape, I turned this boring old cabinet door into a cool memo chalkboard.
It now hangs just as you enter my kitchen, and can be used as a family memo board, for groceries list, notes, or chore lists, etc.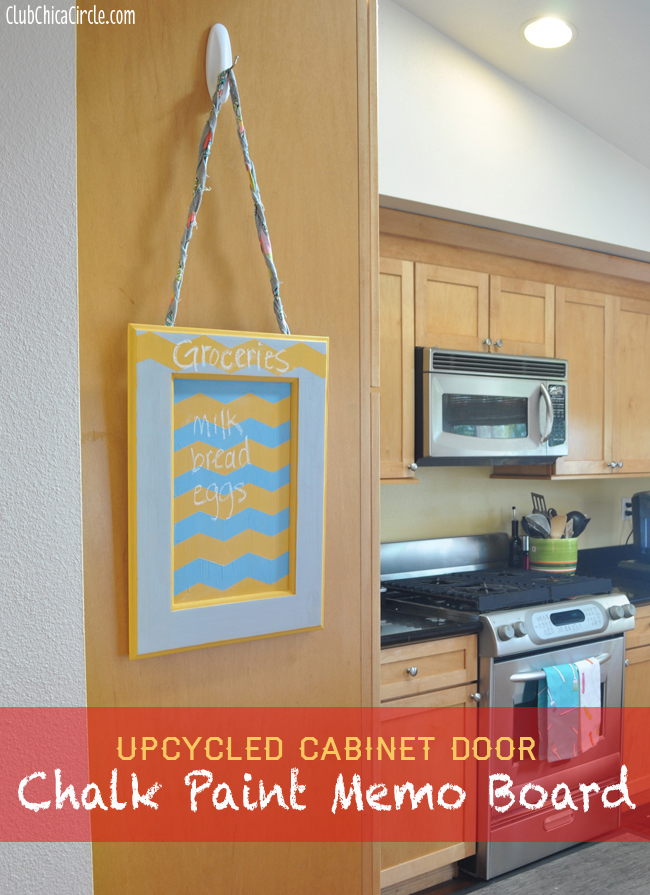 I cannot say enough how much I love this paint. First of all, it comes in a huge variety of colors. Second, I love the fact that you can put it on most any surface WITHOUT any  sanding or priming. Seriously, that is huge for me, the sometimes impatient crafter that I am. Third, I love the chalky finish feel it leaves, which in this case I chose to actually use as a "chalky surface", but the Americana DECOR line also has a variety of waxes and varnishes to finish it off if you choose. And starting in March, the new chalky finish paints are available IN Home Depot stores. They were previously only available online.
I used this cool paint when I gave my daughter's old play table new life, and turned it into a really cool chalkboard table. And I have some new projects I'm cooking up with this versatile paint that I'll show you coming up.
For my cabinet door turned super fab chalk chevron memo board, I used the chalky finish paint in pretty Heritage gold, Escape blue, and serene Yesteryear gray colors.
I also wanted to add some design to it, and couldn't wait to try out the FROGTAPE chevron shaped tape. I've used FrogTape before when I turned a cement block into a holiday lawn ornament present. This time I couldn't resist trying out the chevron shape tape.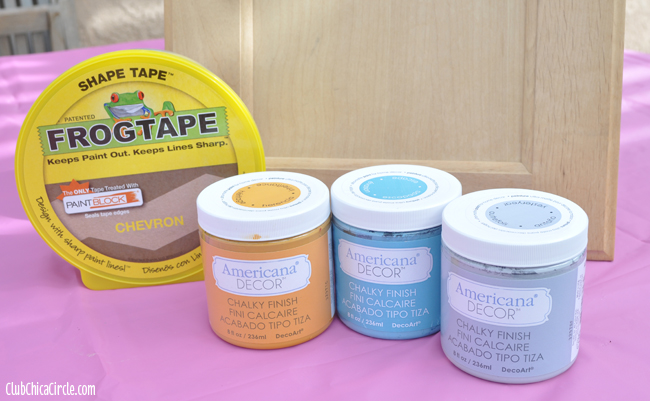 Like I said, no priming or sanding needed. I started with applying the Heritage gold paint color right onto the front of the cabinet door. I gave it two coats for full coverage, letting the first coat dry for a couple hours first.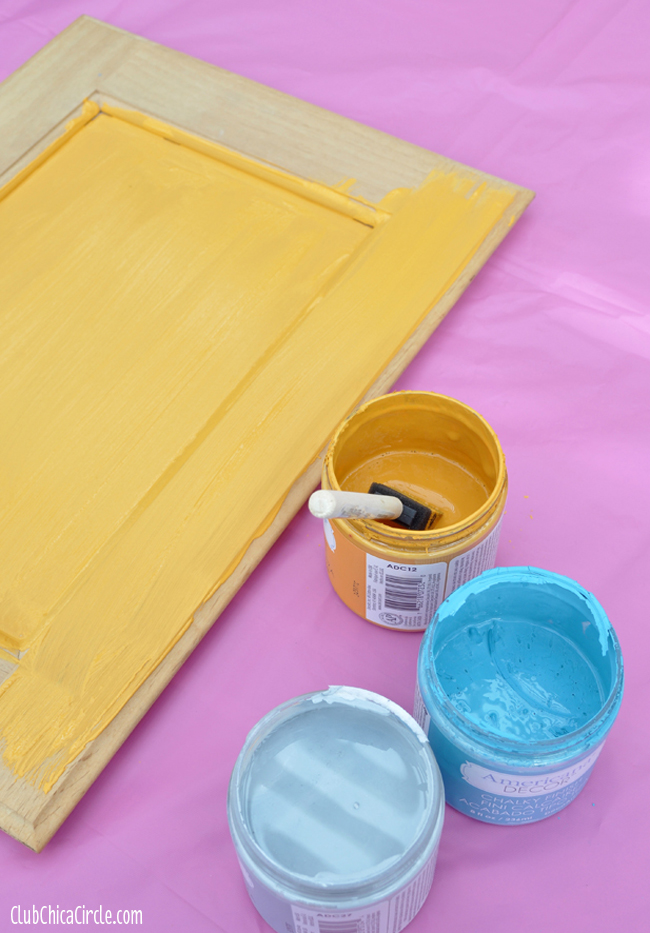 Then I applied the chevron shape tape on the dried surface on front to create my design.
I wanted the inside section to be chevron, and I added an extra chevron stripe along the top.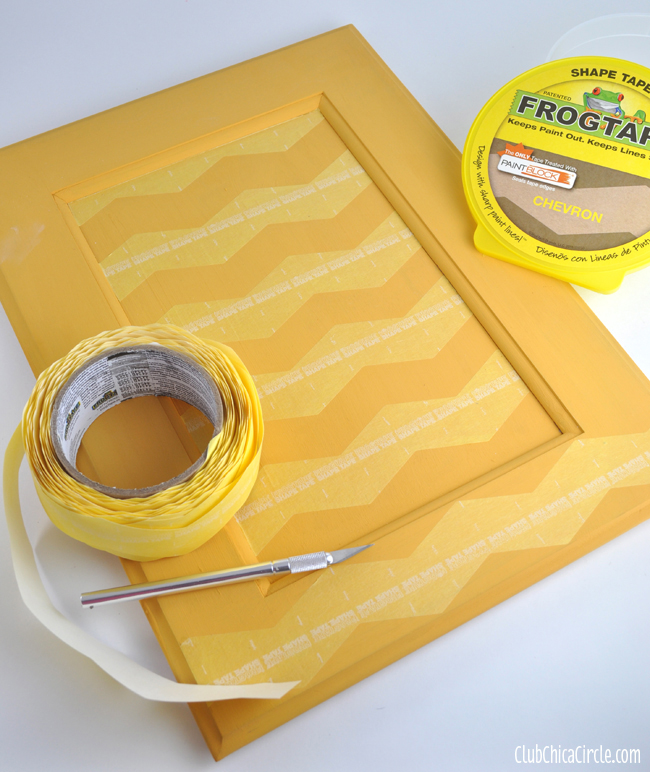 Then I added the blue Escape color in the middle, and carefully painted the Yesteryear gray color all along the edge.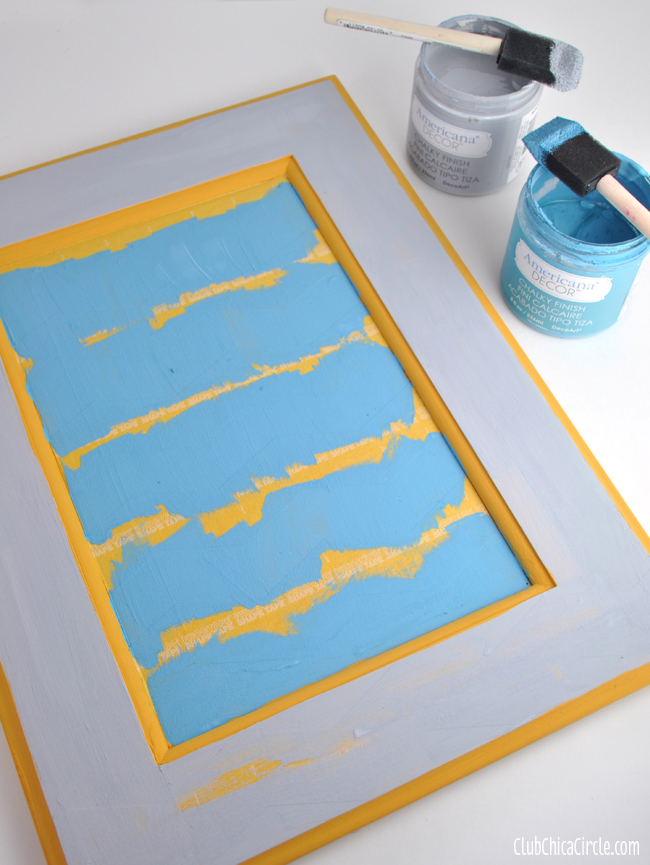 I also wanted to make my new memo board a hanging board, so I braided three strips of coordinating fabric together and used a staple gun to attach it to the back of my board. I used a removable 3M Command damage-free hook that could hold up to 5lbs to hang my board.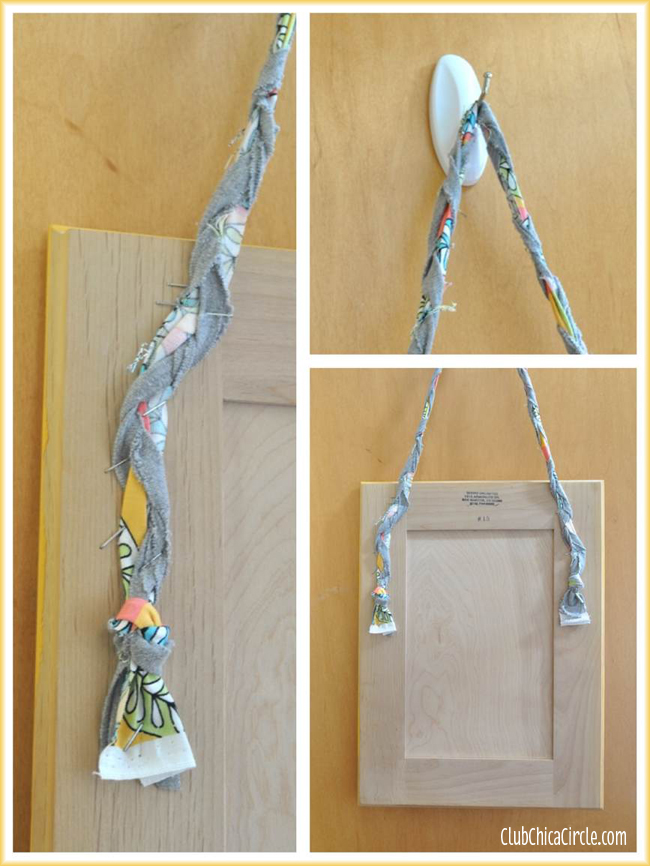 And then for the big reveal….. tada….
I love the chevron design. And because it is chalky finish paint, it door work like a chalk board.
Beautiful!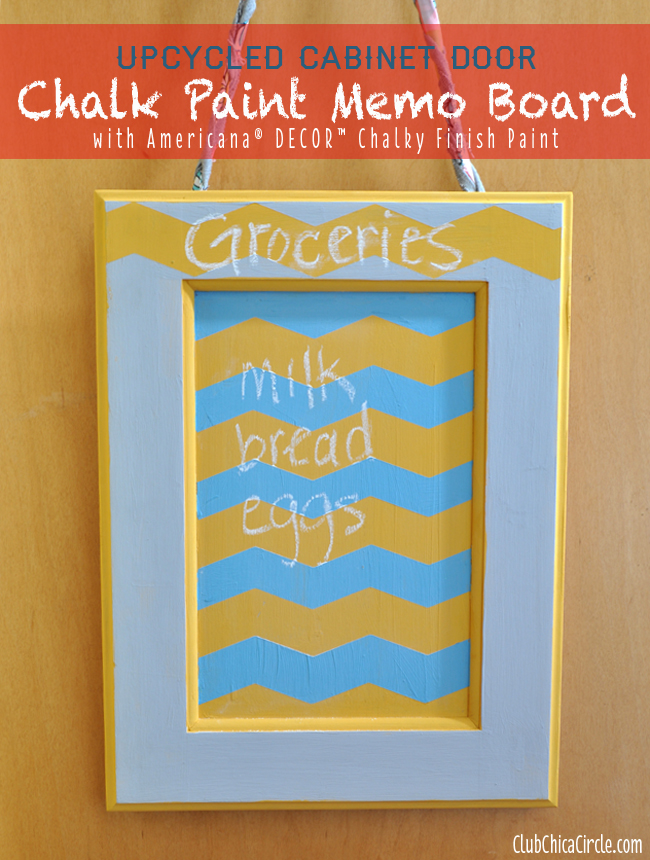 Love it!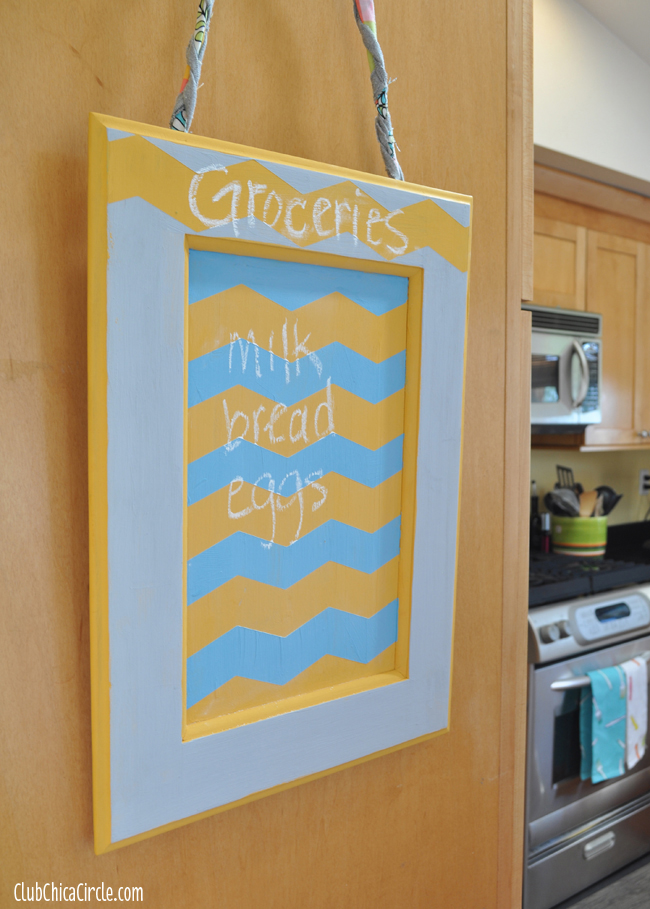 So, check out the Americana DECOR chalky finish paints at your local Home Depot. They are now online and in stores!
Happy Crafting!
If you liked this post, and want more, you can subscribe to be on our mailing list here, and make sure to get your free Cupcake Toppers Printables for Every Occasion.

Feeling social? Follow ChicaCircle on Facebook or Twitter, and follow me on Pinterest or Instagram.
Disclaimer: this post is sponsored by DecoArt. All opinions, ideas, and images are completely my own.