Hi again! I'm Jess from Chaos & Love and super glad to be back! Last time I was here, I showed y'all how to make a fun Crochet Wrap Bracelet. This time, I've got a turban headband tutorial which can be easily made in any size. I'm really excited about this one!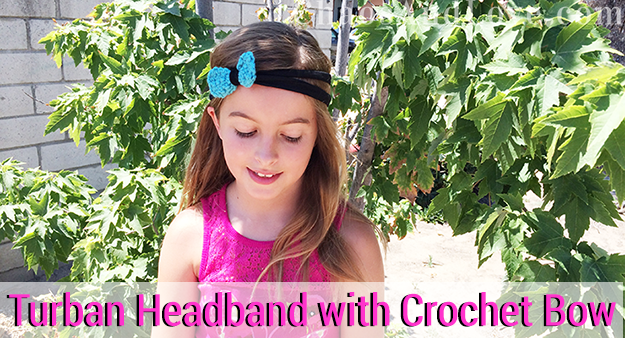 Once again, I'm using upcycled jersey fabric – in this case, a men's size large t-shirt that doesn't seem to belong to anyone in my house. The only other things required for this project are a couple colors of yarn, a J crochet hook, a yarn needle and something to sew a quick seam (could be a machine or needle + thread).
What you're going to do:
1. Make your bow "fabric" by single crocheting a rectangle that's 9 stiches by 6 rows. Tie off and weave in loose ends on both sides. Set aside for later.
2. Lay your t-shirt flat on a rotary cutting mat. Remove the bottom, finished edge of the t-shirt. Next cut a 2″ strip of fabric.
3. For a tween-sized headband, you'll need to cut your loop down to about 30-32″ total. Sew open end together with sewing machine or needle + thread.
4. To create headband, lay fabric ring out in an oval shape with stiched edges at the outside. Twist fabric twice at center.
5. Fold in half so that sewn edges meet.
6. Turn over headband and pinch "knot" together in preparation for adding bow.
7. To make bow, pinch rectangle together at center. Thread yarn needle and run long piece of thread through center. Place over headband knot.
8. Wrap loose ends of yarn around to create bow shape.
9. Use yarn needle to weave in loose ends of yarn on underside of bow/knot.
And that's it! You're all done!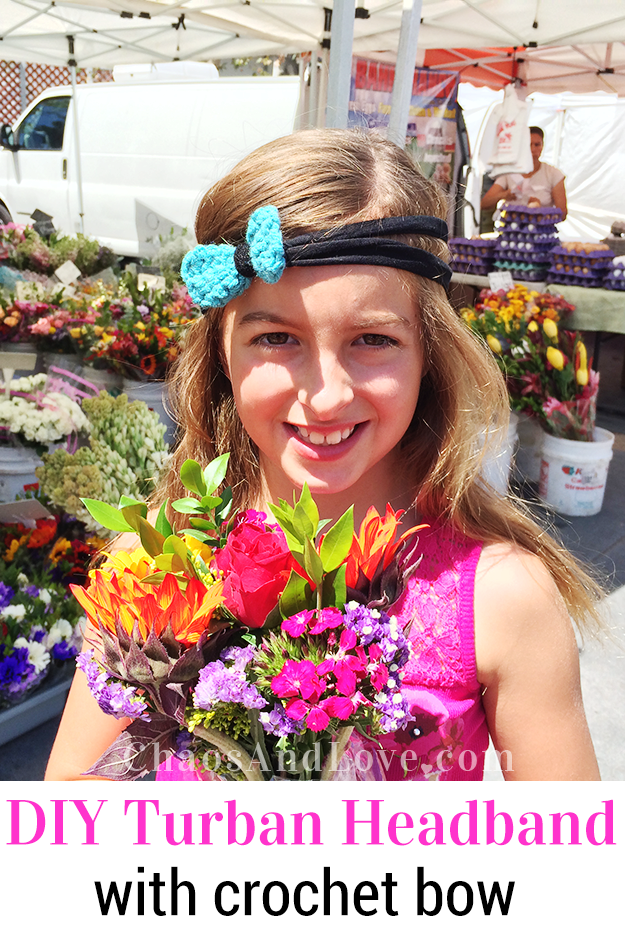 Looking for more easy craft ideas?
These rag quilts make a great, personalized baby shower gift.
Have some little champions in your life? Check out this WWE-inspired crochet belt pattern.
Add some superhero fun to your breakfast smoothies with these Superhero Smoothies. These will put a smile on anyone's face.
Thanks so much for having to me today! I'll see you all again next month! In the meantime, let's connect all over the interwebs!