Hi there! It's Kelly from Typically Simple and I'm super excited to be sharing a yummy and oh-so easy treat with you all today! Dipping Rice Krispies squares into melted chocolate is a fun twist on a classic childhood treat we all know so well.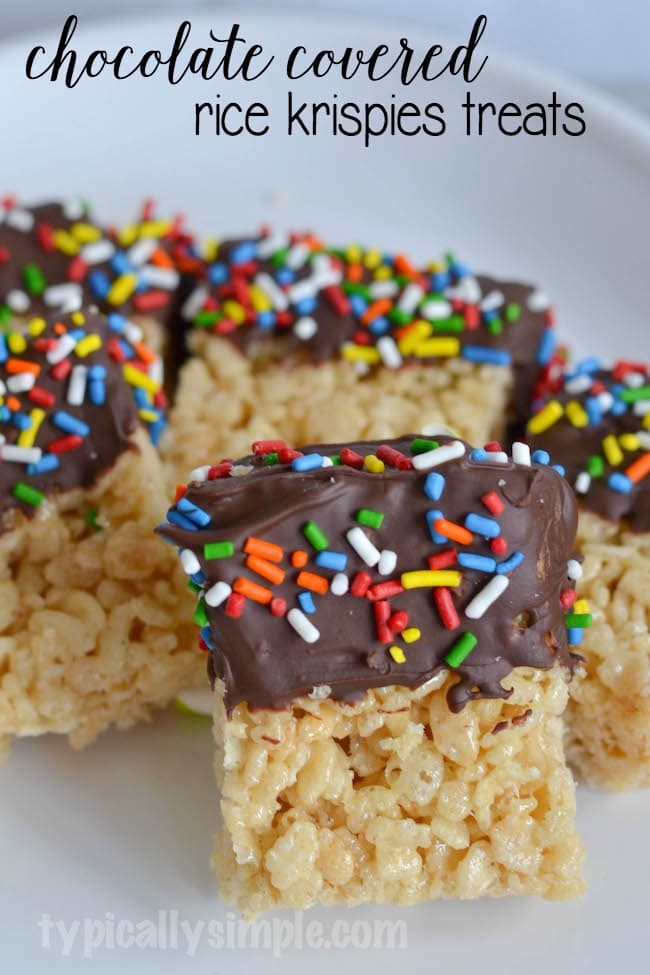 I'm always looking for simple dessert and treat ideas to make for parties. Rice Krispies Treats are one of my favorites, I could seriously eat a whole pan, especially the Scotcheroos ones with a chocolate, peanut butter, and butterscotch topping. Yum!
I love everything and anything chocolate, so I thought it would be fun to dip the Rice Krispies Treats into melted chocolate to change it up a bit. This recipe is super easy to make and would be a fun "baking" activity to do with the kids!
Ingredients
6 cups Rice Krispies
1 package of marshmallows
3 tbsp butter
cooking spray
1 bag of chocolate chips
sprinkles
Directions
Melt the butter and marshmallows in a large pan over low heat, stirring occasionally until completely melted.
Remove from heat and stir in the 6 cups of Rice Krispies.
Coat a 9×13 pan and spatula with cooking spray, pour mix into pan and press down evenly with spatula.
Let cool completely and cut into squares.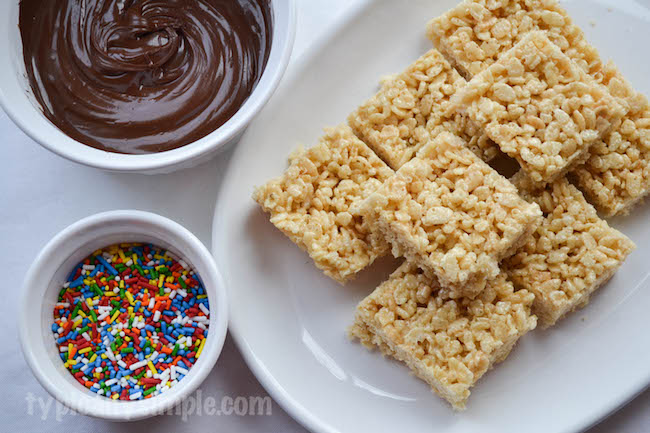 To melt the chocolate, I dumped about half the bag of chocolate chips into a microwave safe bowl and heated it up at 50% power for 30 seconds at a time, stirring it each time until it was completely melted.
The chips take a little long to melt while heating it up at 50% power, but I've found this really helps prevent it from burning. And burning chocolate is not a pleasant smell…and not an easy clean-up either, I learned that the hard way!
And now for the fun part! Take one of your treat squares and dip it into the melted chocolate. You might need to swirl it around a little to get a good coat of chocolate on there; I also used a knife to help spread it on better. Then take it out and shake on some sprinkles!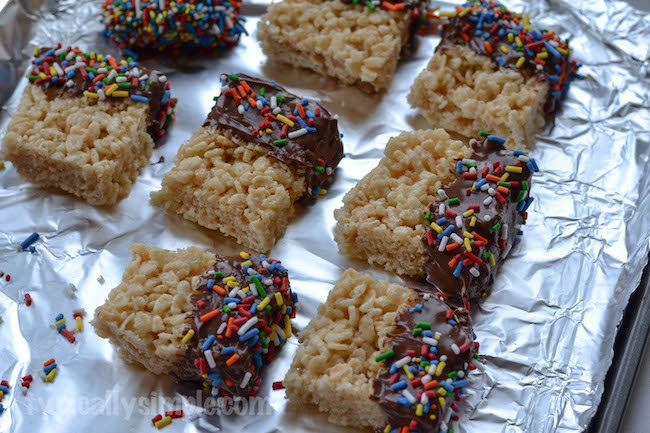 I covered a cookie sheet with some tin foil to put the treats while the chocolate hardened. I also used it as a catch-all while I was shaking on the sprinkles, otherwise you might have some sprinkles to clean up off the floor or counter. To speed up the chocolate-setting process, I popped the whole cookie sheet into the fridge for about 10 minutes. And then they are ready to be served!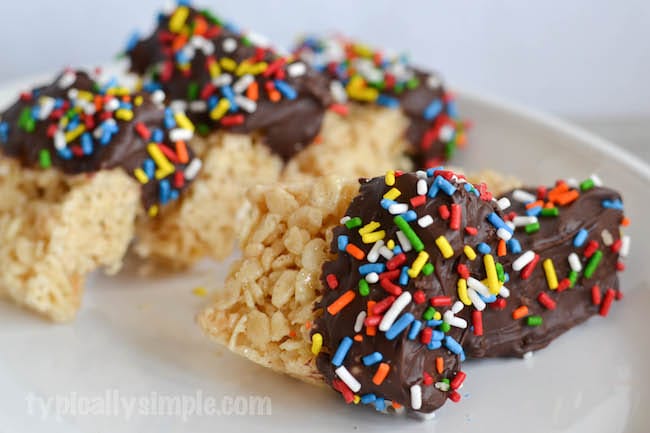 After making these, I have thought of so many other fun ways to customize the treats for holidays or parties. You could tint white chocolate with food coloring to match a party theme or even use little candies instead of sprinkles. M&M's would be fun for the kiddos to use for decorating! Either way, these were a huge hit in our house and my family devoured them!
Looking for more simple recipe ideas?
These white chocolate pretzel bites are the perfect combination of sweet and salty!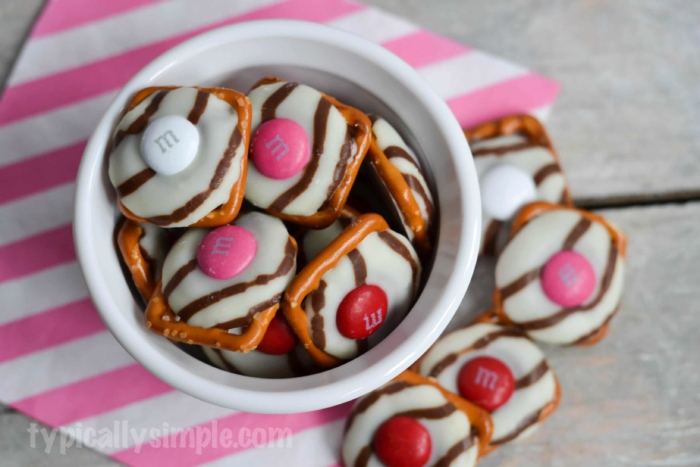 Sprinkles are like the glitter of the baking world and I love adding them to basic recipes like these blueberry pancakes!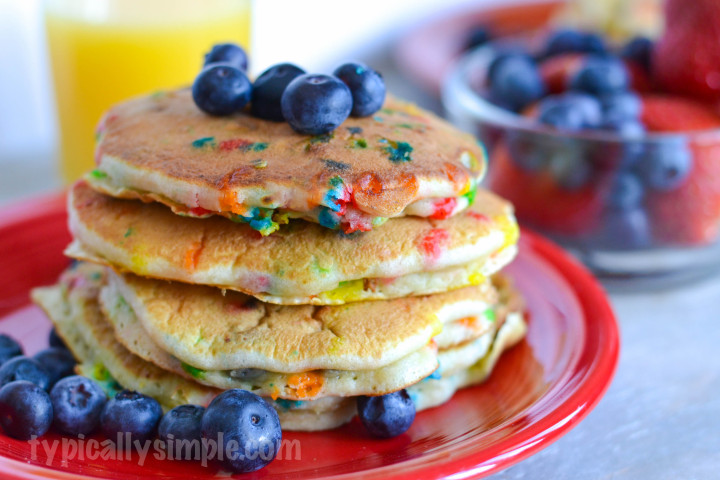 I'm looking forward to sharing some more creative inspiration with you all next month. Until then, you can find me tweeting, pinning, and sharing simple recipes and crafts on Twitter, Pinterest, and Facebook!