What is your favorite smell of the holiday season? Chances are it is a tasty treat from your kitchen. For Thanksgiving, it's gotta be pumpkin pie. For the upcoming Christmas holiday, I absolutely love the smell of fresh gingerbread cookies. I don't any other time of year that gingerbread sounds so perfect. After I get my tween off to school in the morning, I usually start my day with a nice hot cup of coffee. I only need one cup to satisfy me,  but there is something about the sweet smell of freshly brewed coffee that is somehow such a treat. With the holidays around the corner, I was delighted to try the holiday line of coffee flavors from Dunkin' Donuts. There are some really delicious flavors to choose from this holiday season: including Mocha Mint, Pumpkin Spice and Gingerbread Cookie. They are conveniently located in your local grocery store, and a perfect way to bring the smell of the holidays into your own kitchen.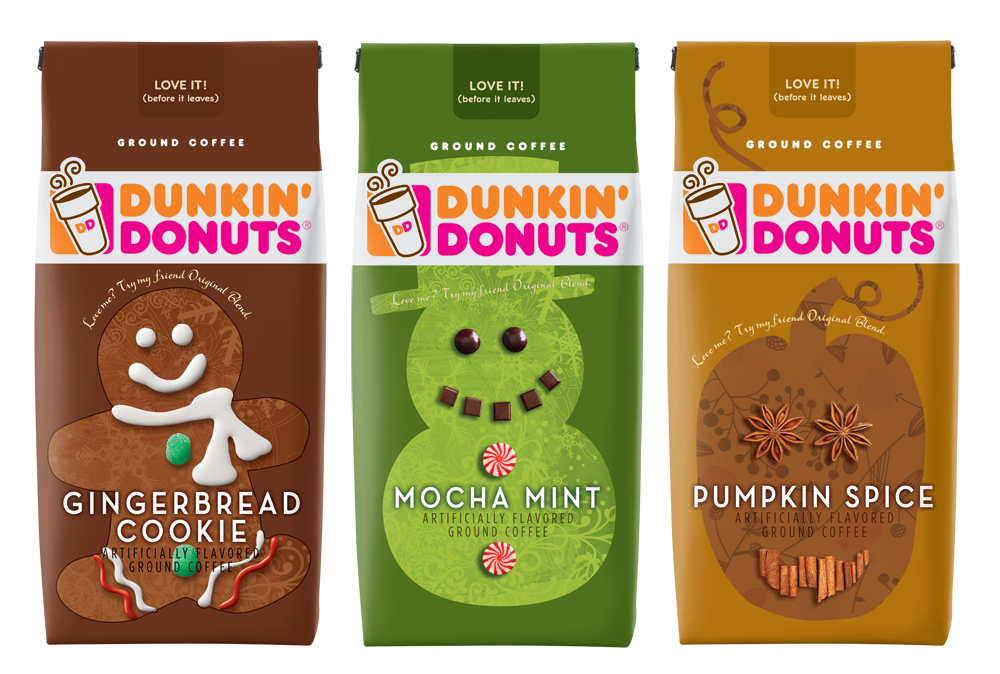 This is also the time of year for mounds of baking. Am I right? I love to put together some sort of homemade yummy gift box for neighbors and teachers. Last year I made deluxe hot cocoa accessory kits, and they were a huge hit. This year, a great homemade gift idea is hand decorated coffee mugs filled with yummy treats and paired with special holiday flavored coffee like the ones from Dunkin' Donuts. The best part is that this is a super simple craft and gift idea that both you and your kids can put together.
I started with a simple white coffee mug. I found mine really inexpensively at IKEA. Then I used gloss enamel paints in holiday colors like red, green and silver. I used a small 1″ round sponge brush to stamp on red and green polka dots all around the mug. Then with a thin-tipped silver enamel paint bottle to draw straight silver lines right drop from the top of the mug to each polka dot. I finished off with a small silver line at the top of the colored dots to complete the holiday ornament design.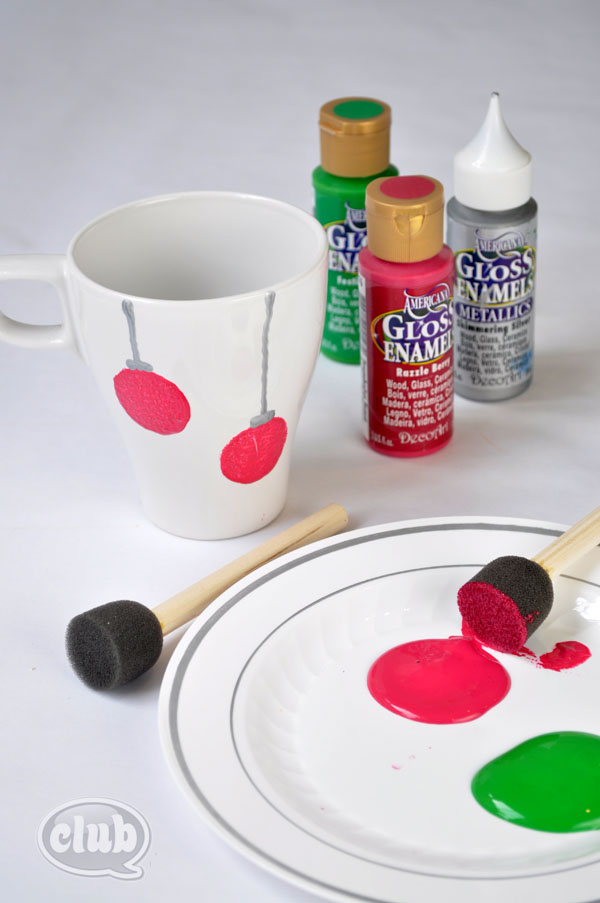 While I let the decorated coffee mugs dry, I prepared tasty treats in see-through gift bags to place in each decorated coffee mug. It looks perfectly paired with the festive coffee flavors from Dunkin' Donuts. Add a pretty ribbon to the gift bag, and you have an instant holiday gift. This would be perfect to give to a teacher or neighbor this holiday season. What a great way to share the smell of the holiday season, especially for your favorite coffee drinker. I paired the yummy Mocha Mint flavored coffee with chocolate mint candies, and the Gingerbread flavored coffee with some delicious biscotti.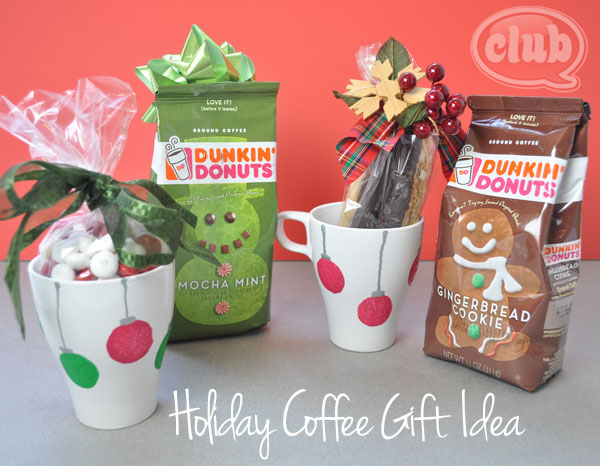 There are so many great Dunkin' Donut flavors to choose from: Original Blend, Dunkin' Decaf® and special seasonal varieties including Mocha Mint, Pumpkin Spice and Gingerbread Cookie. But you have to act fast in getting the special seasonal varieties. They are only available for a limited time. Enjoy the sweet smell of the season, and share with family and friends too.
Happy crafting!
If you liked this post, and want more, you can subscribe to be on our mailing list here.
Thank you to Dunkin' Donuts® packaged coffee at grocery for being a sponsor. I was selected for this opportunity as a member of Clever Girls Collective. All opinions expressed here are my own.