This post is brought to you in part by Plaid Crafts and Blueprint Social. All images, ideas and thoughts are completely my own.
I love infinity scarves and so does my tween!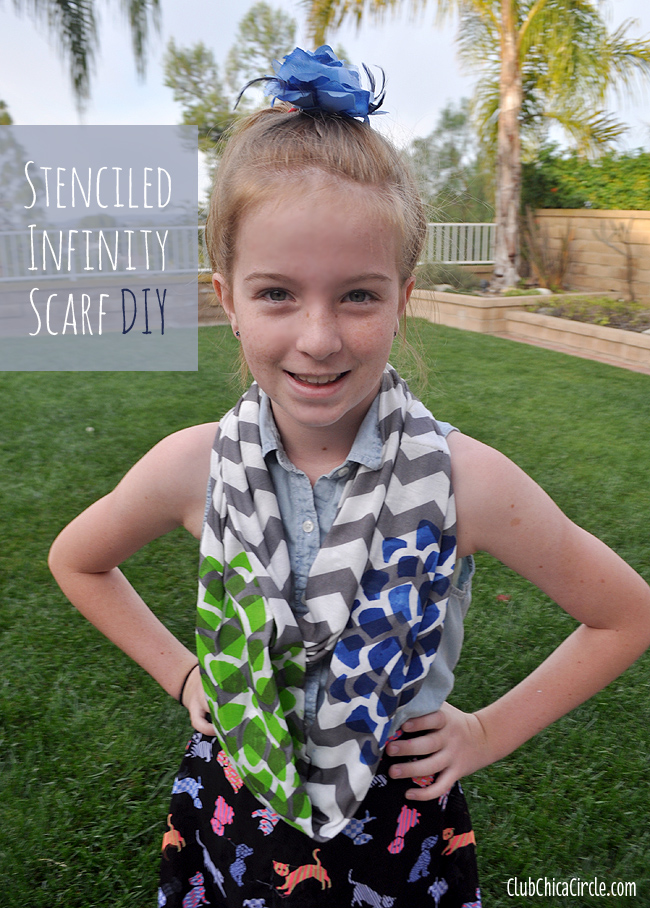 A scarf has always been one of my favorite accessories to just add a little something to an outfit. I have a whole drawer full of different colored and patterned scarves. Lately my tween has discovered my stash and has started to accessorize her outfits with them. Yes, I'm to that stage in tweendom where is raiding my accessories and wearing them as her own! Yikes! With the help of Ed Roth-designed Stencil1® mylar stencils and FolkArt Multi-Surface paints, I took a regular scarf and dialed it up a notch. I took the already-fashionable to a fabulous and one-of-a-kind creation!
I have to say, Ed Roth is kind of an idol to me. I met him in person at the recent CHA show and got to hear a little bit of his background and back story. He is a graphic designer by trade just like me, and has made a career and an art form out of designing beautiful stencils. I was so excited to try out this lovely large Stencil1® stencil of a gorgeous flower design paired with the pretty palette of colors of FolkArt Multi-Surface paints. I knew I had to try them out on a variety of projects.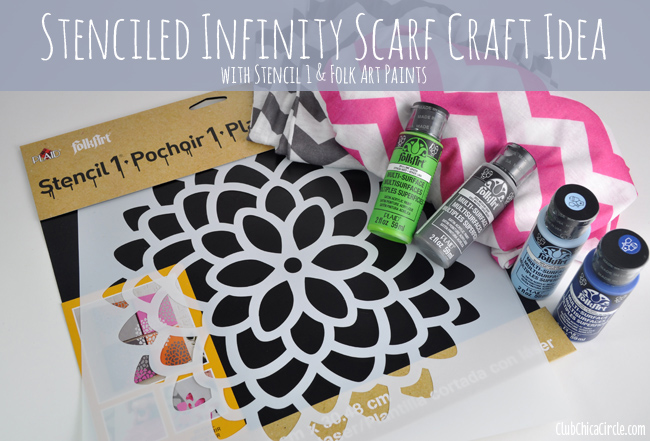 Stencil1 stencils are made of durable, reusable mylar material which is really easy to clean. The large formats available are perfect for using on walls, floors or furniture. And FolkArt Multi-Surface paints are the perfect compliment to use with the stencils. These paints work great on any surface – including both indoor and outdoor projects – and are even dishwasher safe! Oh man, it was truly hard to decide what crafty project to do first with them.
I started with jazzing up a pretty gray chevron infinity scarf. Gray is a great neutral color, but I wanted to add a little pizazz to it. I placed a piece of cardboard in between the layers of my infinity scarf and first stenciled on a large flower with the Ink Blot Blue color. I used a make-up sponge as my paint applicator on the stencil to get the really beautiful flower accent design, and let it dry.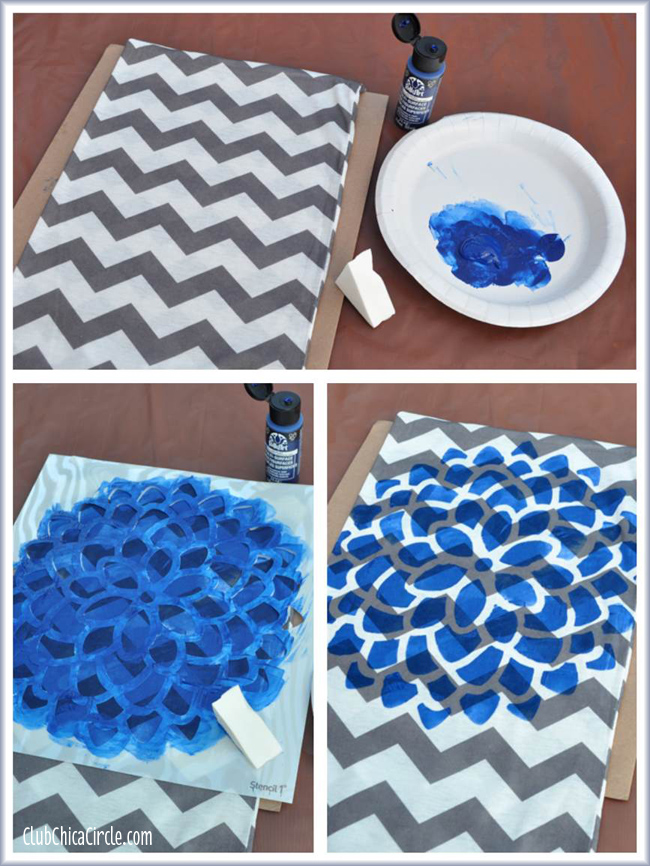 I couldn't stop at just one flower design though! I added a second stenciled Lime Green flower design just below the first blue one, making sure to clean off my stencil in between.
Then I let it dry completely before my fashionista could get her hands on it. I had to make a deal with her, that if I could take photos of her modeling the scarf, that she could wear it to school that day. No joke!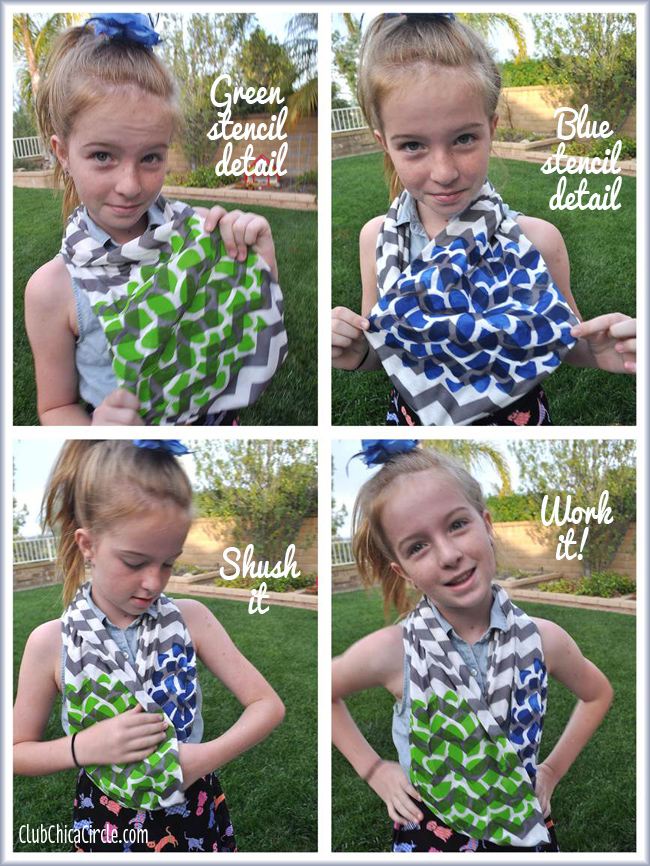 Then, I couldn't resist trying this on a homemade infinity scarf project. If you follow me, you know I love giving new life to something and transforming it into something else. I took one of my husbands old t-shirts and stenciled a flower pattern along the middle of the shirt on the front and back, making sure to use a cardboard layer in between and letting each flower pattern dry first before layering on the next one. I used the Ink Blot Blue and Light Blue paint colors on a blue tee. I love the pretty designed my stencil made when I layered the two colors on top and next to each other.
XXL Men's tees can make great infinity scarves, especially the ones that are really thick soft cotton and are seamless on the sides of the shirt.

Then using a straight edge and a rotary cutter, I trimmed off the bottom hem and just below the pocket of the shirt.
Keep in mind, when using a stencil like this, make sure to hold it securely on your surface with one hand, while stenciling with the other. Another tip, is that you could use a little bit of light adhesive spray mount to help it stay in place, or painter's tape depending on the surface. You can use special stenciling brushes, but I like to use make-up sponges to stencil with.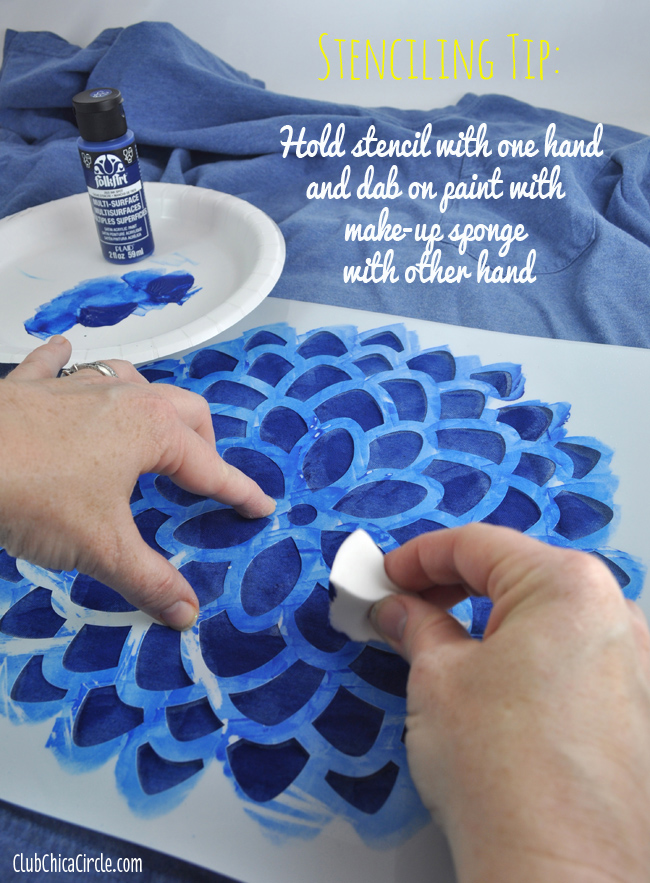 And look how fabulous this turned out!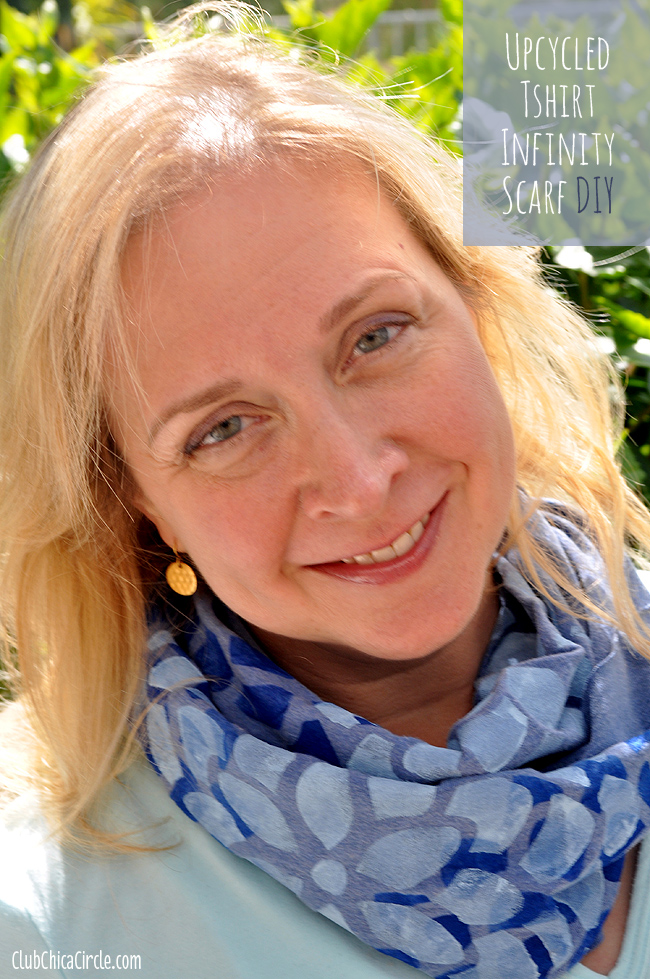 So pretty! My next project is to use this on a home decor piece. I could see using this on a lampshade or to spice of a shelf unit. You can find Stencil1® stencils available at Jo-Ann Fabric & Craft stores.
Check out the other great Plaid Stencil1 stencils available here. Check out other great crafty inspirations on the Plaid Craft blog, connect with them on Pinterest, Facebook, Twitter, YouTube, or Instagram.
Also, get inspired by some of these fabulous DIY projects from my fellow bloggers here:
If you liked this post, and want more, you can subscribe to be on our mailing list here, and make sure to get your free Cupcake Toppers Printables for Every Occasion.
Feeling social? Follow ChicaCircle on Facebook or Twitter, and follow me on Pinterest or Instagram.
This post is brought to you in part by Plaid Crafts and Blueprint Social. All images, ideas and thoughts are completely my own.