Have you tried printing on paper bags yet? This idea has become one of my most popular posts. It is such a versatile, yet simple way to personalize a gift bag for any occasion.
I recently had a request for Spring and Easter bag free printables, and I decided to take it a step further. I have included all of the free printables for these super cute Spring and Easter paper gift bags, of course, but I also wanted to inspire some fun ways to dress up and close your gift bags.
I recently saw these wood silhouette shapes of birds at my local Michaels store, and thought they were the perfect symbol for Spring.
I am not one to shy away from color, and Spring is the perfect season to show some of that color. I painted the wood birds in solid, bright Spring colors like pink, blue, and yellow using Short Cuts spray paints, but you can also use acrylic or craft paints as well. I also had a set of colored clothespins in pretty colors, and I spray painted some natural wood ones as well. Once I got started, I couldn't stop.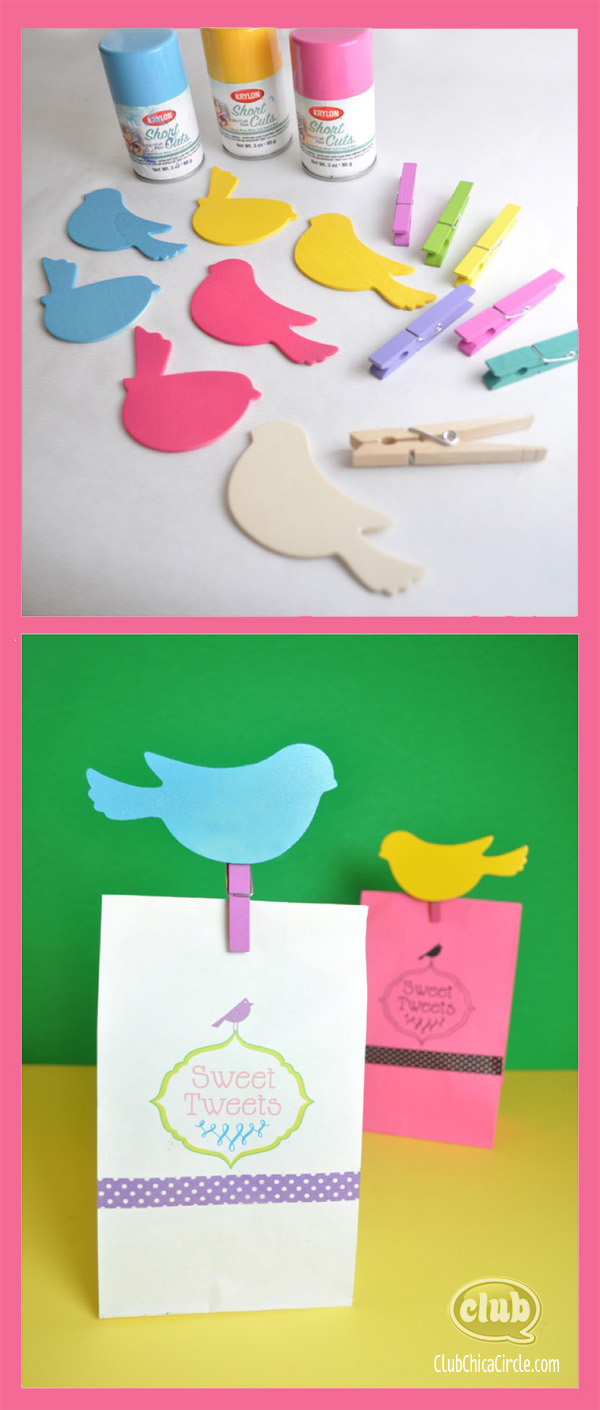 I painted both large and mini clothespins and attached them to the colored wood bird shapes with my glue gun. You can even attach two birds at the top of your gift bags, like little love birds perched on a branch.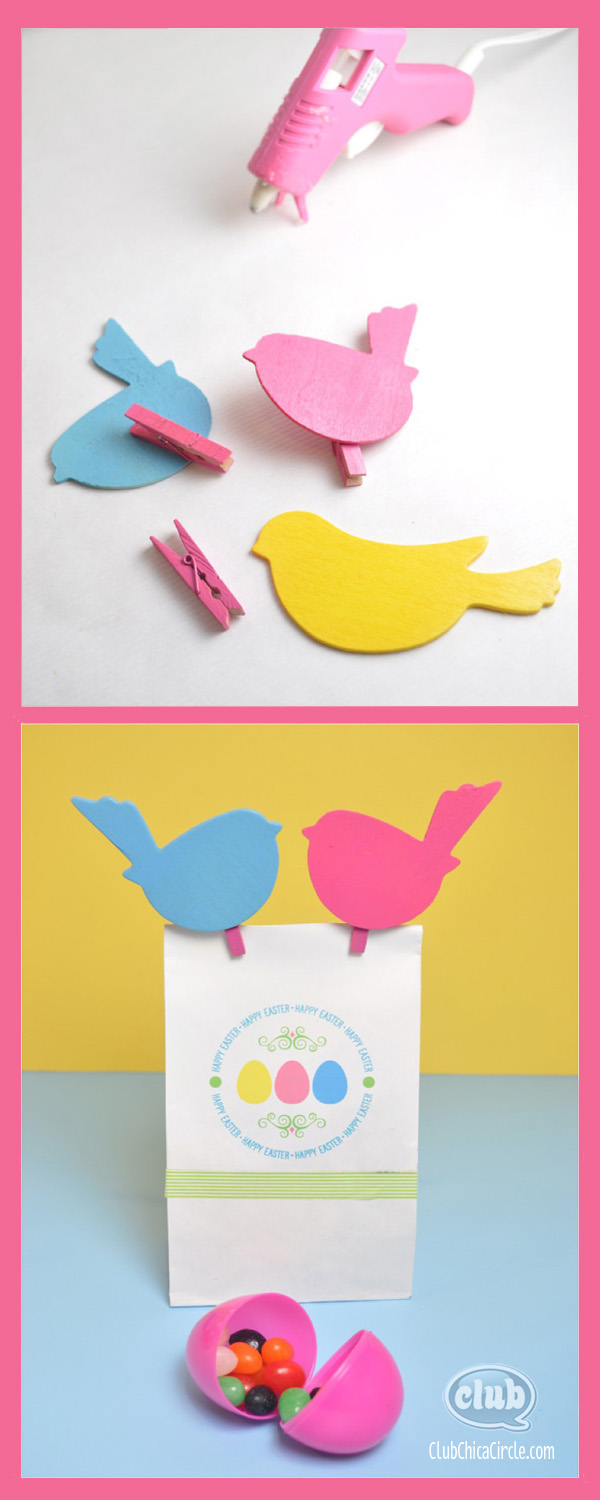 I designed two different Happy Easter printables that you can download here:
Paper Gift Bag Happy Easter Printable
Paper Gift Bag Happy Easter Sign Printable
I printed on white bags that were 4.75″ x 9″ that I found in the party section at Target. I also dressed them up with a little stripe of washi tape. When running a paper bag through the printer, sometimes the extra thick edge where the bottom of the bag folds up tends to rub against the print rollers and grabs a little extra ink. The washi tape stripe can hide that is a flash.
Also, remember to "flip" your image in the print dialog window so that the lettering comes out right side up on the paper bag.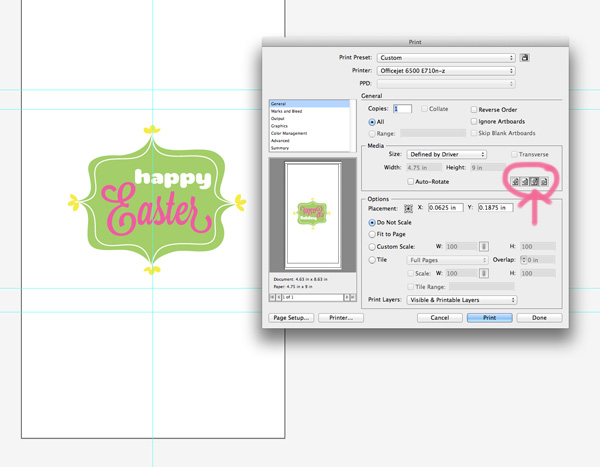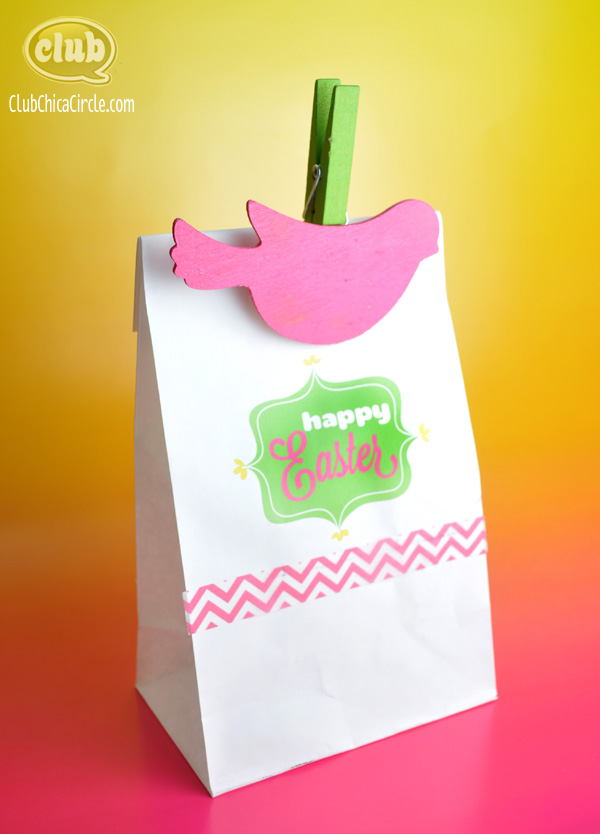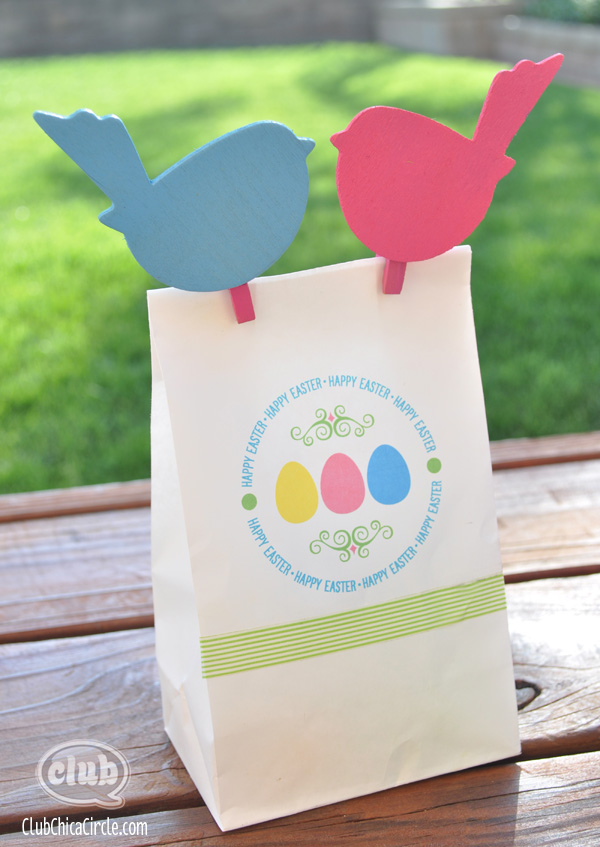 I also designed a "Sweet Tweets" bag printable for a cute play on the the colored birds theme. I am giving you a colored and a b/w version. This looked just as cute and festive printed on a white bag, as it does on a pretty colored bag.
Grab that free bag printables here:
Paper Gift Bag Sweet Tweets Color Printable
Paper Gift Bag Sweet Tweets B:W Printable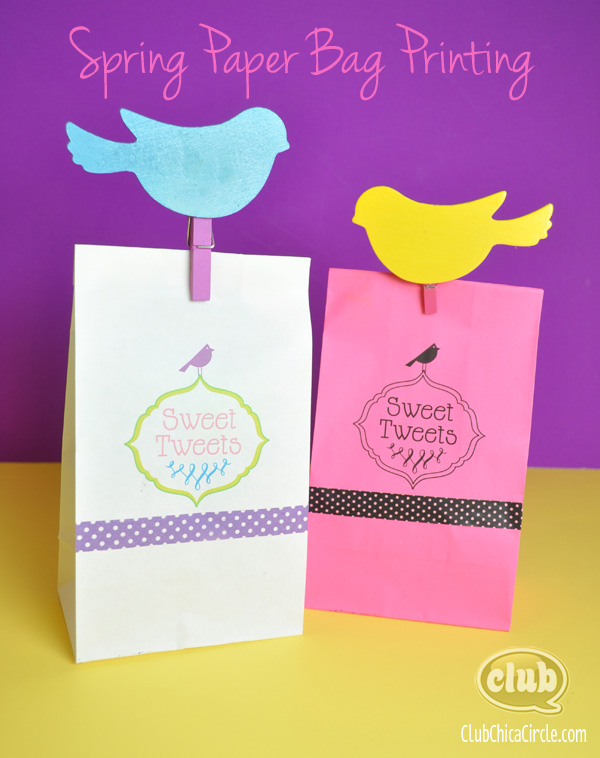 And just for the love of Spring, here is a cute "Hello Spring" paper bag printable as well:
Paper Gift Bag Hello Spring Printable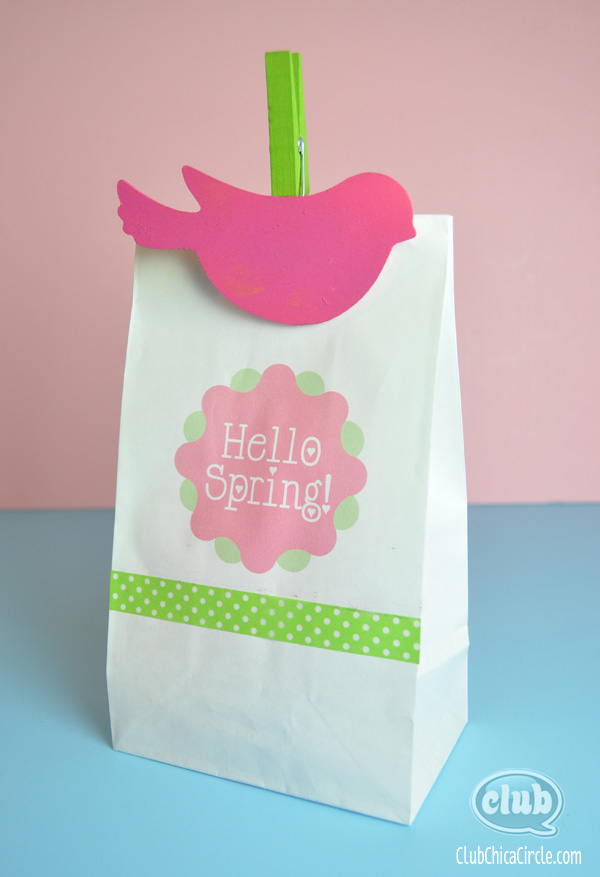 Now, what if you don't want to print on paper bags, and just want to dress up your own pretty gift bags?
I also designed some simple bag tags as well, that you can download and print.
Simply cut out the Spring bag tags and attach to a pretty coordinating bag. Even the colored clothespins by themselves add that extra touch and flair. These cute hot pink chevron mini treat bags I got from a Pick Your Plum daily deal awhile back. I filled them with some jelly beans, folded the edge over and attached the gift tag and colored clothespins. Perfect!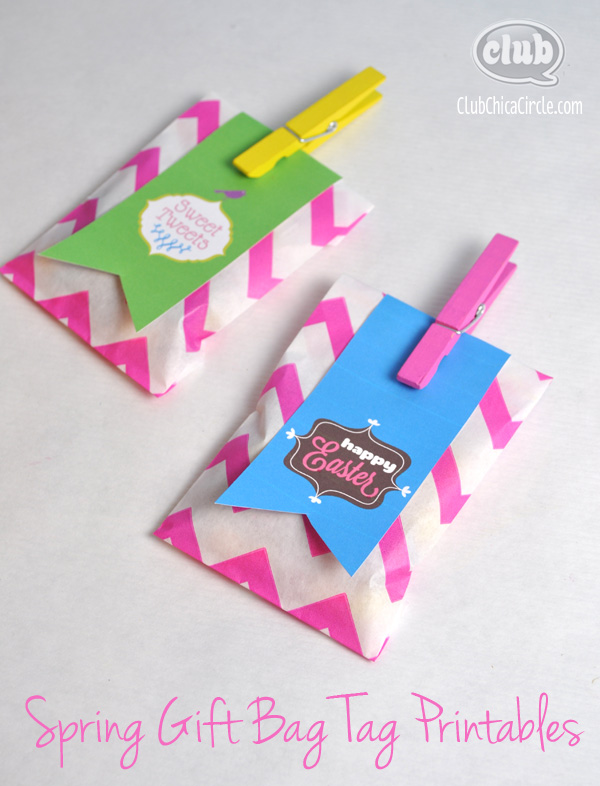 Or, you can simply attach the colored tags at the top of your gift bag by hole punching two holes and tying a ribbon or pretty bakers twine at the top.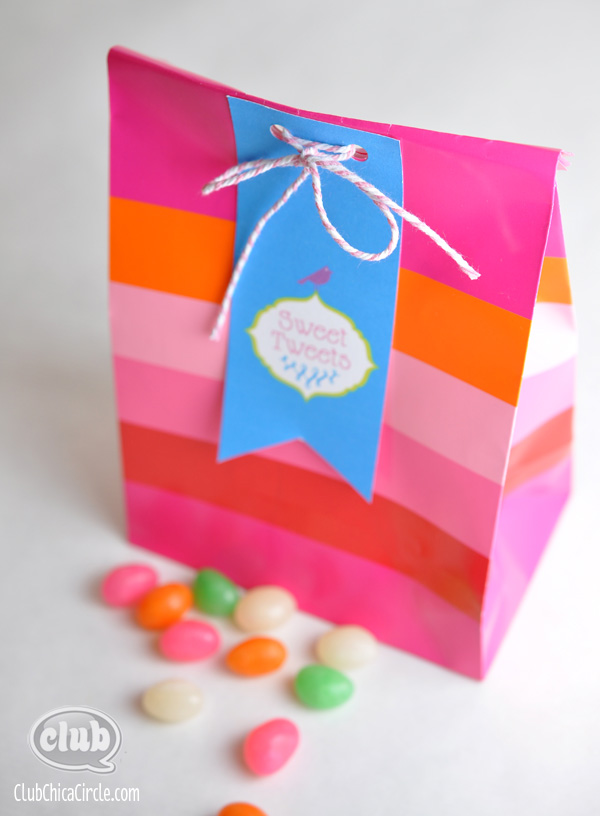 However you choose to dress up your Spring and Easter gift bags, every combination will look super cute.
Why do Easter baskets when you can make these pretty gift bags instead! = )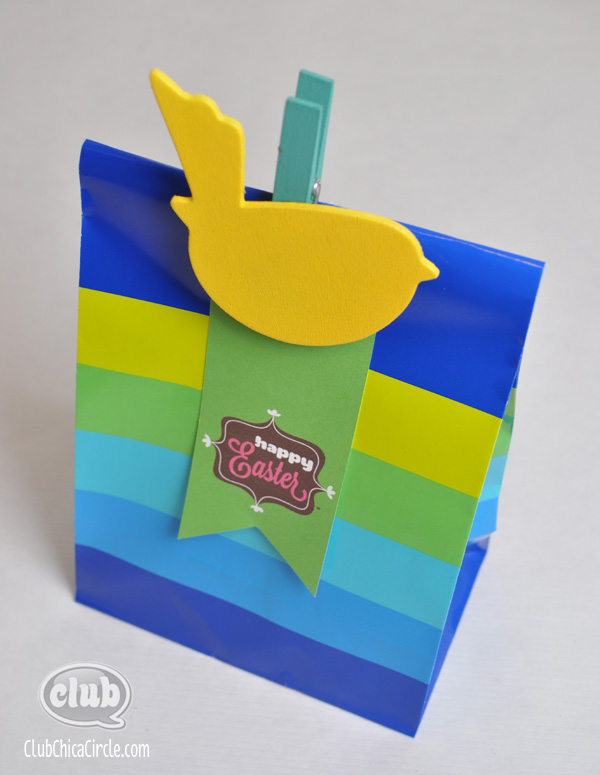 You can download the Spring and Easter gift bag tags here:
Hope you enjoy the gift bag suggestions and free printables. Go the my original post for full directions on how to print on paper bags.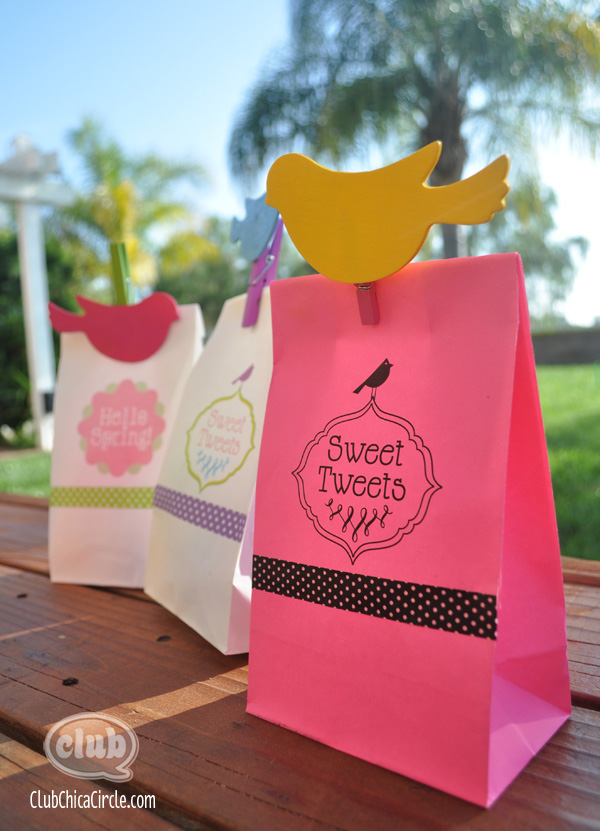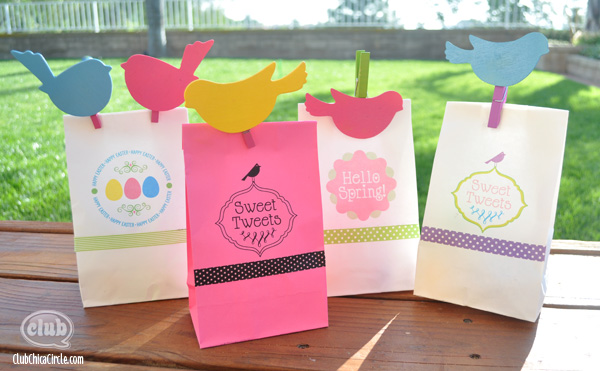 These would make great classroom or teacher gifts!
Happy Spring Crafting!
If you liked this post, and want more, you can subscribe to be on our mailing list here.
Feeling social? Follow ChicaCircle on Facebook or Twitter, and follow me on Pinterest or Instagram.