Have you ever made your own pom poms? There are many different techniques or ways to make a homemade pom pom, and believe me, I have tried many of them. You can even find fancy pom pom makers that make heart shaped pom poms like this one. I have tried this one too, and liked it for the cool heart shaped pom pom you could make.
But I just wanted a simple and inexpensive pom pom maker that I could easily use over and over again. I knew it had to be flexible and sturdy and easy to reuse. When my tween and I first started making these pom poms, she was so enamored by them that she started to give them to her friends at school. I just couldn't resist making a pumpkin pom pom!
Here is a step-by-step of how we made them into super cute pumpkin pom poms. Below, is a helpful video of how to make a multi-colored pom pom using the same tool and technique. Happy Pom Pom making!

What you will need for your Pumpkin Pom Pom:
1/2″ diameter clear plastic tubing (found in hardware stores)
orange yarn
black or green yarn
sharp scissors
self-adhesive sheet of black foam
beads (optional)
How to make your Pumpkin Pom Pom:
First cut a 5″ piece of plastic tubing with a sharp scissors. Then along one side of the tubing, cut a slit all the way down the side.
Cut a piece of black or green yarn at least 12″. Fold in half and place in center of tube with an end hanging out from each side.
Holding the end of the tube in one hand, start wrapping the orange yarn around the length of the tube  – not too tight and not too loose. Keep wrapping in a uniform manner until you have about a 3/4″ – 1″ thickness of yarn around the tube. The more yarn you use, the thicker the pom pom will be. Cut the end of the orange yarn when you are satisfied with the thickness on the tube.
Now pull the yarn that is in the center of the tube, bring together tight making a "U" shape with the tube, and tying off one time.
Making sure that you hold on tight to the tied off string from the middle (it will start coming through the cut slit in the tube you made in step 1, start cutting the orange yarn all along the outside. Keep pulling and holding the center string tight and continue to cut until you have cut through all the outside layers and have exposed the entire tube. Pull off the tube and set aside.
Pull the center string tight one last time, and now double knot for security.
While still holding the center string in one hand, give your pom pom a haircut and shape into a ball accordingly.
Now cut out pumpkin face pieces from a sheet of black self-adhesive foam (3 triangles and a mouth), and place on finished orange pumpkin.
One side of the center is a loop that you can use to hang on things. You can finish off the other two ends by putting decorative beads on them.
Now you have a pumpkin pom pom that you can tie to a gift, give to a friend, wrap on a treat bag, hang on a backpack. It would make a great homemade teacher gift!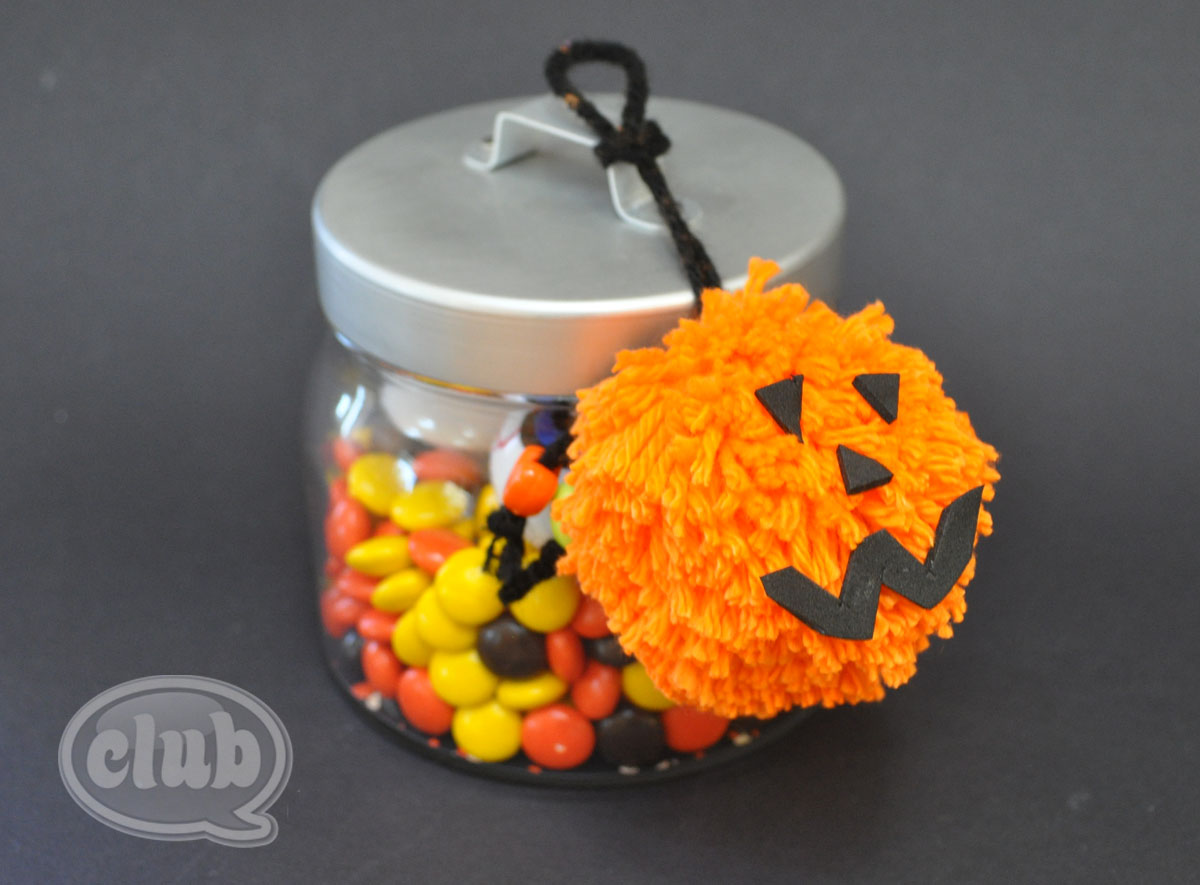 If you like these, you can also make multi-colored pom poms.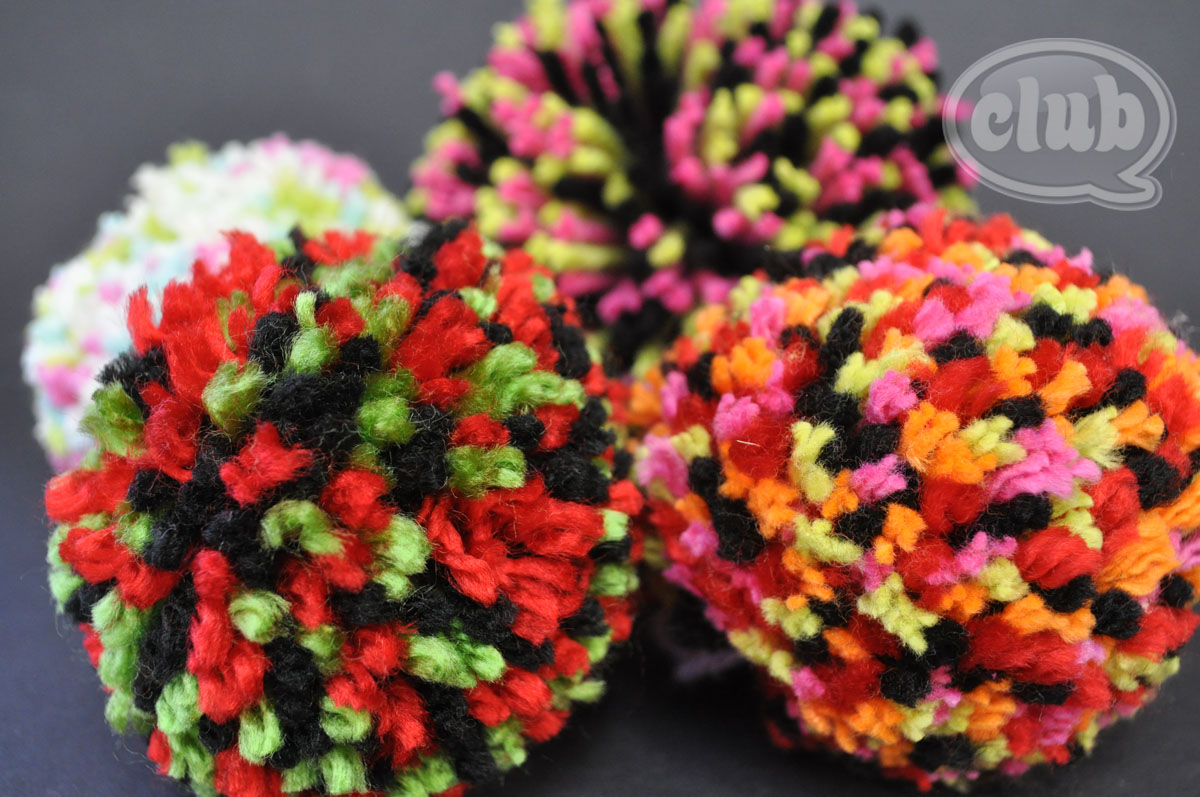 Here is our DIY video on how to do just that! Have fun making, sharing, and gifting these too!

You can make your multi-colored pom poms color-themed for a holiday, using 2, 3, 4, 5, even 6 different colored yarns! I think I might have to try a rainbow colored pom pom next! Hope you enjoyed the DIY. What would you do with your homemade pom pom?