When we moved away from Chicago 15-years ago, the #1 thing we missed was seeing our friends and family. #2 on the list was Chicago food. My mouth is watering right now thinking of the Vienna Beef hot dogs with fluorescent green relish, the warm Garrett's popcorn (Chicago mix of caramel and cheese), and, of course, Chicago pizza. The best Chicago pizza is debatable (Lou Malnati's with the continuous layer of sausage or Home Run Inn thin crust for the best cheese taste or Giordano's for the best stuffed pizza).
Even though we are thousands of miles from Chicago, we have figured out how to bring the taste of Chicago home. We have started an annual tradition of hosting a Chicago party to celebrate the taste of Chicago pizza and share the love with our California friends.  One of our most popular activities of the party turns out to be the pizza assembly.
There are a few key elements to real Chicago pizza:
The crust (buttery and salty)

The sauce (rich in garlic and Italian spices)
The sausage (well seasoned pork & fennel taste)
If you are really ambitious, you can start from scratch. King Arthur Flour has a recipe for the dough, as well as the sausage and sauce. But, secret #1 is that we buy balls of dough from our favorite pizza restaurant in town. It's not on the menu and sometimes we have to talk to the restaurant manager, but it's worth it to buy a salty, buttery dough we know tastes great and so much easier when getting enough to entertain a crowd. (Depending on the number of pizzas – we buy 1 to 1.5 dough balls per 9-inch pizza.) Sauce is much easier to tackle at home, but when in a hurry, we also buy a large batch of sauce from our local pizzeria. The Food Network has a great sauce recipe rich with plum tomatoes and spices.
Secret #2 is having the right pan. It needs to be deep (at least 2″) and able to withstand high heat. Our local pizzeria uses well seasoned cast-iron deep dish pans, but we have found success with this Pizzacraft pan. The pizza comes out cleanly and the the pan has held up well against sharp knives. I prefer a 9″ pan or 6″ pan as it's a good size for two people to share and takes less cooking time than the larger sizes. This pizza grip works well to pull out a 9″ pan (or lighter) from the oven.
Once you have the dough, the sauce, the right pan and the toppings, it's time to assemble.
Building Mouth-Watering Chicago Stuffed Pizza (Part 1)
Preheat oven to 425 degrees Fahrenheit

Roll out 2 dough circles to approximately 1/4″ thickness on a floured surface (enough to cover slightly more than the bottom of your pizza pan). One dough circle will provide the bottom layer.  The second will provide the top layer. Secret #3 – most recipes specify to let the dough rise – but working with cold dough is easier.
Prepare pizza pan by spraying with olive oil
Sprinkle coarse corn meal on the bottom of the pan (secret #4) – like Bob's Red Mill Coarse Grind
Spread one of the flattened dough circles on the bottom of the pizza pan and halfway up the side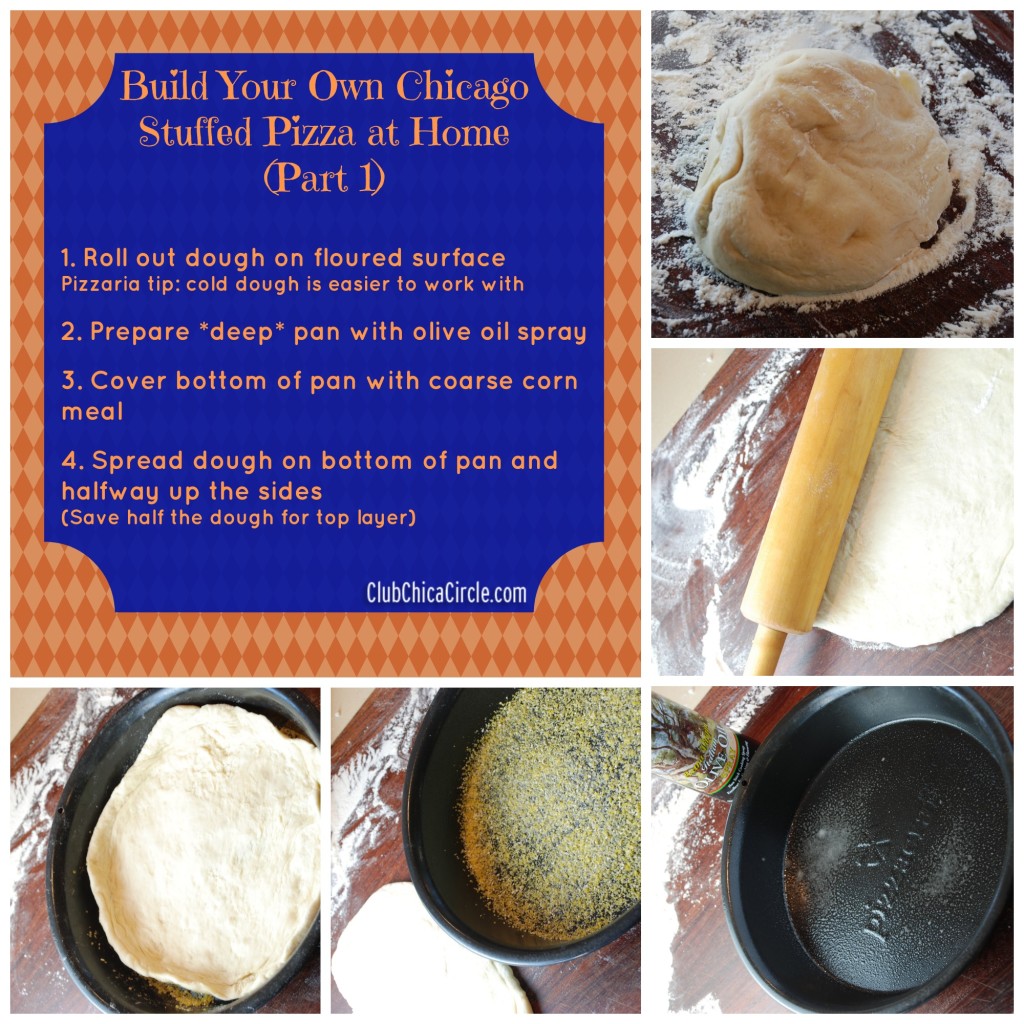 Building Mouth-Watering Chicago Stuffed Pizza (Part 2)
Cover the bottom crust with a generous amount of mozzarella cheese

Cover the cheese layer with a layer of zesty sauce
Add desired toppings (e.g. spinach, sausage, pepperoni)
Add the 2nd dough layer on top, but not over the edges of the pan.  This creates the "stuffed" element of the pizza
Cover the top dough layer with sauce. Secret #5 – by covering the dough with sauce and making sure the crust does not curl over the edges of the pan, you will avoid a charred crust
Bake your pizza at 425 degrees – 35 minutes for a 9-inch stuffed pizza
Let your pizza sit for a few minutes once out of the oven before slicing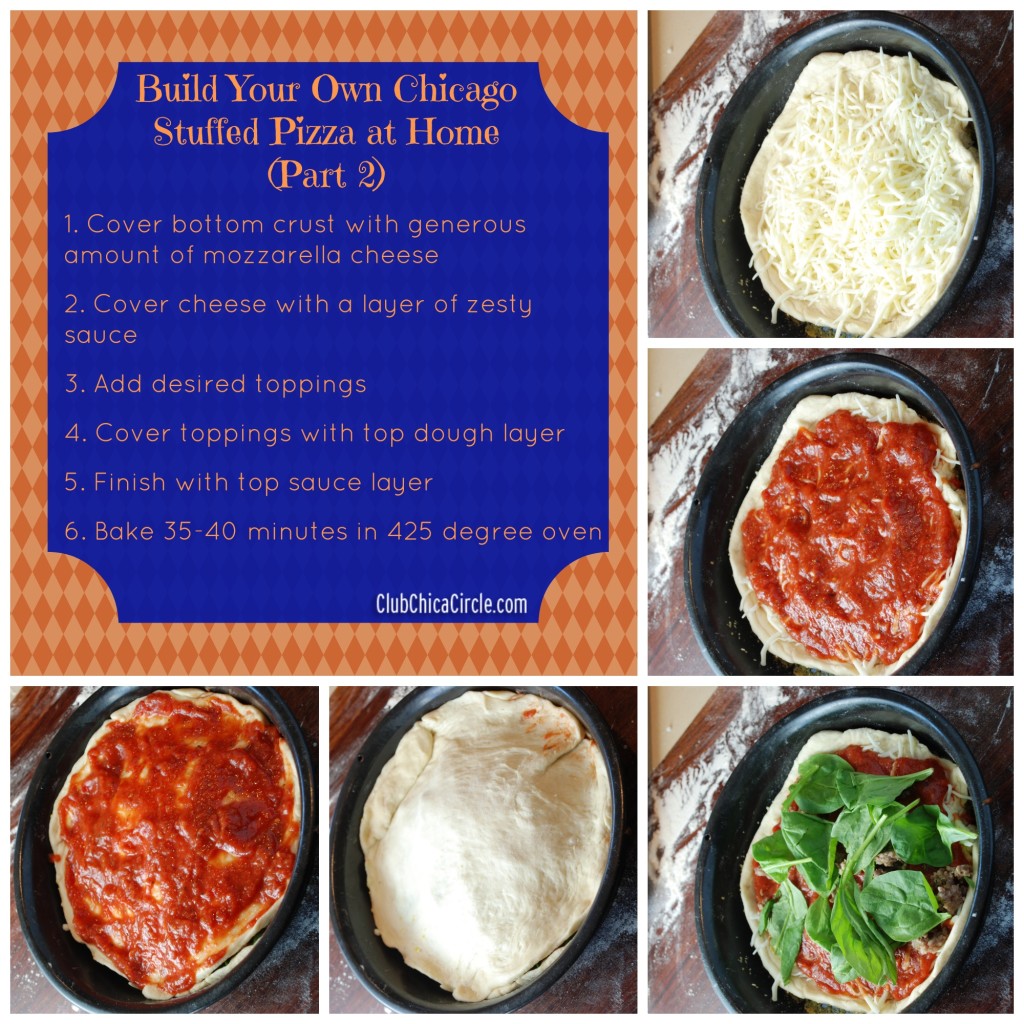 Time to enjoy the mouth-watering goodness! (Secret #6 – Start with a pizza roller cutter and finish the cut with kitchen scissors or a sharp knife to get the deep corners of the pizza cut.)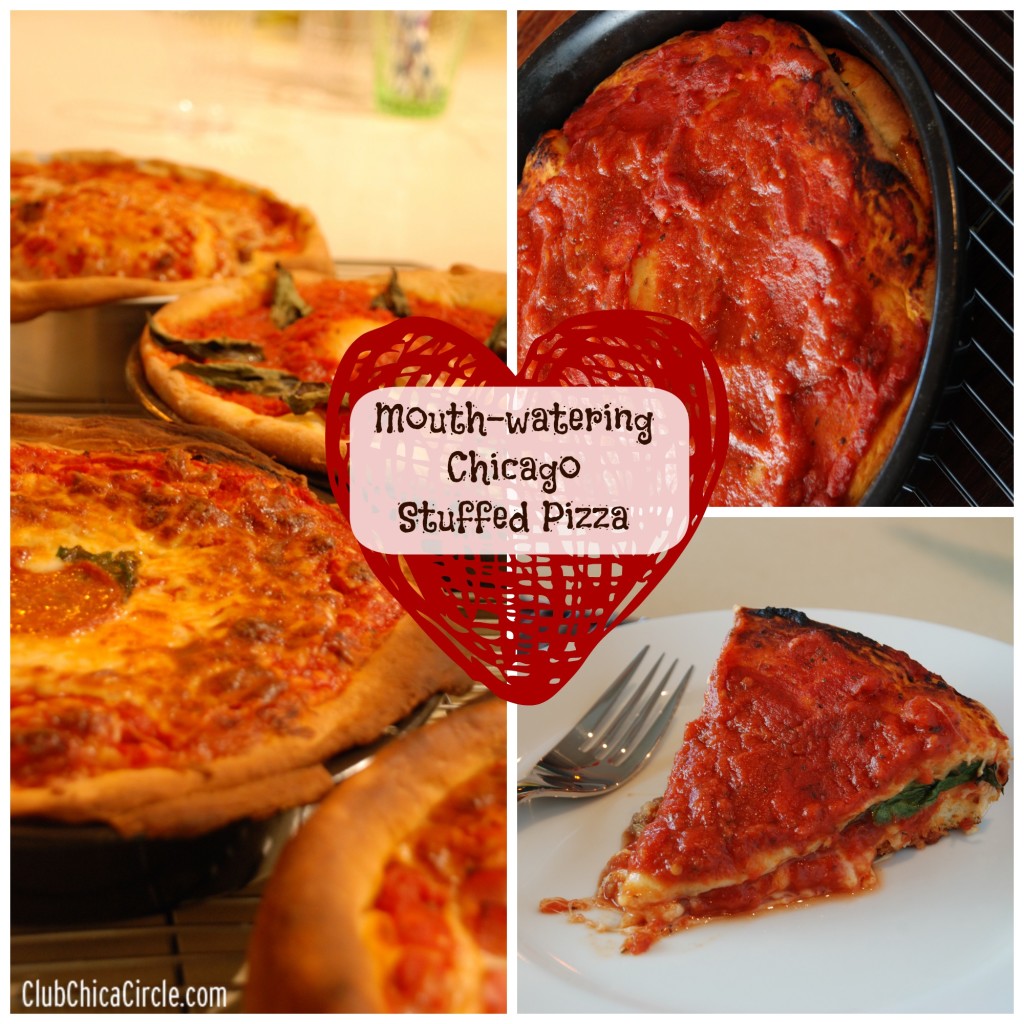 Building a Chicago stuffed pizza is fun solo, with your family, or as a party activity. For our annual Chicago party, we have enough pans to allow every 2-3 people to share a pan. We have a variety of toppings in the center of our kitchen island, including:
Sausage

Pepperoni
Canadian bacon
Pesto sauce
Onions
Mushrooms
Spinach
Pineapple
Sliced and diced peppers
Fresh basil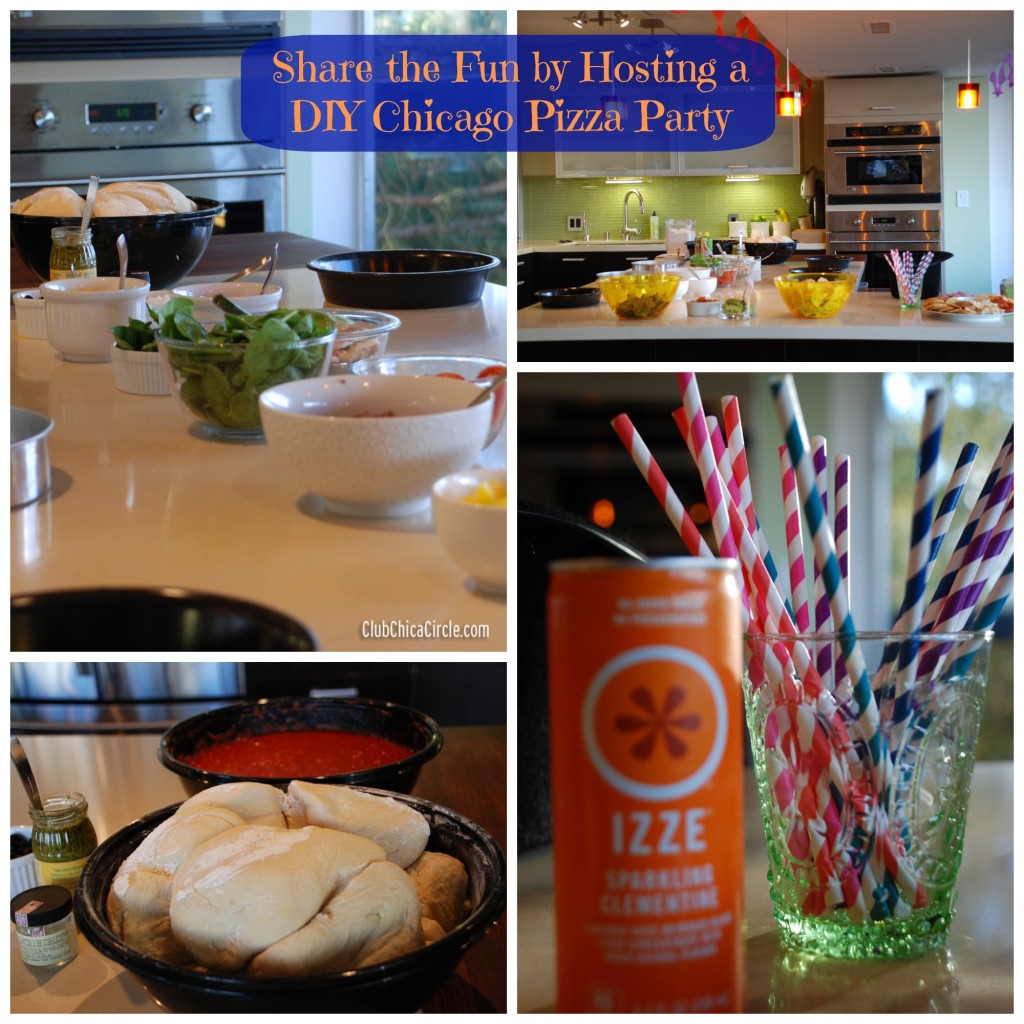 This year, my tween carried on the tradition by sharing the pizza fun with some friends. After many laughs and filled tummies, the girls finished their Chicago night with a Chicago movie – Adventures in Babysitting. Other slumber party movie ideas to keep with the theme include Ferris Bueller's Day Off and the Home Alone series.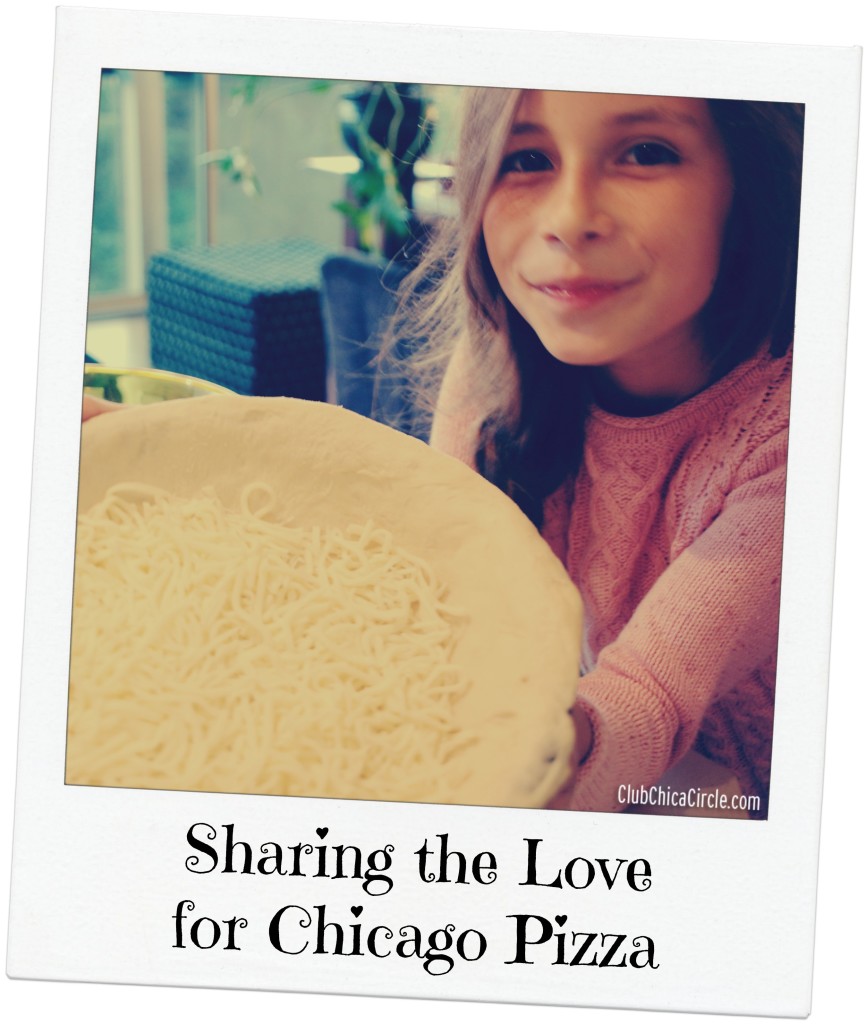 Do you have any secrets for building Chicago Pizza at home?  What is your favorite Chicago pizza? Please share below. We LOVE hearing from you.
If you liked this post, and want more, you can subscribe to be on our mailing list here.
Follow Lynnee's boards on Pinterest and Pauline's Club ChicaCircle boards here. You can also find  Lynnee Jimenez on Google+.